So, you think you're ready to purchase a portable roof panel machine, but have some questions or concerns? An excellent way to help you decide is to learn the reasons you may want to buy portable roof panel machines to see if they resonate with you and your business.
Here at New Tech Machinery, we know the metal rollforming industry. Through manufacturing and selling the world's finest portable rollforming equipment, we've helped contractors worldwide make the best buying decisions based on their business needs.
In this article, expect to learn seven reasons that a roofing contractor might want to purchase a portable rollforming machine and how to determine if this option is right for you and your business.
Reason #1: You want to start a metal roofing contracting business
One of the first things a new contracting business owner will have to decide is where or how they want to get their metal panels, either buying from a factory panel supplier or owning a portable rollformer that produces panels on-site. While some begin by purchasing from a supplier, more are now choosing to take control of their new businesses right from the start by buying their own portable roof panel machine.
Another point to mention here is that starting a metal roof contracting business requires significantly less investment than other start-up businesses. Since you don't need much more than some tools, a few employees, and metal roof installation knowledge in the beginning stages of a new company, it's easier to justify spending the money on a portable rollformer that can be used for many years. Plus, if you do start a business and it doesn't go as planned, you can always sell the machine to another company to make a portion of your investment back.
---
---
Reason #2: You want control of your own production, inventory, and profits
Whether you buy to own or lease a portable rollforming machine, it allows you to operate more control of your business and projects. We often hear from contractors who miss out on jobs or are just tired of being at the mercy of others and their schedules to get the supplies they need to finish projects.
Here are some examples of how owning a portable rollformer helps you better manage your company:
You don't have to wait for panels to be shipped from the supplier.
You don't have to worry about the costs and environmental impacts associated with shipping.
You can produce the panels you need when you need it.
You cut out the middleman.

No one cares more for your customers' projects than you do. Portable rollforming allows you to operate the most control over the panels you are installing for your customers. Instead of putting your profits in the factory suppliers' pockets, you'll be increasing your own bottom line.
For example, you can take extra care when transporting the panels from the rollformer to the roof to ensure nothing happens to the metal. This is a luxury you lose when freight companies handle shipped panels.

You can move at your company's own speed.
You can make and offer various options and profiles for roof panels, wall siding, or even commercial projects.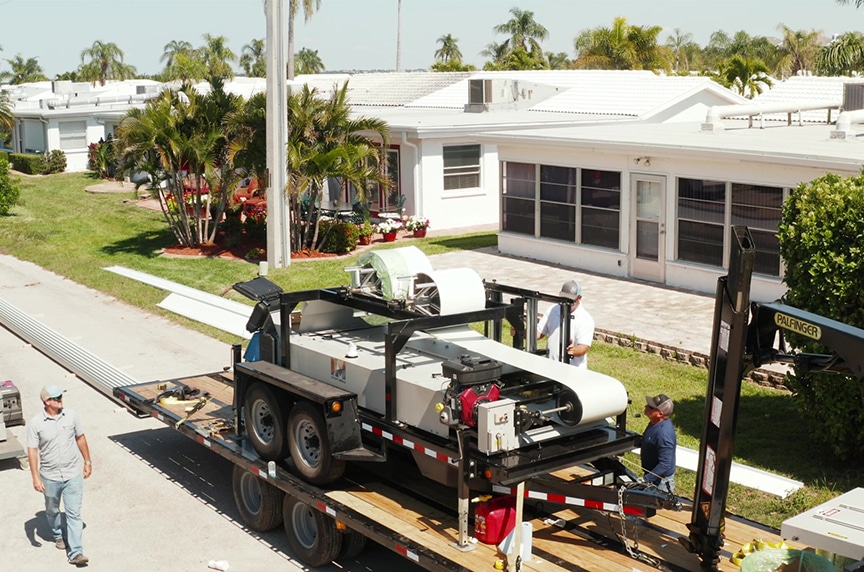 Reason #3: You want to do more roofing jobs efficiently
As we mentioned, owning a portable rollformer can improve your efficiency, especially if your business is growing and taking on more projects. With a portable roof panel machine, you're producing the panels or profiles you need, when you need them, and in the exact quantities you need. You don't have to spend time ordering and waiting for panels to be shipped or risk potential damages during transportation if you get your panels from a factory manufacturer.
With the latest technology and design of many portable rollformers, you can also produce multiple profiles for different building applications: residential, light commercial, and commercial. You're even able to switch to new profiles quicker. For example, in NTM's SSQ II™ MultiPro Roof Panel Machine, a profile changeover can take as little as 45 minutes, only requiring one person to remove the tooling with a wrench and replace it with the new profile roller sets.
Not only can you do more roofing jobs efficiently, but the versatility of portable rollformers allows you to install panels right on top of the roof, transport your machine to any job site or use it inside a plant for panel manufacturing, and increase the kinds of profiles you can offer customers with one machine.
Reason #4: You can afford it, and it's more profitable in the long run
If you can afford to purchase a portable rollformer and give yourself a little more control over your own business, why wouldn't you? If you find yourself in a position where your business is thriving and you feel comfortable and secure in making a capital investment on a portable rollformer, it's an opportune moment to do so.
We understand that not all contractors are in a place to pay for a machine all at one time, which is why financing options are available with most portable rollforming manufacturers.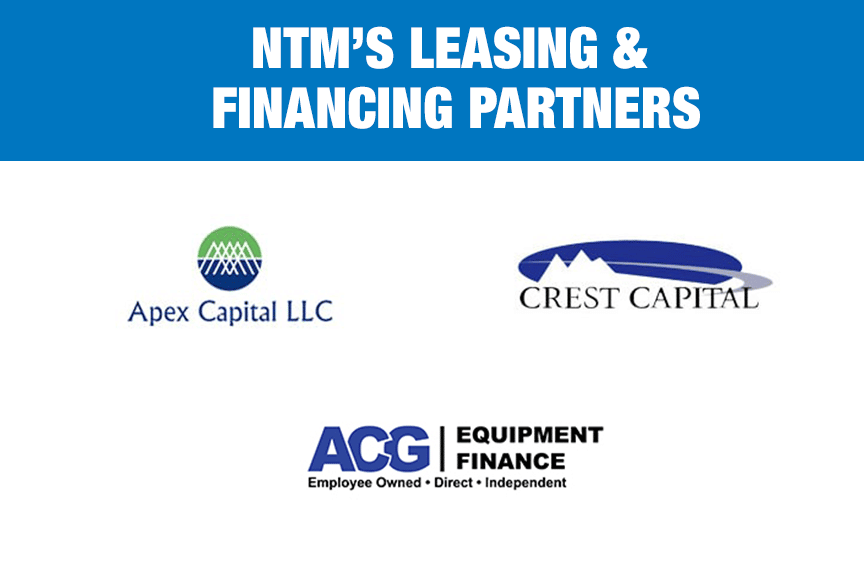 Plus, when you purchase, finance, OR lease equipment in the United States, you're able to write off the full amount of your equipment purchase with the Section 179 Tax Deduction:
"Section 179 of the IRS tax code allows businesses to deduct the full purchase price of qualifying equipment and/or software purchased or financed during the tax year. That means that if you buy (or lease) a piece of qualifying equipment, you can deduct the FULL PURCHASE PRICE from your gross income."
Also, we want to mention that while owning or leasing a metal roof panel portable rollforming machine is very similar to owning a car, a rollforming machine retains much of its original value and makes your business profits for many years. This is another reason you should look into it if you can afford a machine, whether it's paid for all at once or financed via monthly payments.
Reason #5: You need to produce longer panel lengths
Projects are unpredictable and vary quite a bit in size and roof geometry, but if you're a contractor who frequently installs on commercial structures, you may have encountered a project that required longer than average panel lengths.
If you buy from a factory panel supplier, one of the most defining limitations is that most standard shipping and freight containers can't transport panels longer than approximately 53 ft (16.2 m), which can pose a problem for projects requiring long, continuous panels.
Some contractors are fine with end lapping panels; if installed correctly, it can work out well. However, lapping panels to compensate for length does open the roof up to many issues, including one of the most damaging roof problems: water leaks.
Portable rollformers allow you to run continuous lengths without paying extra to get it to the job site. So if you want to avoid paying extra for special shipping, having a portable rollformer cuts the issue of shipping long panels from the equation.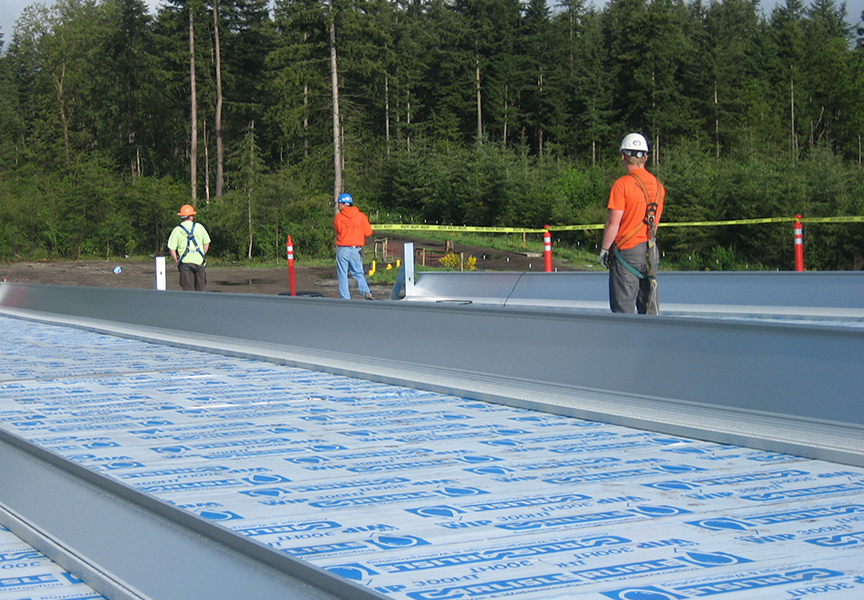 Reason #6: You want to reduce on-the-job wasted metal
When you're measuring the roof during the bidding phase of a job, it's easy to get a rough idea of the size and amount of metal roof panels that you'll need to complete the install (often called a cut list). But things can change quickly on a job site, especially when it comes to sizing and cutting the panels to fit on the roofing structure.
With portable rollforming, you can change the length of the panels on the fly, which helps reduce the amount of metal that gets cut off, unused, and wasted. Many portable rollformers come with computer controllers where you can easily program the desired lengths and quantities between runs. Additionally, with a portable machine, there's no need to overbuy coil that may or may not be used; you can buy the coil you need when you need it.
If you have panels delivered from an in-plant manufacturer, you risk having significant material "drops" that cannot be used elsewhere. As discussed earlier, there's also the possibility of incorrect or damaged shipments of finished panels that can't be used and must be discarded.
Reason #7: You want to change or expand your business to start manufacturing chop & drop panels
Some contracting companies want to just focus their efforts on installing, but some may want to branch out and diversify what they can offer by rollforming panels to sell to others as a "chop and drop" operation. So instead of just rollforming your own roof panels, you could transport your portable machine to another contractor's job site, run the panels they need, and then move on to the next job. This is just another avenue for making extra profits at little to no cost to you as the machine owner.
Additionally, some portable rollformers can make commercial panel profiles. If you are primarily handling residential roofing projects, this could be a great way to expand your business offerings simply by using the rollforming equipment you already own.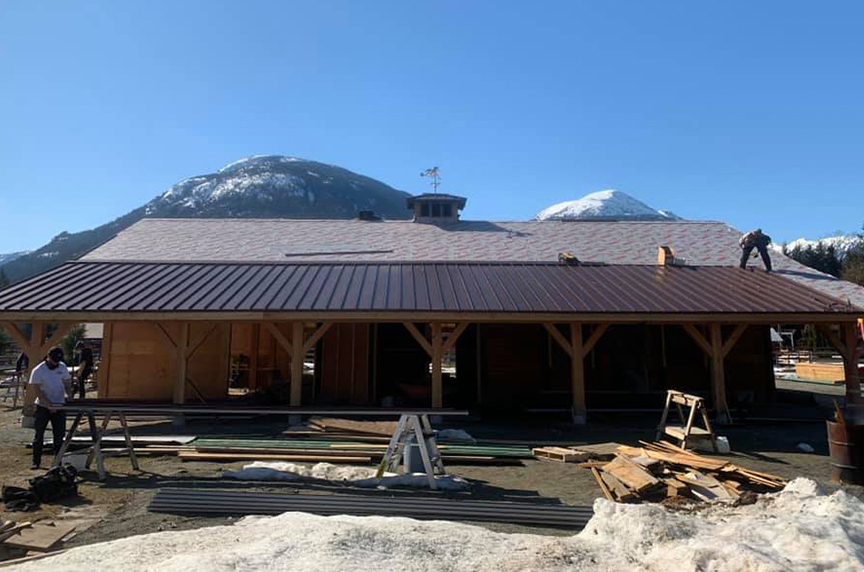 Final Thoughts
Choosing whether or not to buy a portable rollforming machine is an important decision with many factors to consider. However, if you've identified with any of these reasons, buying a rollformer might be an excellent choice for your contracting business.
To help determine if buying a portable roof panel machine is right for you, ask yourself these questions:
Will I be overextending myself or my business if I purchase a machine? Will my business qualify for financing? (For reference: Depending on the features and functionalities, metal roofing portable rollforming machines generally cost $30,000 or more.)
Is my business able to operate on a factory panel supplier's schedule? Or are my projects frequently unpredictable?
Is my business wasting a lot of metal, frequently having to cut up panels, or having ordering issues? Am I okay with that?
If I purchased a machine, is there someone on my staff who can operate it? If not, am I able to hire a new employee and train them?
Do I want to diversify my business by offering a chop and drop panel service with my portable rollformer? Or am I looking to focus on installing?
At New Tech Machinery, we take pride in helping and educating roofing contractors become better equipped to make the best decision for their individual business needs.
If you want to learn how portable rollforming equipment can help benefit your contracting business, or discuss the right roof panel machine configuration for your projects, contact us today!
---
---