Researching companies and products is one of the most important parts of the purchasing process. If you're considering New Tech Machinery (NTM) for your portable rollforming machinery needs, you may ask yourself, "Why should I choose New Tech Machinery?" or "What can I expect working with New Tech Machinery?"
We understand that New Tech Machinery is not your only option for purchasing portable rollforming machinery. You should choose the best portable rollforming machine manufacturer that offers the products and solutions you're looking for.
In this article, we'll explore New Tech Machinery products and services, what you can expect if you choose to do business with us, and who we are.
Since 1991, New Tech Machinery has manufactured and sold portable rollforming machines and equipment for the metal roofing and gutter markets. These portable roof or wall panel machines and seamless gutter machines allow contractors and manufacturers to make their own standing seam metal roof or wall panels or seamless gutters on-site or inside a facility.
Besides manufacturing and selling machines, NTM also offers in-house or on-site training, service and technical support, and free educational resources to help you operate and take care of your machine.
As of 2023, our production facility and main office are in Aurora, Colorado. We've also added a Service and Engineering Center in Colorado, a manufacturing facility in Hermosillo, Mexico, and a distribution center in Switzerland for the European market.
New Tech Machinery Portable Rollforming Machines & Equipment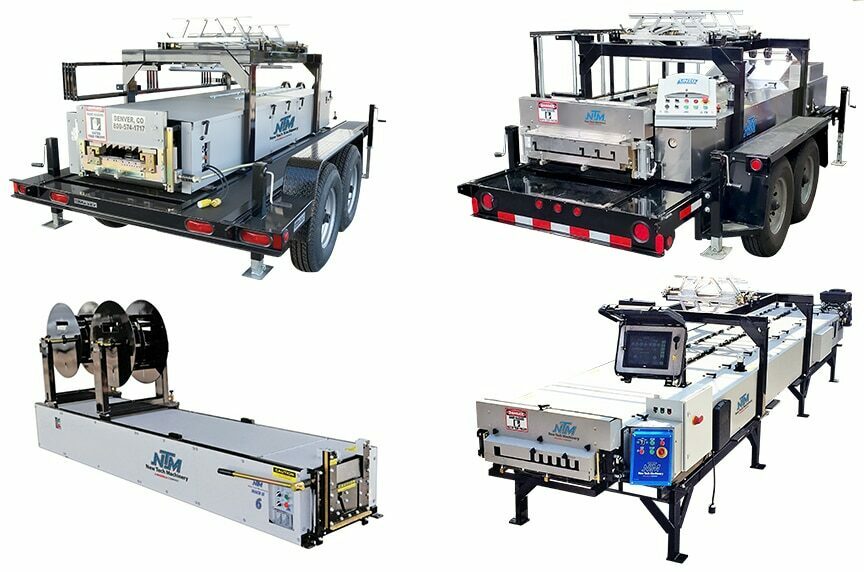 New Tech Machinery's portable rollforming machines and accessories are designed for use at the job site or inside the factory to make your metal roofing or gutter project easier and more efficient.
The first machine NTM launched was the SSP™ Roof Panel Machine. Made in 1991, it was the first portable rollformer with polyurethane drive rollers and helped revolutionize the portable rollforming industry.
As of 2023, our current machine lineup includes:
MACH II™ Seamless Gutter Machines – 5″, 6″, 5″/6″ Combo and 7″/8″ Combo
SSR™ MultiPro Jr. Roof Panel Machine
SSH™ MultiPro Roof Panel Machine
SSQ II™ MultiPro Roof Panel Machine (available with optional notching and the UNIQ® Control System)
BG7™ 7" Commercial Box Gutter Machine
5VC-5V CRIMP™ Roof Panel Machine
WAV™ Wall Panel Machine
All NTM's roof panel machines (other than the 5VC) can produce multiple metal roofing profiles to help increase your machine's versatility and allow you to offer various options to customers.
We DO NOT sell or make sheet metal folders / brakes or shears, provide metal roofing or gutter installation accessories, metal coil or sheets, or gutter drainage components. If you're looking for any of these items, reach out to NTM, and we can help you find or recommend a supplier.
Who Are New Tech Machinery's Clients?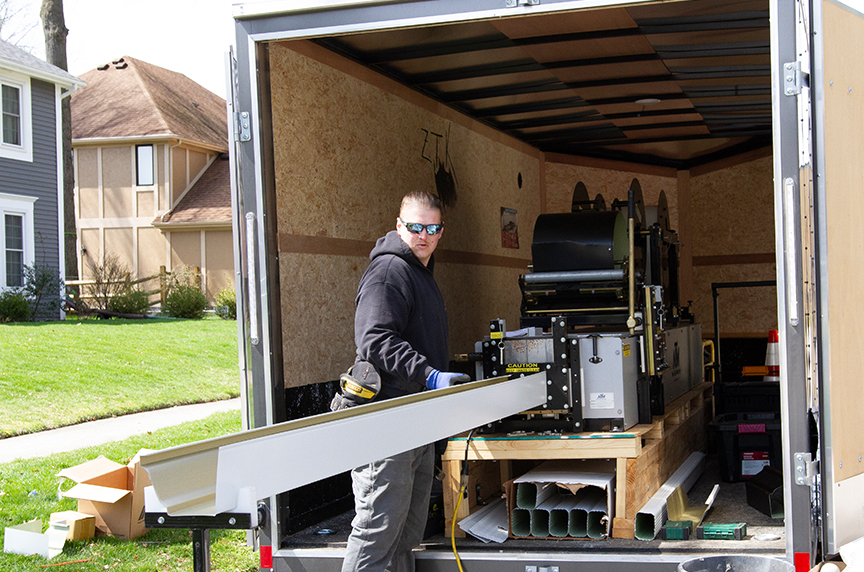 Our client base consists of:
Residential and commercial metal roofing contractors
Residential and commercial gutter contractors
Machine and equipment distributors
"Chop and drop" panel or gutter suppliers
New and existing machine operators or owners who need service, support, or training
---
---
What Can You Expect Working With New Tech Machinery?
We know that not everyone looking for portable rollforming equipment will choose to purchase from New Tech Machinery, and that's okay! There are many factors to consider when selecting the right machine, such as available products, post-sales support, product versatility, cost, and more.
If you are considering New Tech Machinery for your portable rollforming equipment, what can you expect? Let's explore what we can offer your contracting or manufacturing business if you choose NTM for your metal roofing or gutter equipment.
Portable Roof Panel, Wall Panel, and Seamless Gutter Machines to Fit Your Business Operations and Budget
Whether you focus on residential roofing, commercial, or a mix of both, there's a machine to fit your needs. NTM's product lineup of easy-to-use roof panel, wall panel, and seamless gutter machines are designed for all sorts of business operations, from small, specialized installation crews to those that supply panels for multiple metal roofing projects weekly.
NTM offers machine packages for select products that can help get you started in portable rollforming without breaking the bank.
With residential and commercial package pricing for the SSQ II™ MultiPro, NTM's most versatile roof panel machine, you can configure your new machine for in-plant or portable use with the most popular options within your budget.
There are also packages for some of the most popular MACH II™ 5", 6", and 5"/6" combo gutter machine configurations for a cost-effective way to purchase a machine and accessories for different business set-ups or if you already own a MACH II gutter machine.
Service, Support, and Shipping are Available Internationally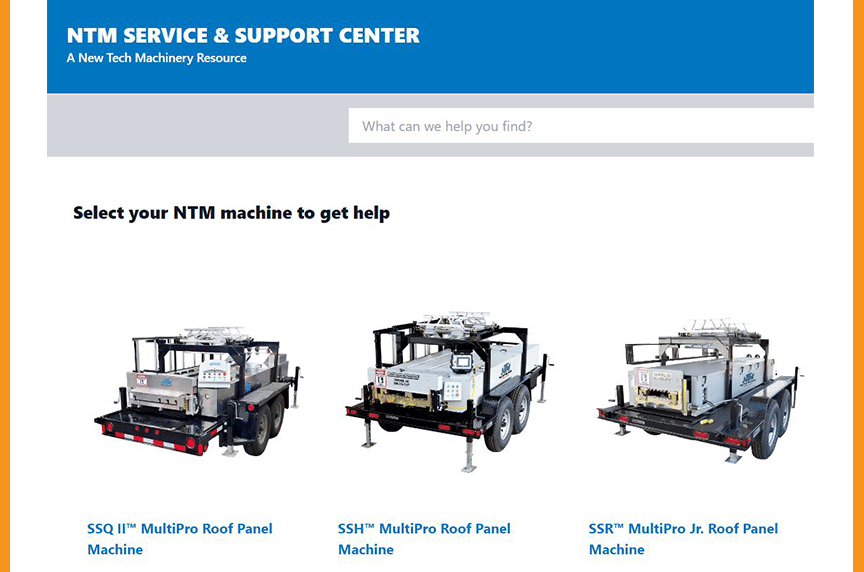 No matter your business location, New Tech Machinery offers service, support, and shipping for all domestic and most international locations, through New Tech Machinery directly or through our network of distributors.
NTM's team of dedicated and knowledgeable Service Technicians can provide technical support over the phone for most problems or come to your site if you need in-person service (any travel expenses are the customer's responsibility).
If you are looking for quick troubleshooting solutions while on the job, check out the Service and Support Center. The Service and Support Center houses detailed instructions and video tutorials for some of the most common roof panel and gutter machine problems. It also provides an easy way to contact the Service team for replacement parts, service, or technical support.
Take Advantage of Portable Rollforming Training
If this is your first portable rollforming machine or you're just starting at a company that has been using this equipment for years, hands-on training is the best way to learn how to operate and take care of your portable rollformer safely.
We offer a free initial training session at our facility in Denver with any new machine purchase, or you can purchase on-site training at your shop or business if you prefer.
In a training session, you'll learn:
How to understand your machine manual and where it is
How to set up your machine
How to maintain your machine
How to operate your machine using the best practices
How to perform profile changeovers or make common adjustments
Training is not required, but we highly recommend it so that you can leverage your machine's full capabilities and keep your business and employees safe while doing so.
Offer Your Customers UL 90 Compliant Panels
An important aspect for many metal roofing contractors is safety standards and industry testing. As a machine manufacturer, we don't have an actual process to test our machines. However, we do offer UL-compliant panels.
UL compliance is different than UL certification. UL compliance means that our panel profiles are manufactured to the proper dimensions set forth by Underwriter Laboratories (UL) and their standards per specific construction numbers. At New Tech Machinery, we provide panels in compliance for use in UL 90 Construction Numbers.
By providing you with compliant panels, it's just one less step you have to take if you want to get your panels certified with UL.
UL certification must regularly be performed on every roof panel machine to produce UL-certified panels. Check with your local UL office for more information on registering and certifying your machine with UL.
42 Quick-Change Metal Roof, Wall, and Seamless Gutter Profiles Available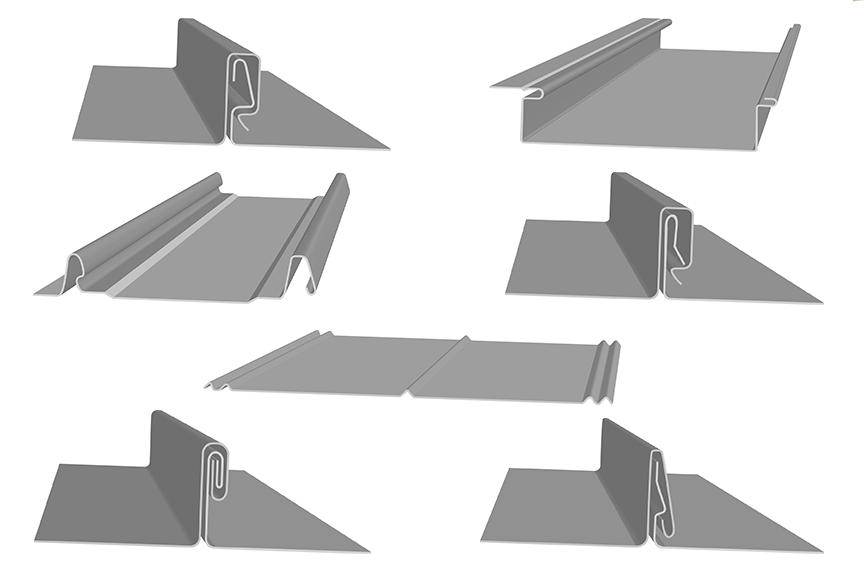 Your metal roofing or gutter business is your livelihood, so it makes sense that you'd want a portable rollformer that is versatile, easy to use, and can increase what you're able to offer customers.
In total, NTM has 42 different profiles for roof panels, wall panels, and seamless gutters. All of our rollforming machines can produce multiple profiles, some in different styles and sizes, without needing an added machine. You also don't have to waste a ton of time changing to a different profile — you can change a roofing panel profile in 45 minutes to one hour (or less) with minimal equipment using our machines. 
Some of the profiles our machines can make include:
Mechanical Seam Roof Panels
Snap-lock Roof Panels
Fastener Flange Roof Panels
Board and Batten
K-Style Gutters
Box Gutters
Some of our machines can even make popular specialty panel profiles to give a unique look for your metal roofing projects:
SSQ275 2″ Snap/Seam Profile – This proprietary panel profile can be both mechanically seamed and snap-locked.
TRQ250 2.5″ Trapezoidal Panel Profile – The style is excellent for commercial and industrial buildings and is a mechanically seamed panel with an anti-capillary leg.
5V Crimp – Our 5V Crimp profiles are available in 21″ and 24″ widths and can be rollformed using various metal types.
WAV Wall Panels – This panel is a great choice for architectural building applications and comes in two styles: with flange and without flange.
Take Advantage of Free Tutorials, Tips, and Educational Content All About Portable Rollforming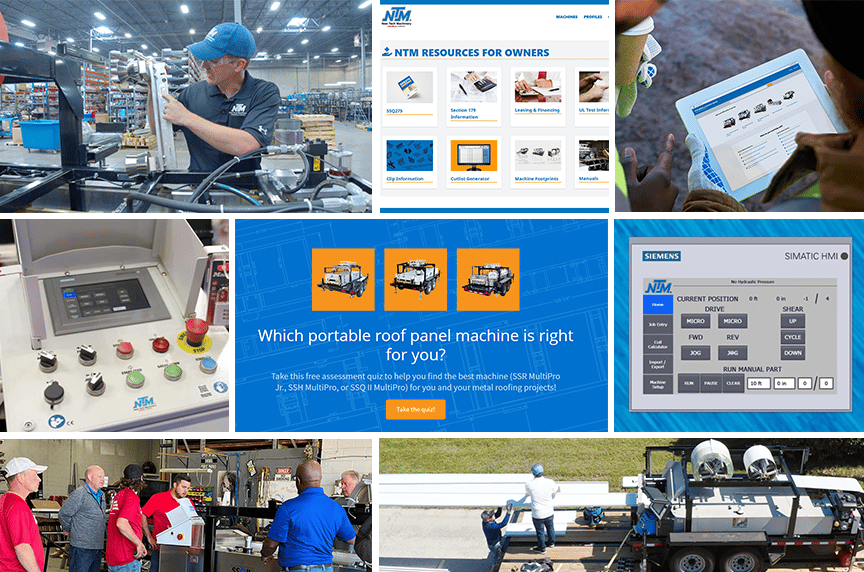 Learning is the best way to stay current on what is happening in your industry and help grow your company. That's why we provide free educational resources and content, available to anyone, at any time.
You can find all of our educational resources in the Rollforming Learning Center. If you, your team, or a customer wants to learn about a topic regarding rollforming or metal construction, feel free to send them any of these free resources, including:
How Do You Know if New Tech Machinery Is Right for You?
Is New Tech Machinery the right company for your portable rollforming needs? That depends: Only you know your business the best and what is right for you and your customers.
It helps to look at your options of machine manufacturers, narrow them down, and select the one that presents the best solution for your business needs. Don't just consider the price, but find out what other products are offered, service and post-sales support, shipping details, and manufacturer's location and availability.
At New Tech Machinery, we genuinely want to help you start and grow your business and get the most out of your projects. Since 1991, we've helped contractors and manufacturers get more control of their profits with our equipment, learn how to use and maintain their equipment, and offer quality support and service.
Contact one of our rollforming specialists if you want to explore how NTM's portable rollforming equipment can help grow your business. We'd love to answer any questions you have!
---