If you're looking to purchase your first portable rollforming machine, switch from gutter installation to metal roofing, or upgrade your current portable roof panel machine, choosing the right machine and equipment from the start can help ease stress, financial worry, and improve your efficiency. 
As you visit different rollforming machine manufacturers' websites, research the machines and accessories you may or may not need, and look at machine features to figure out how it applies to your business operations, there's so much information to digest. It can be quite overwhelming, especially if you're new to this equipment or the industry.
What if there was a way to learn which portable roof panel machine was a good option for your business and projects just by taking a quiz? New Tech Machinery has just the tool for you! Check out the newest website feature, the interactive Roof Panel Machine Quiz and Assessment Tool.
New Tech Machinery (NTM) has been dedicated for the last 31 years to manufacturing and selling world-leading rollforming machinery and equipment. Our Sales department has worked with thousands of contractors, panel manufacturers, and panel suppliers, getting them the best and most cost-effective rollforming equipment to help their businesses grow. They've answered hundreds of questions that help people just like you get the right machine, so we're unleashing that knowledge and help with this interactive quiz.
Want to learn more about this quiz and how to understand and use your results so your business can be lined up for success? Let's talk about the features and design of this tool and what you can expect!
What Is New Tech Machinery's "Which Roof Panel Machine Is Right For Me?" Quiz and Assessment?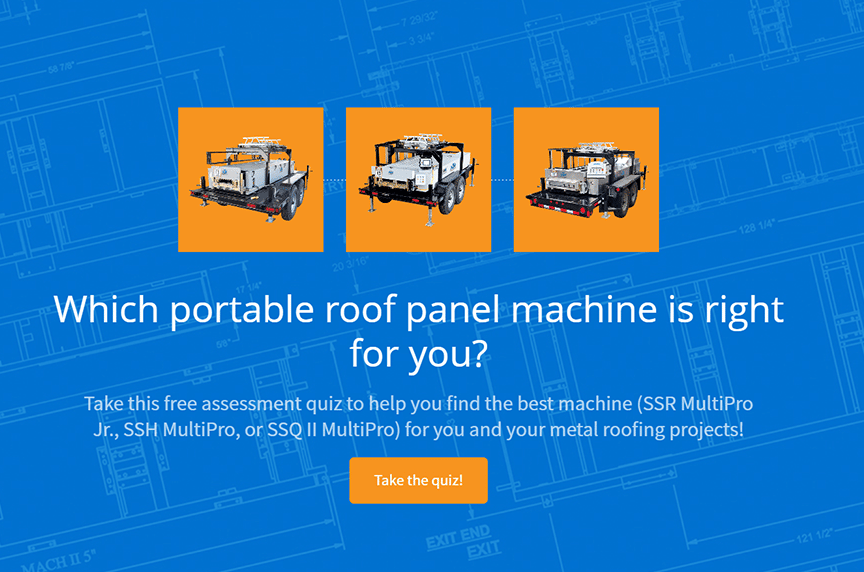 New Tech Machinery's machine assessment tool is designed to help you find the most suitable portable roof panel machine based on the following:
The interactive quiz is only 10 questions and will choose the best NTM metal roofing machine, the SSR™ MultiPro Jr., SSH™ MultiPro, or SSQ II™ MultiPro, based on your answers.
Take the free roof panel machine assessment quiz and find out which NTM machine can help improve your metal roofing business and manufacturing.
How Do I Use the Assessment Tool to Choose a Portable Roof Panel Machine for My Metal Roofing Business?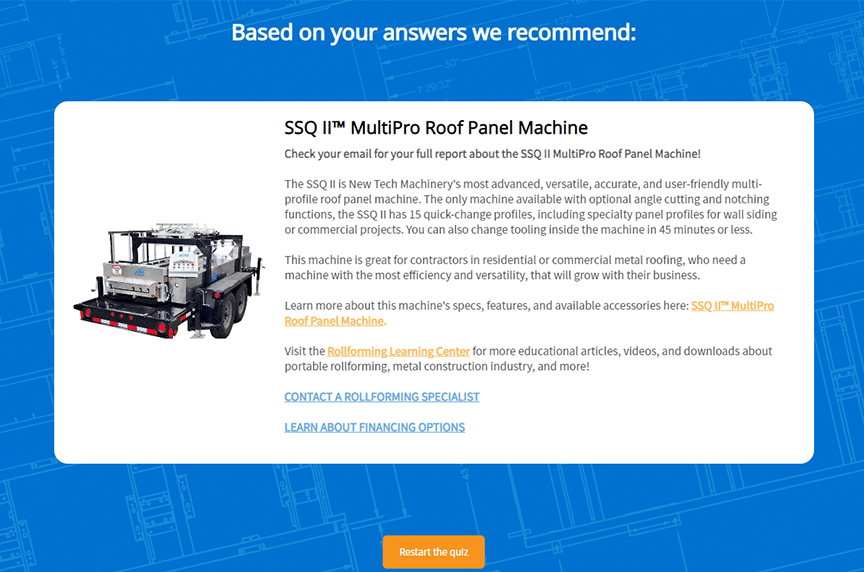 Anyone can use this free assessment tool but there are some instances where it will provide greater benefit to those using it and getting the report:
When you're done taking the quiz, all the answers are weighed together to select the best option for your metal roofing business. Once you fill out the form, you'll find out which machine is selected as the best option for you, be able to contact the Sales team, learn about financing options, and more. You'll also be emailed an in-depth report to learn about the selected machine.
The report you receive is specific to each machine and will explain why that roof panel machine is the most suitable option for you based on each quiz question.
You can use this assessment as a starting point to understand what machine MIGHT be best for your business. This is not a quote or guarantee of pricing, availability, or fit. To narrow down the best machine configuration for your business, ask the NTM Sales team for help.
The analysis will help you understand:
The report also includes links to related articles, videos, and resources from the Rollforming Learning Center to help you familiarize yourself with machine terminology, features, specifications, and more.
After you receive and have read through your results, it's a great opportunity to browse the New Tech Machinery website and talk to someone on the Sales team about the machine. The more informed a customer you are, the better the conversation will be with our team.
Look through the machine's specifications, standard features, optional accessories, profiles, and more. Then, contact any of NTM's rollforming specialists and discuss the machine in greater detail, discuss the best configuration and accessories for your business, ask for a quote, and discuss payment options.
Final Thoughts
If you're looking to narrow down your options on which portable roof panel machine is best suited for your projects and learn more about NTM machine features, this interactive quiz is the tool for you.
The interactive quiz and assessment are designed to help you:
At New Tech Machinery, we want to ensure you are getting the most beneficial portable rollforming machine for your business to help project efficiency, improve your business growth, and let you control your destiny. That's why we created the assessment: to help you feel most comfortable upfront when considering what is the right machine for your business.
After taking the quiz, if you have any questions or want to discuss your results with an NTM rollforming specialist, reach out to us!