Whether you're starting a new business in gutter installation, metal roof contracting, supplying "chop and drop" panel, or you own an existing business in this industry: Cash flow is vitally important.
That said, some varying degree of investment is required for your business to have the gutter or roof panel machinery needed to complete projects. And one of the best ways to ensure you have the necessary tools while still preserving your cash flow is to finance the equipment.
At New Tech Machinery, we're committed to finding a payment solution for every business owner, new or existing. That's how we know the option to finance works well for a lot of companies and put them on the path to success.
So, what is financing, what are the pros and cons, and how does it work when purchasing portable rollforming equipment? Let's discuss.
What Is Machinery and Equipment Financing?
We're sure everyone has an idea of what financing is. Specifically defined, financing is the process of providing funds for business activities, making capital purchases, or investing. Financial institutions such as banks and third-party lenders are in the business of providing capital to companies so they achieve business growth and manage their cash flow.
As it applies to the portable rollforming world, nearly all financing options are lease-to-own, meaning that the machine will be owned by the initial borrower when all the loan payments of the agreed term are paid in full.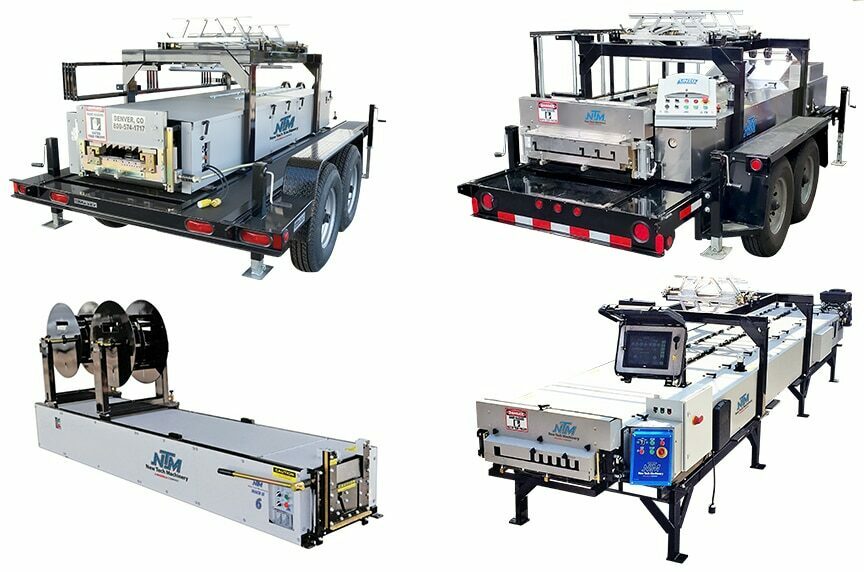 Here's a quick run-down of how new business machine financing works:
The borrower will complete a one-page application and share information about their experience in business generally and/or any prior experience in rollforming. For reference, start-ups are defined as zero to two years in business.
The borrower's approval will include the terms and an interest rate matching their personal credit and business experience (some down payment may be required in the zero to one year category) Financing terms are commonly anywhere between 36 to 60 months.
The lender will pay the manufacturer on their required terms to have the machine(s) ordered or built.
The borrower can take the Section 179 tax deduction for the purchase of capital equipment.
3 Surprising Facts about Machinery and Equipment Financing
Fact #1: In 2016, over $1.5 trillion was spent on equipment and software in the U.S. Of that amount, $1.02 trillion was financed (approximately 68%).
Fact #2: 85% of U.S.-based companies finance the equipment needed for their business.
Fact #3: 89% of the companies that did finance equipment said they would finance again.
(Figures courtesy of Apex Capital Group, Inc.)
---
---
Why Finance Your Machinery If You're a Start-Up Business?
Surprisingly, the most common challenge for new businesses in their first two years is keeping enough working capital on hand to operate and grow their business. That's why financing is available to help alleviate some of those woes.
Let's go through some more of the benefits and drawbacks to think about when you're determining if financing machinery is right for you.
Benefits of Financing Equipment & Machinery for New Businesses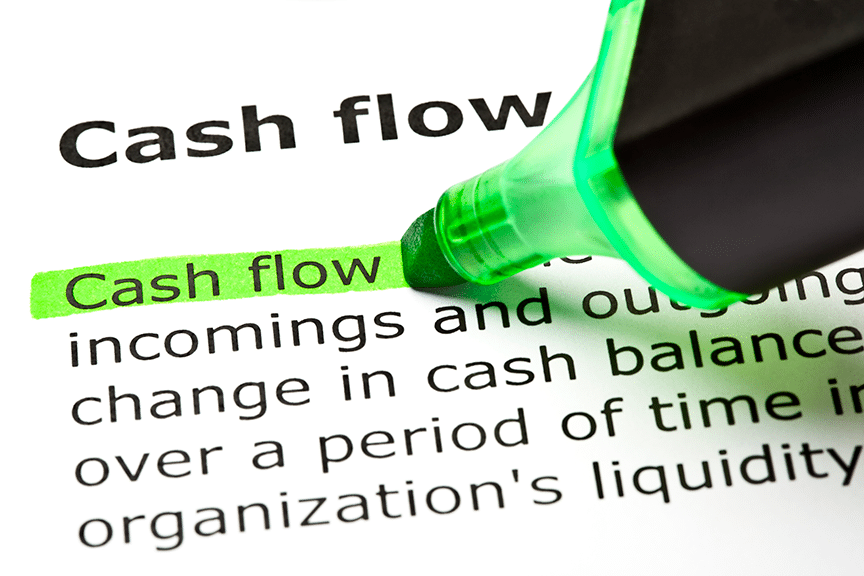 Manage your cash flow – As we mentioned, control over the cash flow is vital for a new business. Securing funds from a lender for capital equipment and other hard assets keeps your cash available for materials, overhead, business development, and payroll. Financing is a good option for keeping the cash flow strong.
Fixed rate – Equipment Finance Agreements and are all fixed interest rate for the duration of the term. This helps to budget and prepare for all future payments. Also, fixed rates will never change and are unaffected by rumblings in the economy or the stock market.
Tax advantages – There are several tax write-offs available when purchasing capital equipment, regardless of whether you pay cash or finance. This should be discussed with your accountant, as many situations are unique to the individual business structure, location, and profitability.
Financing helps develop credit for businesses – After you receive your first loan, your business starts building the credit that may be needed as your business grows. Financing is predominately reported to business credit reporting agencies, such as Dun and Bradstreet, PayNet, Experian Business, etc., as opposed to being classified as personal debt.
No additional collateral required – A bank will likely cross-collateralize your loan and secure it with what is known as a blanket lien on your business. Equipment Finance Agreements (EFAs) and $1 Buy Out Capital leases often use only the machine you are financing as collateral. This is known as an asset specific lien.
Drawback of Financing Equipment & Machinery for New Businesses
Judged on personal finances – Loans for new businesses are based on the personal credit standing of the business owner/borrower, as there is not a past business credit history for the company.
Early buy out limitations – New businesses often don't have the flexibility to pay off the financing early without any penalty.
Higher interest rate – Typically, the interest rate for a start-up company is higher due to the lack of business history and business credit.
Borrowing limit – Start-up approvals are also often limited to a maximum borrowing amount of $100,000.
The Process For Applying and Receiving Financing
To conclude, here are the steps you should take as a new business owner to receive financing through Apex Capital Group, Inc. (as it applies to NTM). Please note that you will need a quotation or at least a price range for the equipment you are interested in to begin this process.
Step #1: Complete the one-page credit application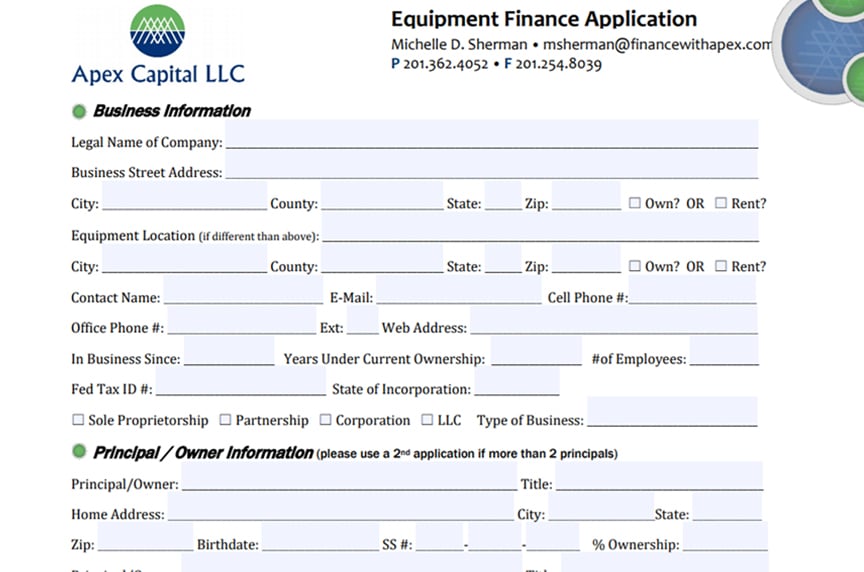 To begin the financing process, you'll need to fill out Apex Capital's one-page equipment finance credit application. Once this has been completed in its entirety, email the document to Michelle Sherman at Apex Capital (msherman@financewithapex.com). This document does not require a fee and is obligation free. Please feel free to call Michelle first to discuss the programs and options at any time (201-362-4052).
Step #2: Process and discussions with Apex Capital will begin
Once the application is received, Michelle will begin working on getting your financing approved. She or another Apex employee may also reach out to you to discuss the details of the application.
Step #3: Approval decision is made by Apex Capital
Although still much faster than traditional bank loans, new business approvals generally take four to five business days. Established businesses are often approved within 24-48 hours.
Step #4: Work together to determine terms or another path
Once approved, Michelle will review all terms, rates, and options. She will answer all of your questions and be available to you as your business grows. If not approved, she can still help you by discussing other routes you might be able to take to improve your likelihood of future credit approvals.
Step #5: If approved, sign documents and Apex Capital will pay NTM
If your financing is approved, documents will be sent over, which you will need to sign before payment is released to New Tech Machinery. You will receive confirmation that the payment has been received and can start tracking the progress of your rollforming machine.
Final Thoughts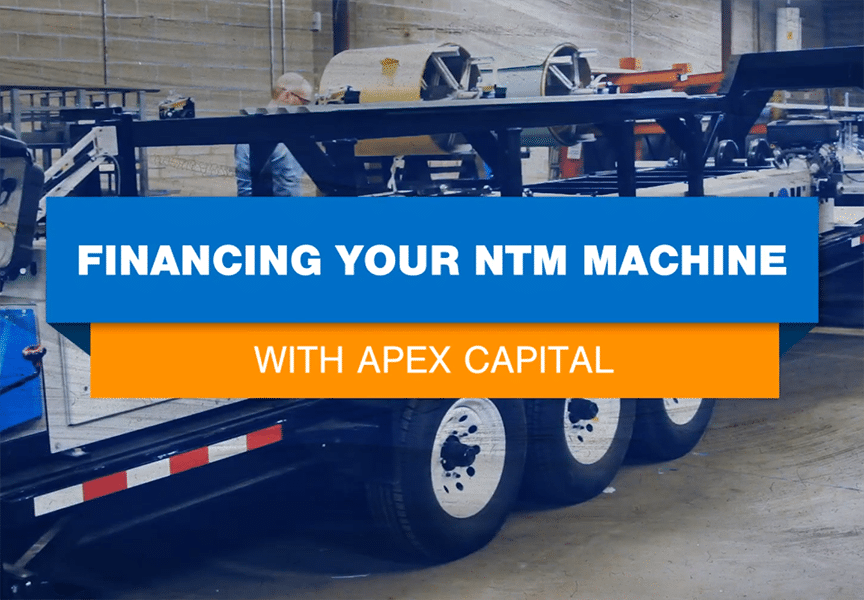 Although your bank may have said no to you, financing can still be an option to purchase the machinery and equipment you need to grow your business. Apex Capital Group, Inc. has a keen understanding of rollforming machinery and what it takes to get your business going.
To gauge if financing is right for you, start by asking yourself the following questions:
What machinery and equipment do I need for my business to be profitable?
How much working capital do I have to start with? What categories will it cover?
Am I able to afford to buy a machine outright? Would that stretch my cash too thin?
Do I know what my credit situation is?
Do I foresee my business having enough work to cover monthly payments after all overhead costs?
Our goal at New Tech Machinery is to make sure that every business, new or existing, can get the portable rollforming equipment needed to make a business profitable. That's why we work with our customers to create a solution, financing or otherwise, to accommodate nearly every situation.
To learn more about financing, NTM equipment, or to speak with one of our helpful rollforming specialists, please contact us at NTM today.
---