Editor's Note: This article has been republished to reflect updated information.
If you're in the market to purchase rollforming equipment for your gutter installation or contracting business, the most common questions are: "What's the cost of a seamless gutter machine?" "What should I consider between buying a new or used gutter machine?"
Not only will buying a new or used gutter machine give you a competitive edge in your local market, but it will also help you control your own production and hang gutters as fast as you can make them. Understanding how much a seamless gutter machine costs and what to know if you're thinking of buying a used or new machine, can help you make the right choice initially for your business and future growth.
For over thirty years, New Tech Machinery has helped contractors worldwide gain control over their projects and profits by using portable rollforming equipment to do their jobs efficiently and offer even more versatility to customers. Our sales team has guided thousands of people, just like you, through purchasing the right machine and accessories for their business.
In this article, we'll discuss how much seamless gutter machines can cost, what's included in that price, and what to look for when buying a new or used gutter machine.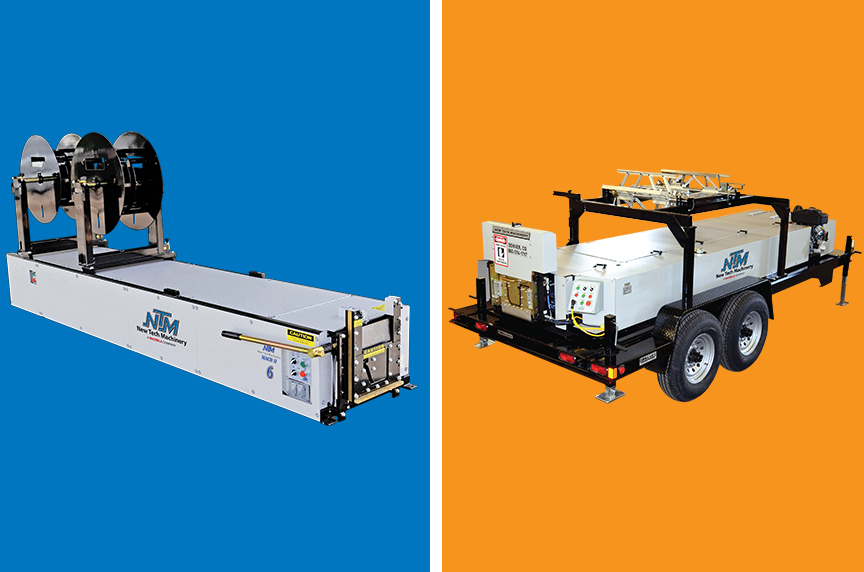 How Much Does a Seamless Gutter Machine Cost?
How much is a gutter machine? The truth is, the price of a gutter machine depends on how you configure your machine and the accessories you add to it.
For this article, we will focus on New Tech Machinery's gutter machines, the MACH II™ 5", 6", and 5"/6" Combo Gutter Machines and the BG7™ Box Gutter Machine.
For more information about each machine's footprint, recommended materials, profiles, and add-on options, click on the machine names.
---
---
The MACH II machines can make different sizes of k-style gutter profiles that incorporate a bottom bead, an alcoa hook, a back flange, or a straight back depending on your preference and project.
Prices for seamless gutter machines may vary depending on the machine's capabilities and your choice of optional add-ons (like machine covers, run-out stands, riser pads, etc.).
Price for MACH II Machine Only (5", 6", and 5"/6" Combo)
Most people who choose this option already own a machine and have additional accessories to use, and just need another machine without a shear or equipment. This is also a good idea if you like to cut your gutter with something other than a shear.
The price for just the MACH II 5" machine is $8,000 USD.
The price for just the MACH II 6" machine is $9,600 USD.
The price for just the MACH II 5"/6" combo machine is $11,200 USD.
Price for MACH II Machine and Shear (5", 6", and 5"/6" Combo)
Whether you're interested in the MACH II 5", 6", or 5"/6" combo gutter machine, this configuration is a good fit if you already have a machine and accessories and just want an extra machine with guillotine. In this configuration for the combo gutter machine you would get two shears.
Price for a 5" machine and shear is $9,100 USD.
Price for a 6" machine and shear is $10,700 USD.
Price for a 5"/6" combo machine and shear is $13,500 USD.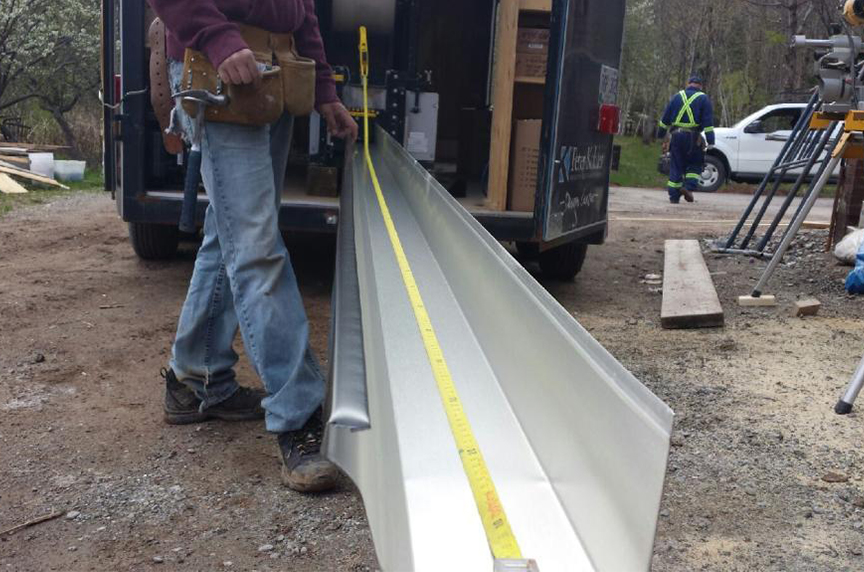 Price for MACH II Machine With Two Coil Cradles and Shear (5", 6", and 5"/6" Combo)
If you only do a small number of residential gutter jobs, prefer to use and load material onto cradles over reel stands and reels, or just need to hold a smaller size of metal coil, this configuration might be best for you.
The cost of a 5" machine with two cradles and shear is $10,200 USD.
The cost of a 6" machine, two cradles, and shear is $11,800 USD.
The cost of a 5"/6" combo machine, two cradles, and two shears is $14,500 USD.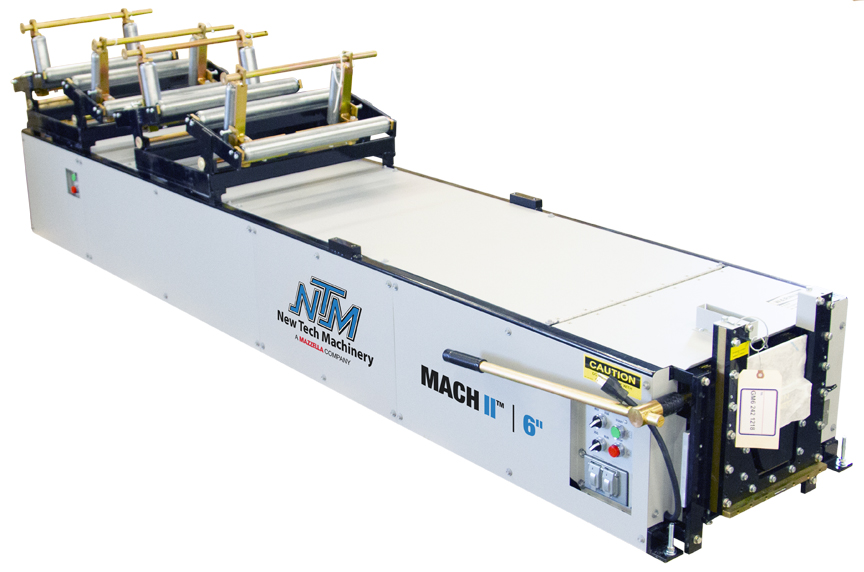 Price for MACH II Machine With Reel Stand, Reel, Coil Cradle, and Shear (5", 6", and 5"/6" Combo)
For NTM distributors, this is the most used machine configuration. This option gives you the most flexibility and versatility for holding various sizes and weights of metal coils or for those businesses that do a lot of gutter installation projects.
The reels offer a way to help feed the gutter straight into the machine, and the cradle allows you to hold an additional metal coil (up to 500 lbs.)
The price of a MACH II 5" machine, reel and reel stand, cradle, and shear is $10,100 USD.
The price of a MACH II 6" machine, reel stand and reel, cradle, and shear is $11,700 USD.
The price of a MACH II 5"/6" machine, reel and reel stand, cradle, and shear is $14,400 USD.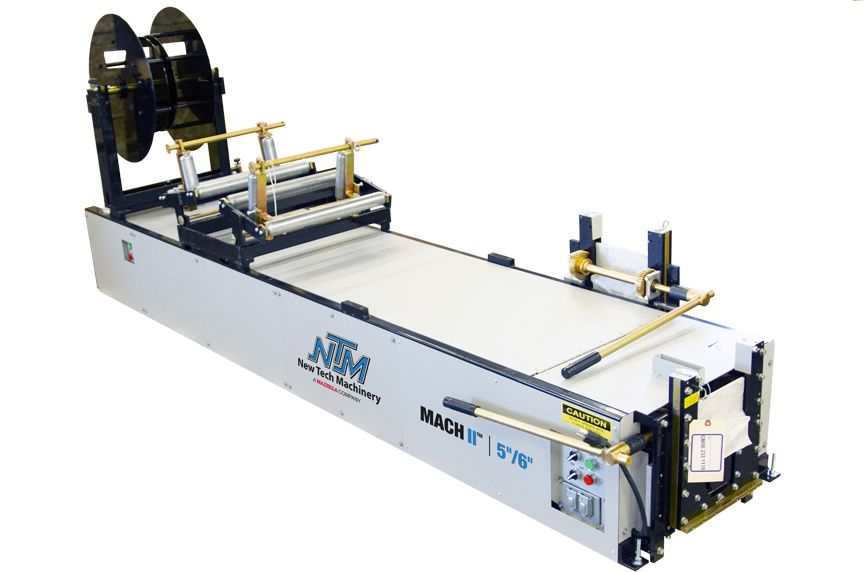 Price for MACH II Machine With Two Reel Stands, Two Reels, and Shear (5", 6", and 5"/6" Combo)
This machine setup is the most popular amongst gutter contractors and installers, allowing you to hold the most amount and weight of coil on top of your machine. Great for use inside a shop or on site, this configuration is ideal for those who take on a lot of gutter projects, require a lot of material, or handle commercial projects.
The cost of a 5" machine, two reel stands, two reels, and a shear is $9,900 USD.
The cost of a 6" machine, two reel stands, two reels, and a shear is $11,500 USD.
The cost of a 5"/6" combo machine, two reel stands, two reels, and two shears is $14,300 USD.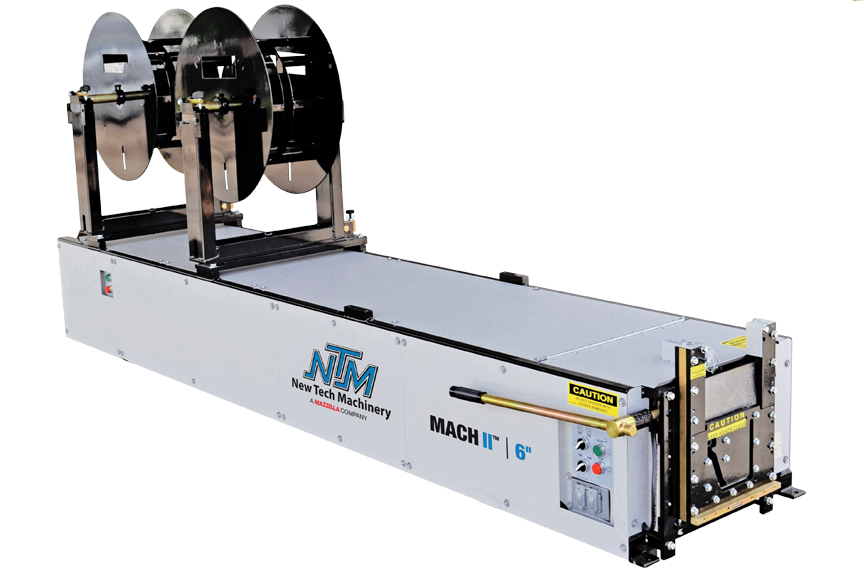 The BG7 is a 7" commercial box-style gutter machine and is capable of producing two profiles that feature a hook or a straight back.
Price for BG7 Machine Only
The base price for just the BG7 machine is $62,000 USD and only includes:
Hydraulic drive and shear
Choice of gas or electric Quick-Change™ Power Pack
Price for BG7 Gutter Machine With Accessories
If you want to get the most versatility and efficiency out of this machine for your gutter business, you could pay upwards of $100,000 USD for the machine configured with these accessories:
Trailer
PLC computer controller
Dual overhead reel stand
2 Expandable arbors
30' of run-out table
Run-out stand mount adaptor (required with this machine's run-out stands)
Canvas machine cover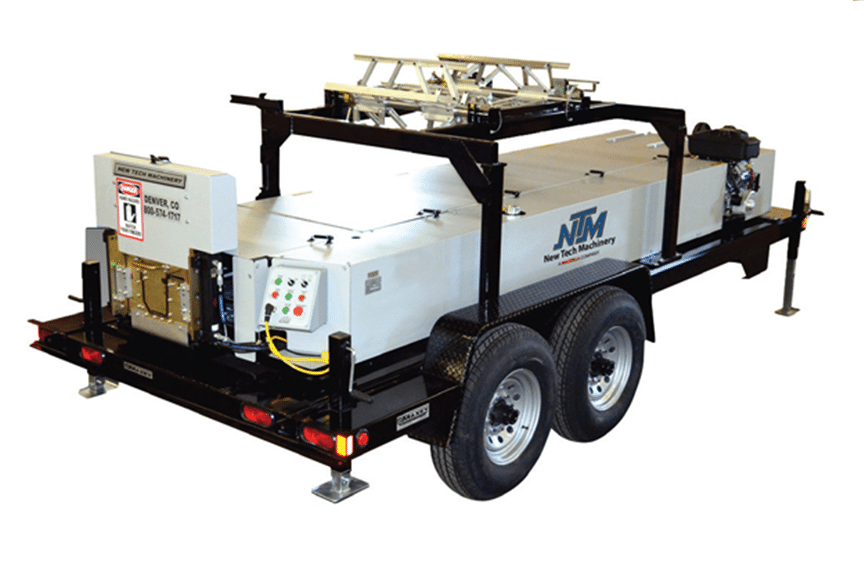 Gutter Machine Accessories and Add-On Options
Most accessories aren't necessary to operate a gutter machine, but they add efficiency and increased productivity and may be necessary for how you operate your business. Some of the add-ons you can purchase include:
Reel stands and reels
Cradles
Transfer racks
Run-out stands
Riser pads
Machine covers
Computerized length controllers
What to Look for When Buying a Seamless Gutter Machine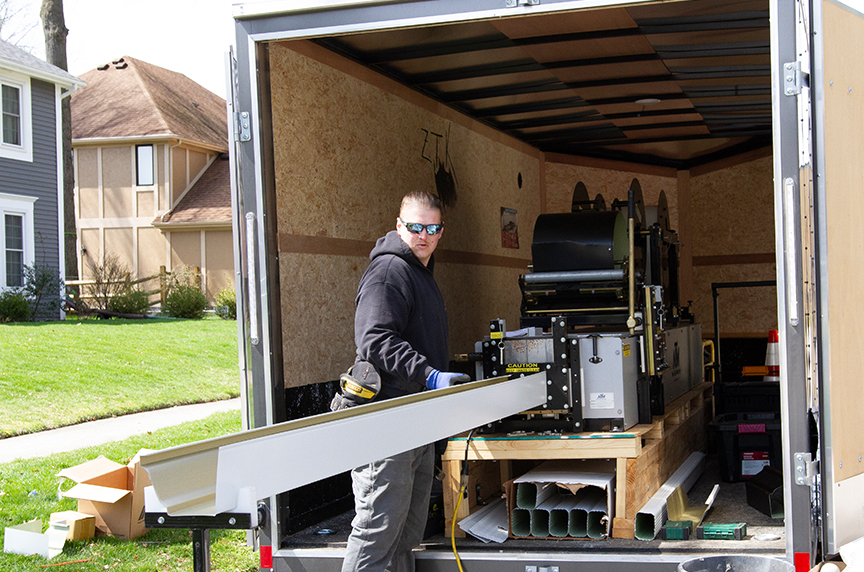 The best way to make sure you purchase the right seamless gutter machine is to do your research and understand what you should look for whether you decide to buy used or new. New Tech Machinery doesn't sell used machines, but many companies decide to sell their used equipment at reasonable prices, or there are online and offline sources to look at for used portable rollformers.
Before buying a gutter machine, what things should you look for?
It's important to compare features among products you're interested in, the manufacturers you're researching, and inquire about the machine's condition (especially if it's used).
Does the machine have separate drive and forming rollers?
The best rollforming machines tend to have separate drive and forming rollers. Separating the two results in less stress on the metal because the rollers aren't trying to form and drive the material simultaneously. Drive rollers are typically made of polyurethane or metal.
What kinds of materials can the machine run?
Make sure the portable gutter machine you're interested in will run the materials you plan to provide to your customers. For example, some machines don't run copper or may be limited in material thicknesses and gauges.
What sizes and profile options are available with the machine?
If you know most of your clients will want a 5" gutter, you might be fine just purchasing one machine size. However, if you want to offer both 5" and 6", a combo gutter machine may be your best option. Knowing what size of gutter is popular in your area will help you choose the right machine for your business.
It's also important to know which profiles and styles (i.e. k-style, box, etc.) are popular in your region. Depending on the number of profile options you want to provide to your customers (i.e. back flanges, hooks, etc.), make sure the machines you're looking at can make each variation.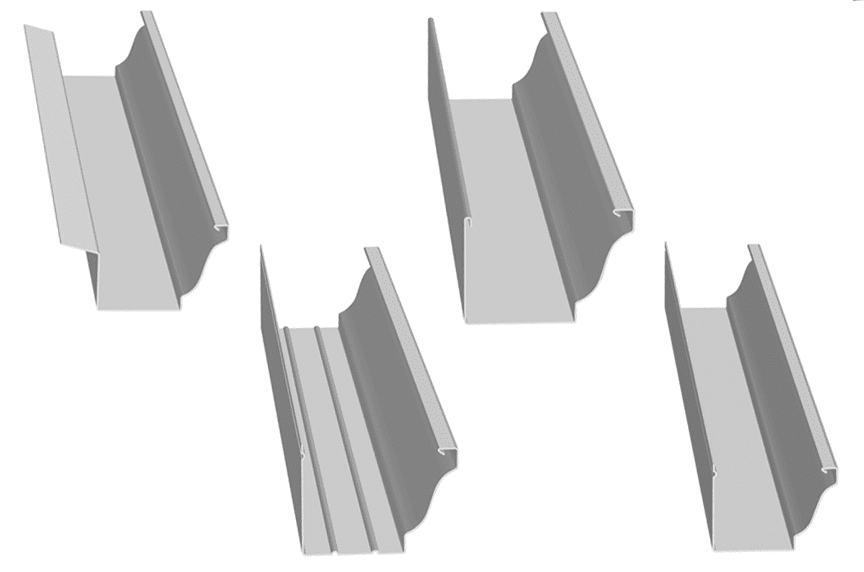 What's the machine's footprint and length?
The longer the machine, the higher the quality of the finished product. This is due to the machine having more spread-out forming stations which gradually form the metal, reducing stress on the material.
Does the machine use push-button controls or a drum switch?
Push-button controls are considered the better option for controlling the machine, as they are easier and more efficient to use.
Is a computer controller available for automatic length control?
If you're looking for the machine to stop automatically at a specified length, ensure you get a rollformer with a computer controller that allows this function.
What service, support, or warranties are offered?
Ask the manufacturer if they offer any warranties (most used machines don't include a manufacturer warranty), service or technical support, troubleshooting help, training on the machine, and replacement parts. You never know when you'll encounter a problem with your machine, so it's critical that you know what to do and who to contact in such an event.
When looking at used gutter machines, you'll also need to take these precautions:
Don't buy a machine until you've seen it run in person in every profile and size capable
Check that the machine is in good condition on both the outside AND inside
Be aware if the price seems "too low" or "too good" to be true
Final Thoughts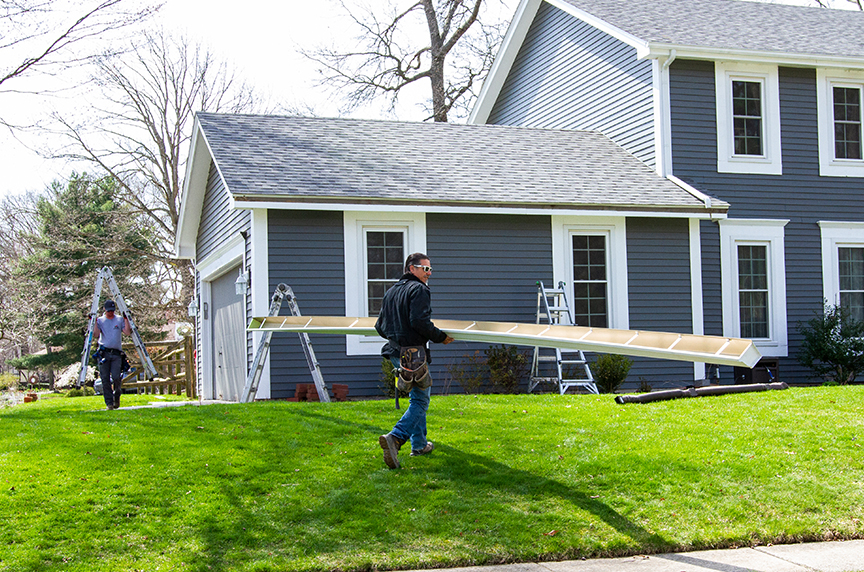 Buying a seamless gutter machine can be a great asset to your business, especially if you want to take control of your own production and diversify what you can offer customers. But you want to ensure you're buying the right machine with the add-on options best suited for you from the start.
Remember:
The base price of a seamless gutter machine often doesn't include any accessories or add-ons, as those increase the cost depending on the specific add-on choices selected.
If you're just starting a gutter business, or looking to add equipment to your company, you must do your research. Ask yourself some questions before you purchase a machine to find out what you're looking for:

Can I afford a new machine? Or can I only afford one that is used?
If I desire a new gutter machine, but don't have the cash at the moment, can I get approved for leasing or financing?
Have I been having an issue with or am I at the mercy of a gutter manufacturer/supplier?
Do I want to focus on producing gutters, hanging/installing gutters, or both?
What profile and size options do I want to offer to my customers?
Does my business have a skilled employee who can and will run and maintain the gutter machine?

Make sure new machines offer what you're looking for, such as warranties, gutter profiles and sizes, and controls.
When purchasing used equipment, always make sure to go see the machine in person and to run material in every gutter profile and size it's capable of producing.
At New Tech Machinery, our goal is to make portable seamless gutter machines to help you and your business succeed. We're dedicated to helping you find the best gutter machine that fits your needs and budget.
Reach out to the New Tech Machinery sales team for more information about our seamless gutter machines available or to help you find the best configuration for your business!
---
---