Editor's Note: This article has been republished to reflect new 2022 pricing on all New Tech Machinery portable seamless gutter machines and includes updated information.
How much do you know about the cost and what to look for when buying a seamless gutter machine?
Not only will buying a new or used portable seamless gutter machine give you a competitive edge in your local market, but it will also help you control your own production and hang gutters as fast as you can make them. Understanding the price of a seamless gutter machine and what to consider when choosing a new or used machine can help you select the right machine for your business now and in the future.
As manufacturers and sellers of innovative portable rollforming machinery, New Tech Machinery knows how crucial it is for you to buy the best machines for your business needs.
In this article, we will discuss:
How much seamless gutter machines can cost
What to look for when buying a new gutter machine
What to look for when buying a used gutter machine
Questions to ask yourself to help you buy the right machine
How Much Does a Seamless Gutter Machine Cost?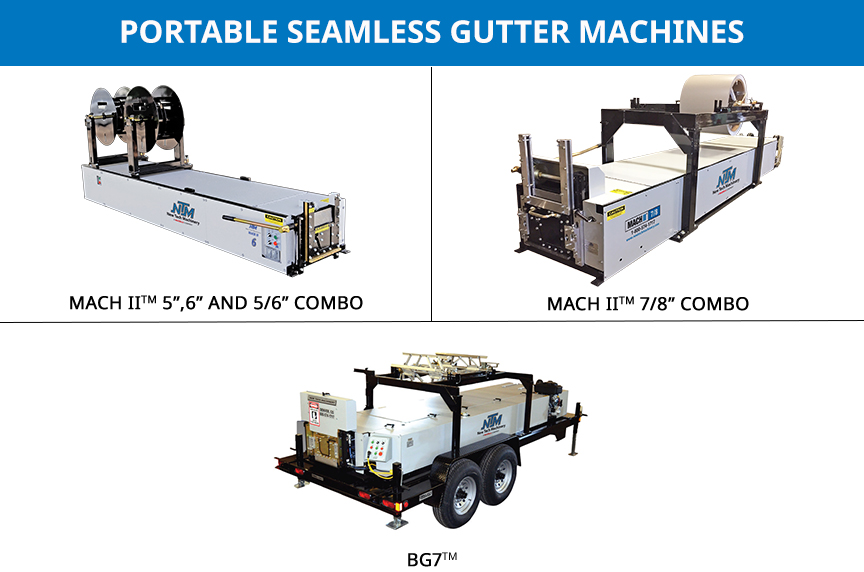 It's the million-dollar question: What's the price of a seamless gutter machine? The truth is, the cost of a gutter machine can vary as it depends on many different factors.
For the purposes of this article, we are going to focus on the portable gutter machines New Tech Machinery manufactures, which are priced comparably to other gutter machines in the market. Here are the 2022 starting prices of NTM's MACH II™ 5", 6", and 5"/6" Combo Gutter Machines, the MACH II 7"/8"™ Combo Gutter Machine, and the BG7™ Box Gutter Machine:
The MACH II 5" machine can form four different 5" k-style gutter profiles that incorporate a bottom bead, an alcoa hook, a back flange, or a straight back depending on your preference and project.
Starting price for the MACH II 5" machine is $8,000 but is only the economy version of the machine and does not include any reels, reel stands, cradles, and shear.
For comparison, the MACH II 5" machine with one turnstile reel stand, one reel, one coil cradle, and shear would cost $10,100.
The MACH II 6" machine can form five different 6" k-style gutter profiles that incorporate a bottom bead, alcoa hook, a 1" and 1.5" back flange, or a straight back depending on your preference and project.
The starting price for the economy package of the MACH II 6" machine is $9,600 but ONLY includes the machine and no other accessories.
The MACH II 6" machine with one turnstile reel stand, one reel, one coil cradle, and the shear would cost $11,700.
The economy pricing of the MACH II 5"/6" combo machine is $11,200 and does not include any optional equipment.
The price of the same machine that includes one turnstile reel stand and reel, one coil cradle, and two shears would be $14,400. The 5"/6" combo machine makes all of the same profiles (except the back flange) as the 5" and 6" machines.
Starting price for the MACH II 7"/8" Combo Gutter Machine is $36,000 and includes a 1.5 HP 110 Volt motor and two shears. This machine can produce 7" and 8" k-style gutter profiles with straight back.
The BG7 is a 7" commercial box style gutter machine and is capable of producing two profiles that feature a hook or a straight back. Starting price for this machine is $62,000 and includes the hydraulic drive and shear, and your choice of gas or electric Quick-Change™ Power Pack.
The BG7 machine can be transported and lifted via the NATM-compliant 12,000 lb. capacity tandem axle trailer we offer, is capable of using the PLC Programmable Logic Batch/Length Controller, and the PVC strippable applicator.

Please note that each machine's price will increase depending on your selection of optional features and equipment.Contact New Tech Machinery and talk to our Account Managers to discuss the machine configuration that will work best for you.
Seamless Gutter Machine Add-Ons &Accessories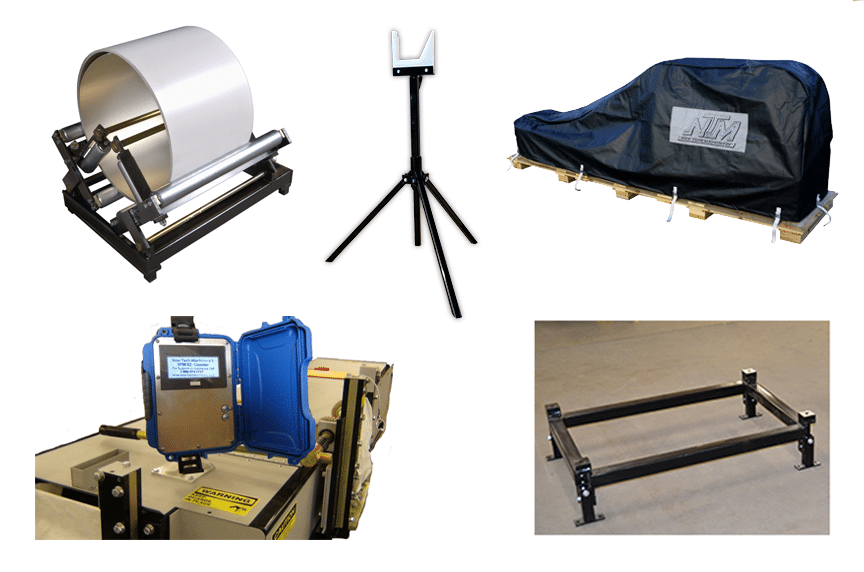 While most gutter machine accessories are not necessary to operate the machine, they can add to the functionality of the machine and help you increase your productivity as well as your customer offerings.
Optional equipment to add to a seamless gutter machine can include:
Reel stands
Reels
Cradles
Transfer racks
Run-out stands
Electrical 12V, 220V, or CE wiring (for overseas applications)
Hook assembly
Back flange assembly
Bottom bead assembly
Riser pads
Machine covers
Shear/guillotine
Computerized length controllers
Keep in mind, you can purchase any seamless gutter machine without add-ons, but some of these accessories may be a necessity in your specific situation, while others might be considered "nice-to-haves" or future options.
---
---
What to Look for in a New Seamless Gutter Machine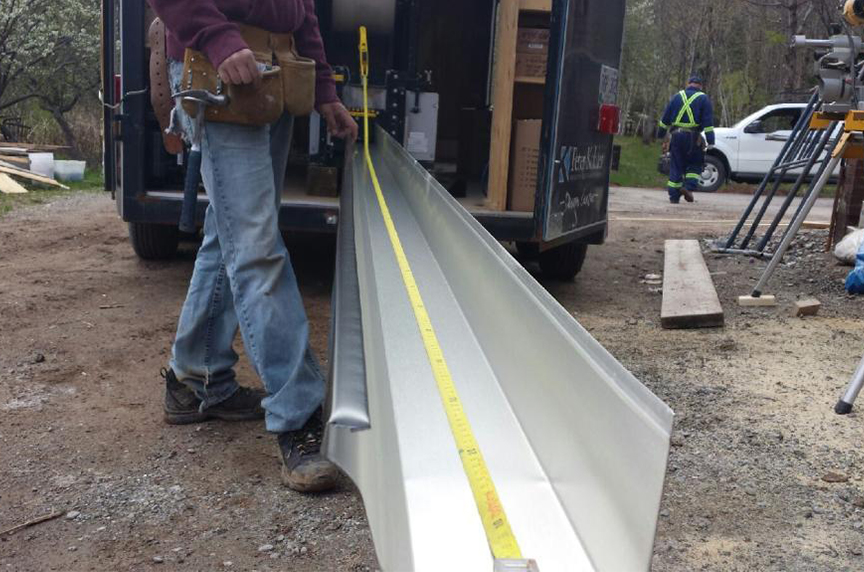 The best way to make sure you purchase the right seamless gutter machine is to be an educated consumer, as this equipment will be a major part of your business and help you generate profit.
So, when you go to purchase a new gutter machine, what should you look for?
You don't necessarily want to buy the first new portable seamless gutter machine you look at. It's important to compare and contrast attributes among machines you're interested in. When looking at these gutter machines, check for the following:
Separate drive and forming rollers – The best rollforming machines, gutter or otherwise, tend to be ones with separate drive and forming rollers. Separating the two results in less stress on the metal because the rollers aren't trying to form and drive the metal at the same time. Drive rollers are typically made of polyurethane or metal.
Warranties – Before you buy new equipment, always make sure you know about the manufacturer warranties on the machine or the various parts that are offered with the purchase. For example, NTM's gutter machines are offered with a three years parts (including electrical) warranty for the original purchaser of the machine. During the three years the warranty is valid, at NTM's option and expense, we will replace or repair any part or assembly of the machine (except those not manufactured by NTM), which in NTM's sole opinion is defective, or will refund the purchase price.
Service, training, and availability of parts – Gutter machine operators never want their new machine to run into problems, but it's critical that you know what to do and who to contact in the event your machine has issues. When looking at new machines, check with the manufacturer if they offer training at their facility or on-site for you and your employees to fully understand the ins and outs of how the machine works, maintenance, and safety practices. Also, check how quickly they're typically able to provide service or replacement parts when a machine goes down.
Materials formed – Make sure the portable gutter machine you're interested in will run the materials you plan to provide to your customers. For example, some machines don't run copper or may be limited in material thicknesses and gauges.
Gutter size – If you know the majority of your clients will want a 5" gutter, you might be fine just purchasing the one machine size. However, if you want to offer both 5" and 6", a combo gutter machine may be your best option. Knowing what size of gutter is popular in your area will help you choose the right machine for your business.
Gutter profile – Depending on the number of profile options you want to provide to your customers to choose from (i.e. back flanges, hooks, etc.), make sure the machines you're looking at are able to rollform each variation. It's also important to know what styles are popular in your region, whether it's k-style, box, or otherwise.
Machine length – The longer the machine, the higher the quality of the finished product. This is due to the machine having more spread out forming stations used to gradually form the metal, which reduces stresses inflicted on the materials during the rollforming process.
Push-button controls vs. drum switch – For controlling the machine, push-button controls are considered the better option, as they are easier and more efficient to use.
Availability of length control – If you're looking for the machine to automatically stop at a specified length, ensure you get a rollformer with a computer controller that allows this function.
What to Look for in a Used Gutter Machine
Let's say you're not quite ready for a brand new gutter machine, which is very common for new or smaller businesses, so you want to look into purchasing a used gutter machine. While New Tech Machinery doesn't deal in used machines, many companies decide to sell their used equipment at a reasonable price.
That being said, buying a used machine can come with its own set of pitfalls. Make sure to check all of the attributes listed above in the new machines section in addition to these items:
Don't buy a machine until you've seen it run in person – A problem we've heard about time and time again, especially with gutter machines, are buyers not going in person to look at the machine and its capabilities. We can't stress this point enough: It's up to you as a buyer to make the seller run material through the machine for EVERY profile and size (if the seller says the machine runs both 5" and 6" gutters, make sure they run both) to prove the machine functions correctly.

Also, never put any money down on a machine until you've seen it.

The machine is in good condition on both the outside AND inside – The physical condition of the used rollforming machine for sale can be a potential problem as well. While exterior looks aren't everything, if you find a machine that looks really bad on the outside, it also could mean that the inside might not have been maintained either. Or you could even run into a situation where the outside of the machine looks great, but the inside has issues. If the inside is worn out, the machine might not function as it was intended to, which is another reason to make sure you see it in person and run the machine before purchasing.
The price seems "too good" – If a price seems too low or is too good to be true, it might be a red flag of existing issues. It's hard to define what is considered a "low price," but if you feel uneasy about it, ask the seller and have them prove it functions.
(Please note, in addition to the items above, most used machines DO NOT include a manufacturer's warranty.)
Questions to Ask Yourself Before Buying a Seamless Gutter Machine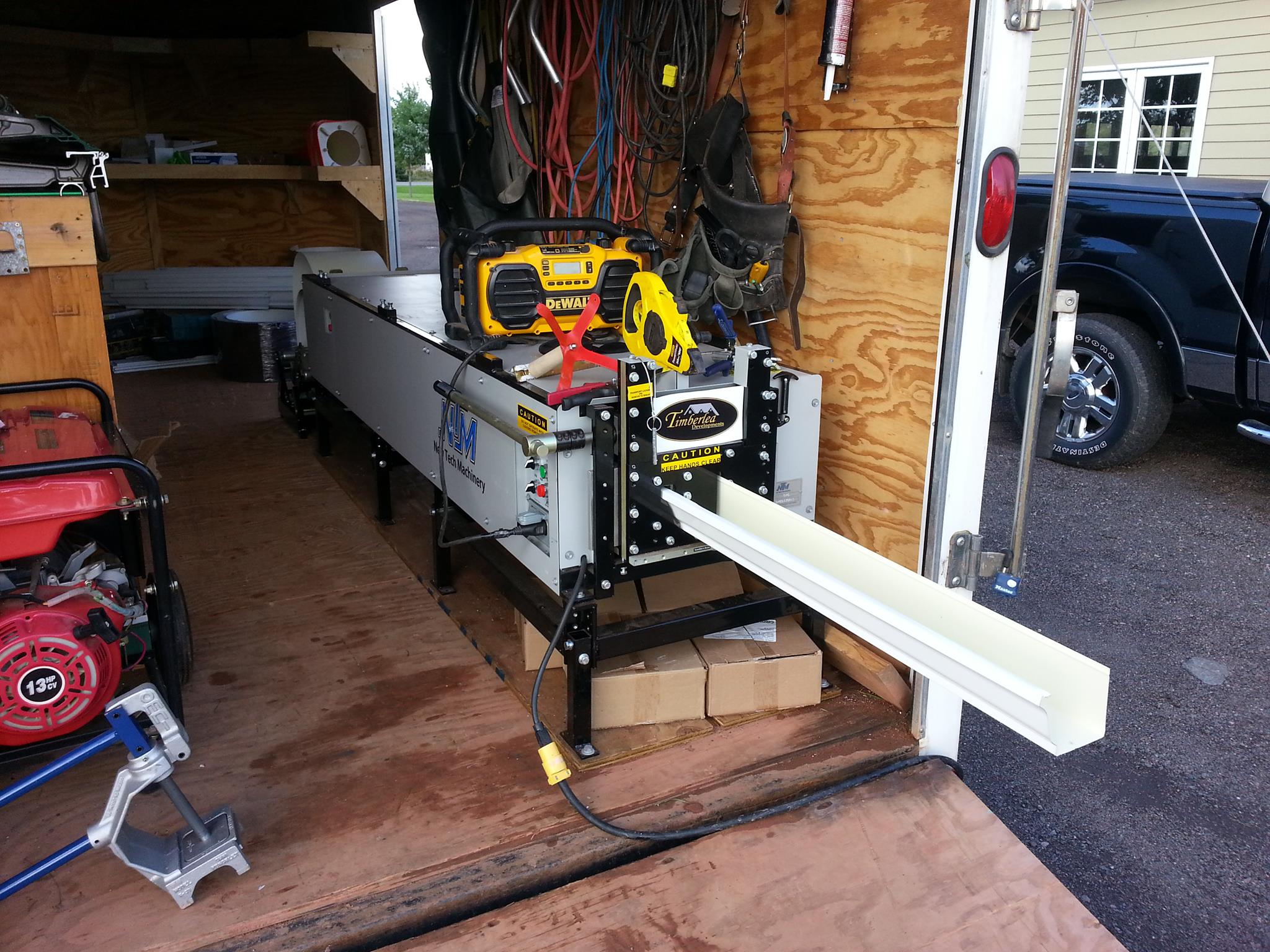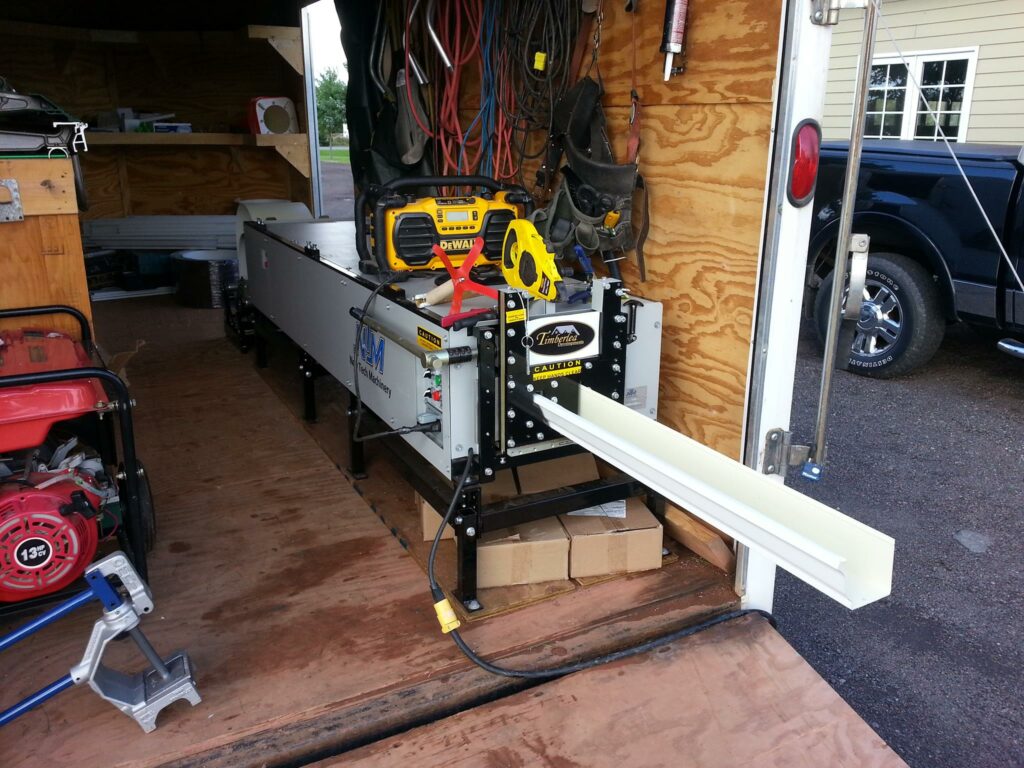 If you're still unsure whether to invest in a new or used portable seamless gutter machine, there are some things you can do to help steer you in the right direction. Start by asking yourself some of the following questions to better gauge yourself and your business needs, which can help you determine new vs. used machines and if any add-ons are necessary to buy:
Can I afford a new machine? Or can I only afford one that is used?
If I desire a new gutter machine, but don't have the cash at the moment, can I get approved for leasing or financing?
Have I been having an issue with or am I at the mercy of a gutter manufacturer/supplier?
Do I want to focus on producing gutters, hanging/installing gutters, or both?
What profile and size options do I want to offer to my customers?
Does my business have a skilled employee who can and will run and maintain the gutter machine?
Do I live in an area where my gutter machine would be affected by extreme weather conditions (cold or hot) if it wasn't enclosed?
Final Thoughts
Buying a portable seamless gutter machine for your business can be a great asset, especially if you want to take control of your own production and diversify your business. But you want to make sure you're buying the right machine with the add-on options that are best suited for you from the start.
Remember:
The base price of a seamless gutter machine often doesn't include any accessories or add-ons, as those increase the cost depending on the specific add-on choices selected.
Ask yourself questions before you go to purchase a machine to find out what you're looking for.
Make sure new machines offer what you're looking for, such as warranties, sizes, gutter profiles, and controls.
When purchasing used equipment, always make sure to go see the machine in person and to run material in every gutter profile and size the rollformer can do.
At New Tech Machinery, we manufacture award-winning portable seamless gutter machines designed to help you and your business achieve success in gutter installation and production. We're dedicated to helping you find the best gutter machine that fits your needs and doesn't break the bank.
Reach out to any of our Account Managers for more information about the seamless gutter machines available, or to help you find the best machine configuration for your business.
---
---