If you're looking into buying your first gutter machine, understanding some of the most popular seamless gutter machine configurations and who they're a good fit for can help you choose the right machine and add-on options at the start.
As a gutter machine manufacturer, we know the importance of purchasing the right portable rollforming equipment to help make your projects easier and more efficient. That's why New Tech Machinery (NTM) has specific configurations for MACH II™ gutter machines in cost-effective and popular packages.
In this article, we'll explore each of the five popular gutter machine configurations for our leading MACH II™ 5", 6", and 5"/6" Combo machines, who they are the best fit for, and what to keep in mind when choosing the best configuration for your gutter business.
Most Popular MACH II™ Gutter Machine Configurations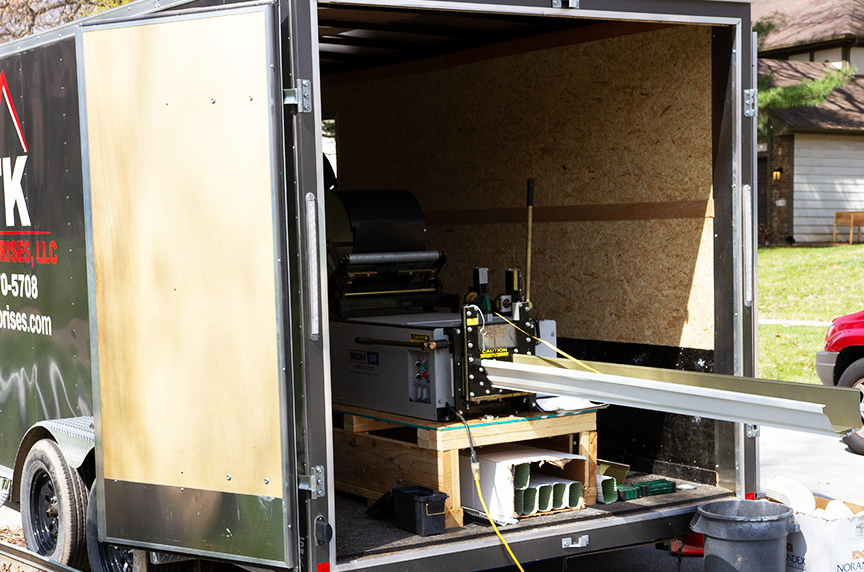 New Tech Machinery's MACH II 5", 6", and 5"/6" Combo Gutter Machines come in a variety of configurations and "packages" designed to be affordable and the most cost-effective options for certain business operations or based on customer popularity. Ultimately, how you choose to configure your gutter machine is solely up to you, and you can purchase the machine and accessories à la carte. However, plan on it being more expensive out the door.
Let's dive into the different gutter machine configurations that are most popular as it applies to the MACH II™ 5", 6", and 5"/6" Combo k-style gutter machines from New Tech Machinery.
MACH II™ 5", 6", 5"/6" Combo Gutter Machine Configuration 1: Economy (Machine Only)
This option with New Tech Machinery only comes with the gutter machine, no reels, shear, cradles, or reel stands. Typically this option is great for someone who already has a gutter installation business and may have other NTM gutter machines already to use the accessories with an extra machine. Purchasing a gutter machine without a shear is usually a personal preference if you like to use something else to cut the finished gutter.
As of 2022, economy pricing starts at:
$8,000 USD for MACH II 5"
$9,600 USD for MACH II 6"
$11,200 USD for MACH II 5"/6" Combo
MACH II™ 5", 6", 5"/6" Combo Gutter Machine Configuration 2: Basic (Machine and Shear)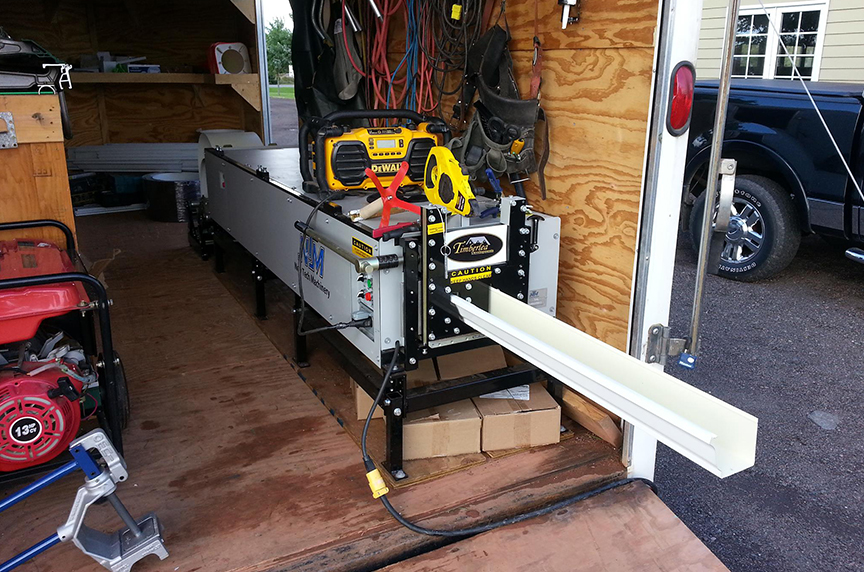 The basic machine option includes the 5", 6", or combo gutter machine AND a shear. Like the economy configuration, this one is popular with people who already have a machine and accessories and just want another machine with the ability to shear gutters as they exit the machine. It's also an excellent option for those who already have a way to feed coil into the machine. The combo gutter machine comes with two shears for use with both the 5" and 6" profiles.
Basic pricing for these MACH II machines starts at:
$9,100 USD for MACH II 5"
$10,700 USD for MACH II 6"
$13,500 USD for MACH II 5"/6" Combo
MACH II™ 5", 6", 5"/6" Combo Gutter Machine Configuration 3: Machine, Two Coil Cradles, and Shear(s)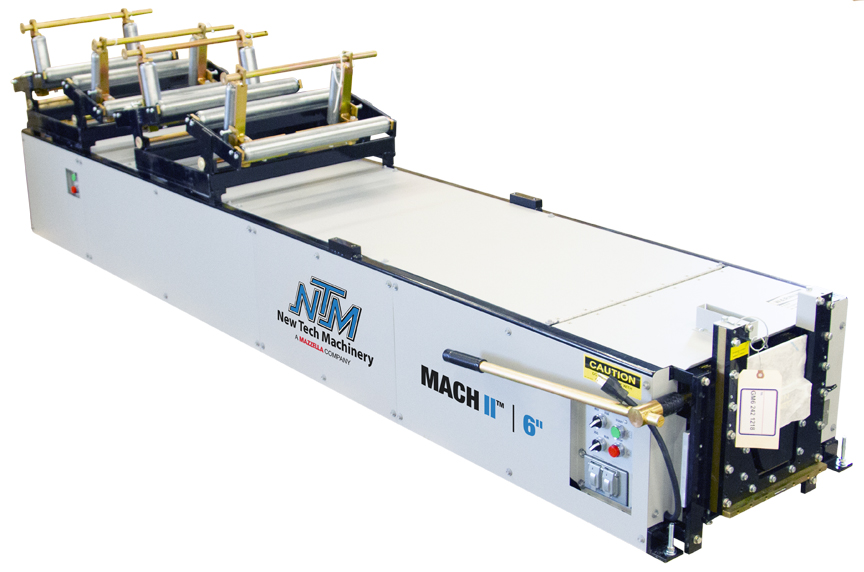 This popular configuration is designed for those who like to use coil cradles rather than reels. Coil cradles are ideal for holding smaller or partial gutter coils for 5" and 6" profiles and have a capacity of up to 500 lbs. It's easier to load coil into a cradle instead of the reels, so if you have limited access to a forklift, typically don't put a lot of material onto your machine, or only use your machine for a select number of jobs, this configuration may be the right fit for you. The combo gutter machine comes with two shears in this specific configuration.
Pricing for a MACH II machine in this configuration starts at:
$10,200 USD for MACH II 5"
$11,800 USD for MACH II 6"
$14,500 USD for MACH II 5"/6" Combo
---
---
MACH II™ 5", 6", 5"/6" Combo Gutter Machine Configuration 4: Machine With Reel, Coil Cradle, and Shear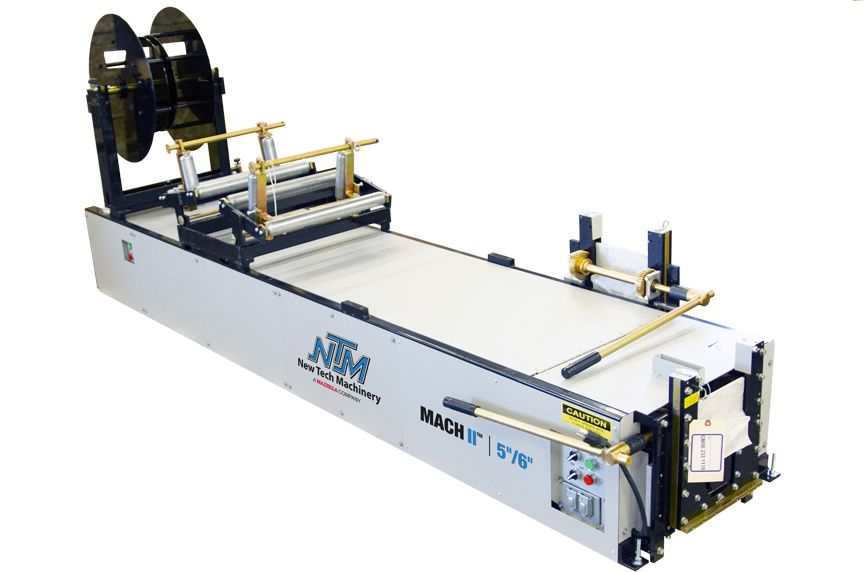 Using your machine with a reel, coil cradle, and shear is one of our most utilized combinations by our distributors. This option allows you to have the coil cradle for use with smaller projects or if you're holding a smaller size or specific color of material. For instance, if you're doing a lot of gutter work on residential applications using only select coils, a cradle is easier to load the coil onto than a reel. However, since it can only hold a smaller gutter coil, you'd have to change coils more often.
The reel is ideal for projects requiring a lot of material in the same color, for large projects, and can hold a larger diameter coil than the cradle. Reels can support a heavier coil than a cradle coil. Reel stands and reels are usually easier to load and move in a shop or job site.
Starting price for a MACH II machine with reel and reel stand, cradle, and shear(s) is:
$10,100 USD for MACH II 5"
$11,700 USD for MACH II 6"
$14,400 USD for MACH II 5"/6" Combo (comes with two shears)
MACH II™ 5", 6", 5"/6" Combo Gutter Machine Configuration 5: Machine With Two Reels, Two Reel Stands, and Shear(s)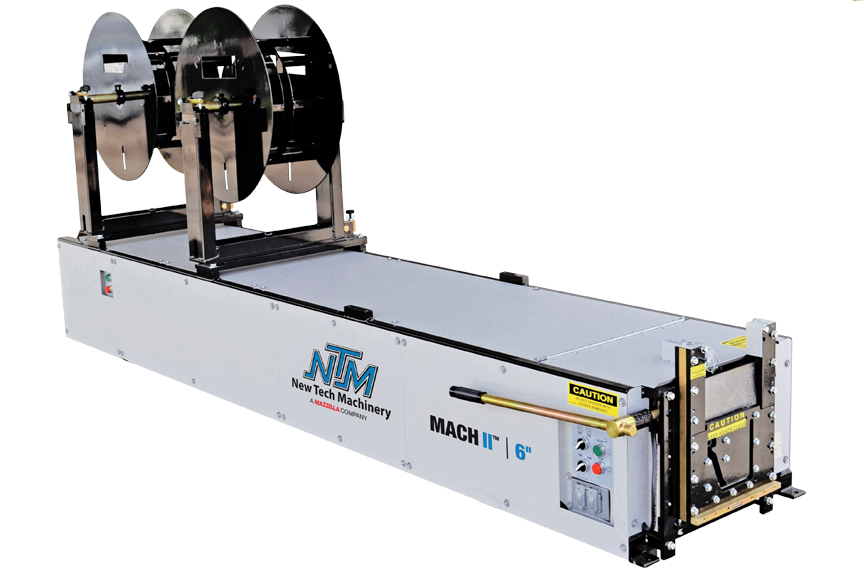 This configuration is the most popular one sold at New Tech Machinery and allows contractors to carry the most coil on top of the machine during transport or inside a shop. This option is perfect for anyone who has easy access to forklifts for loading and unloading coil or could be doing a lot of commercial projects that require large amounts of material.
This configuration starts at the following prices for each machine:
$9,900 USD for MACH II 5"
$11,500 USD for MACH II 6"
$14,300 USD for MACH II 5"/6" Combo (comes with two shears)
Optional Gutter Machine Accessories to Consider Purchasing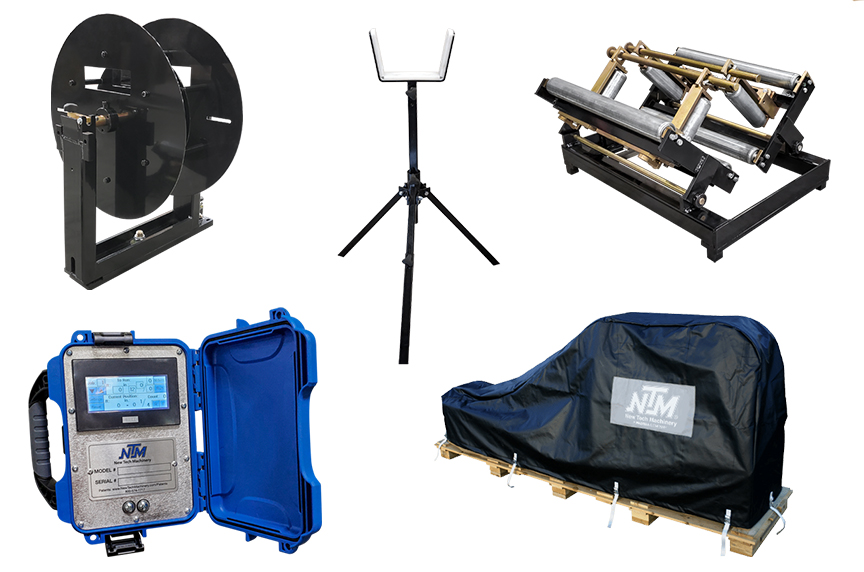 If you're looking for other gutter machine accessories to get even more efficiency, versatility, and ease of use from your gutter machine, there are some other add-on options you can purchase besides the few we've already discussed:
Run-out stands, in adjustable heights, help support the gutter as it exits the rollformer.
EZ-Counter computerized length controller provides more accurate measurements than measuring gutter length by hand.
Riser pads help get your gutter machine off the decking and at a more accessible working height.
Bottom bead assembly produces decorative and stiffening beads into the gutter profile.
Extra reel and reel stand or a coil cradle if you want to have your machine set up to carry the maximum amount of coil possible.
Machine covers are popular accessories for those that mount their gutter machines on an open trailer as they protect your machine from road debris and inclement weather.
How to Choose the Best Gutter Machine Configuration for Your Gutter Business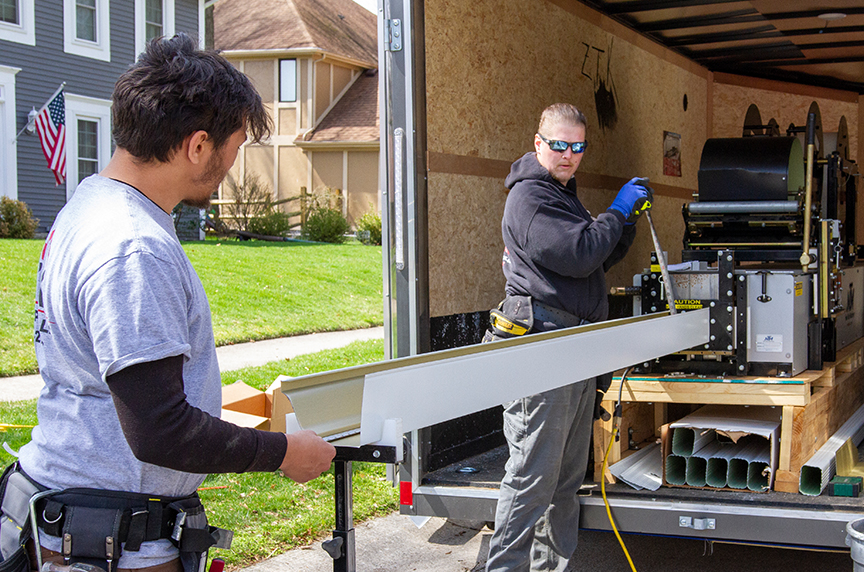 When choosing the best gutter machine configuration for your business that allows you to work efficiently and within your budget preferential, remember that most of the decision is based on your preference. There's no "best" machine configuration for residential vs. commercial applications or particular projects. It depends on the add-on options (cradles vs. reels) available, what you like to use at job sites, or what you have access to in your region.
All New Tech Machinery gutter machines can be customized with the accessories you want, but the cost of purchasing a gutter machine and accessories separately is more expensive than buying a package, like the ones we've outlined in this article for our MACH II 5", 6", and 5"/6" Combo machines.
Consider the following when choosing which seamless gutter machine to purchase and in which configuration:
Look at the typical regions or places you'll be working and ask around to gauge which profiles and sizes are most popular or necessary based on the range of rainfall in the area.
If you're just buying a machine for the first time, you can choose to get it completely loaded with the accessories you'll likely need.
If you already have an NTM gutter machine with many accessories, you can choose just to get a machine or a machine with a shear.
The 5"/6" combo machine is an excellent option for running both 5" and 6" gutters in just one machine and less than an hour of changeover time when switching from 5" to 6" or 6" to 5" profiles.
Final Thoughts
When choosing a seamless gutter machine and configuration, remember the following:
You can always buy accessories à la carte, but it isn't as cost-effective as buying one of the packages offered through NTM.
Consider how you plan to use your machine in the field and whether you'd benefit more from cradles or reels for loading and unloading coil.
Take into account whether you plan on doing only a select number of jobs, typically only use specific colors or types of material, or if you want to expand your business.
For more information about any of New Tech Machinery's seamless gutter machines or assistance choosing the best configuration for your operations, don't hesitate to reach out to us and talk to one of our helpful rollforming specialists.
---