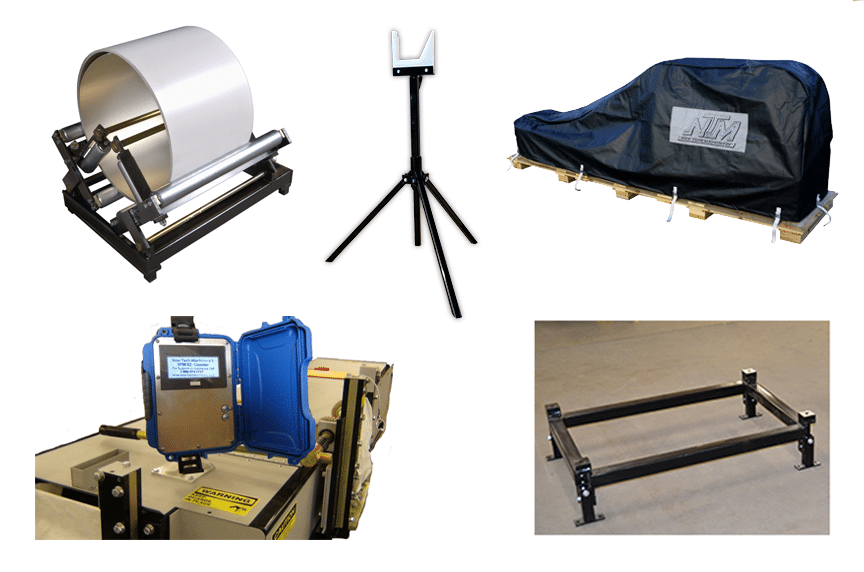 If you're thinking of purchasing a brand-new seamless gutter machine and want to know what extra features you should include, or if you're looking to buy additional accessories to get more out of your existing machine, there are a lot of considerations to take into account before choosing which ones to get.
Before you decide on any additional options for your gutter machine, it's important to do your research. Research your market and what might be popular with the customers you serve, find out what accessories will work with your specific machine or the machine you want, and understand what each accessory does. Knowing these things can help ensure you make a solid decision for your business, your bottom line, and your customers.
Manufacturing and selling portable rollforming machines for 30 years, New Tech Machinery, (NTM) understands the importance of making a smart and educated purchasing decision, no matter what it is. There are so many different accessories you can get for your seamless gutter machines; how do you know which ones will be the most beneficial to you and your business?
In this article we'll discuss:
The cost of a portable seamless gutter machine
Why should you consider having additional accessories for your portable gutter machine, and how can they help?
What kinds of accessories are offered for New Tech Machinery's gutter machines, and what functions do they serve?
Cost of a Portable Seamless Gutter Machine
Why is it important to know the cost of the gutter machine before you purchase any additional features?
If you go in blind, without knowing any prices beforehand, you may end up spending more than you want or should. The more research you can do, the better you'll be able to figure out what added features will help you land more work and give you the most bang for your buck.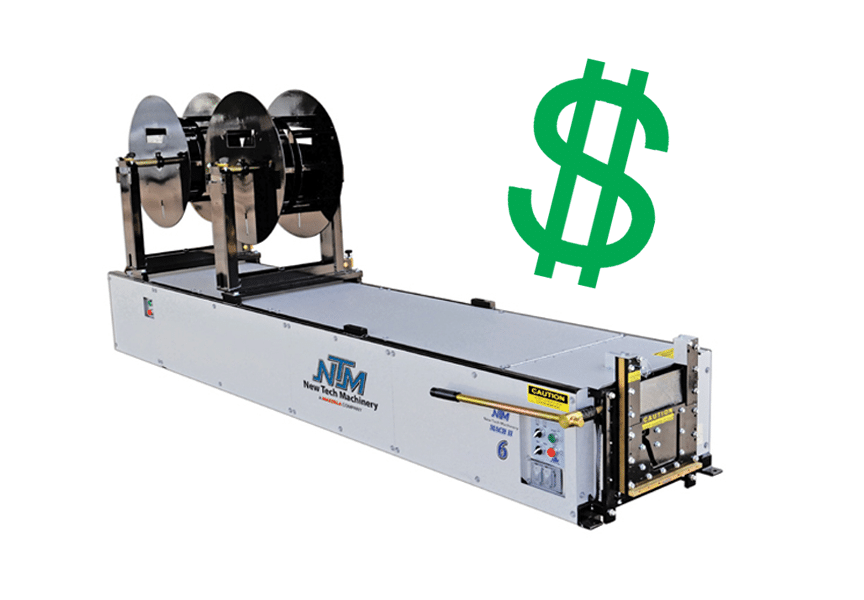 For this article, we're going to use New Tech Machinery's seamless gutter machines, which are priced competitively to other machine manufacturers. Base pricing for NTM gutter machines are as follows:
These are only base prices and do not include many add-on options or features that are available to you for an additional cost (quoted separately). You can always contact one of our rollforming specialists to discuss the configuration that will work best for you, your business, and your customers.
Why Consider Getting Accessories for Your Gutter Machine?
Accessories are a great way to enhance your seamless gutter machine, no matter if you're just considering getting a machine, or if you already have one for your own business. Some of the optional features offered for gutter machines not only improve your efficiency, but they can also help you offer more options to your customers, as well as enhance the quality of the actual finished product.
Some questions you should consider before you make any purchasing decisions:
Which accessories are available for each type of seamless gutter machine, and what do they do?
How will the extra features benefit my business? Will they help increase my efficiency, allow for greater production, or improve the functionality of the end product?
Is there a significant demand or market for this feature in my area? What are my customers asking for? What's best for my business?
Will I use these accessories and are they cost-effective?
Based on the gutter machines that NTM offers, here are some of the best accessories to consider purchasing for your portable seamless gutter machine, and how they can help make your work easier.
All of New Tech Machinery's portable gutter machines have additional items available for purchase including canvas-type covers which are form-fitted to the body of the machine, various profile options, and are backed by the industry's best warranty.
---
---
Mach II 5", 6" and 5"/6" Combo Gutter Machines
The Mach II gutter machines manufacture K-style gutters. K-style gutters are the most prominent style of gutter found in North American homes today. They typically have a flat bottom and profiled face, similar to the look of crown moulding. This gutter type can also handle more than double the amount of water runoff than a half-round gutter.
Some of the standard features of the Mach II 5", 6" and 5"/6" combo machines include:
Two 360° rotatable reel stands for easy coil loading
Electric motor
Forward pulling, easy cut shear for accuracy
Power interruption safety circuit
Easy lift reels
Please note that base pricing of all Mach II machines do NOT include shears, reels, or reel stands.
Additional accessories and options that are also useful to have include:
Run-out stands
Run-out stands are used to support the gutter as it runs out of the machine. They are designed to be a sturdy tripod-style stand, used to help support the formed gutter. The run-out stand can be adjusted in height from 33 1/2″ to 57 1/2″, and has folding legs for easy storage. At NTM, we have one size for both sizes of gutters. It's recommended that you have one stand for every 20 feet of gutter.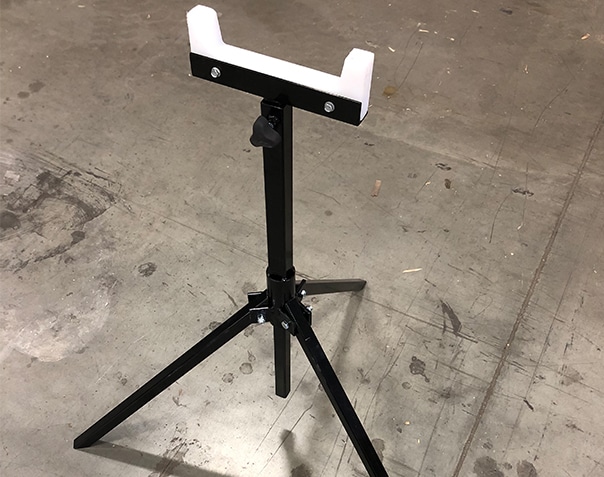 Shear
This forward pulling shear on these Mach II machines acts as a guillotine. The shear is designed to provide an easier cut to the finished gutter pieces, at the length you desire. The quick and precise motion of the shear will provide a cleaner cut than using hand snips.
EZ-Counter Computerized Length Controller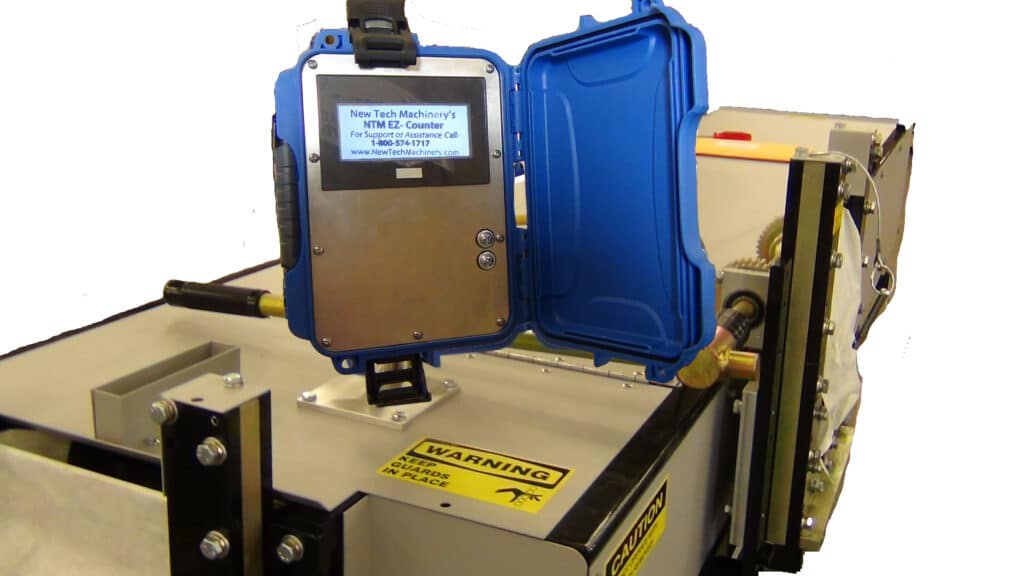 The EZ Counter Controller allows clients to easily program up to 50 different lengths to automatically run the correct length of gutter. It also offers a mitred end option, operates in feet, inches, or centimeters, material tracking, and has an easy-touch screen. This optional feature provides more accurate measurements than measuring the gutter length by hand.
Coil cradles
A coil cradle is used to hold smaller or partial gutter coils for 5" and 6" gutter profiles. It can be machine or floor mounted and has a capacity of up to 500 lbs. This device is easier to load coil onto instead of gutter reels, making for easier access when you need it.
NTM recommends that you load the coil onto the cradle at the job site.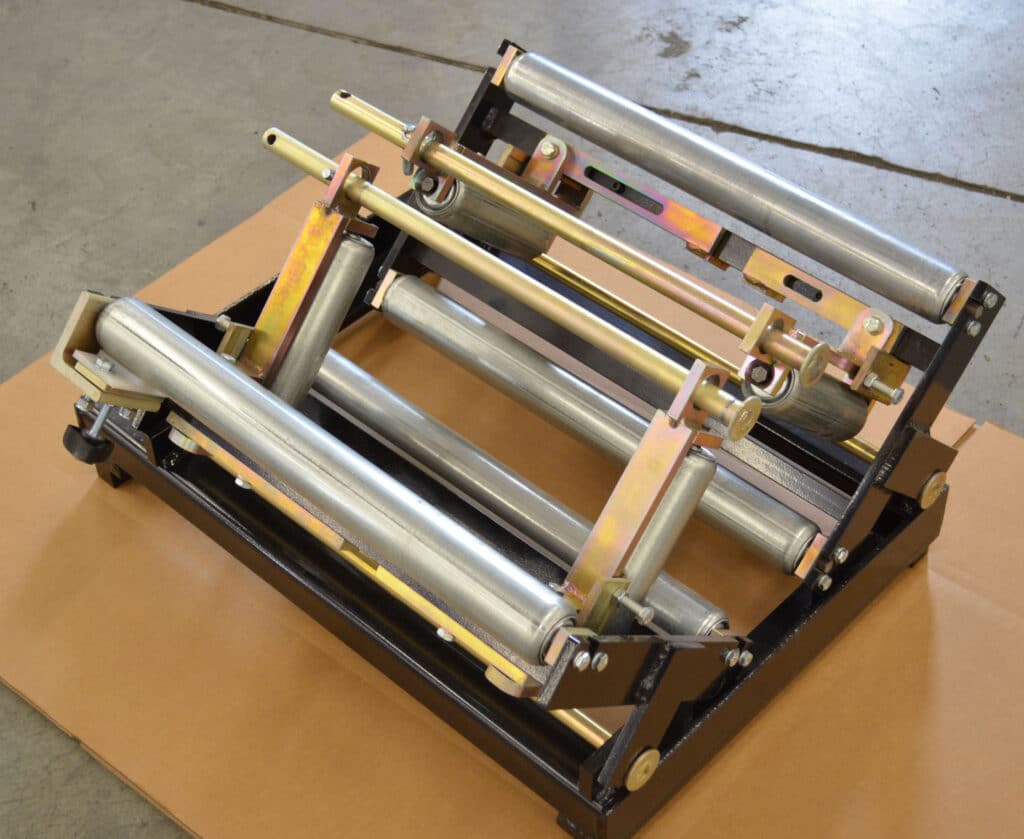 Reels and reel stands
Reels are used for carrying the coil on top of the machine. The maximum weight the reel can support is approximately 500 lbs. Reels can hold a larger diameter coil than the cradle. They can be adjustable in width to hold 11-3/4" through 15" wide coil for 5" and 6" gutters.
The turnstile reel stands are mounted to the machine to support reels loaded with coil. They also rotate 360 degrees for easy loading and movement. Each machine can support up to three reel stands/coil cradles total (or a combination of the two).
Riser pads
Riser pads help to raise the gutter machine off the decking to provide a more comfortable working height. At NTM they are available in two configurations: 6" to 8" riser pads, or 10" to 12" riser pads.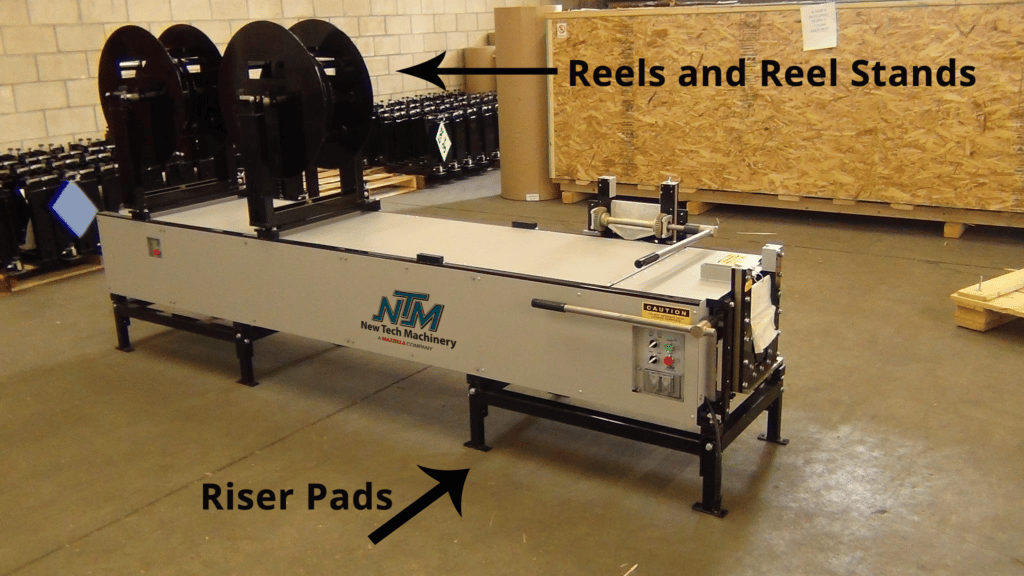 Transfer racks
Transfer racks are a great accessory to have on your gutter machine if you're using reels. They make transferring loaded coils from one turnstile reel stand to another easier and faster.
Hook assembly
The hook assembly is another roller station that's added to the machine to create a 5/16" hook on the back of the gutter profile for use with a free float hanger system. Also referred to as "Alcoa style", this style is mainly used in Northeast U.S., and simply provides another way of hanging the gutter via a hook that's attached to the fascia.
Back flange assembly (1" or 1.5")
The back flange assembly is comprised of additional roller stations that can be added to the machine to form a 1" or 1 ½" backside of the gutter which is bent towards the roofline and is often used as a drip edge upon installation. It can be disengaged if a straight back gutter is preferred.

Bottom bead assembly
Bottom beads can help stiffen the bottom of the gutter as well as add a slightly more decorative look to the gutter. This allows for easier installation of longer lengths because of the extra support the bottom bead provides.

Electrical 12V, 220V and/or CE Wiring
The DC motor and control allows for operation of the machine with a 12-volt battery (battery does not come included), instead of requiring electricity. The 220V and/or CE wiring is used for overseas applications.
BG7 Box Gutter Machine
The BG7 Box Gutter Machine is NTM's 7" commercial box gutter machine, mainly used for industrial and commercial building applications. Box gutters are great for buildings where you need to handle large amounts of runoff.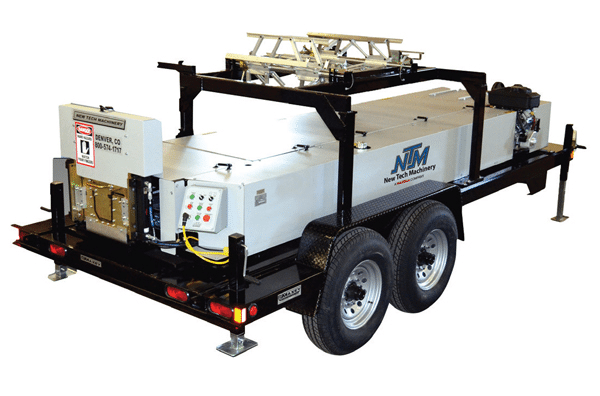 Standard features of the BG7 Box Gutter Machine include:
Straight back style gutter profile
Length control limit switch
Hydraulic drive and shear
Power interruption safety circuit
Gutter recognition safety system
One Quick-Change Power-Pack™ – choice of gas or electric
Some additional accessories you may want to consider getting for your machine include:

Additional gas or electric Quick-Change Power-Pack
This device is used to quickly field convert the machine from using gas engine to an electric motor, and back again as needed. It can also convert from electric motor to gas engine if needed.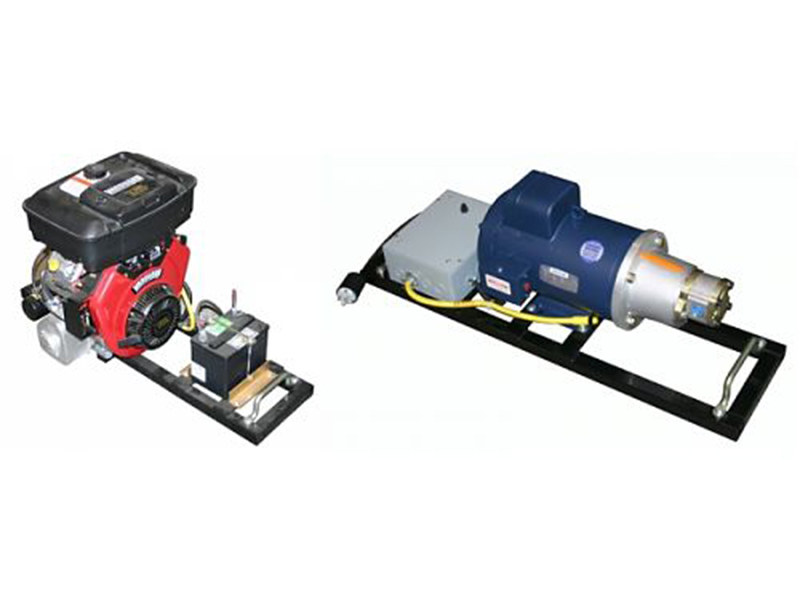 Hook assembly
The hook assembly is a roller station designed to create an "Alcoa style" hook on the back of the gutter profile for use with a free float hanger system. This style provides another way of hanging the gutter via a hook that's attached to the fascia.

Expandable arbor
The expandable arbor is used for holding coil on top of the machine. This specific arbor is designed to expand to the inside diameter of the coil for easier, faster loading and unloading of the metal coil onto or off the portable gutter machine. This device can hold coils with 16" to 20" ID.
Run-out table
This conveyer style table attaches to the shear and is used to hold the gutter as it exits the machine, and allows for quick and easy pick up by installers. The table has two individually adjustable legs that allow for variation in height from 25" to 43".
PLC07 computer controller
This computer controller was developed after years of customer feedback, integrating options and features that end users requested. The PLC07 controller is designed for simplicity, and is operated by a touch screen, can program up to 99 jobs or lengths, is password-protected, tracks material, has an integrated coil length calculator, and provides help and error screens.
Trailer
The trailer used in the BG7 is a National Association of Trailer Manufacturers (NATM) Compliant, 12,000 lb. tandem axle trailer. It can tow the gutter machine directly to the job site, and comes equipped with crane lifting eyes, four drop-foot jack stands, and electric brakes with breakaway kit.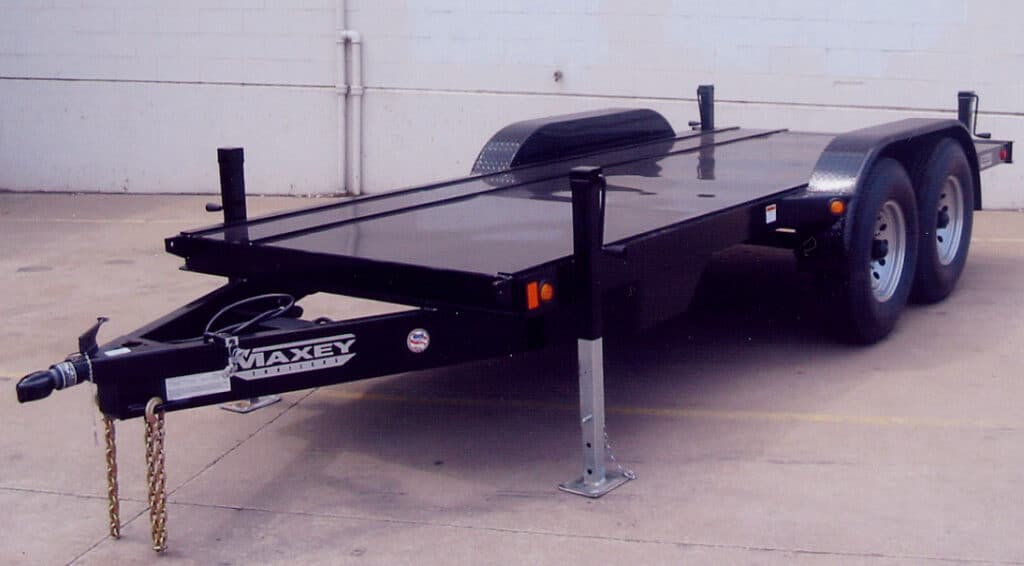 Final Thoughts
Accessories are a great way to get more out of the gutter machine you already have, improve work efficiency, and produce quality gutter profiles. Now that you are familiar with all of the different gutter machine accessories we manufacture, we hope that gives you a better idea of which ones will work best for your business, and give you the most bang for your buck.
Keep in mind that there's more that goes into selecting accessories for your portable gutter machines than just which ones work the best. You also want to consider:
How do they work?
Will it benefit my business?
Is there a big market for this in my area?
Will I use it, and will it be cost-effective?
Since 1991, New Tech Machinery has helped both first-time and established machine owners find the accessories that will fit their needs, benefit their work, and help increase customer satisfaction. To discuss which accessory will help you get the most out of your machine, contact any of our rollforming specialists.
---