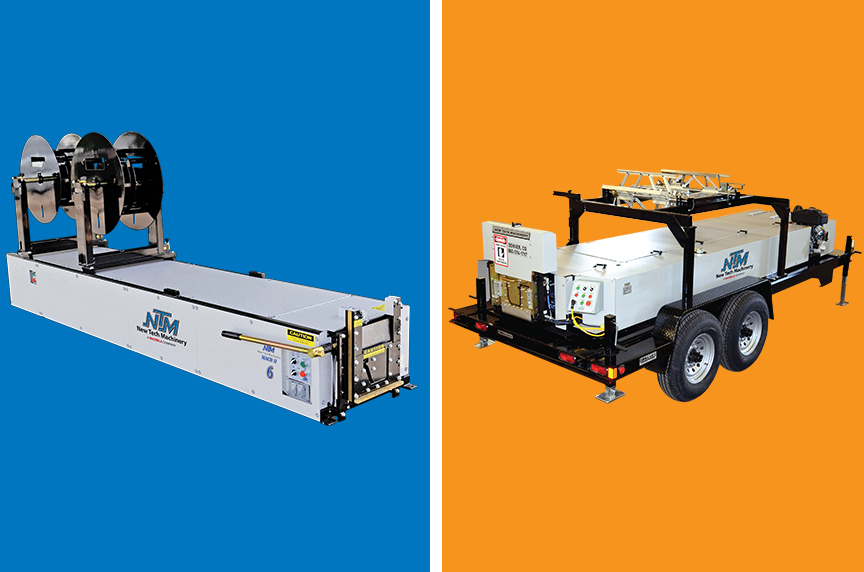 Gutters are a common installation on most residential, commercial, or industrial building applications. While you probably already know what a gutter is used for, you might not know the various types of gutter systems, and machines used to manufacture these important drainage devices.
Whether you're looking at machines for installation of gutters on your home or for a customer, there is important information you should know: why gutters are crucial for a building's structure, what types of gutter machines and profiles available, and how they work.
New Tech Machinery has been manufacturing industry-leading seamless portable gutter machines since 1994. We know that research comes before making any decisions about purchases or signing up for job bids, especially if you're unfamiliar with a building material's application or design.
In this article, we'll discuss:
The importance of gutters
Different styles of gutter profiles
Types of gutter machines and their features
Why Gutters Are Important in Building Applications
Gutters are an important and essential part of many homes and buildings. They collect water runoff from the roof, carry it through the gutter system to a downspout where the water is directed to the ground and away from the building's structure.
Gutter systems are found on most commercial and residential buildings, but there are different factors to consider when looking at gutter types:
The length and size of the roof will determine how long your gutters will need to be
The slope of the roof will determine the pitch of the gutter system to effectively drain water from the roof and away from the house
The amount of rainfall received in your region will help determine what size and style gutter you should get, for maximum effectiveness
Gutters are typically made out of these materials:
Aluminum
Copper
Steel
Vinyl
Zinc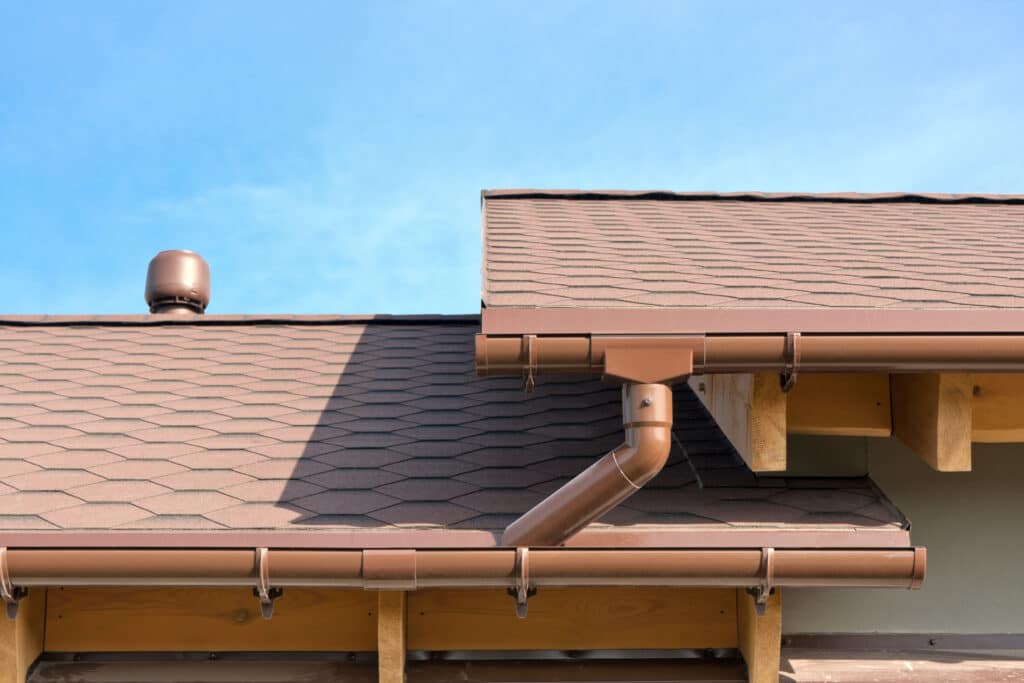 Most metal gutters are made through the rollforming process, either by an in-plant or portable machine, and are typically manufactured as seamless (continuous) or sectional.
Seamless gutters, those that are made to custom lengths directly at the job site, are typically made from aluminum or steel. By using this kind of gutter, you don't have any seams in the gutter system which decreases the risk of leaking.
Sectional gutters are sold in pieces and installed as separate components to the structure. They are joined together by being snapped, welded or glued, and then placed onto the building. The downside to using sectional gutters is that water can leak from the seams joining two individual sections together. This can cause problems over time if not properly maintained and regularly cleaned.
Although there are numerous gutter profile options available, there are four major types of gutter machines. Popular seamless gutter machines include:
Fascia
K-Style
Box Gutter
Half-Round
---
---
Fascia Gutters and Fascia Gutter Machines
Fascia style gutters are popular in North America, and especially in Western portions of the United States and Canada. Many people think that fascia gutters add appeal to homes with their unique visual elements that standard gutters don't offer. They are a functional home design feature, found on many modern buildings.
This style of gutter is mostly seen on homes where a fascia board is not installed along the lower edge of the roof. Fascia gutters are directly installed onto the framing so the smooth face of the gutter hides the edge of the roof's rafter tails. This prevents water from pouring over the side and damaging the structure.
On homes with lots of roof area, rain can accumulate quickly, and runoff can easily overflow traditional style gutters. The fascia gutter is larger than K-style or half-round, so it is more capable to handle the sudden onset of water, and effectively divert it away from your home with zero or minimal overflow.
Using fascia-style gutters helps save you time and money because you don't have to install a fascia board before putting the gutter up. Not only are you saving money on installation costs (not spending money on wood for fascia boards, labor costs, etc.) you're also saving money on maintenance after the installation. Normally if you install a fascia board before putting in the gutter, you might have to repaint the wood or replace damaged portions after a period of time.
New Tech Machinery doesn't currently manufacture or sell a portable gutter machine that produces fascia gutters.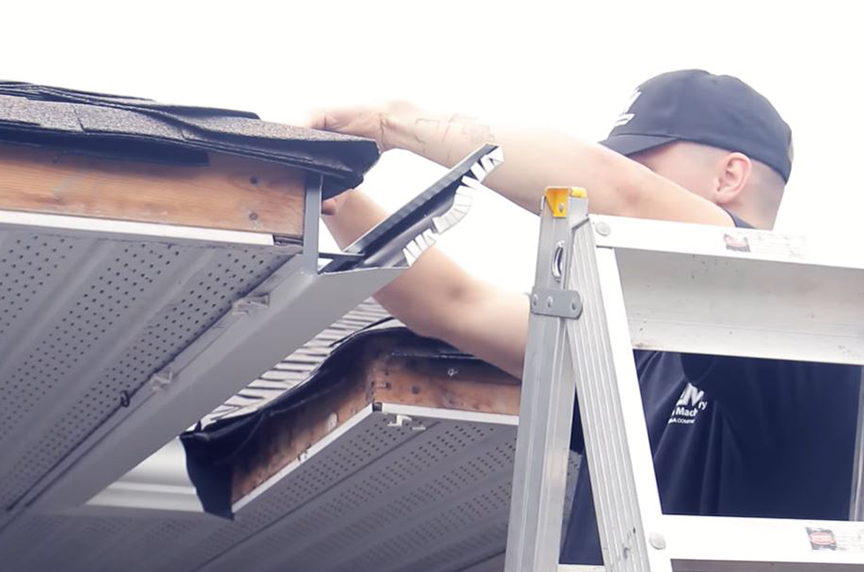 K-Style Gutters and K-Style Gutter Machines
The K-Style gutter profile became more popular in North American homes after World War II and is the most popular style of gutter found in North America today. It typically has a flat bottom and profiled face, which looks similar to crown molding. This type of gutter is stronger because of its specific look and can handle more than double the amount of water runoff than a half-round.
Just about every major gutter installer carries this type of gutter profile and its accessories. NTM's K-style gutter machines are the MACH II™ Gutter Machines, which come in different versions:
5" machine
6" machine
5"/6" combination machine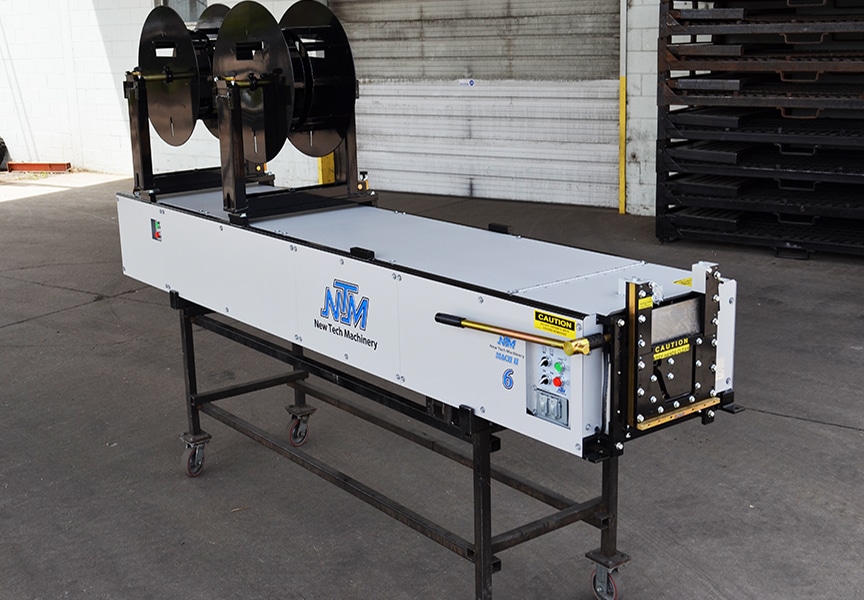 Standard features on all of the MACH II™ gutter machines include:
Polyurethane drive rollers
Two 360° rotatable reel stands
Stainless steel forming rollers
Electric motor
Push button RUN/JOG controls at entry and exit ends
Power interruption safety circuit
Forward pulling, easy cut shear for accuracy
What makes these machines unique are the options for larger gutter styles, and the availability of multiple profile styles between them, such as hook assemblies, back flanges, and bottom bead rollers.
Box Gutters and Box Gutter Machines
Box gutters, also referred to as "square" gutters, don't have the decorative shape like K-style gutters. In the 18th and 19th centuries, these kinds of gutters were typically built into the roof structure, but today it's more common for these gutters to be exposed. They are great for commercial or residential buildings that don't necessarily need to look stylish, but do require a deep enough trough to handle a lot of water runoff.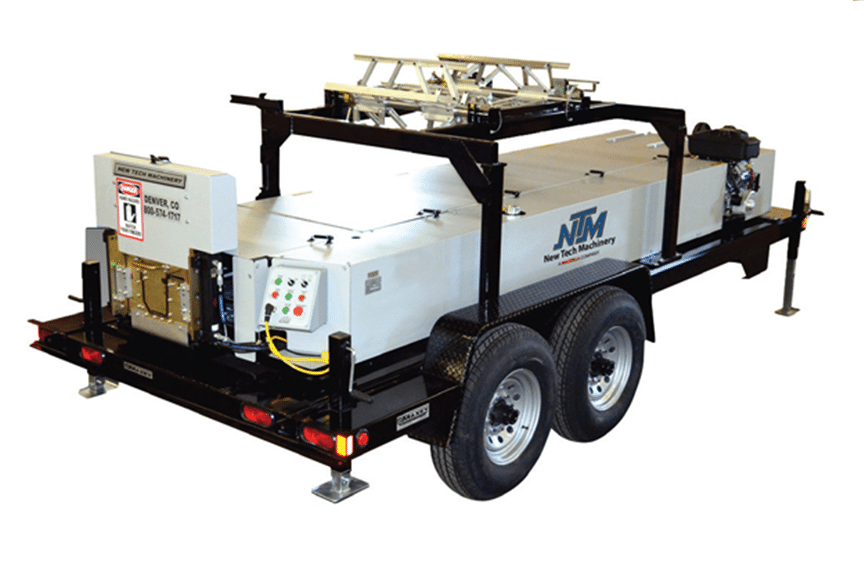 The BG7™ Box Gutter Machine is our 7" commercial type machine, and comes with these features:
Two profile options
Polyurethane drive rollers
Hydraulic drive and shear
Length control limit switch
Power interruption safety circuit
Push button RUN/JOG controls at the entry end of the device
Welded tubular steel frame
Runs up to 22 Ga. material
Gutter recognition safety system
Choice of gas or electric Quick-Change Power-Pack™
Industry's best warranty
Half-Round Gutters and Half-Round Gutter Machines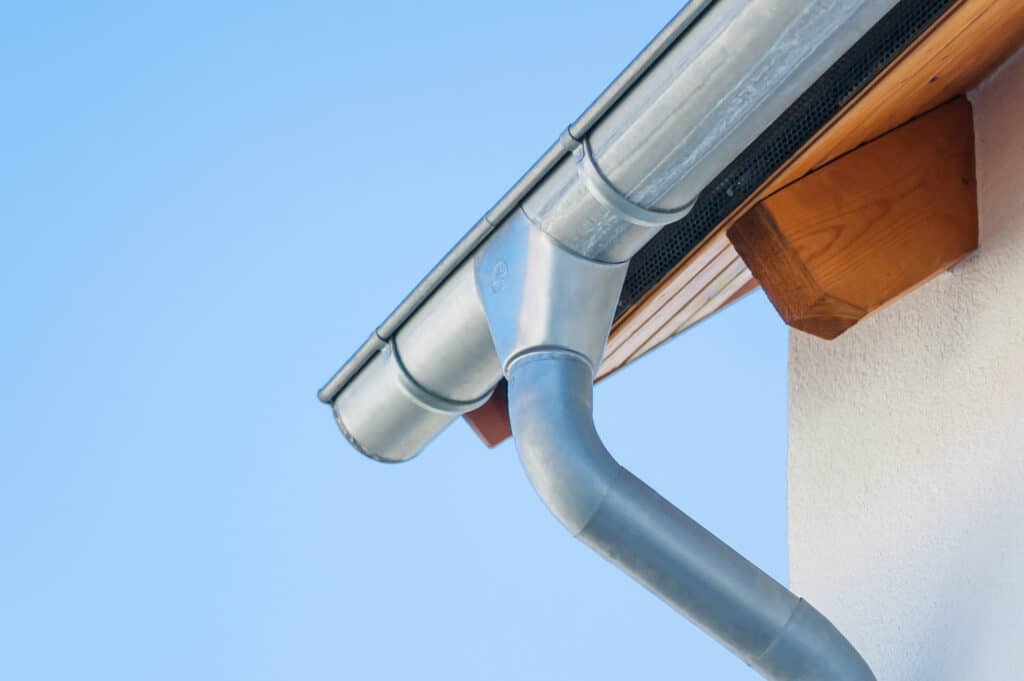 As its name suggests, this is a semi-circular gutter with a rolled inward lip or "bead," and works well on older styles of homes. Today, half-round gutters come in many color choices, and they are a popular choice for upscale residential properties. They drain water more effectively than K-style gutters due to the curvature in the sides, although they don't hold as much water.
New Tech Machinery doesn't currently offer a portable machine that produces half-round gutters. Typically these types of machines make 5" or 6" profiles and are usually manufactured out of aluminum or copper.
Final Thoughts
Seamless gutter systems, as you now know, are an effective and cost-effective way to keep a building's structure free from water damage that can occur from an accumulation of water runoff. Fascia, K-style, half-round, and box gutters all have different features that can prove more useful depending on where you live, and the visual aesthetic you desire.
Here at New Tech Machinery, we want to make sure our customers are happy the first time with our machines and products. We make it our mission to help answer your questions and concerns so you can research what product best fits your needs, and provide help when you're ready to take the next step and purchase a portable gutter machine.
If you need help choosing the best gutter machine for your business, or need more explanation on the various features on our machines, contact any of our rollforming specialists. If you have additional questions, you can learn more about any of our seamless gutter machines and profiles through our blogs, and gutter machine tutorial videos.
---
---