What Is the SSQ275 Panel Profile?
The SSQ275 is a 2″ tall panel that combines technology from the 2″ Mechanical Profile and the 1.75″ Snap-Lock. Launched at METALCON 2014, New Tech Machinery announced this proprietary panel system that can be snap-locked or seamed. Through a partnership with a long-time trusted distributor, Texas-based Karr's Building Supply (KBS), this panel profile isn't available anywhere else. This panel program includes testing and an installation and detail manual. Find more information about this specialty profile below.
Profile Information
Proprietary panel system
Can be snap-locked or mechanically seamed
Fits in new & existing SSQ and SSQ II Roof Panel Machines
Added seam strength due to snap-lock design
2″ tall finished panel
Ease of installation
Only available through NTM or KBS
ASTM, UL, and FM testing included with panel program
Benefits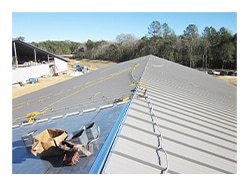 The SSQ275 NewLock Panel profile fits into existing and new SSQ and SSQ II roof panel machines. The New Tech Machinery SSQ II is our best-selling, most versatile portable roof panel machine. User-friendly profile changeovers can be completed in 45 minutes or less with one wrench and no tape measuring required. The SSQ II roof panel machine is capable of running 15 different profiles.
---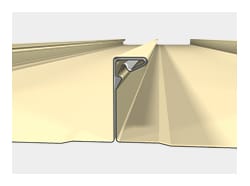 When seamed in a single-lock configuration, this unique interlocking panel profile system is as strong, or stronger, than many of the double-lock systems in the industry.
---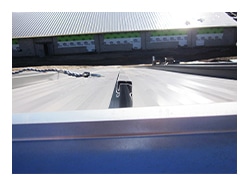 The SSQ275 NewLock Panel is easily installed on the jobsite.
Included Testing
ASTM E-1592: 1 Foot and 5 Foot Open Framing
UL 580 / 1897 Testing: Unseamed Over Plywood, Seamed Over Plywood, and Seamed over ISO and Metal Decking
ASTM E-1680: Air Leakage Test
ASTM E-1646: Water Penetration Test
ASTM E-2140: Static Water Pressure Test
FM 4471: Foot Traffic Test
Installation Manual: Compilation of installation methods, details, and trim conditions