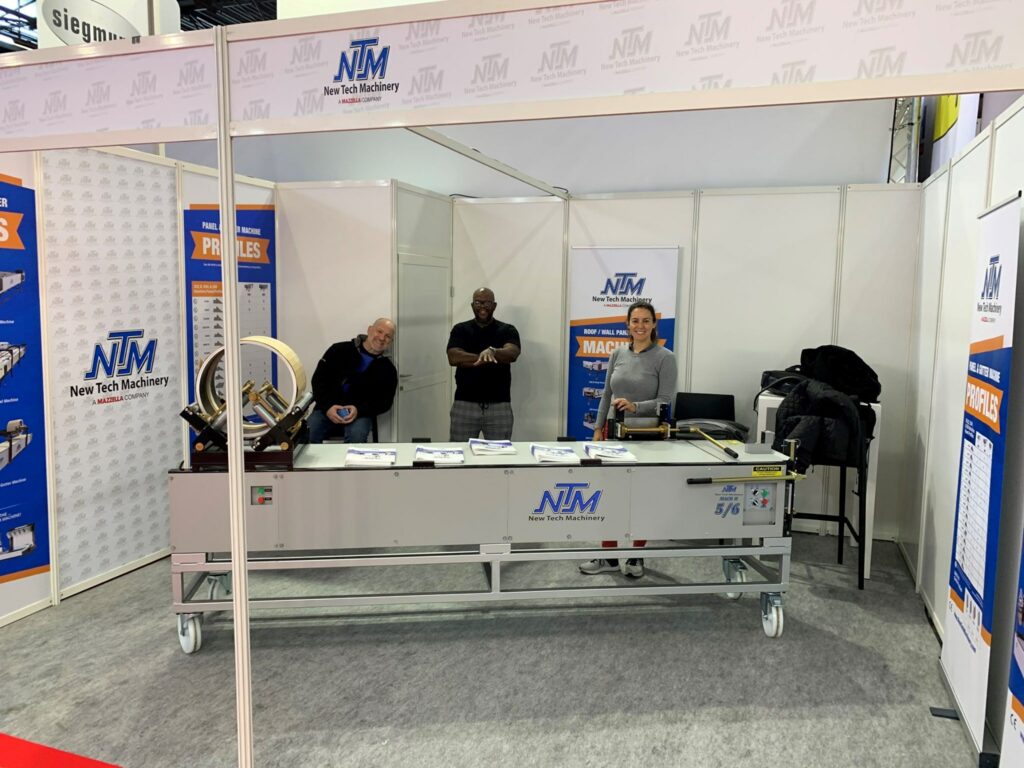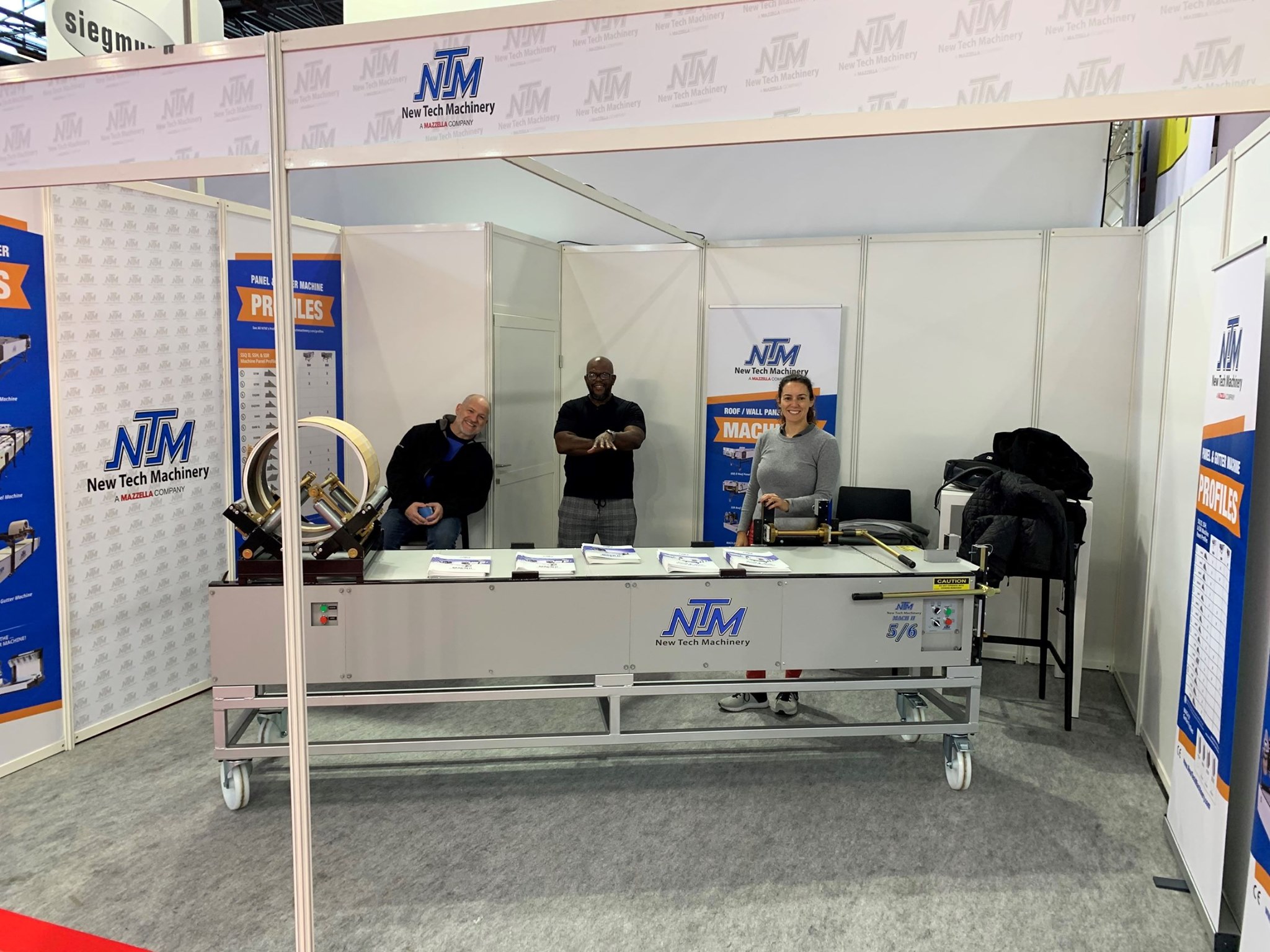 AURORA, CO – New Tech Machinery (NTM), worldwide leading manufacturer of portable rollforming machinery, exhibited for the first time in Paris this November at BATIMAT, a construction trade show which takes place every two years in France. This event is the place to discover record numbers of world premiere innovations, participate in inspiring conferences, and attend live demonstrations. Clark Neft, Vice President, and Gabriela Blanco, Sales Specialist, traveled to Europe to visit customers, the logistics center, and of course to exhibit in the largest trade show in Europe. In 2017, some of the New Tech Machinery employees were able to attend and walk around the halls for the first time ever, so this year was definitely a chance to showcase their products overseas, learn what kind of demand for their machines there was in Europe, and even acquire some more leads for their popular portable rolforming equipment.
Upon arriving in France, the team visited one of New Tech Machinery's distributors, GutterFrance, in Noyon. They also had the opportunity to meet their logistics team and check out the distribution center warehouse in Valmadrera, Italy. Just this past summer, New Tech Machinery began stocking machines here to be shipped throughout Europe, which it hopes will increase their branding and potential to do more business and increase their market size in the region.
At the trade show, Tom Laird, Sales Manager, and Nate Roston, Outside Service Manager, and Stefano Mariani, Sales Representative for Europe, met with the rest of the team to help set up the booth and prepare for Day 1 of the event. The booth was displayed with their famous MACH II™ 5"/6" combo gutter machine, pop up banners and brochures available in English, Spanish, and French. GutterFrance, a huge distributor of NTM machines helped deliver the MACH II machine to NTM's booth, and even displayed an NTM SSR™ Roof Panel Machine at their own booth.
New Tech Machinery received leads from 20 different countries during this week long trade show, with the help of Stefano who can speak in Italian, English, French and Spanish. They also received helpful industry insight as to what kinds of metal rollforming products could be used in this market, like parapets. Their booth received a lot of traffic, which gave them the chance to showcase their equipment, and explain how it could be used in the European market. It was an exciting opportunity to present their products in a different country and they look forward to going back again in two years and witnessing just how much the construction industry landscape changes and evolves.
###
About New Tech Machinery
New Tech Machinery (NTM) is a worldwide leading manufacturer of portable rollforming machines and equipment. Since 1991, New Tech Machinery's seamless gutter machines and metal roof panel machines have revolutionized the metal construction industry by bringing versatile, easy-to-use rollforming products right to client's job sites. For more information, visit New Tech Machinery online at www.newtechmachinery.com.
Contact
New Tech Machinery
16265 E. 33rd Dr. Suite 40
Aurora, CO 80011
Phone: 303-294-0538
Website: www.newtechmachinery.com
Business Inquiries: Adam Mazzella (amazzella@sheffieldmetals.com)
Marketing Contact: Katie Bowles (kbowles@mazzellacompanies.com)