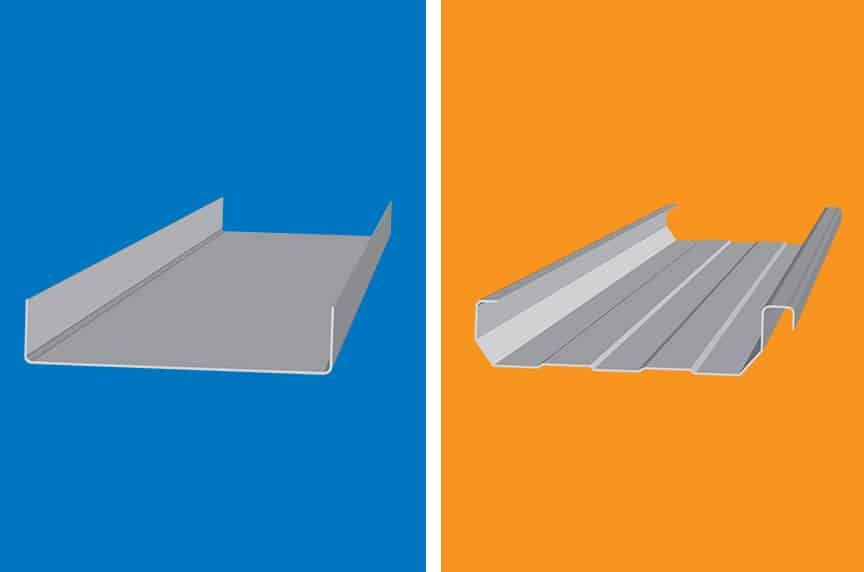 There are many standard metal roofing panel profiles like snap-lock, mechanically seamed, and fastener flange. However, many rollforming machine manufacturers offer specialty roof panel profiles, like the trapezoidal panel profile or t-panel, profile used for specific building applications or that provide a particular design to a metal roof project.
At New Tech Machinery (NTM), each portable roof panel machine can produce certain specialty profiles. Understanding the specifications and best use cases for these panel profiles can help you decide if they are the right fit for your project, your operation, and your roof panel machine.
In this article, we'll review the specifications and unique features of NTM's TRQ250 trapezoid panel profile and the T-Panel, and the machines available to produce these panel profiles.
TRQ250 – 2.5″ Mechanical Seam Trapezoid Panel Profile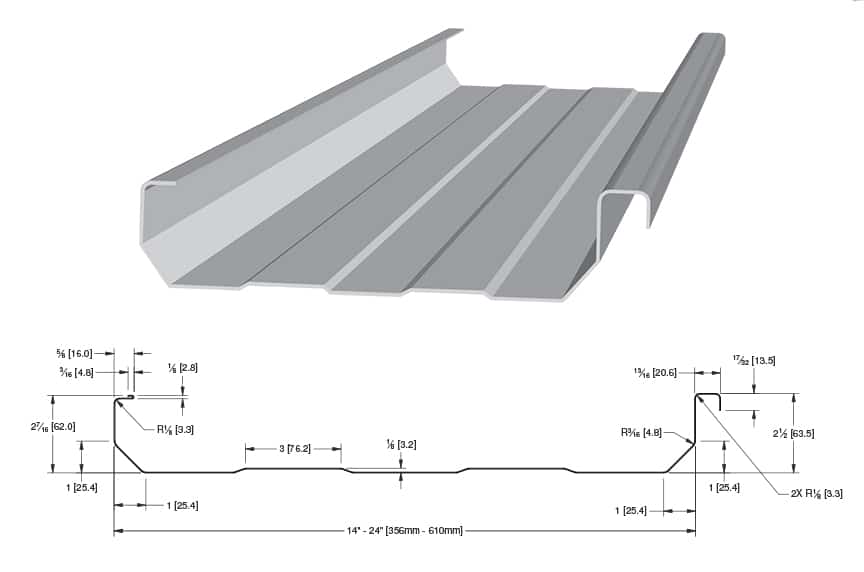 Specifications and Features of the Trapezoid Panel Profile
New Tech Machinery's TRQ250 is a 2.5″ mechanically seamed trapezoidal roof panel profile. This profile gets its name from the trapezoidal-shaped pattern of ribs formed at the bottom of the panel.
The trapezoidal panel profile is typically seen on commercial buildings with larger, low-sloped roofs, most often on storage facilities. For minimum slope requirements on the TRQ250, contact your coil supplier. This industrial-looking metal roof profile is limited in its application, however. It's not common in residential building applications due to its taller shape and commercial look, and its appearance and performance make it better suited for industrial projects.
Typically, 22 gauge or 24 gauge steel is used for the trapezoidal profile because of its primary use in commercial settings. Materials recommended to use when forming this profile also include:
26 gauge to 22 gauge steel or painted steel
.024″ to .040″ aluminum or painted aluminum
The finished panel width on this profile is 14″ to 24″ and uses up 5-5/8″ of material to make the seams, so you can't get as narrow a finished panel width as some of the other SSQ II profiles. There's no UL580 Class 90 compliance inspection or testing to accompany this roof panel profile offered through New Tech Machinery. However, you can get your own engineering and UL testing for this profile if you desire, and many engineers are familiar with this type of panel profile.
---
---
Portable Roof Panel Machines that Produce the Trapezoid Panel Profile
The SSQ II™ MultiPro Roof Panel Machine is the only portable rollformer that can produce the trapezoidal panel profile. This machine's size and drive power make it ideal for forming the trapezoidal panel profile because it is taller and more complex than other standing seam profiles. All you have to do to form the trapezoidal panel profile in the SSQ II is install the specified profile tooling system into your machine and the 3″ bead rib roller assembly included when you purchase this tooling.
What's Unique About the TRQ250?
It comes with a specifically designed rib roller assembly for this profile to make the 3″ wide trapezoidal bead ribs.
A single lock hand seamer specific to this profile is included when you purchase this profile roller set.
Only the SSQ II MultiPro can make this specialty panel profile because of its size and capabilities.
This profile has an anti-capillary leg which helps prevent water intrusion into the roofing system.
T-Panel Profile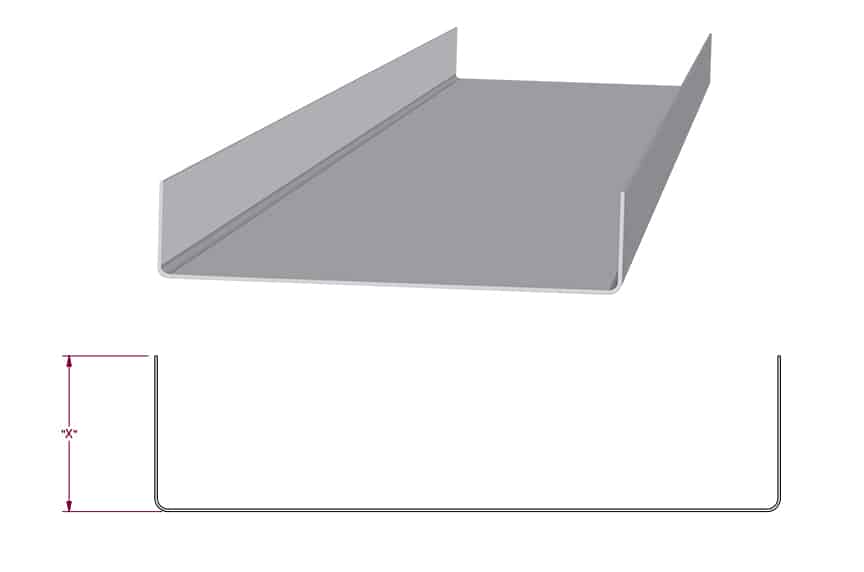 Specifications and Features of the T-Panel Profile
The T-Panel profile looks like a "U" when installed, but the snap cap and clip used to attach the two panels give the connected panel legs an upside-down "T" appearance. The T-Panel uses a specially rollformed snap cap to attach the panels.
The T-Panel can be made with a seam height of .5″ to 2″, depending on the profile tooling set. This profile is most common and best utilized on barrel or curved roofs. For barrel roofs, it's easier to install and curve the T-Panel than a mechanical lock profile. This profile should not be used in typical standing seam roof applications because the installation may require special details or penetration to keep watertight integrity in your metal roof system.
The following materials and thicknesses are acceptable to use for the T-Panel:
28 gauge to 22 gauge steel (painted, Galvalume, coated galvanized, and aluminized)
.027″ to .040″ aluminum or painted aluminum
16 oz. to 20 oz. 3/4 hard copper
The finished panel width ranges are 11″ to 16″ on the SSR™ MultiPro Jr., 12″ to 20″ on the SSH™ MultiPro, and 12″ to 24″ on the SSQ II MultiPro.
Portable Roof Panel Machines that Produce a T-Panel Profile
Every New Tech Machinery standing seam roof panel machine can produce the T-Panel profile: the SSR, SSH, and SSQ II.
The best thing about this profile is that it utilizes other profile tooling sets to make it. It's not a separate profile roller set you must purchase and change over to produce this profile. If you have the SS100 1″ mechanical seam, SS150 1.5″ mechanical seam, SS200 2″ mechanical seam, SS210A 2″ ARMCO mechanical seam, SS450 or SS450SL 1.5″ snap-lock, SS550 1.5″ snap-lock, and SS675 1.75″ snap-lock.
Depending on the profile roller set you have installed in your machine, the T-Panel leg height will vary. Maximum leg heights you can achieve for each panel profile tooling are as follows:
.75″ for SS550
1″ for SS100
1.5″ for SS150, SS450, SS450SL, and SS675
2″ for SS200 and SS210A
There are yellow guide stickers located on the left and right side first roller stations that show you where to make the necessary adjustments on the right entry guide and left side width adjustment handle. Also, check your shear dies on the exit end of the machine to ensure they're correctly aligned.
What's Unique About the T-Panel?
The T-Panel profile is easier to install on barrel roofs or curved roofs, but it is not the ideal profile to use for typical standing seam metal roof systems.
It's easier to replace a single T-Panel than the entire metal roof if there's damage to it or if it's incorrectly installed.
You don't need to purchase additional roller sets to make this profile. It is built into the profile tooling for eight other standard panel profiles.
Final Thoughts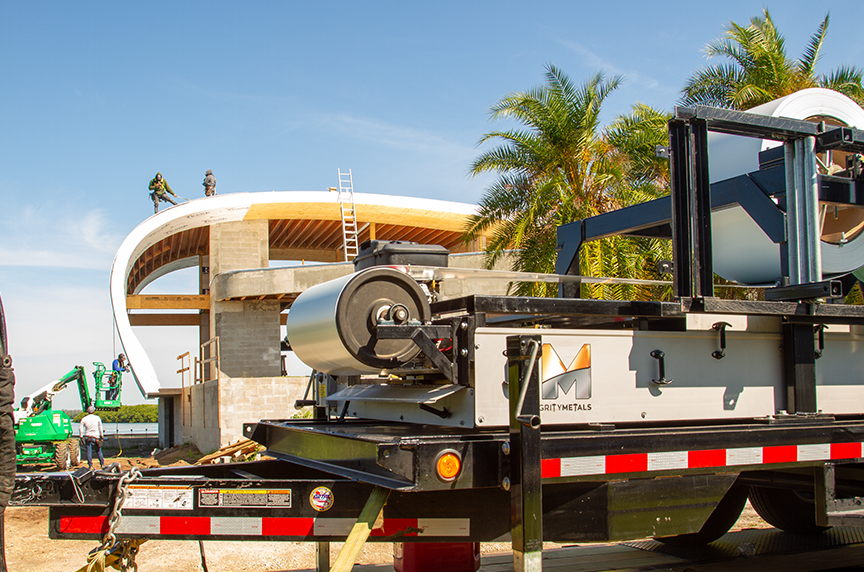 If you're considering using NTM's specialty profiles like the trapezoidal panel or T-Panel in your metal roofing projects or looking to buy the roller sets to offer these metal roof profiles to customers, remember:
Trapezoidal panel profiles are used in commercial and industrial building applications.
To make the TRQ250 panel profile, you'll need the roller sets that come with the specific 3″ wide bead ribs.
The T-Panel profile should not be used in typical standing seam roof applications due to the installation details needed and to maintain the water tightness of your roof.
You don't need to buy a new roller set to make the T-Panel profile if you already have the SS100, SS150, SS200, SS210A, SS450, SS450SL, SS550, and SS675 profile tooling.
New Tech Machinery strives to help our clients learn about the best options for their portable rollformers, understand the different metal roofing profiles available, and what it means for their metal construction projects. If you want more information about metal roofing profiles or portable roof panel machines, contact us today!
---
---