Are you looking to purchase a new portable roof panel machine but don't know of any companies that manufacture such equipment? Or are you weighing your options and seeing what companies offer comparable machines?
If you're a roofing contractor or roof panel supplier, your business is dependent on a portable rollforming machine that produces the highest quality metal roof panels to offer for your customers. If you end up choosing the wrong machine, you run the risk of losing customers and negatively affecting your company.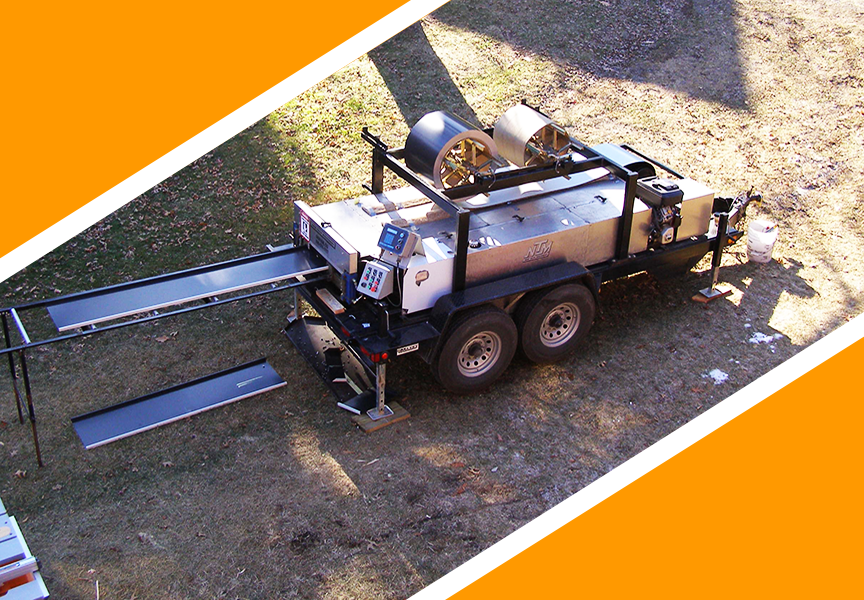 Since 1991, New Tech Machinery (NTM) has helped contractors and panel suppliers worldwide gain more control of their projects and profits by manufacturing the world's finest portable rollforming machines, including a variety of portable roof panel machines. While we pride ourselves on providing equipment that is versatile and fit for nearly all metal roof applications, we also understand that you might want to consider all of the different portable roof panel machine manufacturers available to buy from. Plus, it's a common question we get all the time: "If I don't choose a New Tech Machinery machine, what other manufacturers would you recommend?"
We believe in the power of being an informed and educated consumer when selecting and purchasing your portable rollforming machine, which is why we've put together a collection of some of the best roof panel rollforming manufacturers worldwide.
#1: The Bradbury Group
Headquarters: Moundridge, Kansas
About the company: Founded in 1959, The Bradbury Group of manufacturing companies are a producer of metal processing equipment for customers all around the world. Today, Bradbury's product lines include rollformers, precision roller levelers, cut-to-length machines, building trim equipment, coil processing production lines, and automated production systems. The Bradbury Group operates numerous locations around the world, including North America, South America, Asia, Australia, and more.
Select product offerings:
Portable standing seam rollforming machines
In-plant standing seam production lines
Metal tile manufacturing equipment
Garage door manufacturing equipment
Automated production systems
Steel framing systems
Stacking equipment
---
---
#2: Englert Inc.
Headquarters: Perth Amboy, New Jersey
About the company: Founded by Herb Englert in 1966, Englert Inc. has been serving commercial and residential markets with quality metal roofing systems, gutter systems, and on-site rollforming machines for over 50 years. Englert is one of the few single-source roofing manufacturers with an in-house coil coating line and offers a broad range of finishes to meet most design objectives.
Select product offerings:
Rollforming equipment & machinery

Roof panel machines – MetalMan Multi-Panel Roofing Machine, various MetalMan Fixed Panel machines
Gutter machines – RainPro Seamless Gutter Machine, MetalMan 660 6" K-Style Gutter Machine

Seamless gutter systems
Metal roofing systems
Metal coil and sheets
#3: Knudson Manufacturing, Inc.
Headquarters: Broomfield, Colorado
About the company: Knudson Manufacturing was founded in 1957 by Arthur L. Knudson when he built his first portable gutter machine in his basement. Today, Knudson Mfg., Inc. continues to produce high-quality equipment for the metal roofing and framing industry and sells to consumers all around the world.
Select product offerings:
Steel framing machines – FRAMEMAKER® machines
Roof panel machines – KR-24 Roofing Machine, KR-18 Black Roofing Machine
Seaming equipment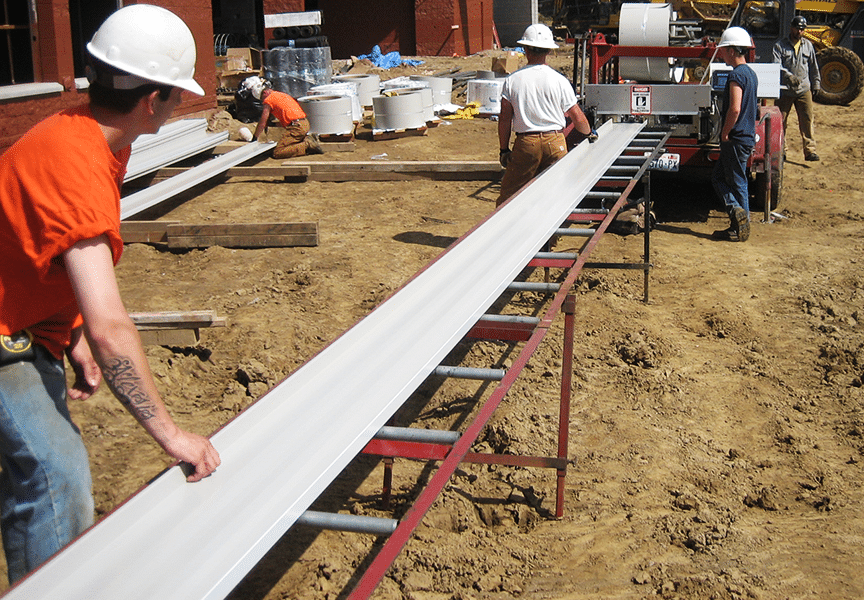 #4: Roll Former Corporation
Headquarters: Chalfont, Pennsylvania
About the company: Since 1978, Roll Former Corporation has designed and manufactured machines for companies that require rollforming equipment, including residential, commercial/industrial, agricultural, and trim/accessory machinery. Roll Former Corporation has a line of over 20 standard machines and offers custom machinery as well.
Select product offerings:
Residential machinery – VS-150, 5V-Crimp, Soffit-12", Decoilers, NSP-1"
Commercial/industrial machinery – 23-C, SSSP-3, PC/SS10, CBSC-15, FL105/FL15, Plus 50
Trim/Accessory machinery – RTR Recoilers, Quick Hem Machinery, Hot Melt Caulk System, "Stand Alone" Perforation Machine, Cut-To-Length Unit
Post & Frame/Metal Buildings – AG Panel Perforator – Model APP
#5: Schlebach Maschinen GmbH
Headquarters: Friedewald, Germany
About the company: Schlebach GmbH is a leading manufacturer of machines and equipment for the standing seam technology. In 1979, manufacturing company Bartolosch acquired the rights to Schlebach, and ultimately founded Schlebach-Maschinen GmbH ("machines for folding technology"). Today, the company today has nearly 200 employees working in a production area of over 100,000 square feet in Germany.
Select product offerings:
Profiling machinery – MINI, Standard profiling machines, QUADPRO profiling machines, MULTI profiling machines
Notching machinery – KLS, AK-QUAD, UKST
Folding and seaming machinery – FK1, Universal seaming machine PICCOLO, SPIDER, FLITZER
Bending machinery
Slitting/cutting machines
Edging/clip machines
#6: Zimmerman Metals, Inc.
Headquarters: Denver, Colorado
About the company: Zimmerman Metals, founded by William George Zimmerman in 1936, is a privately owned 3rd generation family business that manufactures and services metalworking machines. Today, Zimmerman Metals is a team of 100 people on 10 acres of land in a 150,000 square foot shop in the Denver area.
Select product offerings:
Roll Form Machines – Commercial Roof Panel Machine (CRPM), ELF Elbow Former, WS-100 Wall & Soffit Panel Machine, Z-Panel Form Machine, Structural Roof Panel Machine
Structural fabrication services – Bridges, trusses, specialty buildings
Machining and processing
Final Thoughts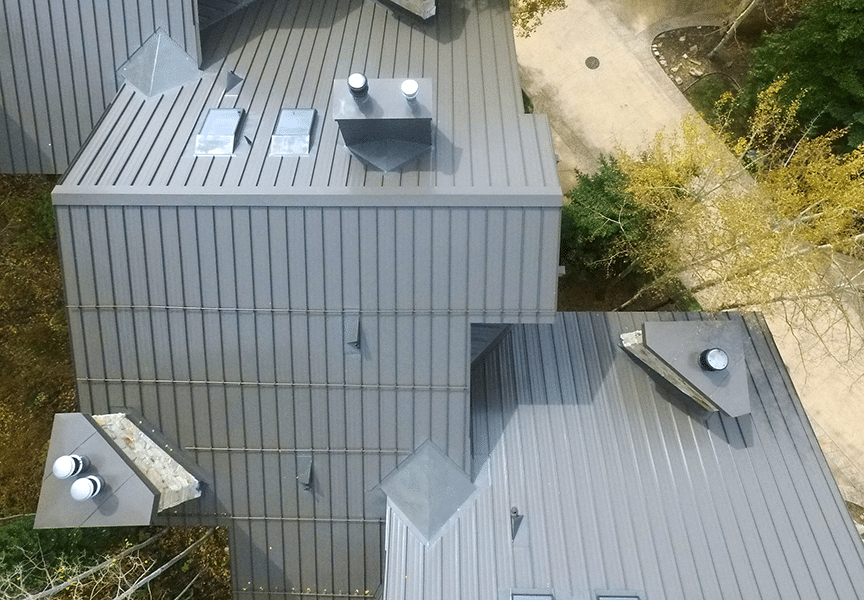 Remember: An educated consumer is a smart consumer.
So now that you're aware of some of the most popular machine manufacturers, you can continue doing research, compare and contrast different products, ask the right questions, and ultimately choose the company that best fits you.
Keep in mind, there's a lot more that goes into purchasing a portable roof panel machine than just finding the best price. You'll also want to check the following attributes:
Machine lead times

Is the machine manufacturer able to process orders and assemble/ship the machine(s) in a timely manner that works for you and your business?

Shipping and freight costs

What are the associated shipping costs if I were to order a machine?
Is shipping too expensive or beyond my budget?

Service and technical assistance

Is there a dedicated service or technical department that I can contact with any machine questions or if I'm having an issue with any of the equipment?

Add-on options

Does the company you want to buy from offer the add-ons (trailer, decoiler, reel stand, power pack, etc.) that you want to purchase?

Machine training
Warranties offered
Sales/account management

Is the sales team I'd be working with and purchasing from reliable and responsive?
For over 27 years, New Tech Machinery's seamless gutter machines, metal roof panel machines, and specialty equipment have revolutionized the metal construction industry by bringing versatile, easy-to-use rollforming products directly to the job site. That's why we know how important it is for you to choose the right machine for your business and your needs.
We'd love the opportunity to speak to you to learn more about your business and offer potential solutions!
---
---