Our seamless gutter machines and metal roof panel machines have revolutionized the metal construction industry by bringing versatile, easy-to-use rollforming products directly to the job site.
Our equipment is backed by the best minds in the business, and our designs are the most imitated throughout the industry.
New Tech Machinery introduced the SSP Roof Panel Machine in 1991 and MACH II Seamless Gutter Machine in 1994. NTM was also the first portable rollforming company to commercially produce and market a polyurethane drive roller machine with separate forming rollers. Today, most portable rollformers have adopted this technology.
New Tech Machinery was founded by Larry Coben in Denver, Colorado. Currently New Tech Machinery is based in Aurora, Colorado and opened a second manufacturing location in 2004 in Hermosillo, Mexico. In 2015, New Tech Machinery was acquired by Mazzella Companies. The acquisition has allowed NTM to maintain its lead as the world's finest portable roof panel and gutter machine manufacturer.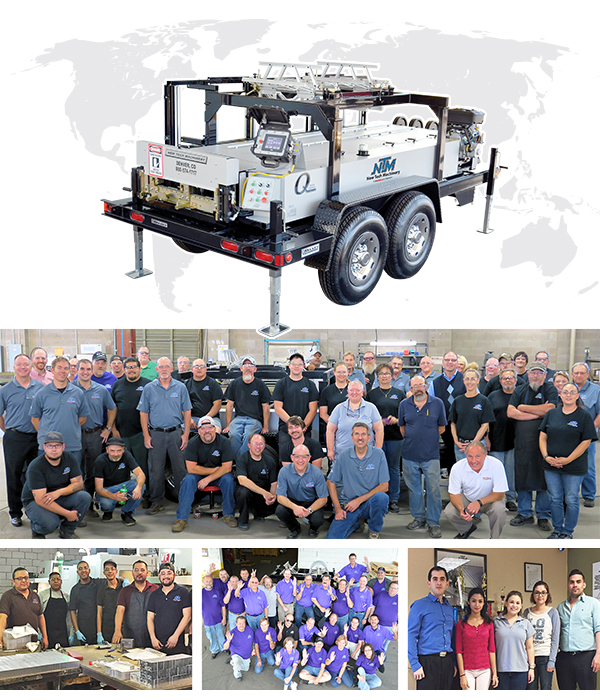 ---
Product Evolution Over The Years
SSP Roof Panel Machine (1991)
MACH II Seamless Gutter Machines (1994)
SSR Multi Pro Jr. Roof Panel Machine (2001)
SSH Roof Panel Machine (2004)
BG7 Box Gutter Machine (2005)
5V Crimp Roof Panel Machine (2006)
SSQ Quick Change Roof Panel Machine (2008)
WPM WAV Wall Panel Machine (2017)
SSQ II Roof Panel Machine (2018)
UNIQ Control System (2021)
Leading For More Than 30 Years
New Tech Machinery is the leading portable rollforming manufacturer in the world. To date, NTM has sold machines in more than 40 countries throughout the world. If you need a gutter machine in Ghana or a roof panel machine in Russia, we can get it there!
New Tech Machinery is a proud member of MCA (Metal Construction Association), NRCA (National Roofing Contractors Association) and CRA (Colorado Roofing Association).