As a New Tech Machinery (NTM) rollformer owner, training on your new NTM machine can help your roofing, wall panel, or gutter business run smoothly, so you can complete your jobs on time and keep the revenue stream flowing. The more you know about your rollformer, the more efficiently your operation can run.
New Tech Machinery, a pioneering leader in portable rollformers, understands the importance of equipping customers with the knowledge and skills required to maximize the potential of their cutting-edge equipment. By offering comprehensive training programs for all its machines, NTM ensures that customers receive the necessary guidance and support to harness the full capabilities of their investment.
In this article, we will explore the two common ways new NTM machine owners avoid training, the various aspects of NTM machine training, the difference between free in-plant and paid on-site training, and the advantages and disadvantages of each. Additionally, we will discuss the availability of follow-up training and the associated fees for those who already own a New Tech Machinery rollforming machine.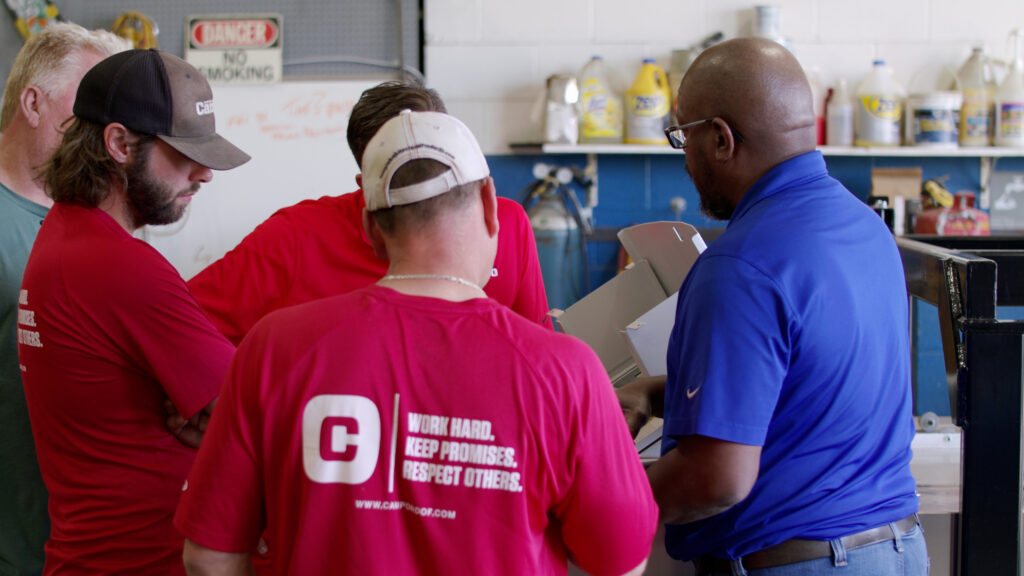 Two Common Ways New Owners Avoid Training
Even though you've invested time and money into acquiring a rollformer, sometimes new machine owners pull back when it comes to training. We often see this happen two ways.
First, you may be anxious to get started with your new machine. You have the manual, maybe you've run rollformers in the past and you think you have a handle on it. The fact is, you can never know too much, and each machine is different. When you train with NTM, you'll be training on your own machine, whether in-plant or on-site. If there is something you don't know, we're there to answer your questions. If there's a problem with your new machine, we're on hand to address it. Our goal is to have you and your crew work ready when you hit that first job site with your new NTM machine.
Second, you may think you can save money by training your own operators. We've found that this is not usually the case. A lot of information gets lost in translation, and just because you've been trained doesn't mean you're going to be great at training someone else. Our trainers have years of experience in the industry and spend every day training and coaching machine operators. What you invest in getting your crew trained is money you'll save when they don't have to stop work due to an operational glitch that could have been avoided with the right knowledge.
Training on Your New NTM Machine
When customers purchase a new machine from New Tech Machinery, they are given the machine's operating manual. All material in the manual will be covered in the training. The manual and training are resources designed to empower you with the knowledge and skills necessary to operate, maintain, and troubleshoot your machine effectively so that your business runs at maximum efficiency. Below details areas covered in the NTM training.
Machine Components
Your trainer will go through each machine component, its function, and how to maintain it. The trainer will run materials through with you so that you can see how the components work to form the metal, and how widths and lengths can be adjusted, as well as corrections made to any abnormalities, like uphill or downhill curvature.
Also, the trainer will dive into the hydraulics so that you'll know how to fix leaks, check and change oil and filters, and identify hydraulic components. You'll get an overview of the gas and electric motors (depending on your option), the electrical system, controllers, shear limit switches, and E-stop buttons, just as examples.
Out in the field, you want to know how things are supposed to function. Also, you don't want your operators figuring out the equipment on the fly. Overseeing correct machine operation along with proper maintenance will help to maximize your business profitability.
Types and Grades of Metal Materials
One of the most important aspects of running your machine productively is knowing the right materials to use. Our technical trainers will go through all the metals and their properties to help you understand the differences and benefits of each. Also, you'll know which metals can and can't be run through the machine, how they react differently, and what adjustments need to be made depending on the type, gauge, and grade.
If you've purchased more than one profile for your machine, your trainer will help you switch over profiles so that you know how to do it correctly. If you didn't purchase an additional profile, you will receive an overview of the process. Swapping out profiles can save you a lot of time between jobs if done right. If done incorrectly, however, it can cost you lost working hours.
Machine Maintenance and Upkeep
Proper maintenance is vital for the longevity and optimal performance of any machine. NTM's training imparts knowledge about routine maintenance tasks, such as lubrication, cleaning, and inspection, enabling customers to keep their machines in top condition so they last for years. You'll also learn how to store your machine to protect it from the elements.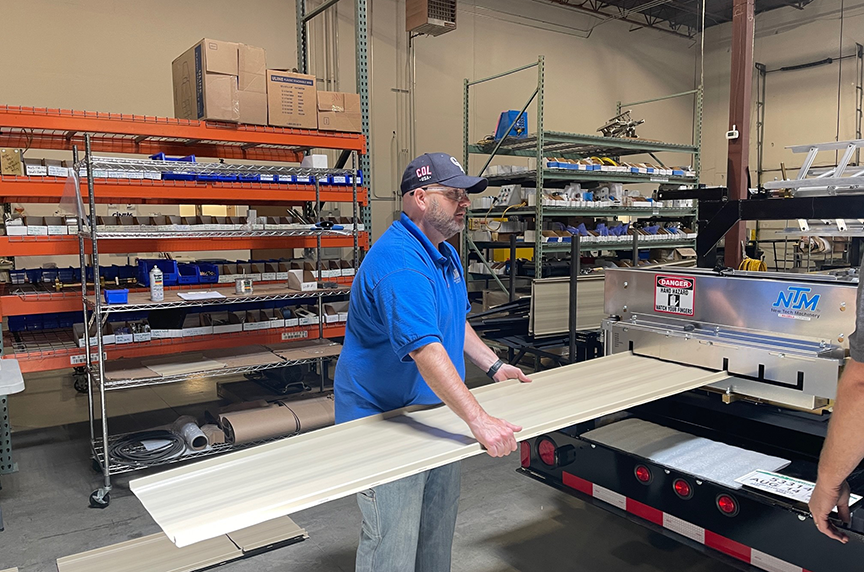 Machine Troubleshooting
Downtime is the enemy of productivity. Understanding how to identify and resolve common issues or malfunctions is crucial to minimizing downtime. The training equips customers with troubleshooting techniques, empowering them to quickly address common problems to resume production. Whether it's adjusting for gutters or panels, the faster you can make the correction the sooner you're back on track and finishing the job.
Machine Safety
Safety training is vital, not only for the well-being of you and your crew, but you can lose time on the job if safety protocol isn't followed. Covers and guards should never be removed from a machine while it is in operation. Training will help ensure that you and your operators know how to protect from injury and operate the machine without issue.
NTM Training Options
New Tech Machinery offers two primary training options: in-plant and on-site training. Each has its own advantages and considerations, depending on the specific needs and circumstances of the customer.
Paid On-Site Training
With on-site training, an NTM expert visits your location to provide personalized training. This option offers the advantage of convenience, as the training takes place at your facility. On-site training allows the trainer to address your specific challenges and customize the training to your crew's workflow. Additionally, you and your employees can learn in your own environment, which helps in better understanding the integration of the machine within your existing operations.
New machine setup and training on location is $500 per day, plus NTM service trainer travel expenses and incidentals.
On-Site Training Advantages:
Customized to your work environment.
Familiarity with your facility and equipment.
Practical insights and troubleshooting relevant to your unique situation.
On-Site Training Disadvantages:
Requires coordination and scheduling to align with both NTM's and your availability.
Limited exposure to materials beyond your facility.
Not all materials or parts needed may be available.
Requires a fee for an NTM trainer.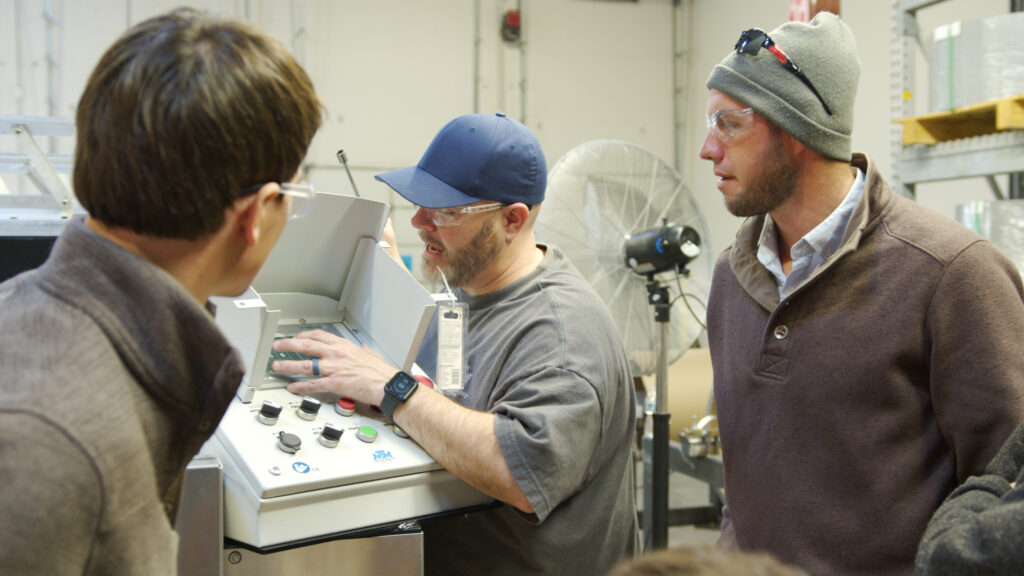 Free In-Plant Training
In-plant training involves you and your operators visiting NTM's plant in Aurora, Colorado. This option offers a comprehensive and immersive learning experience that allows you to meet some of the staff and see our plant operations firsthand. Participants receive focused attention from our expert trainers and benefit from a controlled environment designed for optimal training. Also, if any issues arise with the machine or there is a need for parts, everything is on-hand, and adjustments and repairs can easily be made.
In-Plant Training Advantages:
Dedicated learning environment with specialized equipment and resources.
Direct access to NTM equipment and in-plant materials.
Opportunity to see NTM plant operations and meet staff and services team.
In-Plant Training Disadvantages:
Participants need to travel to NTM's training facility in Aurora, Colorado, incurring additional costs.
Follow-Up Training:
While this article has been mainly aimed at new machine owners, the fact is any machine owner can benefit from training, especially if you haven't been through it before. Even if you have, we still have operators return for additional training to increase their skills and knowledge. New Tech Machinery recognizes the value of continuous learning and offers follow-up training programs to support customers. Also, as new operators and crew members are added, additional training may be necessary. Fees for follow-up training are priced at $125 per hour.
Final Thoughts on NTM Training
Through NTM training, you can gain the knowledge and skills necessary to maximize the potential of your rollforming equipment. Whether through free in-plant or paid on-site training, New Tech Machinery ensures that customers are equipped with the expertise needed to operate, maintain, and troubleshoot their machines efficiently. Our machines are designed to perform at a high level to maximize your productivity. We have been helping grow roofing, wall panel, and gutter businesses like yours for over 30 years. With New Tech Machinery's training, customers can confidently embark on their rollforming journey and achieve remarkable productivity in their operations.
Depending on the machine and its features and options, training can take from 4-5 hours to 2 days. To book a training, call our service department at 303-294-0538 or email support@newtechmachinery.com.