Whether you're a contractor or roof panel supplier, you can use many options for metal fabrication equipment to help make your job more efficient. Purchasing from the best sheet metal folder or brake manufacturers is critical to getting quality and reliable machinery.
At New Tech Machinery (NTM), we specialize in manufacturing portable rollforming equipment for metal roofing panels and seamless gutters. However, there's a question we often get: "Besides the rollforming machines that make the roof panels, where can I find equipment to make other metal roofing components like trim or flashing?"
Although NTM doesn't make metal fabrication equipment, we know and often refer clients to various metal folding manufacturers for sheet metal folding and bending tools so you can make all the parts of a metal roofing system yourself.
Since there are many manufacturers to consider for your metal fabrication equipment, we've compiled a list of some of the best folder and brake equipment manufacturers, some of the products they offer, and what to consider when choosing a folder or brake manufacturer.
Note: These manufacturers are not in any specific order.
What Is a Sheet Metal Folder or Brake?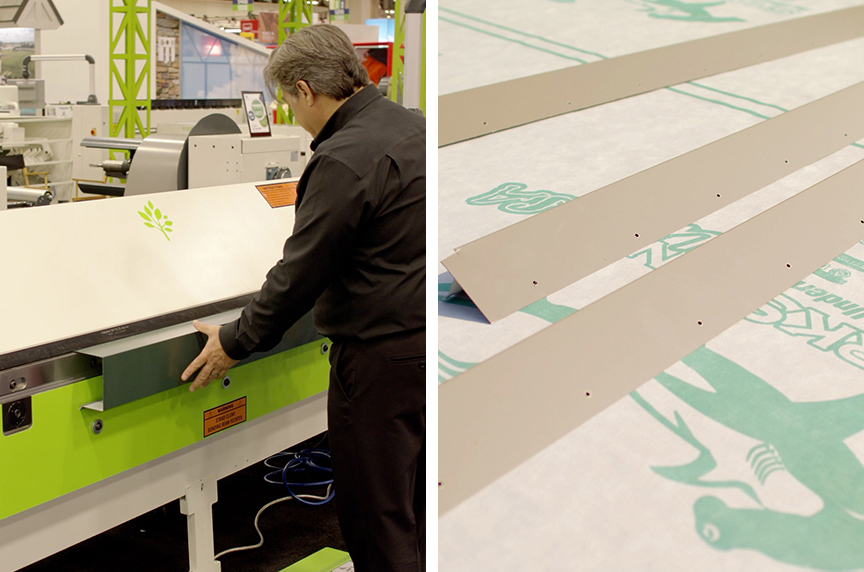 You can use metal roofing fabrication equipment to produce trim pieces, roof panels, and even gutters. If you're unfamiliar with metal folding machines and fabrication equipment, let's talk about what they do.
Sheet metal folders or brakes can make complex shapes that rollforming equipment currently doesn't exist for. The bending process involves turning sheet metal into shapes typically used for z closures, valley trim, ridge caps, eave flashing, or siding. They bend the metal at complex angles and straight lines, unlike rollforming machines that can bend that metal material into other shapes that aren't square or straight lines.
Sheet metal folding equipment can make fully customizable designs. Sometimes they're even used to create metal roof panels. However, panels made with a folder may require a specific installation process because the lengths of the panels they can make are limited to the length of the folder used. As a result, depending on the sizes of the panels, it may require "lapping" them in the field.
Folders and brakes for metal roofing are simple to operate, often using a foot pedal, and automated with touchscreen computers. They can be much bigger than portable rollformers, but the size of the folding machine limits the length of the part you can bend or fold. However, longer folders can make longer pieces of trim.
Popular Sheet Metal Folder Manufacturers and Brake Manufacturers
#1 CIDAN Machinery Group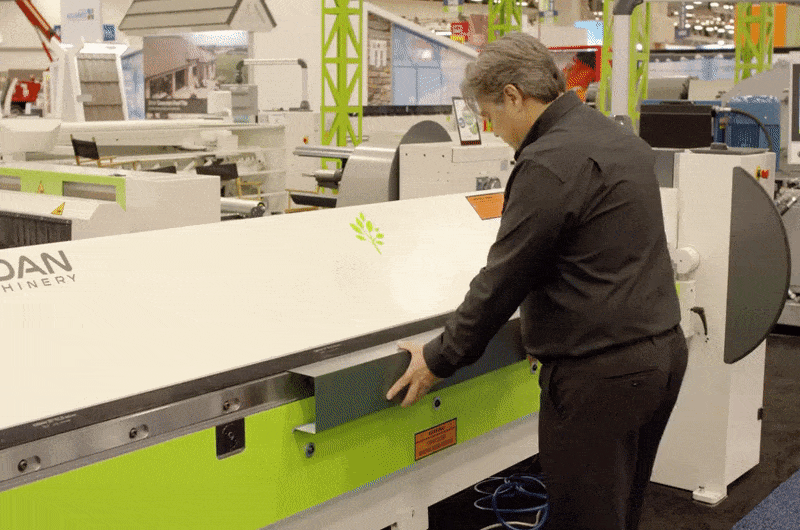 Headquarters: Sweden (CIDAN Machinery – USA headquarters is in Peachtree City, Georgia)
About the company: CIDAN Machinery Group began in 1907 in Götene, Sweden, and is where a lot of its manufacturing takes place. Throughout the years, CIDAN Machinery Group has merged with and acquired various companies, including Göteneds by CIDAN Machinery, CIDAN Machinery, Forstner CIDAN Machinery Group, nuIT, and Thalmann.

Several CIDAN Machinery dealers and centers are also located worldwide, including Georgia, China, Austria, Denmark, England, and Sweden.
Select product offerings:
Metal folders – CIDAN PRO Z folding machine, FORMA Z folding machine, CIDAN MEGAPRO folding machine, CIDAN PRO folding machine, CIDAN FORMA folding machine, CIDAN FX Combi Series (folding and bending machine), CIDAN FS Series folding machine, and CIDAN F Folding Machine
Long folders – TZ Long Folder, TD Double Folder, and TC Double Folder (Thalmann brand name)
Shears – CIDAN EVO DUO metal shear, CIDAN RAPIDO metal shear, and CIDAN RAPIDO 32 SSM
Coil handling, slitting, and cut-to-length equipment
Recoilers
#2 Tennsmith
Headquarters: McMinnville, Tennessee
About the company: Tennsmith, founded by Ray Smith Sr., was first known as Smith Machine Tool Company. In 2011, the company purchased Roper Whitney and its acquired companies: Pexto and Connecticut. Today, Tennsmith's sheet metal tools and fabrication equipment include automatic folders, hand brakes, shears, slip rolls, cleat benders, notchers, rotary machines, and more.
Select product offerings:
Up / Down folders – EvoBend Up/Down Folders: D300, D600 and D800
Long folders – AutoMax AM2116 and AutoMax AM2114by Roper Whitney
Metal folders – Straight Folders (SBS and Roper Whitney's AutoBrake) and Multi-Tooling Systems (MTS Series and Roper Whitney's Kombi Series)
Hand brakes (straight, box and pan, and universal)
Coil processing equipment – Slit-to-Width and Cut-to-Length machines
Foot and hand shears
Roll bending equipment and benders
---
---
#3 RAS Systems LLC
Headquarters: Peachtree City, Georgia
About the company: RAS Systems LLC originally started as a mechanical workshop in 1939 by Wilhelm Reinhardt and, in 1946, began producing sheet metal processing machinery. In 1992, RAS Systems US was born, but the company currently still has facilities in operation in Effringen, Germany.
Select product offerings:
Sheet metal folding machines – For metal construction, roofing, and facades specifically, they have the XXL-Center, XL-Center, TURBOBend, TURBO2Plus, FLEXIBend, UpDownCenter-2, GIGAbend
Metal cutting machines – PRIMEcut, SMARTcut, POWERcut
Metal forming machines – Swaging, flanging, lockforming, ducting, rounding, and seam closing equipment
#4 Van Mark Products Corporation
Headquarters: Farmington Hills, Michigan
About the company: Founded in 1964 by Gene Van Cleave, Van Mark first started with portable bending brakes and has since expanded its product and markets to include many other portable tools for commercial metal roofing and architecture, gutter hood installation, and residential siding, roofing, and window markets.
Select product offerings:
Portable bending brakes

Contractor Grade: Metal Master® 20, Mark II TrimMaster®, Mark 1 Series™
Industrial Grade: Industrial Metal Master® 20, Mark IV Industrial TrimMaster®
Residential Heavy Duty Grade: Metal Master® 20 Residential Heavy Duty, Mark II TrimMaster® Residential Heavy Duty
Entry Level / DIY Brakes: Trim-A-Brake II™

Slitters and slitter accessories – Trim-A-Slitter™, Trim-A-Slitter™ Perf Combo, Industrial Slitter Combo
Brake accessories and maintenance items
Stands and legs
Brake maintenance replacement parts / kits
Cutting tables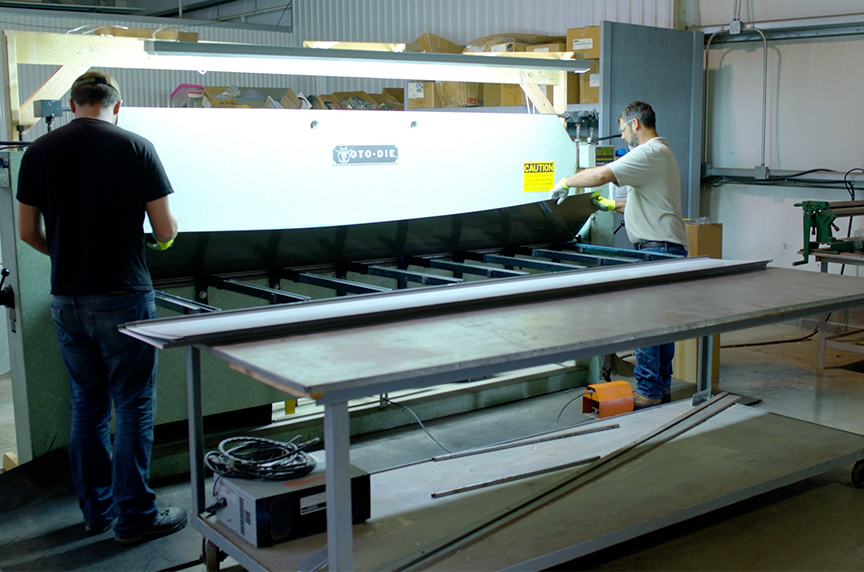 #5 Jorns AG
Headquarters: Lotzwil, Switzerland
About the company: A Swiss family-run manufacturer of bending machines, sheet metal processing equipment, and double bending machines, Jorns AG began in 1973 by Kurt Jorns. Although their manufacturing processes take place in Switzerland, they sell, service, and install these machines worldwide with the help of over 30 independent agencies and distributors.
Select product offerings:
Jorns JB Bending Machine
Jorns JDB Double Bending Machine
Accessories – Jorns cutting table, Jorns manual table shears, Support arms
#6 Schechtl
Headquarters: Edling, Germany
About the company: The business began as a blacksmith by Josef Schechtl in 1910. 22 years later, Schechtl invented the first folding machine. Schechtl is still based out of Edling, Germany, and manufactures shears and folding machines for sheet metal. However, they work with various distributors throughout the world.
Select product offerings:
Folders – MAX, MAX-F, MAB, MAZ, MAE, MBM
Handbrakes – HBM, UKV, UKF, HA
Shears – SMT, MSB, MSC
#7 Hershey's Metal Meister, LLC / Variobend USA
Headquarters: Mattoon, Illinois
About the company: Hershey's Metal Meister is a family-owned business with a history of rollforming and machinery manufacturing. The company purchased North American patent rights to European folding manufacturer, Variobend, products and is the United States manufacturer of Variobend equipment.
Select product offerings:
Single and Double Folders
Double Bender
Single Bender
Final Thoughts
While there isn't a particular sheet metal folding tool manufacturer that will fit every contractor or supplier's needs, researching equipment and brands, their locations and distribution networks, and understanding what you need in your business does help.
When researching and choosing a folder or brake manufacturer, it's essential to consider your business capabilities now and in the future and ask questions when talking to various manufacturers about their products and company.
Think about the following:
What type of trim or flashing pieces do you plan to produce? Do you need a machine with radius options?
Are you looking for a portable or in-plant machine?
What capacity or space do you have inside a shop or factory?
Does the machine come equipped with computer automation, or is it hand-operated?
What other options are available to add to your fabrication equipment? What is a must-have for your business now?
How much does the metal folder or brake cost with the options you need?
Do they offer training sessions to help you learn how to operate the equipment properly?
Are there service technicians available for quick assistance or support?
While New Tech Machinery's portable rollforming machines and equipment have helped change the metal construction industry, we're proud to have partnered with and referred clients to various manufacturers and companies to help them with their specialty machine needs. We understand how essential it is to choose the best manufacturer to take your business to the next level.
Contact us today to talk about your metal roofing business and how we can help!
---
---