Portable rollforming equipment has become increasingly popular for metal roofing and is now more sophisticated than ever before, but if you're a new to portable roof panel machine operation, what do you need to know? How can you ensure that you're using your NTM machine safely and correctly?
New Tech Machinery (NTM) offers several free resources to help you get the most out of your machine. If you're looking for video tutorials, safety tips, and information about your machine or its accessories, we've got you covered with the Rollforming Learning Center!
We'll cover some of the most important topics to help you get started as a new NTM machine operator and where you can find all of these great resources on our website. While browsing this article, bookmark any resources you want to save for future reference or to read / watch later.
What to Know Before Operating a Portable Roof Panel Machine
Before you even turn on and start operating your roof panel machine, it's essential to spend some time understanding more about the inner workings of your machine and its accessories, get familiar with the New Tech Machinery website and resources, and proper safety procedures about operating and owning your rollforming equipment.
Learn the Fundamentals With On-Site or In-House Rollforming Machine Training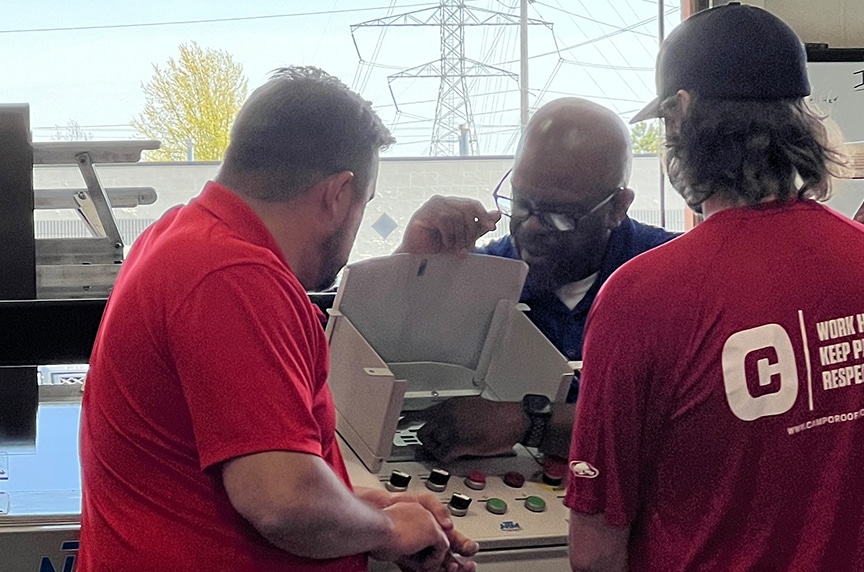 For those who have never used a portable rollforming machine, learning how to use your machine with help from a trained professional can make a huge difference. At NTM, two options are available for machine training: at our training facility in Denver or on-site at your shop. What should you know about what's involved in a training session and how much it costs?
Check out this article, where we dive into what you can expect during a training session with NTM, who should get training on a machine, and what topics are covered in a training session with an NTM Service Technician.
If you know you want training, understanding how much it costs and what factors affect the price can help you determine if you want in-house training at our facility in Denver or if you'd be better off with on-site training at your shop. Learn all about the pros and cons and the cost of both training options to determine which is best for you and your team.
Become Familiar With Portable Roof Panel Machine Safety
Using your portable rollforming machine safely keeps yourself and anyone else using the machine from getting hurt and protects your equipment from potential damage.
Here's the top 10 best safety practices to remember when you use a portable rollforming machine. Download or print this free infographic to post in your building or shop!
---
---
Learn How to Find and Use Your Rollforming Machine Manual
If you use a portable rollforming machine, the manual is an extremely valuable resource to have with you when operating your machine. It contains all the specs, internal component diagrams, troubleshooting tips, walkthroughs for profile changeovers, maintenance procedures, and more.
Learn some of the best sections for machine operators to look at and where to find your manual in this quick video.
Find Out About Roof Panel Machine Accessories
Accessories are a cost-effective and efficient way to add even more versatility and options to your machine and customers. With so many accessories available for your NTM roof panel machine, understanding which ones you may need to help improve your business operations and what accessories are available for your machine can be tricky.
Check out this article for descriptions of all the accessories NTM offers for each machine to know what may be suitable for your needs.

Keep in mind that most accessories are not included in the price of a rollforming machine, so ask one of our rollforming specialists about pricing for the machine configuration you're interested in.
Purchasing and Adding the Right Roof Panel Profiles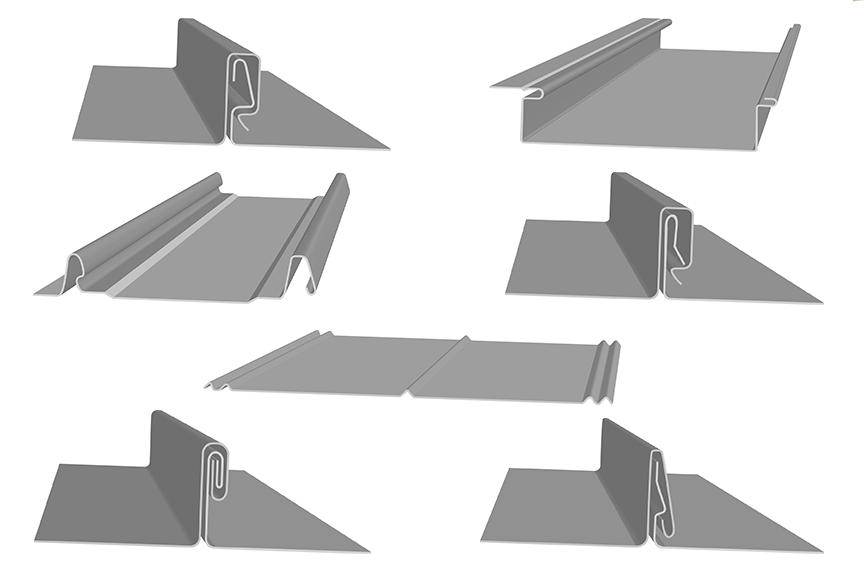 When it comes to your portable roof panel machine, knowing about the profiles your machine can make can help you purchase additional styles, select the right one for your business area, and understand some of the characteristics of profiles available for different machines.
Here are a few resources to help you better understand and choose the right panel profiles based on your machine or business area.
As a machine manufacturer, NTM doesn't offer testing or engineering documentation for your panel profiles. Knowing where you can get this information is critical to ensure you provide panels that meet the architect's specs, local building codes, and weathertight warranty requirements.
Find out why you need engineered panels and where to find the right documentation in this article.
Once you get up and running with your machine and want to add more profiles to your customer offerings, knowing how to select the right profile for your service area and what factors to consider when making this decision will help you save time and money.
Learn what you need to know about your business, service area, machine, and projects to help you purchase a profile worth investing in and gain a competitive edge.
Using and Ordering the Right Material for Your Portable Roof Panel Machine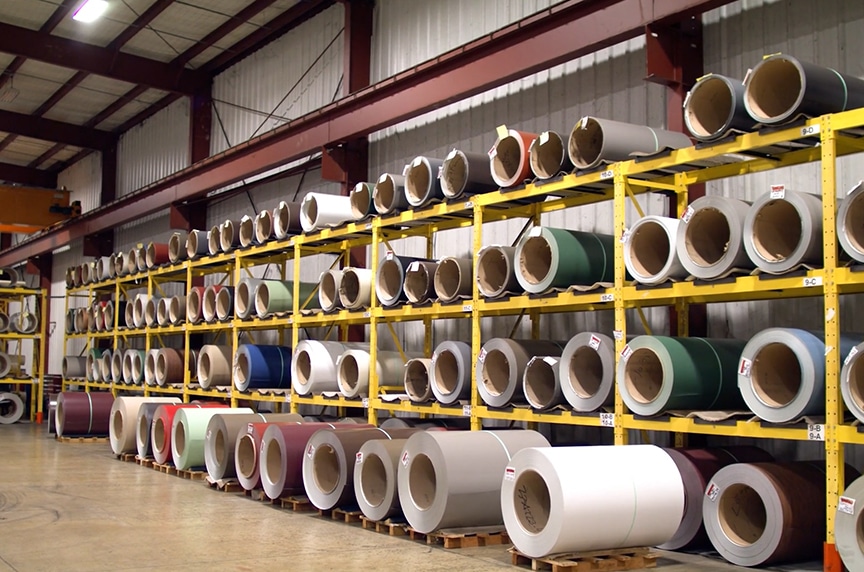 Not all of NTM's portable roof panel machines can use the same material types, so knowing which materials are acceptable for your machine will allow you to order the right material the first time.
Here are some helpful articles and videos to help you know what can happen if you use the wrong material in your machine and how to order the right type and amount of coil for your projects.
In this article and accompanying video, we cover what acceptable material types your NTM machine can run and what could happen if you use anything outside of what our Engineering department recommends, including crashing your machine, voiding your warranty, and wearing out your rollers.
We also cover what problems you could encounter using low-quality or low-grade metal coil and how to avoid problems with your machine if you use these materials.
Once you know what materials you can use with your roof panel machine, it's time to order coil. Check out this article and video to learn what info to have on hand about your machine so you can order the right type, thickness, grade, and width of the coil, and what you need to know about your project to get the right amount, color, and quality of the material.
Tutorials and Walkthroughs for Operating Your NTM Roof Panel Machine
As you operate your roof panel machine for the first time, there are bound to be questions about how to use certain features or perform certain functions like changing out profiles, feeding material into the entry end, or getting your run-out table set up properly, so your panel comes out straight and even.
Getting Your Material Set Up Properly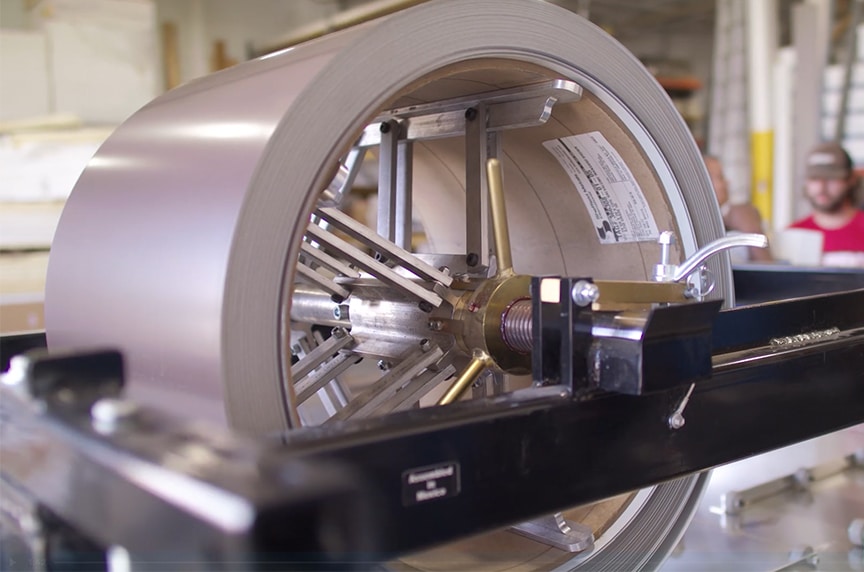 First, getting your coil set up onto your machine can make or break running your first panel through the machine. To avoid having any issues with the coil running through your machine straight, or your finished panel, check out these resources!
Loading the coil onto your overhead reel rack is simple to do with NTM's expandable arbor, but knowing how to line up the arbor inside the coil for the profile you want to make requires some adjustments. Watch this video to learn how to use the expandable arbor, line up the coil for your profile, and load the arbor onto your machine's overhead reel rack with a forklift.
After your coil is on your arbor and reel rack, it's time to feed the material through and make sure it's going in straight. Use this video as a walkthrough guide for prepping your coil before entering it into your machine, ensuring it's going into the entry guide straight, and how to jog it through the machine and check the panel's quality.
If you have the SSQ II machine with notching functionality, we have a tutorial for you too! Learn how to feed the material through your machine using the UNIQ Automatic Control System in this video.
As important as it is to ensure the material you're using is set up right based on the profile, it's also critical that you adjust your machine's entry guide, tooling, roller sets, and more for the coil width you'll be using. There are several adjustments to make in different parts of your roof panel machine, so watch this video for a detailed walkthrough!
Switching Profiles in Your Portable Roof Panel Machine
One of the best features of your roof panel machine is the versatility of profiles you can use and how simple it can be to switch to new profiles in your machine just by swapping out the tooling.
The SSQ II has 15 available panel profiles you can use, and the best part is it only takes one person 45 minutes or less to swap out the tooling for a new profile. In this video, one of NTM's Service Technicians goes through the changeover process step-by-step.
For directions on changing profiles in your machine, download your machine manual here or refer to your hard copy.
Setting up and Using Your Roof Panel Machine Accessories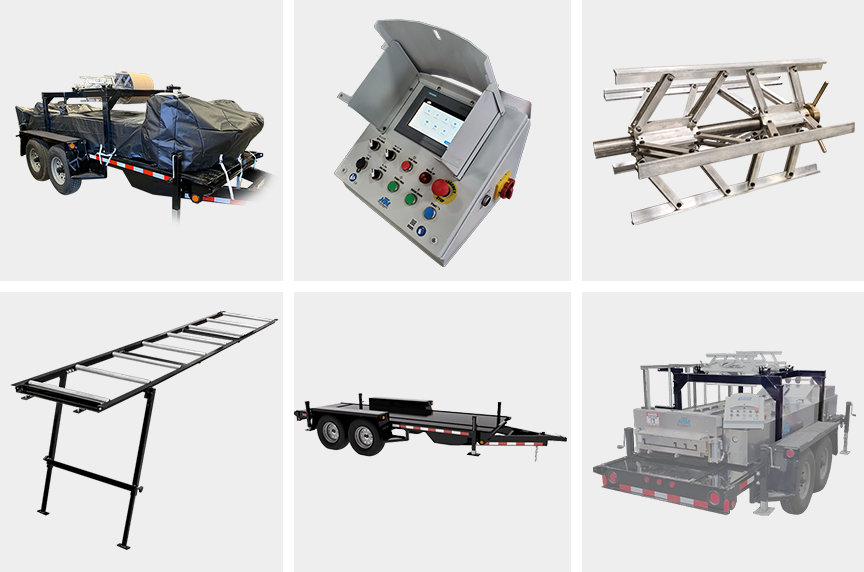 Your NTM machine can come with different accessories to help you get more efficiency and versatility from your equipment. However, there are some cases where you'll need to know how to set up or operate these components to ensure a quality finished product or for machine safety.
Computer controllers help you get more automation from your machine and allow you to program jobs so you can track quantities of panels, lengths, and more. However, knowing how to use this device can seem complicated if you've never used it before.
Find walkthroughs to help you operate your controller, program jobs, update to the latest software, and more on newtechmachinery.com.
Rib rollers add structure to the flat part of a standing seam panel. They come in varying designs like striations, bead ribs, pencil ribs, or v-ribs, and are a common way to help reduce the appearance of oil canning in the panel. Knowing how to install and set up your rib roller assembly can help ensure it's aligned properly and produce the depth of ribs you desire.
The run out table helps support the finished panel as it exits the machine and ensures that it remains straight and level as it's sheared. Check out this video for how to transport, set up, and make sure your run out table is level and properly aligned to your machine.
Where to Find Service & Support for Your Portable Roof Panel Machine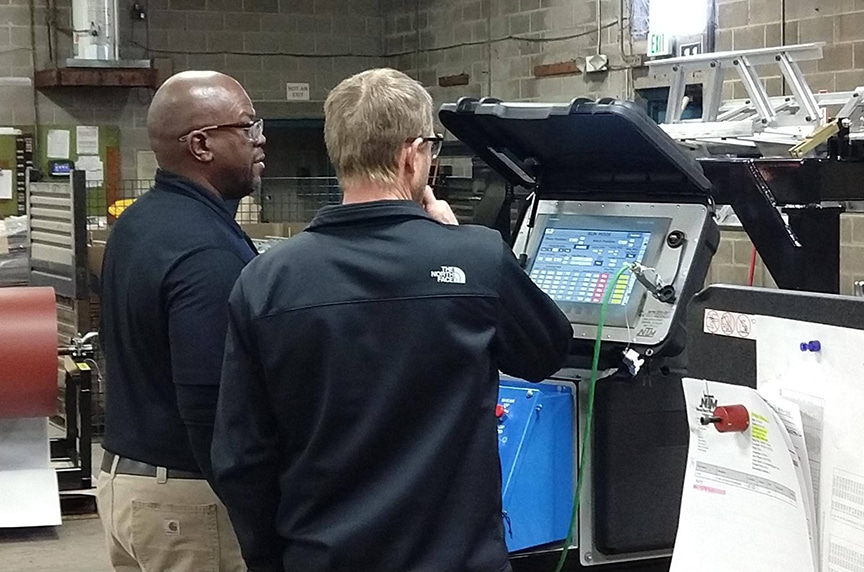 Anyone who uses heavy machinery or construction equipment knows that any number of things can happen:
Parts need to be replaced
Equipment needs service or repair
Your machine goes down or has an issue and you need technical support in the field
NTM's Service department has helped thousands of clients and machine operators with service over the phone or in-person to help get your machine back up and running as quickly as possible. However, there is some troubleshooting and machine care you can do on your own.
Roof Panel Machine Maintenance Tips
One of the most important things you can do as a machine owner is to take care of your roof panel machine. That requires knowing how to properly clean your equipment, how often the internal components need to be cleaned and inspected, what to look for to know when they need cleaning, and more.
This free checklist has maintenance procedures for roof panel and seamless gutter machines broken down by daily, weekly, monthly, and yearly due dates. Download or print it to keep in your shop or with your machine manual for easy access! You can even laminate it and reuse it over and over.
You can also check out this detailed article on what you need to know about roof panel machine maintenance, products to use, and the benefits of keeping your equipment properly maintained.
The drive rollers are a critical component in your roof panel machine's creation of quality panels. Keeping them clean prolongs the life of your machine and ensures you're making panels that come out clean and free from markings or other issues. Check out this article on cleaning your drive rollers (with a downloadable and printable copy for quick reference), how to determine when they need cleaning, and what could happen if you don't take care of them.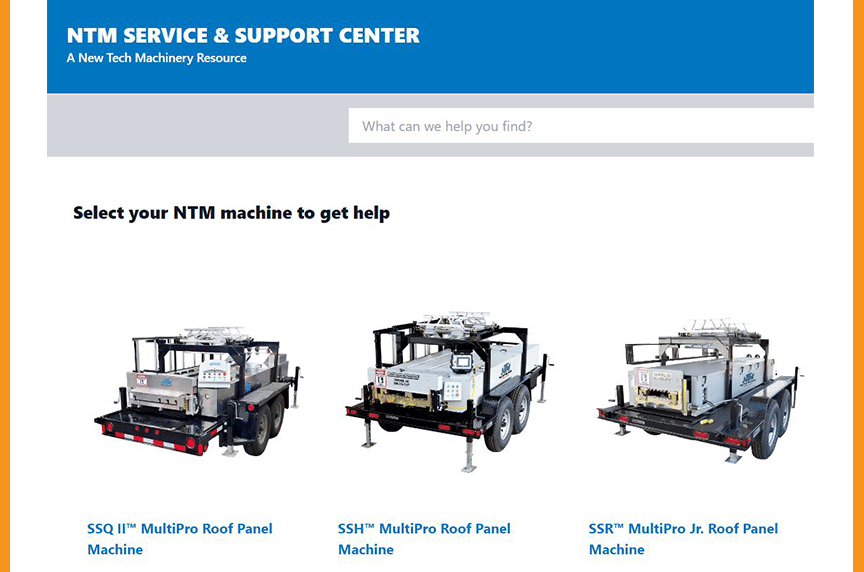 The NTM Service & Support Center is a dedicated knowledge base of common issues clients have had with their roof panel or gutter machines and in-depth walkthroughs and videos to help you quickly solve them. Browse through the webpage by your machine type, search for your specific machine problem, or click on one of the questions to find the help you need to fix the problem.
You'll also find information about the training opportunities available with New Tech Machinery's Service department. If you can't find the answer to your specific machine problem or if you need to talk to a Service Technician, there's also a contact page where you can input your contact information, machine type and serial number, what you need help with, and a place to leave a message of your problem.
Final Thoughts
Anyone new to owning and operating portable rollforming equipment has a learning curve with knowing proper safety procedures, how to take care of the machine for longevity and quality products, and correct usage of your machine helps decrease risks or potential damage to your expensive investment.
We know that there's a lot of information to know as you get more familiar with your machine, so that's why we have a dedicated library of content to learn the ins and outs of your machine, provide troubleshooting help, and further education on how your equipment can be used in metal construction.
New Tech Machinery's Rollforming Learning Center always has new articles, videos, and downloads for all the machines. Be sure to subscribe and receive weekly email notifications for all the latest content. If you don't see information about your machine, email us, and we'll do our best to cover it!
---