Understanding how portable rollforming equipment works is essential to using your machine safely and correctly. Learning from the New Tech Machinery Service Department is the most efficient approach, but what is the cost of portable rollforming machine training?
At New Tech Machinery, we understand that a portable rollforming machine is an expensive and significant investment for your business. However, the risk of not getting the proper and safe training on that equipment could potentially lead to even more costly parts, repairs, and service visits. That's why it's essential to explain the cost of training and the factors that can affect a training session price.
In this article, we'll discuss:
What training options are available to you when you purchase a New Tech Machinery portable rollformer
Cost of in-house and on-site training
Factors that can affect the cost of training
Training Options When Purchasing a New Tech Machinery Portable Rollforming Machine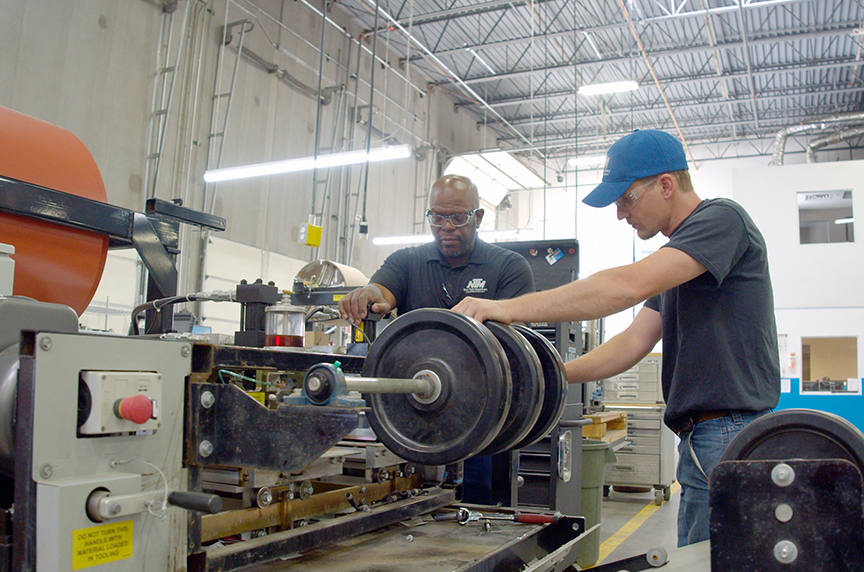 When you purchase a portable metal roof panel rollforming machine or seamless gutter machine, getting training and learning how to operate it is simple. While training is not required (except for an SSQ II™ MultiPro Roof Panel Machine with the notching option), it is highly recommended. Training has significant benefits, especially if you've never used a portable rollformer before or are new to New Tech Machinery's equipment.
Going through training allows machine users to safely and efficiently operate the portable rollformer and know how to troubleshoot any possible issues during use. It also allows you to effectively talk to our Service department members whether you need replacement parts or troubleshooting or service assistance.
In a hands-on training session with a Service Technician, you'll learn:
What the rollforming process looks like on your machine
How to run different types and grades of metal material
The functions of each part inside a portable rollforming machine
Machine operation safety
Common maintenance procedures to know
In-house Training at New Tech Machinery: Pros and Cons
A free initial in-house training session is available with all new machine purchases in Aurora, Colorado. The benefits of in-house training are that there's no cost, and you're trained on the same machine you purchased.
However, training at the New Tech Machinery facility isn't always feasible or the most cost-effective approach if you have other people that need training also. The travel costs or downtime it would take to get to Colorado may be prohibitive for your group. Another thing is that typically people are more comfortable in their own environments, and learning about using a machine they will use at their job site or shop can be beneficial.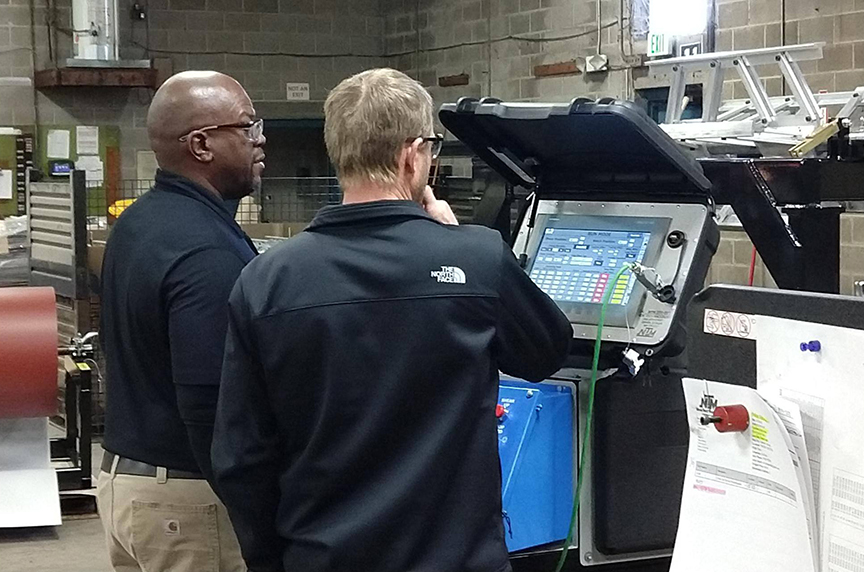 On-Site Training at Your Facility: Pros and Cons
As mentioned above, there's also an option for on-site training at your shop. On-site training allows those operating the portable roof panel or gutter machines to learn proper rollforming machine safety and maintenance procedures and get hands-on experience using the machine with a trained service technician. On-site training with a group of people is beneficial as it is cost-effective and efficient. However, NTM recommends limiting the group size for the most impactful and effective training session.
A potential disadvantage to on-site training is that all the necessary equipment (tools, metal coil) must be ready at the shop. Suppose the required training equipment is lacking or incomplete. It could delay the session, increase the cost, or be less effective than otherwise. Another possible con to on-site training is the additional cost of bringing Service Technicians to your facility for training.
To sign up for a training session, whether at New Tech Machinery's Service and Training Center or your location, call the Service department at 303-294-0538 and ask for Bonnie Bliss, Parts and Service Coordinator. Also, during the purchase of your portable rollforming equipment, you can let an Account Manager know that you'd like to do training. They will notify the Service Department about a training request.
After you talk to someone at NTM, you'll schedule a training time with an available Service Technician. If you're considering getting training on an NTM machine, the Service department recommends scheduling it as soon as possible.
---
---
What Is the Cost of Portable Rollforming Machine Training With New Tech Machinery?
What will it cost if you're interested in training for your NTM portable rollforming machine?
Any new machine purchase from New Tech Machinery includes a free initial training session at our factory in Aurora, CO. But that doesn't mean that there won't be travel expenses or downtime on projects to consider with this option.
If you're looking for on-site training at your shop, there are various options. We offer exclusive package pricing with the SSQ II™ MultiPro Roof Panel Machine that can include on-site training as part of the pricing tier.
The two package options that include on-site training are the notching in-plant package which starts at $142,000, and the portable notching package, which starts at $145,500. NTM machine pricing does not include training and is an additional charge.
Training prices at your facility can range from $1,700 to $2,500 (or more) depending on the location, machine used for the training, and how many days it takes. Most training sessions can be completed in a day. However, training on complicated machines, like the SSQ II with notching, may take two days.
Factors that Can Affect the Cost of On-Site Portable Rollforming Equipment Training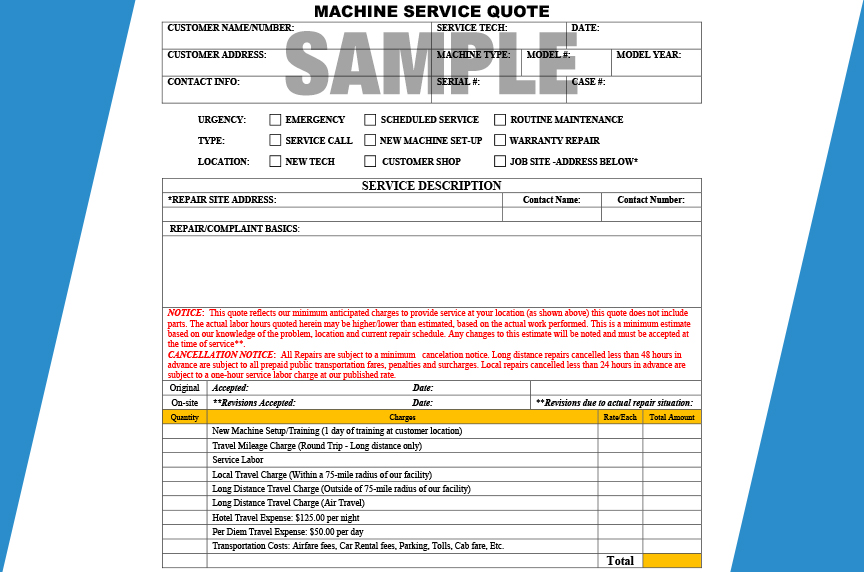 Knowing that the cost of on-site training can range depending on various factors, let's get into some of those factors that can increase or decrease the price.
When you talk to our Service department, they will draft up a machine service / training quote for you, with your company name, address, contact information, machine type, model number, year, and serial number. It will also have the Service Technician's name handling the training or service call and the service date.
A description of the service repair / complaint is documented and a list of estimated rates of the services and charges for the technician's visit is included.
Here are some examples of the charges included in this document that can affect the cost of an on-site training or service call:
Training rate – New machine setup and training for ONE DAY is a set rate of $500. That $500 fee can also be used as a deposit to be secured into the Service department's schedule for a training day.
Service labor charge (typically proposed separately) – If you're looking to get portable rollformer service AND a training session, the cost is $125 per hour. The actual labor hours required for service may be higher or lower than what is estimated on your quote. A Service Technician may propose getting service done on your machine before a training session, especially if it's an older machine or one that needs repair.
Location – A "local travel charge" is considered any location within a 75-mile driving radius of the NTM manufacturing facility in Aurora, CO, and is estimated at $100. For anything outside of the 75-mile driving radius of the NTM facility, it would be an additional $250. If flying to the location is required, that's a $500 long-distance travel charge.
Travel expenses – If a Service Technician stays overnight for an extended training or service assistance, a hotel expense of $125 per night and a per diem travel expense of $50 a day are included.
The time it takes to complete on-site training – If more training is needed after the first day (two days of training is necessary for an SSQ II with notching), it's an additional $500. This also applies if you request an extra day of training or have a machine already and would like to get training
Any needed training supplies – This is only an "as needed" charge in certain instances where the appropriate tools required for the training or service may not be available at a customer's shop or brought by an NTM Service Technician, or if additional tools or material is required.
Final Thoughts
When choosing the free in-house training offered at NTM or on-site training at your facility, understanding the cost of both portable rollforming training options and what can affect that price helps.
The important thing to remember is that the risks of not having the best and safest training on your portable rollforming equipment can potentially lead to far greater costs of unsafe or improper operation of your portable rollformer. Getting the proper training is less expensive than the risks of using your machine wrong and damaging it or possibly sustaining injuries while using the equipment.
New Tech Machinery's Service Department is here to help ensure that your training session is the most effective for your business operation and employees. If you want more information on training or our products and service, feel free to reach out to us and talk to one of our experienced rollforming specialists.