While New Tech Machinery (NTM) only sells new portable seamless gutter machines, we understand circumstances exist where buying a used gutter machine may be the best option. Contractors under a tight budget, part-time installers, and new gutter businesses may find it more cost-effective. However, you want to make sure you're getting a used seamless gutter machine that operates smoothly and produces quality gutters. Otherwise, you could end up with a problem machine that can't bring in revenue.
New Tech Machinery has been building gutter machines for over 30 years. In fact, we have gutter machines sold in the 1990s that are still in operation today. When owners take care of their gutter machines by sticking to a maintenance schedule and storing it away from rain and the elements, it can stay in operation for decades, which makes buying a used gutter machine a viable option.
In this article, we'll look at:
What to consider when buying a used gutter machine
Finding the right machine for your business
What to look for in a used gutter machine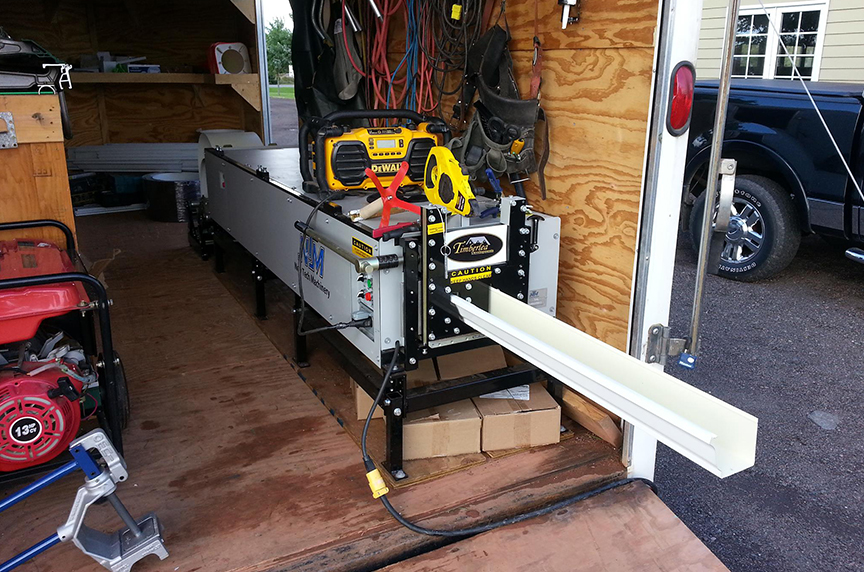 What to Consider When Buying a Used Gutter Machine
Budget for Buying a Seamless Gutter Machine
Budget is likely your starting point when deciding on purchasing a new vs. used machine. You make your decision based on what's in your bank account. However, there are other factors to consider. If you can't afford a new machine, you can look at financing. Payments can be worked into your monthly expenses, and a new machine may provide you enough return on investment where it isn't a strain on your finances.
This is where some good accounting and planning come in handy. Work out your budget and design a business plan that realistically projects your revenue. You may find that you can pay off the machine with a few big jobs. But you'll have to factor in equipment, tools, labor costs, and the cost of materials, for starters. You'll need transportation and a way to transport the equipment, like on a trailer or securely on the back of a truck.
You'll need to contact a lender to secure a loan. If you can't qualify due to a low credit score or not having established credit, see if you can find a cosigner. If not, a used machine may in fact be a good starting point for your new business. You can research the cost of a new machine.
Size of Your Gutter Business
If your gutter business is part-time, or if you're just testing the waters as a second source of income, the used machine may be a better choice. It's less of a financial risk, and you can always sell it if things don't pan out. But if the jobs start pouring in, then you can look at purchasing a new machine.
Resources for Gutter Machine Maintenance and Repairs
NTM machines come with service and technical support for new and existing owners, as well as in-house training for how to make adjustments, run raw materials, and maintain your machine. However, if you purchase your gutter machine second-hand, you probably won't get help without paying. Plus, warranties may not transfer. The NTM limited three-year parts warranty does not transfer to second owners, although its lifetime warranty on drive roller separation will. Find out from the seller what warranty, if any, comes with the machine.
Whether you need repair or maintenance may depend on how the machine was cared for by its previous owner. If regularly maintained and properly stored, the machine could last decades. If often left out in the rain and not well maintained, you might find yourself with a gutter machine that needs a lot of servicing. Check the machine carefully to make sure it's been taken care of. Run some material through to ensure that it comes out straight and well formed. Some older machines may need a lot of tinkering and adjusting to produce a straight gutter, which shouldn't be too difficult. Just make sure there are no indentations or imprinting errors in the gutter the machine produces, as this could mean the rollers are damaged and need to be replaced.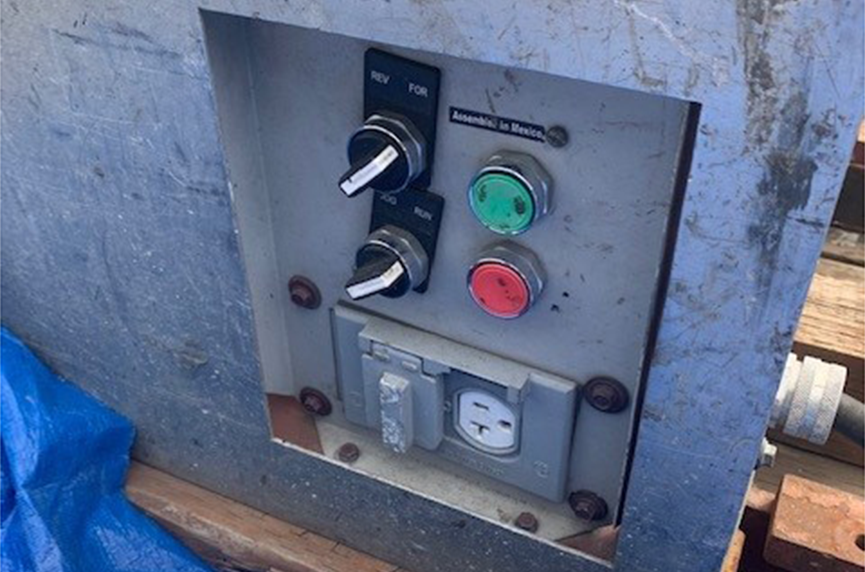 Buying the Right Gutter Machine
Before looking for a used seamless gutter machine, you'll need to figure out which type will suit your business. If you're not sure, then you'll need to research what's popular in your region. For example, do homes tend to have 5", 6", or 7" gutters? As far as type, K-style are the most common, but in some cases, especially with historic buildings, half-round are popular. Also, you'll want to decide on the options and accessories you'll need for your preferred gutter machine configuration.
If you've been installing gutters, then you probably know which size, type of gutter, and gutter material is common in your area. If it's 5" K-style, then you know what machine to look for. Make sure the machine you purchase produces the size and type of gutter in the material you need.
Once you've figured this out, the next step is finding a used machine that has what you're looking for. The problem is, finding the exact gutter machine you need isn't an easy task, and it may take some patience. You can probably locate one online through sites like Gutterworks, but if it isn't in your area you'll have to figure out a way to either ship it or pick it up from the seller, adding to the cost of the machine.
What to Look for in a Used Gutter Machine
The most obvious advantage to purchasing a used gutter machine is cost savings. You may pay half or less of the price of a new machine. Depending on your budget, you may be able to buy a used machine without financing, which will save you from paying interest on top of the principal balance.
What you want to avoid is a machine that becomes a money pit because of poor maintenance by the previous owner. So, while saving money is an advantage, you also run the risk of paying for repairs or new parts, including accessories, rollers, or electrical controls.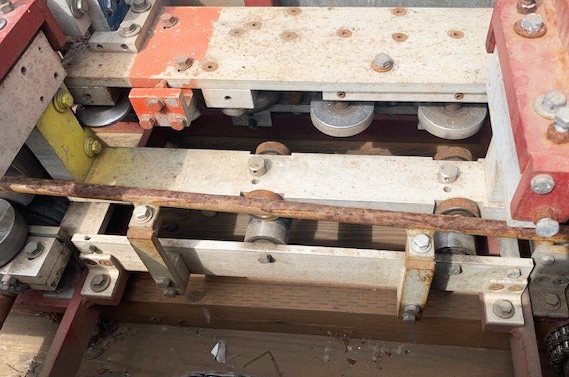 Established Reputation of Gutter Machine Seller
Before you purchase a used gutter machine, check the reputation of the manufacturer. KWM Gutterman is the biggest name in the business with its IronMan® series. Englert Inc. is another well-established brand. NTM is one of the pioneers in the portable gutter machine industry and produces the Mach II™ Gutter Machine. There are lesser-known portable gutter machine manufacturers, but some don't produce the same high-quality equipment. Research the manufacturer before purchasing one of their used machines. Read a review of the 6 best portable gutter machine manufacturers.
Also, you should verify that you're purchasing equipment from a reputable seller. This may just take a web search to find reviews and ratings if you're buying from an online source. But make sure they stand behind their products and that others have had good experiences doing business with them. Also, no reviews are better than bad ones! Ask a lot of questions and use your best judgement.
Availability of Gutter Machine Spare Parts and Accessories
Finding parts can be a big issue, especially if the used machine is no longer in production. You can call the manufacturer directly to make sure spare parts are available should your machine need repair.
Gutter Machine Resale Value
With any machine you purchase, there will be depreciation. Less so, however, with a machine that has been well maintained and kept in good condition. It's much harder to get value for a machine that's been through multiple owners and has not been well cared for.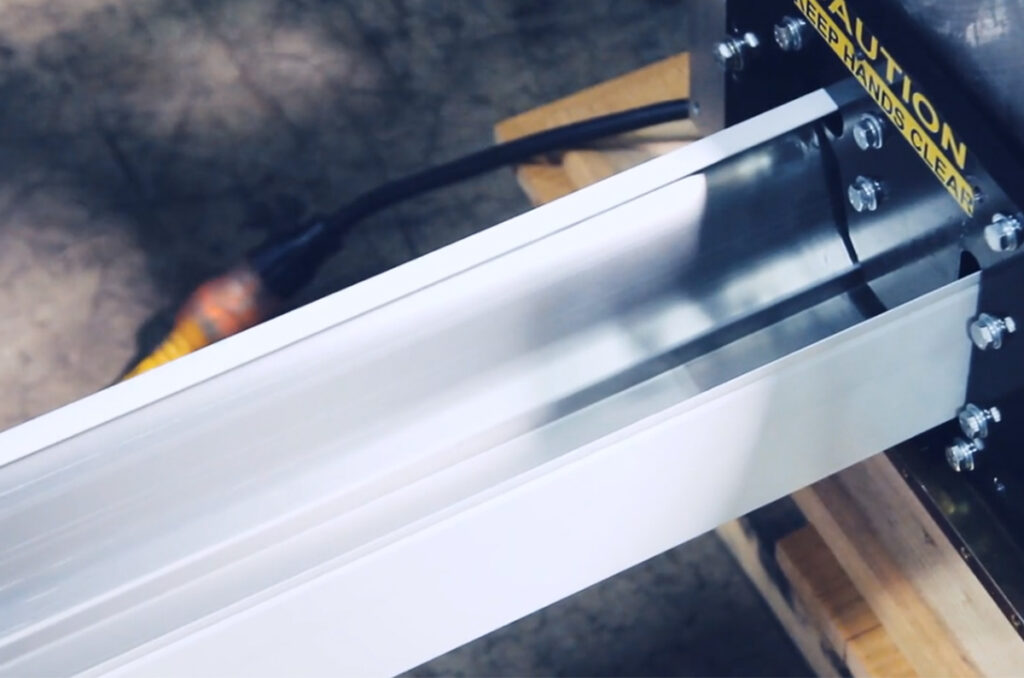 Used Gutter Machine Purchasing Checklist
Frame—Inspect for dents or bending
Rollers—Check for damage to rollers or separation in rubber drive rollers.
Switches—Make sure the switches are in working order and the electrical operations are responsive.
Overall condition—Look for rust or damage to machine parts.
Gutter condition—Denting, imprinting imperfections, or markings in the gutter when it's run through the machine could point to damaged rollers that will need replacing. Also, the gutter should be straight. However, adjustments should correct any straightening issues. Make sure to run material through the machine and inspect it.
Seller's credibility—Check that the seller is a reputable agent or that you can verify their gutter business.
Warranty—Find out if a valid warranty transfers with the machine.
Safety features—familiarize yourself with any safety features or best safety practices when using the machine.
Final Thoughts on Used Gutter Machines
As we've discussed, you'll have to balance cost savings with the condition of a used seamless gutter machine and costs of repairing and maintaining it. While new machines offer many advantages, including a warranty on parts, service support, and free training, the right used machine may be a good way to start out a new gutter business.
Our team at NTM are happy to talk to you about the support and quality you will get when purchasing one of our new gutter machines, whether it's the Mach II 5", 6" or 5"/6" Combo. We have helped gutter businesses for 30 years by providing quality machines, support, and training. We can walk you through your options. If you'd like to know more about our machines, reach out to one of our experienced team members.