Has your seamless gutter business lost customers who opted for traditional gutters? Cheap and DIY-friendly, traditional gutters, commonly known as sectional gutters, certainly have an appeal. However, seamless gutters have decided advantages and if you're dealing with customers debating about whether to use your service or go down to the local home center, knowing the differences between seamless gutters vs. traditional gutters may help them decide.
At New Tech Machinery (NTM), we have helped contractors build their businesses for over 30 years with our portable roof and wall panel and seamless gutter machines. It's part of our mission to support those in the industry with information that will help them service their customers.
In this article, we will discuss traditional vs. seamless gutters to enable you to provide your customers with the information they need to make the right buying decision. We will look at installation processes, the pros and cons of both gutter types, and factors a customer must consider when deciding between traditional and seamless gutters.
The Importance of a Gutter Drain System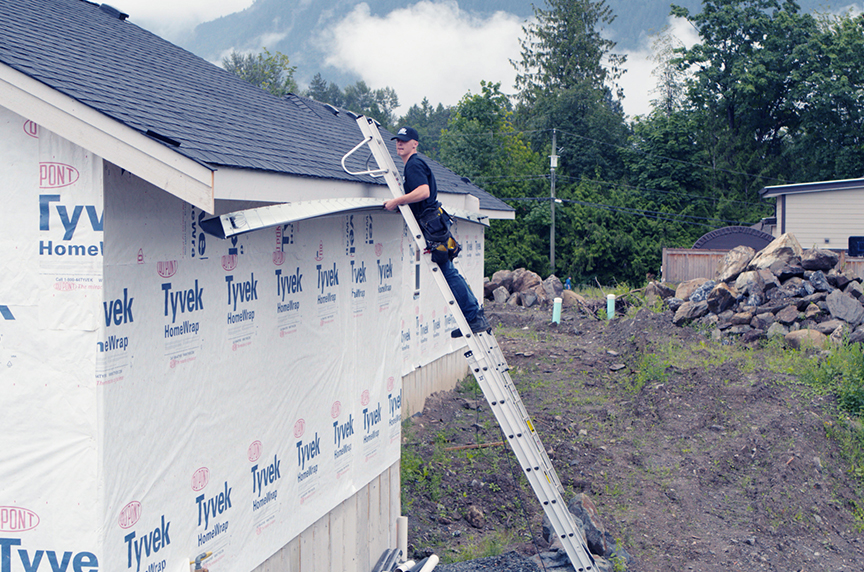 You may have come across customers who didn't know the importance of a gutter drain system. While a homeowner may invest huge sums of money into purchasing a home, if they want to protect their investment, they will need gutter drain systems to:
Prevent erosion of the foundation
Prevent basement flooding
Prevent damage to the external walls or siding
Protect the lawn and gardens
To accomplish all of this, an adequate gutter drain system is essential. While demanding a greater initial investment, seamless gutters offer the best protection against water damage. In the long run, traditional gutters may cost more in repairs and property damage due to clogging and breakage.
Seamless Gutters vs. Traditional Gutters
Traditional gutters are popular for DIY installation. These prefabricated gutters come in 10'-20' long sections, attached together with connectors and caps, with droplet outlets intersecting with downspouts.
Seamless gutters, also called continuous gutters, are custom-made to fit the house. They are not DIY friendly like sectional gutters, so require an expert to make them onsite, typically using a portable rollforming machine, and professionally install them. As a result, they can be more costly than traditional gutters.
Traditional Gutters
DIY Traditional Gutter Installation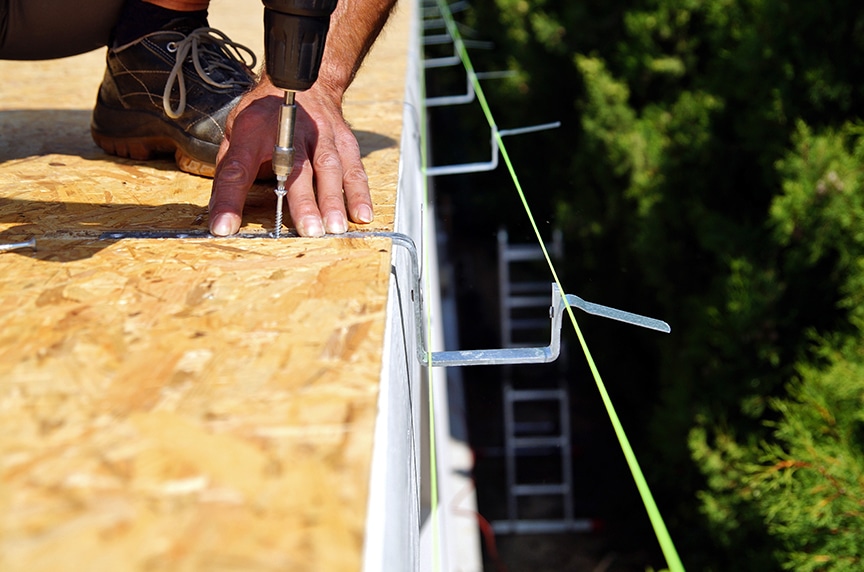 A DIY gutter project may sound easy to some homeowners—simply nailing gutter sections to the fascia board of their home. While installing traditional gutters can be a DIY project, it requires a lot of planning and some additional investment on the part of the consumer. They'll need to know the following:
The length of the gutter run and where the downspouts will be set
Where the water needs to flow to protect the house and property
How to inspect fascia and soffit for rot (removal and replacement may be necessary)
Where and how to install hangers along the roofline
How to use a hacksaw or tin snip to cut the lengths to size
How to notch the gutter
How to attach the gutter sections with hangers and screws or rivets
How to properly apply a sealant to seal the joints and connections
How to make repairs or replace gutter sections if they become damaged
They'll also need to check for any local building codes to make sure they're in compliance. In short, they should have some basic knowledge of working with roofing materials and how the water can best flow away from the home.
If you're working with a customer who is having second thoughts about hiring a contractor, you can let them know what they're in for. If they have experience, they'll know if they're up to the task. If not, they may realize it takes more than just a hammer and nails to install traditional gutters.
Pros and Cons of Traditional Gutters
Pros
As mentioned, traditional gutters are common for DIY installation. They can be cut with a saw to fit any house. Also, they come in a variety of materials, including aluminum, vinyl, stainless steel, and copper—and are offered in a wide range of colors.
DIY kits are affordable and can be easy to install, depending on the gutter material and skills of the homeowner. They only come in half-round and K-style gutters, so homes built without fascia boards will require professional installation.
Cons
Wherever you have seams you'll probably have leakage. Because traditional gutters are connected by joints, there will likely be more water leaking through. Also, debris is prone to get caught in the seams, which increases the likelihood of damage.
Traditional gutters require frequent maintenance with repairs and replacing damaged sections. As they don't hold up as well in severe storms, they can separate at the seams. Traditional gutters last 10-15 years, compared to seamless gutters which can last anywhere from 25 to 100 years, depending on the material.
Aesthetically, traditional gutters are not as attractive. They can sag at the seams, and they lack the sleekness of seamless gutters.
Seamless Gutters
Seamless Gutters Installation
Seamless gutters are installed by a professional using a portable gutter machine. Depending on the type of gutter, it is generally nailed to the fascia board that runs along the roofline. Houses with no fascia boards will require a fascia gutter that can hang from the framing. Seamless gutters are custom fitted to the house by a professional who knows where the water needs to flow to protect the home and landscape.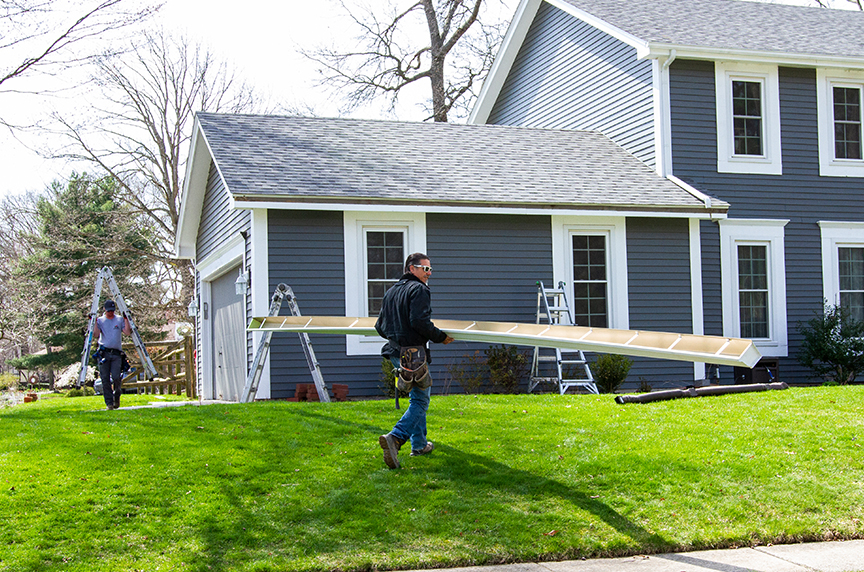 Pros and Cons of Seamless Gutters
Pros
Because they are seamless, they are less likely to suffer leakage or storm damage. This means they can better protect the structure and property. Also, due to their durability, seamless gutters will outlast traditional gutters often by decades.
Like their traditional counterparts, seamless gutters come in a variety of materials and colors. However, seamless gutters offer more profiles than traditional, including K-style, box, fascia, and half-round.
Seamless gutters require less maintenance and do a better job of preventing damage to external walls and landscape. Because of the smooth flow of water and fewer seams, they don't attract as much debris and outside of regular cleanings twice a year, don't require much upkeep.
Cons
As mentioned, seamless gutters cost more. They can't be purchased directly as they are custom-made and installed professionally. That said, they last longer, are more durable, and are easier to maintain than traditional gutters.
Factors to Consider When Choosing Between Seamless Gutters vs. Traditional Gutters
Budget—Traditional gutters are cheaper, especially for DIY installation. In the long run, they may cost more as they require more repair work and must be replaced sooner.
Aesthetics—Seamless gutters look better. They don't sag at the seams and they have a smooth appearance.
Maintenance—Traditional gutters require more maintenance, as sections may need to be replaced since they're not as durable and can give at the seams.
Climate—For climates with a lot of rainfall, seamless gutters will last longer and have less leakage.
Durability—The more rainfall in a particular region, the more important it is to have strong gutters. That said, even dry regions that experience infrequent rain can get seasonal heavy rainfall. Therefore, durability should be a major consideration for any customer.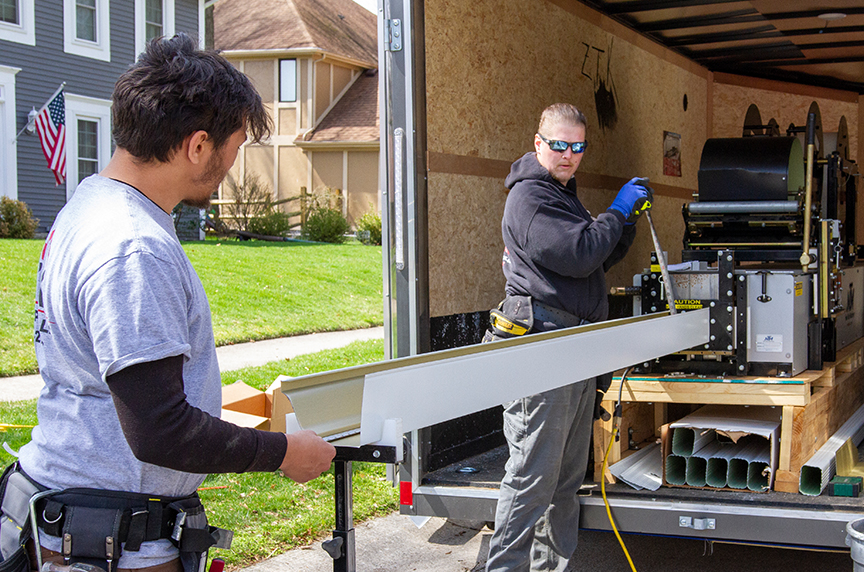 Final Thoughts
There are compelling reasons for purchasing seamless gutters over traditional, and all things equal, it's hard to find a good reason to go with traditional gutters. For many consumers, it comes down to budget. Seamless gutters look better, last longer, and handle runoff without deteriorating or leaking like traditional gutters. However, they need to be professionally installed and the costs can add up. That said, your company may offer payment plans or financing that can make paying for seamless gutters more manageable for your customers.
Going over the options and talking about the trade-offs between paying more now for seamless gutters or down the road from repairs and eventual replacement of traditional gutters may add some value to your customer's investment.
At New Tech Machinery, it's our mission to answer all your questions and concerns. Since 1991, New Tech Machinery has pioneered portable gutter and roof and wall panel machines. We'd love to help you start or grow your operation. Contact one of our machine specialists to help you find the best gutter machine for your business.