Starting a metal roofing business is challenging enough. But expanding your current business or exploring new avenues can be daunting if you don't know where to start. There are ways to expand your current metal roofing business with a portable rollformer, whether you already have or are considering purchasing one, and branch off into new avenues you may not have realized.
At New Tech Machinery, we've helped contractors gain more control over their work and profits and educate them on how to get more out of their work by utilizing portable rollforming machines and equipment.
If you're looking for ways to expand your current business, explore new markets, or offer new products, here are some ideas you can consider just by utilizing a portable rollforming machine.
Purchase a Portable Seamless Gutter Machine and Add Gutter Installation to Your Business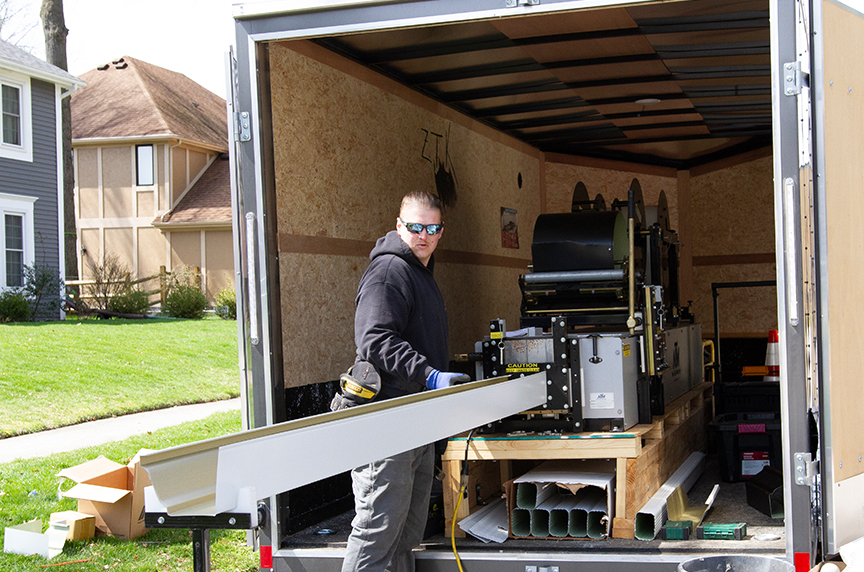 If you already have a portable roof panel machine, adding a seamless gutter machine to your business can help ease some worries about hiring a subcontractor to handle the gutter installation work. Having your own seamless gutter machine allows you to install the gutters, increase the versatility of what your business offers, and take even more control of your projects and profits.
If subcontractors are booked out or have other jobs they're working on first, it may hold up the amount of work you can do at the start. You also can't control the quality of a subcontractor's work and are responsible to the customer for the result of their work. Offering gutter installation in addition to your metal roofing work is one less step in the process, and the profits go right into your own pocket.
Typically, seamless gutter machines are less expensive than portable roof panel machines and can be configured to your needs similarly. They're also easier to operate than a roof panel machine since you don't have to adjust the machine for different panel widths, perform profile changeovers, or need as much computer automation. They can be easily transported, often in a box truck or enclosed trailer, and offers an added value for your clients that will pay off over a few installations.
When purchasing new or used portable rollforming equipment, you also qualify for Section 179 tax deduction of the full price, up to $1,160,000 for 2023, when the machine is bought or financed and placed in use that same year.
Purchase a Portable Roof Panel Machine With Commercial Capabilities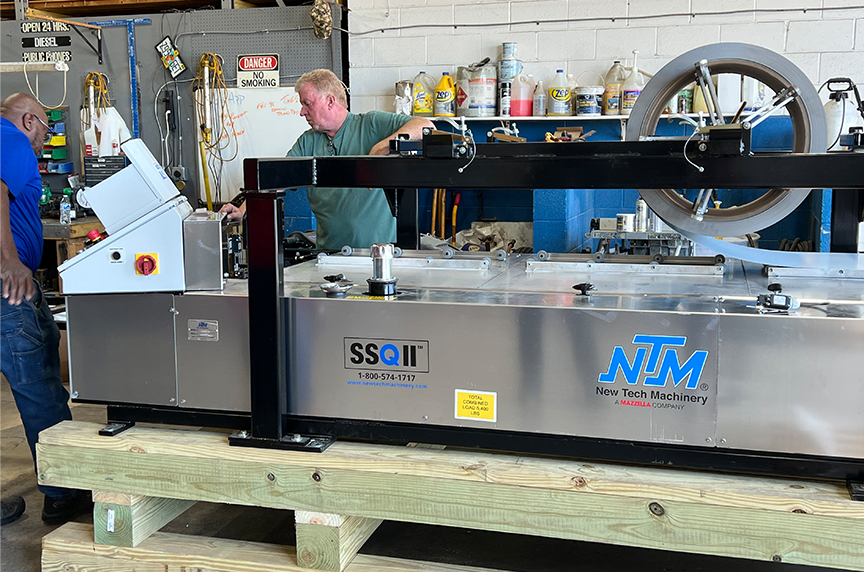 While this is a more expensive option, it is one that we find clients sometimes do. Those just getting started in metal roofing and may not have the funds to pay for a top-of-the-line residential / commercial machine like the SSQ II™ MultiPro Roof Panel Machine may opt for the more budget-friendly residential / light commercial machine like the SSR™ MultiPro Jr. Roof Panel Machine or SSH™ MultiPro Roof Panel Machine. However, as your business grows, and if you consider getting into more commercial projects, you'll need a machine that allows for that expansion.
While you may have to purchase another machine at a significant upfront cost or buy a more expensive machine upfront, some of the same machine accessories may be able to be used on your new machine from a previous one. Additionally, many clients have more than one machine they use for maximum productivity and the ability to take on extra jobs.
Buying a portable roof panel machine that can do commercial work not only increases the range of projects you can bid on but also can increase your profits. By understanding where your business is now and how you'd like to expand it in the future, you can narrow in on the machine that will best fit your needs as your business grows.
Consider these questions:
What market are you currently in?
Where do you see your business going in the next few years?
Do you currently do commercial work, or do you see yourself taking it on in the near future?
What is your time or rate of production?
---
---
Add New Metal Roof / Wall Panel Profiles to Offer Customers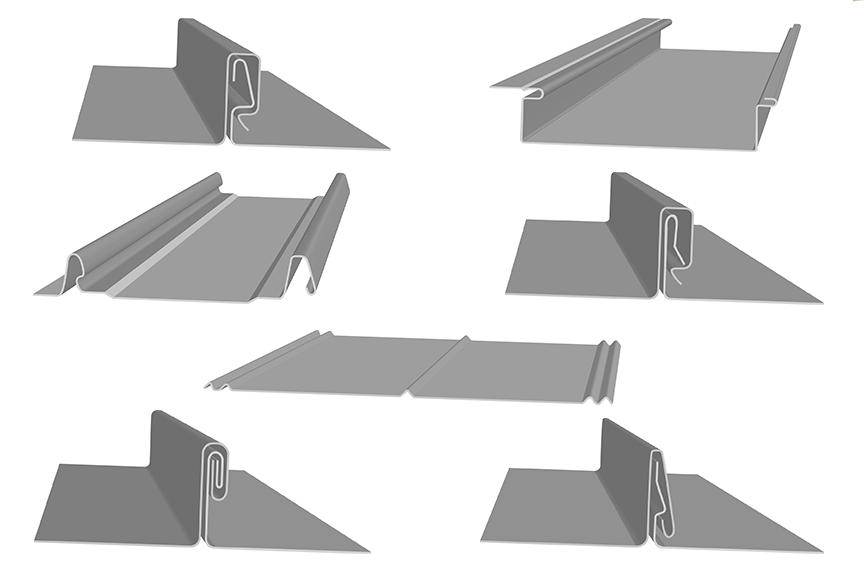 Another great way to expand your metal roofing business is to add new profile tooling sets to offer customers different styles of roofing & wall panel profiles. For example, the SSQ II machine has the ability to produce flush wall / soffit / underdecking panel profiles as well as a board and batten wall siding profile which can help you gain additional work and profits.
For example, the flush wall profile (FWQ100 and FWQ150) can also be used as a soffit and underdecking panel. It's commonly used for houses with elevated decks to seal off the underside of the deck to keep the space below it dry and more usable. The flush wall profile is only available on the SSQ II MultiPro Roof Panel Machine, but purchasing a new roller set is cheaper than buying a whole new machine which would be the case with some single-profile portable rollformers.
Taking advantage of the profiles available with a multi-profile machine lets you grow with your business. You can bid on projects without having specific tooling set in your machine and purchase what you need later. It allows you to grow your business as needed, knowing your machine has the capability to grow with you.
Expand Your Current Offerings to Produce and Install Wall Siding or Panels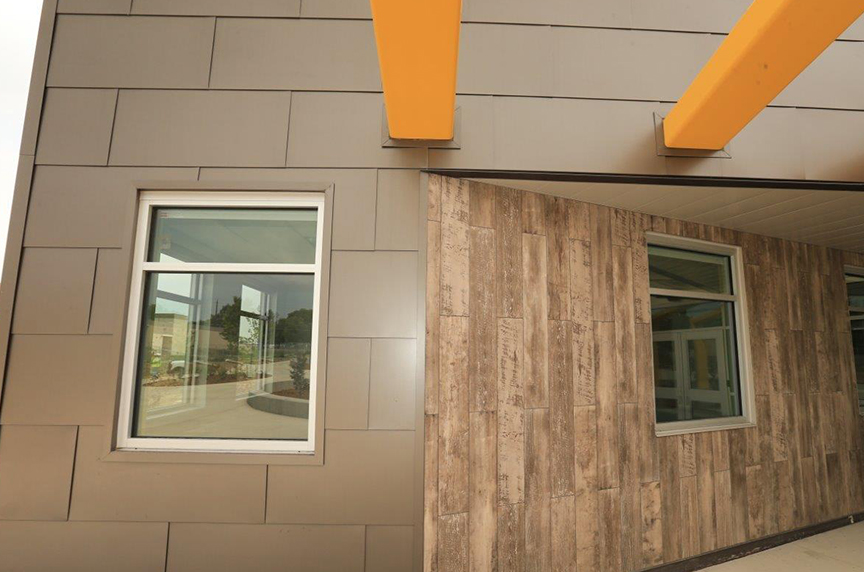 If you have or are considering purchasing the SSQ II roof panel machines, you can also expand your metal roofing business to make and install metal wall panel profiles. Expanding into siding or wall panel installation allows you to have another avenue to increase business or as a way to upsell products to current customers.
Currently, the only wall panel profile available with the SSQ II machine is the 1" and 1 1/2" flush wall / soffit / underdecking profile; however other profiles may be released as the market and industry popularity increase.
Upgrade Your Existing Portable Roof Panel Machine with New Accessories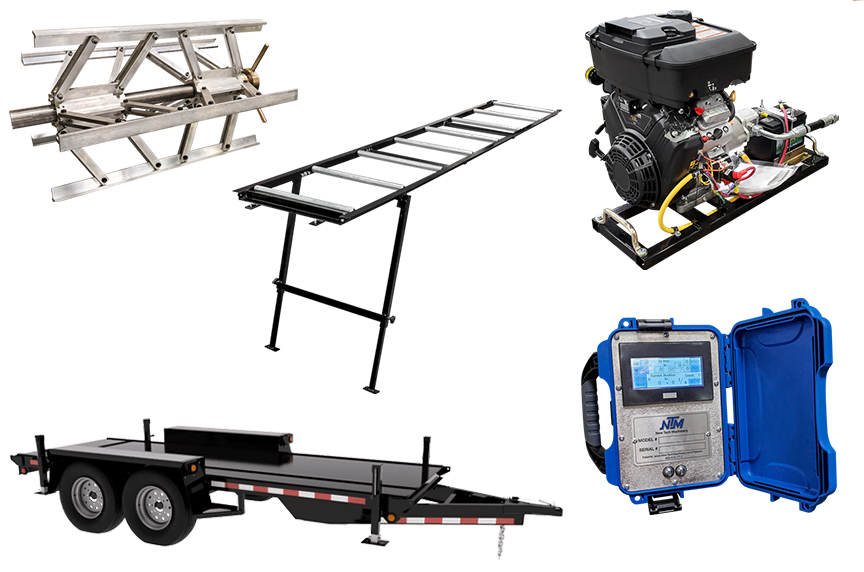 Another way to get the most bang for your buck without purchasing another entire machine is to take advantage of some of the accessories and add-on options available with most portable roof panel machines.
Rib rollers are a great way to give your panels a slightly different look at a nominal cost. If you have frustrations with metal roofing installation or buying bad coil, you may want to look at providing striation ribs in your panels. From a standpoint of appearance, ribs can go a long way to hiding any material defects or oil canning in the metal roof panels once installed and are a great way to make the panels more rigid or stiffer.
Rib roller sets and frames can be purchased as needed for any portable roof panel rollformer and are a cost-effective approach to expand the versatility of your panels. They also are easy to use and changeover in the portable rollforming machine.
If you take on any commercial work and want to put sealant in the legs of the panels as they are finished being formed by the roof panel machine, the hot melt system interface is a great accessory to add to your machine. The Hot Melt Sealant Interface works with the computer controller and adds the mastic or sealant into the panel legs, saving you time. New Tech Machinery only offers the interface to allow the system to be used with our SSQ II and SSH machines. The Hot Melt Sealant system is sold separately through Hot Melt Technologies.
Expand into Chop and Drop Operations for Metal Roof Panel Manufacturing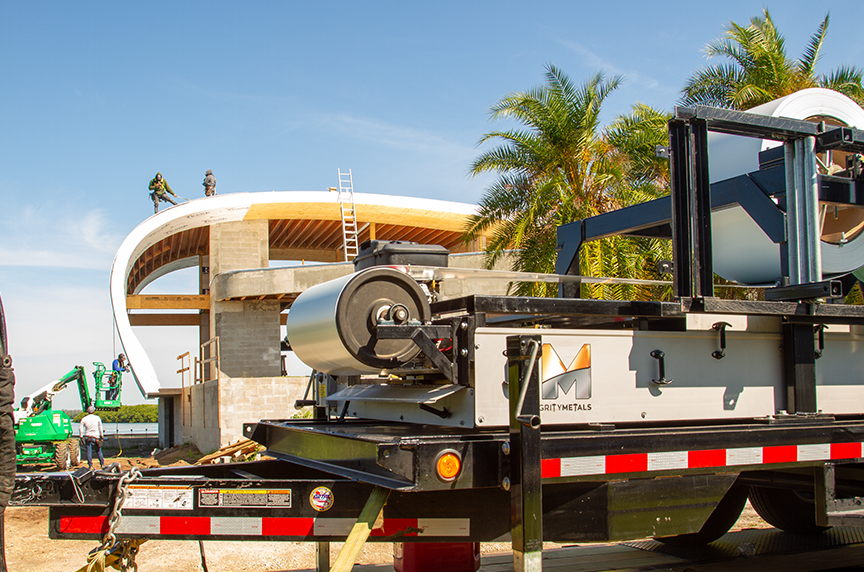 Finally, expanding your metal roofing business using your portable rollforming machine can be as simple as offering "chop and drop" or panel manufacturing services. If you're primarily focused on roof panel installation and want to diversify what you can offer, many people get into rollforming panels to sell to others as "chop and drop" operations.
You already have the major part of the operation, the portable rollforming machine, but there are other benefits to exploring this avenue:
It's a way to make an additional profit at little to no cost to you if you already own a portable rollforming machine.
It can help reduce insurance rates and costs if you strictly do "chop and drop" services instead of installation.
It allows you to continue with a source of revenue if you can't find or retain labor for installation or if you're having supply chain issues.
You can use your portable rollfoming easily inside a shop or plant for cost-effectiveness and where you may have space limitations.
Final Thoughts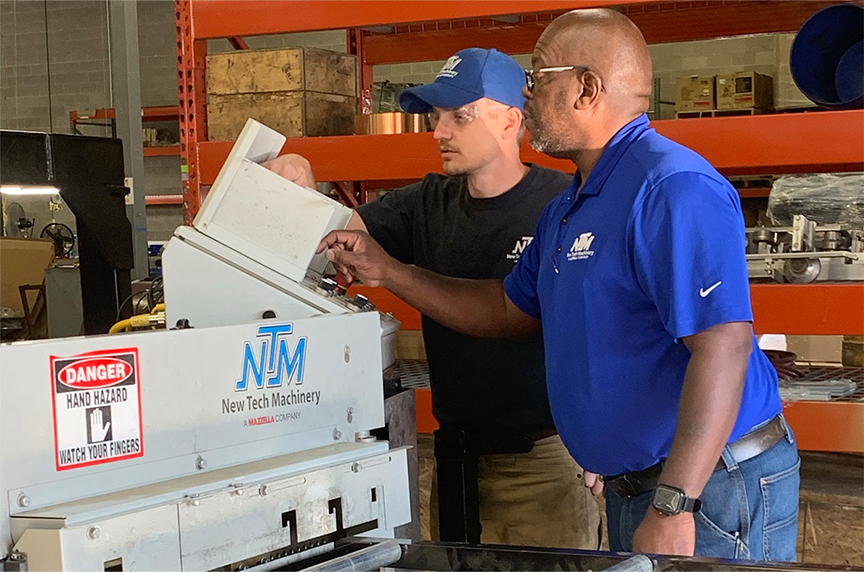 If you're looking for ways to diversify and expand your current metal roofing business with the portable rollforming equipment you are purchasing or already have, options are available. All it takes is planning, knowing your market, and an idea of how you want your business to grow.
If you're considering expanding your business, think about the following:
How much use are you currently getting out of your portable rollformer?
How many metal roofs do you do in a year as an installer?
Do you already have a portable rollforming machine, or are planning on getting another one?
Do you have a trusted crew to not worry about the installation aspect of your job if you decide to diversify your offerings?
Is there a need for additional projects like metal siding or panel manufacturing in your space or market?
What would some of the obstacles or challenges be in your market for expanding your current metal roofing business (transportation, weather, regionality, etc.)?
What's the best and most long-term cost-effective option for your business now and in the future?
You can also talk to local roofing organizations and associations for advice and support to help you gauge if any of these ways are right for you or if there are any additional avenues for you to consider.
We want our clients to be as fully informed and educated as possible to make the best decisions for their metal roofing business' success long term. Call or email us if you have questions about portable rollforming for your metal roofing business!
---