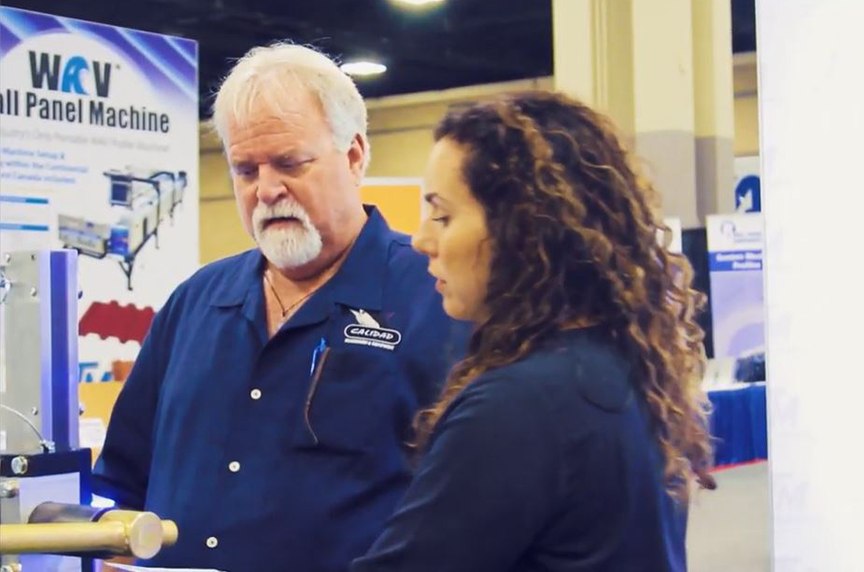 When purchasing capital equipment for your metal roofing or gutter installation business, you'll likely compare different manufacturers' products and prices, and gather a few different quotes to see how they fit into your budget. With such a significant investment into your business, it's essential that you know what to do before you ask for a portable rollforming machine quote from a manufacturer.
At New Tech Machinery (NTM), we've helped thousands of contractors and suppliers with buying the right machine for their business setup and get pricing information and quotes that ensure they're getting the best equipment the first time around. But there's some initial research and information you should know before you ask one of our rollforming specialists for a quote.
In this article, we want to explain the difference between asking for pricing information and getting a formal quote on a portable rollformer, what kinds of information you should know before requesting a quote, and what happens next.
When to Ask for Pricing vs. a Quote on a Portable Rollforming Machine
No matter if you're interested in a seamless gutter machine or roof panel machine, before you ask for a quote from a manufacturer like New Tech Machinery, it's critical you understand what information you're hoping to receive and what your plan is following the request.
There's a difference between asking about the price of a portable rollforming machine to get an idea if it's in your budget and asking for a formal quote because you're ready to make a purchase.
Asking for a Price
Often, those looking for information about portable rollforming machines or wanting to know what it would cost to get one for their business ask for a quote when they really want pricing information. Pricing for a roof panel machine or gutter machine varies based on your chosen machine, the accessories you add, and how you'd like your machine to grow with your business.
Suppose you're looking for pricing information on a particular machine and accessories. In that case, an NTM specialist can provide you with a detailed price list of our machines, profile roller sets, and available accessories. Asking for pricing can help you build out the configuration you want and allows you to see how it plays within your budget.
Asking for a Quote
If you've already done your research regarding your current business operations and have decided that owning a rollforming machine will benefit you now and in the future, getting a formal quote is the best next step.
Asking for a formal quote on a particular machine configuration is best done once you've narrowed down which machine and accessories you're interested in or had an in-depth discussion with one of our product specialists or a distributor.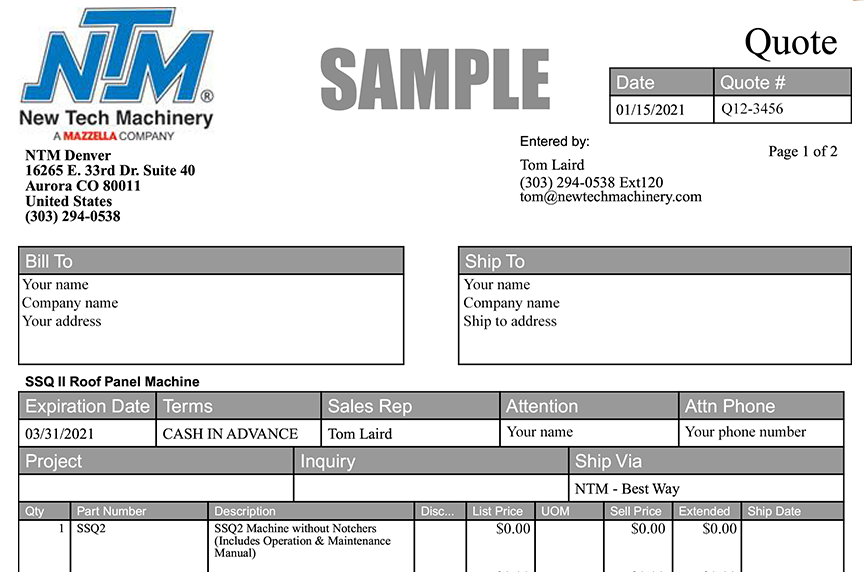 What Factors Can Affect the Cost of a Portable Rollforming Machine?
Whether you are asking for pricing information or a formal quotation, the cost of a portable rollforming machine will vary. Here are some factors that can affect the cost of a roof panel or seamless gutter machine:
Capabilities of the machine to make more than one profile – The SSQ II™ MultiPro is more expensive than the SSH™ MultiPro or SSR™ Multipro Jr. machines because it has profile options that the other two machines don't offer, like flush wall or commercial-style panels.
If the machine and shear are hydraulically driven – Most gutter machines use electric power, besides the BG7™, which has the Quick-Change™ Power Pack option for field converting your power from gas to electric and vice versa. The same applies to the roof panel machines; if they use a hydraulic system and shear, they'll likely be higher in price.
If the machine comes with a computer-operated controller – Most of the machines have a computer controller available for purchase as an option. Still, some NTM portable rollformers come standard with a computer controller like the BG7, SSH, and SSQ II.
The type and number of drive rollers inside the machine – How many drive rollers are inside the machine and the kind of drive rollers used determine the thickness and gauge of the material you can run. Also, the bigger the machine, the more drive rollers it has to use to pull the material through the machine. These all can affect the price of the machine.
Accessories or profiles you choose to add to the machine – Some portable rollforming machines come standard with accessories that can help you get more functionality from your equipment. However, you can also purchase accessories for your machine as you need or want them. The more add-ons or profiles you wish to include will increase the price.
---
---
What Information Do You Need to Know Before Getting a Quote on a Portable Rollforming Machine?
This article will focus on the quoting process with one of our rollforming specialists. Asking for a formal quote means you're getting a guaranteed price for a set amount of time. A quote will always come from one of our specialists or a distributor / partner of New Tech Machinery.
When asking for a quote, it's important to know your current business setup and how you see it expanding, research and know what you're looking for, and understand our products to make the most informed decision. This will help your conversation with a specialist go smoothly and ensure you're getting what you need to set your business up for success.
You can have the best experience getting a quote by knowing this information about your projects, business, and product interest:
Understand what kinds of metal roofing projects you're primarily doing or know you want to expand into later (residential, commercial, or both).
Know what panel profiles are popular in your region or market, so you know which roller sets you need for your machine (each new purchase comes with one free set, but you can add extra sets for other profiles, wall siding, etc.).
If you're looking to only buy one type of machine (roof panel, seamless gutter, or wall panel) or if you want to purchase more than one at the same time.
Find out what the machine accessories do and which ones you might need for your business setup, and price out how they fit in your budget.
Find out if you want or need additional profiles to offer to your customers or if you want to include rib roller assemblies. Rib rollers are the "minor ribs" that go between the legs of standing seam roofing panels that add extra structure and decoration to the panels. New Tech Machinery offers various rib roller options, including striations, bead ribs, pencil ribs, and V ribs.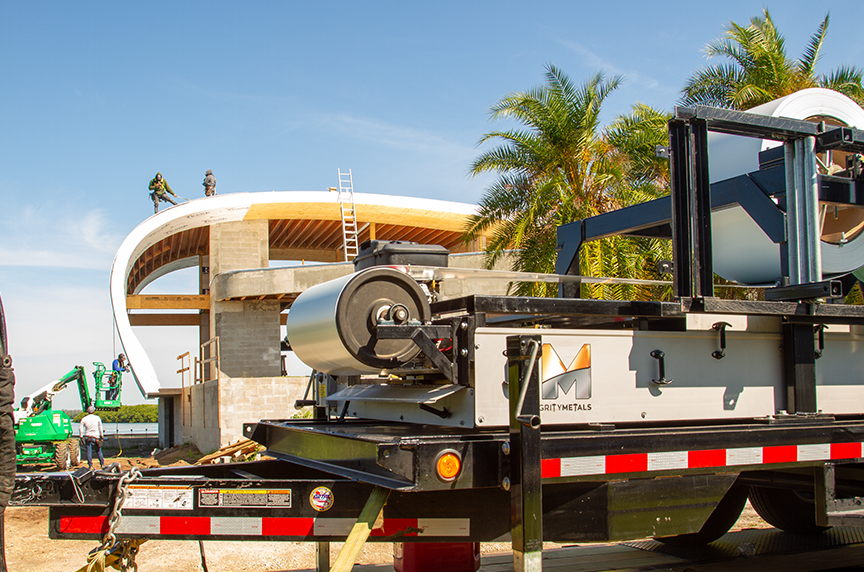 What Happens After Getting a Formal Machine Quote?
When you get your sales quote, you'll see information about your order, including:
Line items for the machine and any accessories you've included
Creation and expiration date of the quote
Applicable taxes, if required
Shipping and freight information and charges
Forklift access
Terms and conditions of the sale
If you've requested training (on-site or in-house at Denver)
After you receive your quote, it's critical that you understand what the next steps are in the purchasing process with the New Tech Machinery sales team as well as how you can better understand this document and the machine delivery process.
First, you'll notify your Sales rep or distributor from which you've received your quotation of any potential changes that need to be made in the quote (if applicable). Ensure that everything you've requested and all the accessories you want are included in the line items. Any cancellations or changes to your order you'd like to make once production begins are subject to 15% cancellation or restocking fees.
Review all the documents in your quote and the email from the distributor or rollforming specialist. These documents will include panel profile drawings with dimensions, rib roller detail drawings, terms and conditions, a final approval checklist, or banking information (if applicable).
You can expect a follow-up conversation with the Sales team member assigned to your quote to gauge your interest in that machine configuration and if you plan to proceed with your order. If you accept the quotation, you'll either sign it or issue a formal purchase order, sign the final approval checklist, and send over the deposit or payment in full, depending on the machine selected. Once NTM receives your payment and the signed documents, we will confirm your order and submit it to the production team.
The Sales team member will also ensure you understand the payment terms (gutter machines are to be paid in full and roof panel machines require a 25% upfront payment), shipping terms, and that you have access to a dock or forklift to offload your machine on the day it's delivered. They will also take any balances due once your machine is in production.
After the purchase or sales order is signed, you'll get an estimated build date which will help you determine when the machine will likely be ready for delivery or pick-up. It's important to note that a signed quote or purchase order and the completed final approval checklist are needed for NTM to submit the order and begin your machine production.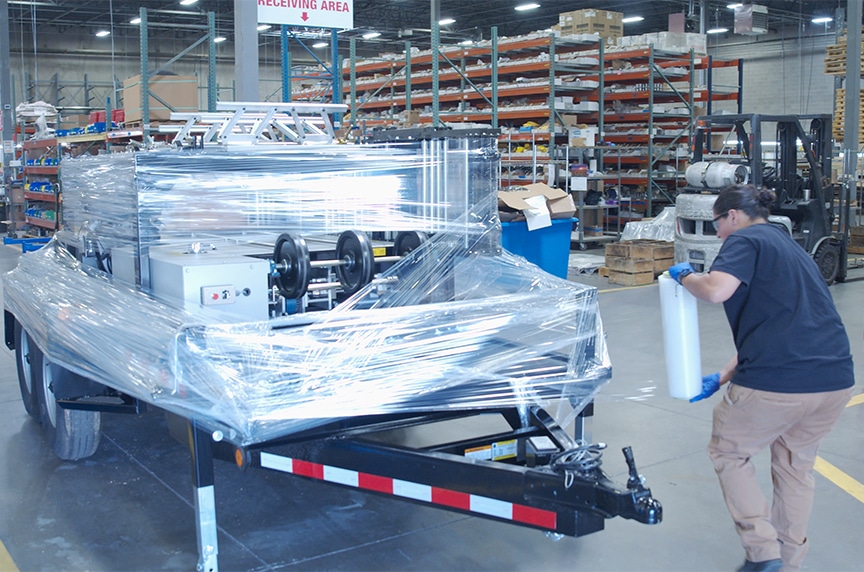 Final Thoughts
Purchasing a portable rollforming machine is a significant investment for your business, but the efficiency and versatility it can add to your operations and customers are great. That's why it's essential to do your research ahead of time and understand what you want in a machine, how you expect to use it, where you see your business growing, and what's in demand in your market. You'll then have a more successful conversation with our rollforming specialists.
At New Tech Machinery, we have over thirty years of experience in portable rollforming manufacturing and have helped clients like you purchase the right equipment for their budget, business growth, and customers.
If you're interested in setting up a call with one of our rollforming specialists to get information on how much a portable rollformer would cost, or if you know which machine you're interested in and want a formal quote, let's talk! We'd love to help you take your business to the next level!
---