If you're looking to purchase a new portable rollforming machine, you probably want to know what to expect during the sales process, right? It's helpful to know the steps from beginning to end on how to purchase a portable rollforming machine, what information you'll need to have, and who you'll be able to talk to if there are any questions throughout the process.
Selecting, choosing, and purchasing a new machine can be stressful enough. By explaining how to purchase a new portable rollforming machine from New Tech Machinery (NTM), we hope you'll understand how you can be prepared and learn what is involved in this process so you have a successful and positive experience.
After 30 years of working with various clients, we know how critical rollforming equipment is to the success of your business and customers. In this article, we'll go over the steps and expectations of purchasing a portable rollforming machine and what you can expect throughout the process with an NTM Account Manager.
Step 1: Reaching Out to New Tech Machinery
If you're looking to purchase a new portable rollforming machine with New Tech Machinery, here are some ways to make your first connection with an Account Manager a successful and great experience for everyone involved:
Do some initial research by looking at the information on our website, blog, and videos to understand what you might need for your business currently and in the future.
If you're starting a new roof or gutter business, it's helpful to understand your market and regions and know what's popular in your area in terms of profiles, panel or gutter sizes, materials, etc.
Check the availability of panel or gutter suppliers in your area to help determine if purchasing a portable rollformer or using existing suppliers would be best for your business and budget.
Find out what contractors are using in your area or check out some of our customer testimonials about their experiences with NTM equipment.
Finally, consider whether you're already familiar with portable rollforming equipment and have used them before or if you'd need hands-on training with a service technician (whether it be on-site training or at our Denver facility).
How can you contact New Tech Machinery? There are a few different ways, including:
Filling out the contact us form on our website: www.newtechmachinery.com/contact
Calling the main New Tech Machinery phone number (303-294-0538) or toll-free phone number (1-800-574-1717)
For those in Europe or Northern Africa, calling or emailing our European representative, Stefano Mariani: 39 328 7305330
Sending an email to one of our Account Managers: info@newtechmachinery.com
Any of these methods of reaching out to New Tech Machinery will allow you to get in touch with the right person who can help you.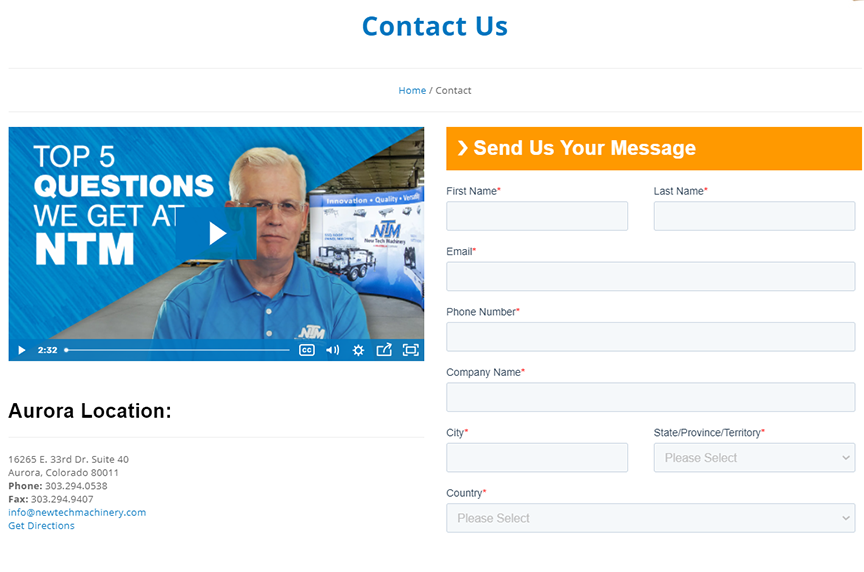 Step 2: Discuss Your Needs With an NTM Account Manager
After you've contacted us, the next thing we'll do is have one of our Account Managers talk about your business. Getting an idea of what you currently do and any future plans you may have allows us to help guide you towards the right rollforming equipment for your operation.
Who Is an Account Manager?
An Account Manager is a client's primary point of contact and assists you through the purchasing process. In other words, they are your "salesperson" who will help you find the best machine and optional equipment for your business needs and be your partner through the purchasing process.
They will help explain the payment process, keep you updated on your machine order, and notify you as final payments come due prior to machine shipment or pick up. Our Account Managers are your first point of contact for:
Educating you on the various products we offer
Answering your questions about rollforming machines and accessories
Guiding you through the purchasing and payment process to ensure you feel comfortable
Updating you with the status of a machine order or helping you change your order prior to starting production
Connecting you with other distributors or resellers of New Tech Machinery equipment
Making sure clients get the most out of working and partnering with New Tech Machinery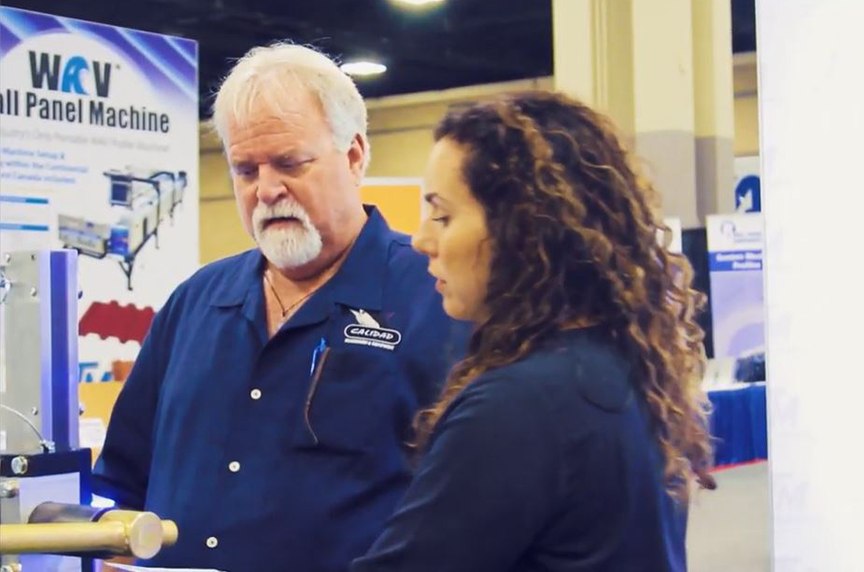 What kind of information will they ask you to help you choose the right machine?
How are you familiar with New Tech Machinery?
What does your business do? Contracting, panel or gutter supplier, or manufacturer?
Is your business just starting up, or is it already established?
Where do you see your business heading? Are you looking to expand your current offerings?
What kind of projects do you do? Residential, commercial, etc.?
What profiles do you want to make?
What is your budget for a portable rollformer?
Are you considering financing? If so, we can direct you to companies that can assist with financing or leasing our equipment
Along with discussing the above information with you, they'll also be able to provide you with any information regarding the rollforming equipment, including literature, price sheets, videos, etc. before taking the next step: producing a quotation.
Step 3: Producing a Quote
We first should mention that if you know what machine you desire and the accessories to go with it, we can get a quote together for you right away.
However, we can't emphasize enough that initial research of our companies, products, and add-on options can help make the process more efficient. We'll then send you information to review on our machine packages, pricing, profiles, and add-on options. Please note that a price sheet is not an official quote.
If this is your first machine purchase, or if this your first time doing business with New Tech Machinery, what does a quote include?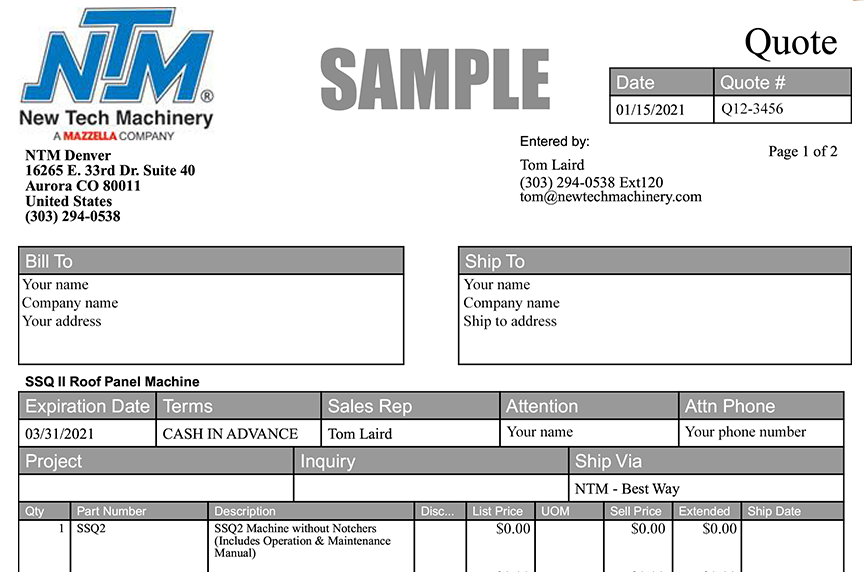 The quote we will provide you contains:
Add-on options you've chosen (shown line by line)
Internal options (this states how the machine is shipped and packaged and are not the customer's responsibility)
Terms of sale stating:

Cash in advance, either paid in full upfront or a 25% deposit with the balance due once production begins depending on the machine and lead times involved.
Signed quote or purchase order is required to submit the order to production
Cancellations or changes made once production begins are subject to 15% cancellation or restocking fees (minimum of $500)
Forklift and dock access required to offload machine at the time of delivery

Shipping and freight information and charges
Training (if applicable), whether you've picked optional on-site training or if you're coming to Denver for your free training session
Step 4: Setting up Payment or Completing Financing Application
As you consider the purchase of a new machine, you'll want to determine if you plan on financing the equipment or buying it outright. While New Tech Machinery does not offer in-house financing, we work with several partners who can assist you with this, or we can work with your bank/financier of choice.
There are pros and cons to each option you should take into account before making a final decision:
Pros of Financing
Allows you to manage your initial cash flow, and you keep your money in your pocket
There is financing available for brand new machines
Most financing terms are "lease to purchase," which means you'll eventually be the machine owner
There are some tax advantages
Financing can help you determine your company's profitability
Cons of Financing
You may not have the option of financing if you're a new business or have bad personal credit
You could end up paying more in the end after paying interest
Pros of Purchasing Outright
You are the original owner of the rollformer
Save on interest that accrues when financing equipment
Don't have to worry about making monthly payments
Lower overall cost in the long run
Ability to sell the asset and recoup the cost if needed
Cons of Purchasing Outright
The initial cost is higher than financing
Ties up funds that could be used for other business needs
Technology can become "outdated"
How much will you need to finance? That depends on which portable rollformer you're looking to purchase, but you can talk to a financing company for a ballpark figure.
When weighing whether financing or buying a machine outright is best for you and your business, consider the following:
The current economy and its impact on your operation
How much working capital you have to start with
If it's affordable for you to purchase a new machine outright
What your credit situation is and your creditworthiness
If you can cover monthly financing payments after the initial overhead costs
If you're considering financing, we can direct you to partner finance companies that can help determine your creditworthiness and offer different types of leasing/financing programs that may work for you.
Step 5: Signed Quote or Purchase Order Is Sent to Sales
Once you've finalized your payment options and have your funding in place, it's time to submit the purchase order, signed quote, or written confirmation accepting the quote and its terms to our Account Managers at New Tech Machinery.
Once our Account Managers receives the initial deposit (25% of the total cost) and signed quote, the next steps are:
Processing your deposit
Send a sales order confirmation email detailing the order and profiles selected if applicable, showing the deposit applied and balance due, and the expected lead time in production for completion
Set up any training at our Denver facility for you or your employees (if applicable)
Inform you once production begins so that any remaining balance can be paid and shipment/pick up arrangements can begin
Here's an example of an order confirmation email that one of our Account Managers will send you:
"Hello,
Thanks for your order. Your Order Confirmation is attached along with your credit card receipt for the deposit paid.
Please get back to me ASAP with any changes to avoid potential change fees. Once your machine is scheduled to go into production, I'll reach out for the final balance due.
Let me know if you have any questions or need further assistance, and we appreciate your business.
Welcome to the NTM family!
Sincerely,
New Tech Machinery"
Step 6: Payment Is Confirmed and Machine Production Begins
There are a few things that any client needs to know after purchasing a portable rollforming machine and while machine production is ongoing:
You must pay any remaining balances once production is scheduled to begin (along with any applicable freight costs) to avoid potential production delays.
As long as you notify New Tech Machinery before production begins, changes to your order are allowed without additional fees other than pricing differences. After production begins, any changes to your order will be subject to a 15% change order fee (minimum $500).
We will keep you informed during this process and let you know once production is complete and when the machine will be shipped or ready for pick up.
Step 7: Production is Finished, and Machine Is Prepared for Shipping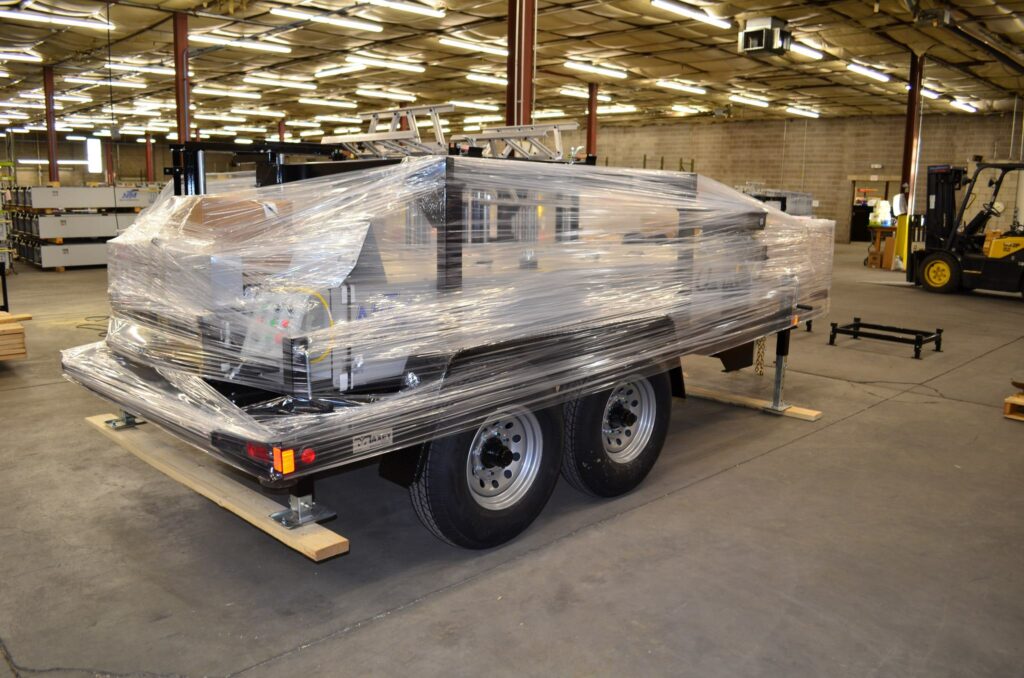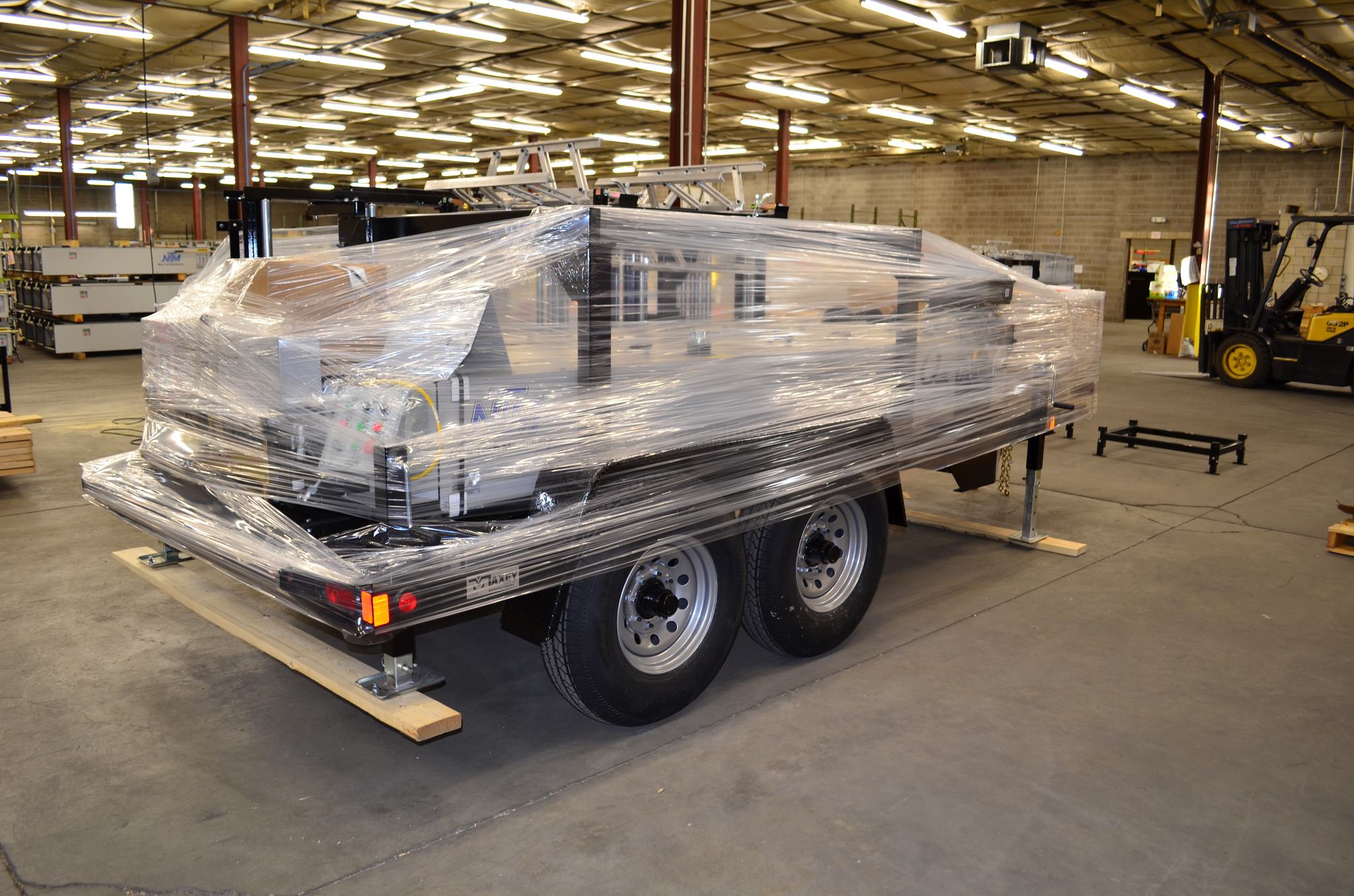 Machine production times will vary depending on our current backlog and inventory. The timeframe between when the machine begins production and ready for shipping is generally about 1-2 weeks.
Shipping times are dependent on where the machine is sent to, shipping methods, and if it's being sent directly to your business or a freight forwarder. We can ship machines to any commercial address in North America (loading docks and forklifts are generally required to offload equipment at the delivery location) as well as international destinations.
Once your machine leaves our facility in Denver, we'll send you an email with tracking information within 24 hours. We provide insurance on all of our shipments covering the product's value, as well as any damages that may occur during shipping before you sign for your shipment.
Before receiving your machine, you'll want to make sure you have the following paperwork to obtain your machine (if shipped to a freight terminal or port location): proof of shipment, order confirmation papers, tracking labels, and sealed lock documents for international shipments. Also, set up arrangements and bring the proper equipment for your machine to be unloaded and transported.
Final Thoughts
The steps discussed in this article are pretty standard for all new rollforming equipment purchases placed with New Tech Machinery, but each situation can vary based on your timeline, the Account Manager you speak to, and your business needs.
We understand that it can be stressful choosing the right company and machinery for your new business. That's why we try to make your experience and purchasing process with New Tech Machinery as simple as possible.
Our Account Managers will work closely with you throughout the entire purchasing process, ensuring that everything works best for you, your business, and your customers.
If you're ready to get a quote on any portable rollforming machine or discuss how New Tech Machinery's equipment can help your business, we're here to help answer all of your questions, so contact us today!