If you've made any kind of purchase before, you already know there's a lot that goes into researching what you want, buying it, and shipping it. It's just as crucial that you understand what our portable rollforming machine shipping process looks like, and that you know what the requirements are, and how to unload your new rollforming equipment.
With over 30 years of manufacturing, selling, and shipping portable rollforming machinery, New Tech Machinery (NTM) has helped thousands of machine owners with buying and using our machines. We understand how important it is that you know the ins and outs of our shipping process, and what to do to make sure you receive your roof panel or seamless gutter rollforming equipment with no problems.
In this article, we'll discuss the shipping process if you choose to use our company for your portable rollforming equipment, how we prepare your machines for shipping, and what to do once you receive your rollforming equipment.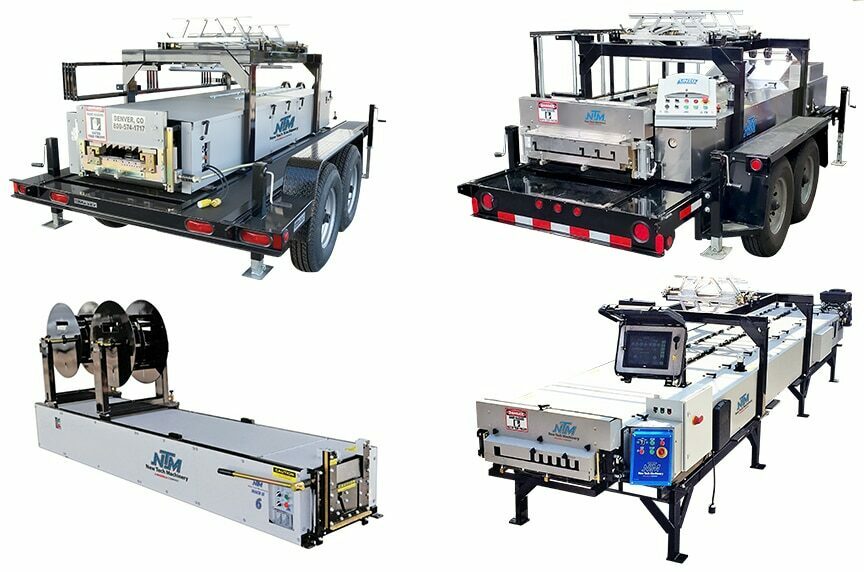 1. How Does New Tech Machinery Prepare Machines for Shipping?
You've purchased a new portable rollforming machine, congratulations!
The journey doesn't stop at the point of sale, however. There is a lot that goes into preparing your machine for shipping and delivery. There are some essential things to know after you buy your rollformer, like how we ship your machine, what paperwork you'll need upon receiving your machine, and any tools or equipment necessary for unloading your portable rollforming machine.
For the purpose of this article, the information we will discuss only applies to New Tech Machinery machines and the shipping department.
To make sure your rollforming equipment and add-ons make it to you as safely as possible, we shrink wrap the machine, including boxes of machine materials and accessories, and put padding around them for extra safety during transportation. If your machine is mounted onto a trailer and delivered inside an enclosed container/freight trailer, we'll bolt the machine down to the trailer legs. Then we nail 2×6 wooden boards to the enclosed trailer so it won't move during transport.
After it is shrink-wrapped, the shipping labels go onto the machine. If you ordered your machine trailer-mounted, we'll also include instructions on how best to get the machine out of the enclosed trailer, as well as place tags for the correct lifting points.
2. How Long Does Shipping Typically Take?
Typically in North America, the timing between shipment and receipt of the machine can take 2-7 business days. Internationally, it can take two weeks to two months, depending on the machine and the popularity of the destination.
3. How Much Does Shipping Cost?
Typical shipping costs depend on a few factors: distance, size, speed, and weight. Pricing varies depending on the equipment, where it's going, and the transportation method used.
At New Tech Machinery, we price our shipments by volume (cubic feet). We always try to combine our customer's shipments, to keep the cubic feet down, and keep the price of shipping down.
Airfreight is a rare but faster option of getting your machine delivered to you, but it is also one of the most expensive choices. Typically, for our US and Canadian deliveries, we'll ship the machine inside a trailer, or on a flatbed trailer, unless specified otherwise.
4. Where Does New Tech Machinery Ship Machines?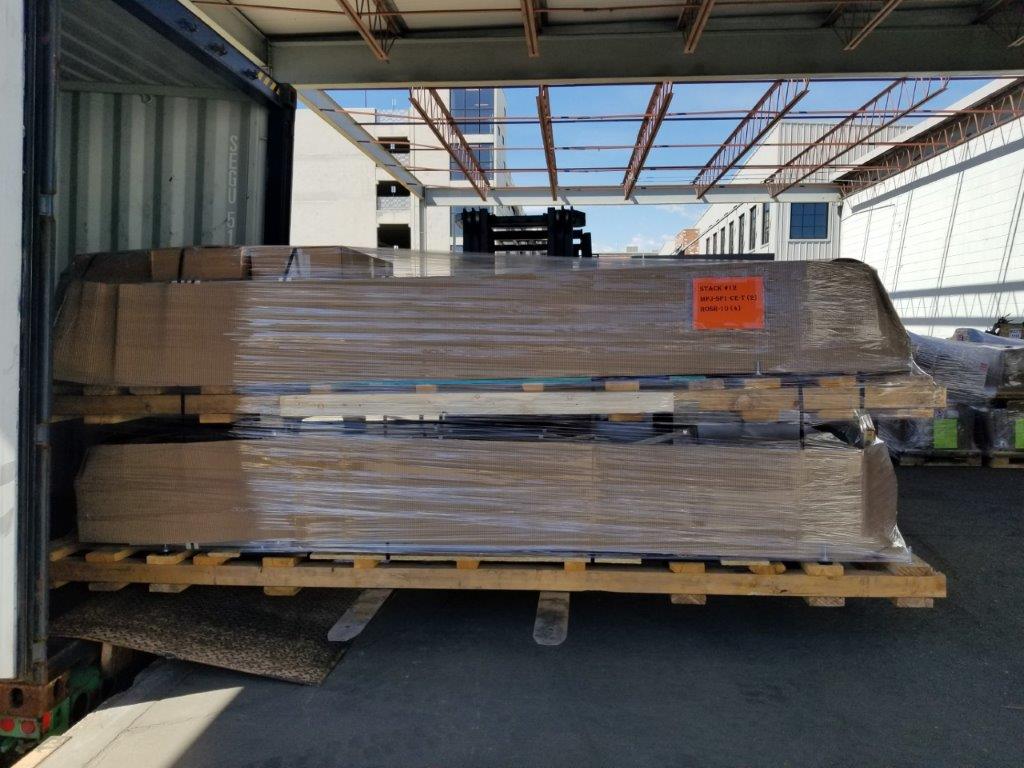 We don't just deliver to North America; we can ship our rollforming equipment all around the world.
If you're expecting your delivery in North America, we can mostly ship door to door. Door to door means we can transport the machine to your business, provided there's a dock and forklift access. If you don't have a suitable place there for us to ship the machine, we can send it to a freight forwarder or terminal where you can pick up your machine.
For international deliveries, it's usually a more expensive process, more documentation is required, and it usually takes longer. The shipment will go to a port if the location is near water, or to a freight holder if it's a land-locked country.
Please note: it's crucial that you provide a commercial address of where to ship your machine, and that the location has a loading dock to help unload the machine. We can't ship machines to apartment addresses, private residences, or homes, or anywhere else where there's no semi-truck access.
(Note: Please reach out to one of our rollforming specialists to check for specific details on your international shipments and machine purchases. Also, please note that international customers will also be responsible for any additional taxes, duty fees, and destination charges incurred during the shipping process or when processing final receipt.)
---
---
5. Does New Tech Machinery Offer Tracking and Insurance?
We offer tracking on all of our machine purchases. We will send you an email with shipping information once it has left our facility in Denver, Colorado, within 24 hours (except on weekends). You can also track it live with real-time updates of where your shipment is.
We also insure all of our shipments up to the value of the machine. The insurance covers any damage that may occur during shipping, but only before you sign for your machine.
6. What Shipping Methods Does New Tech Machinery Use?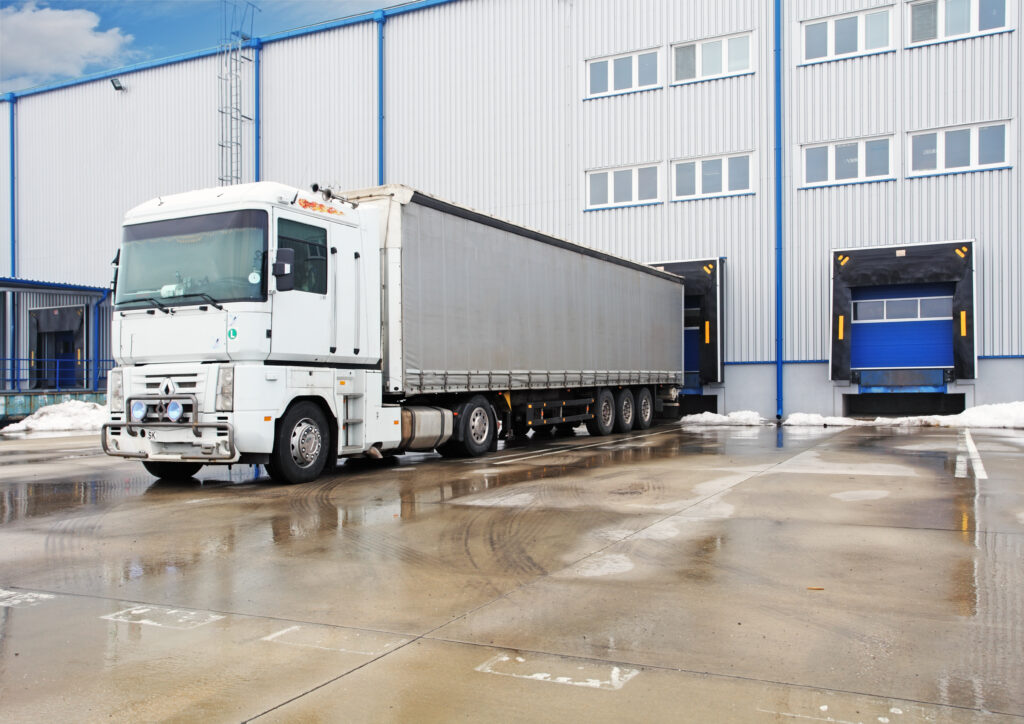 Now that your machine is ready to be shipped, what happens next? Because we ship our machines all over the world, it's a good idea to be familiar with the different methods of shipment we use, and how we package our machines.
We use various methods of shipping our machines to customers, depending on the final location and type of rollformer. For stateside and Canada shipping, we typically use a freight trucking company. For overseas shipments, we can deliver the machine on a cargo ship inside a container, or flatbed truck (if specified by the customer or necessary for a larger machine size).
The Mach II™ gutter machines, machine parts, and accessories are available to be shipped LTL (less than truckload) freight shipping, because they are smaller in size, and may not require the use of an entire trailer by themselves. According to FreightQuote, LTL freight shipping can be used when the freight weighs between 150 and 15,000 pounds.
7. How Is New Tech Machinery's Rollforming Equipment Packaged?
There are some different options offered for machine packaging. Typically we ship them using:
A pallet/skid – Cardboard is wrapped around the sides of the rollforming machine, and then shrink-wrapped and set on a pallet for shipping, usually inside commercial-type trucks. This method helps for easy lifting and moving of the rollforming equipment and should only be used for shipping purposes, not as a permanent base or foundation for the machine. If you're loading the machine onto your trailer, don't use a pallet, as the machine will be mounted directly to the trailer's deck.
A crate – For an extra charge, we can ship the machine inside a crate for better protection and less of a chance for damage to occur. All crates will have a built-in pallet or skid on the bottom, for easy unloading with a forklift.
A container – This option is most common for international clients. Containers are available in either 20' or 40' sizes depending on the size and amount of equipment to be shipped.
8. What Do I Need to Do Before Picking Up My Portable Rollformer?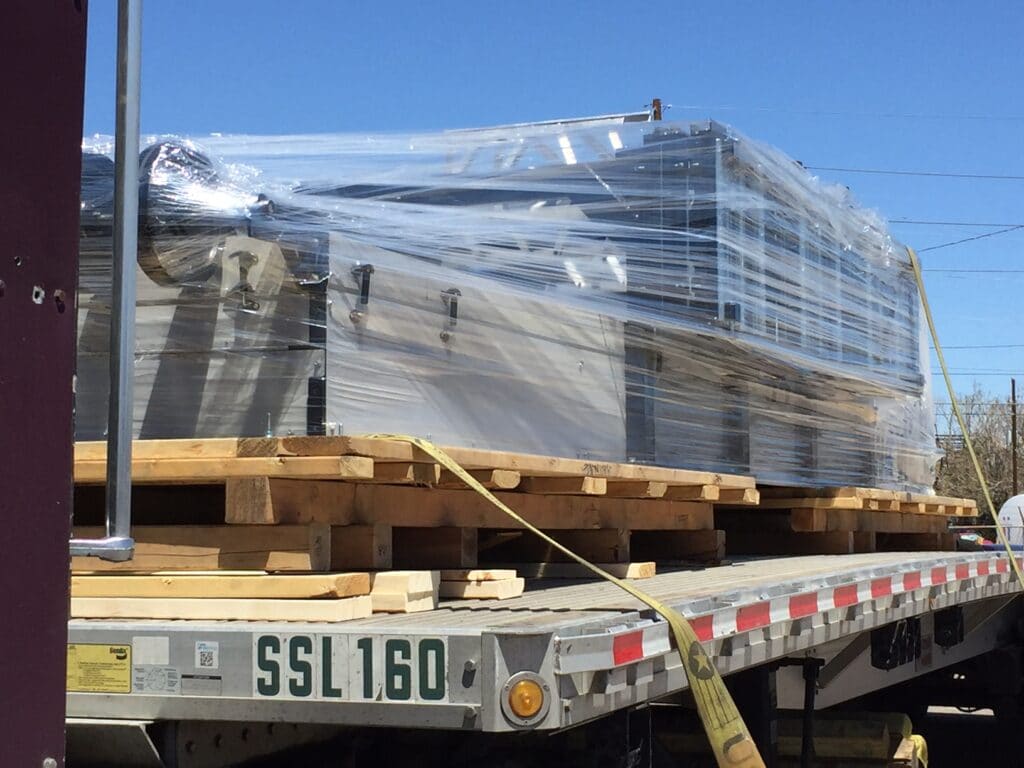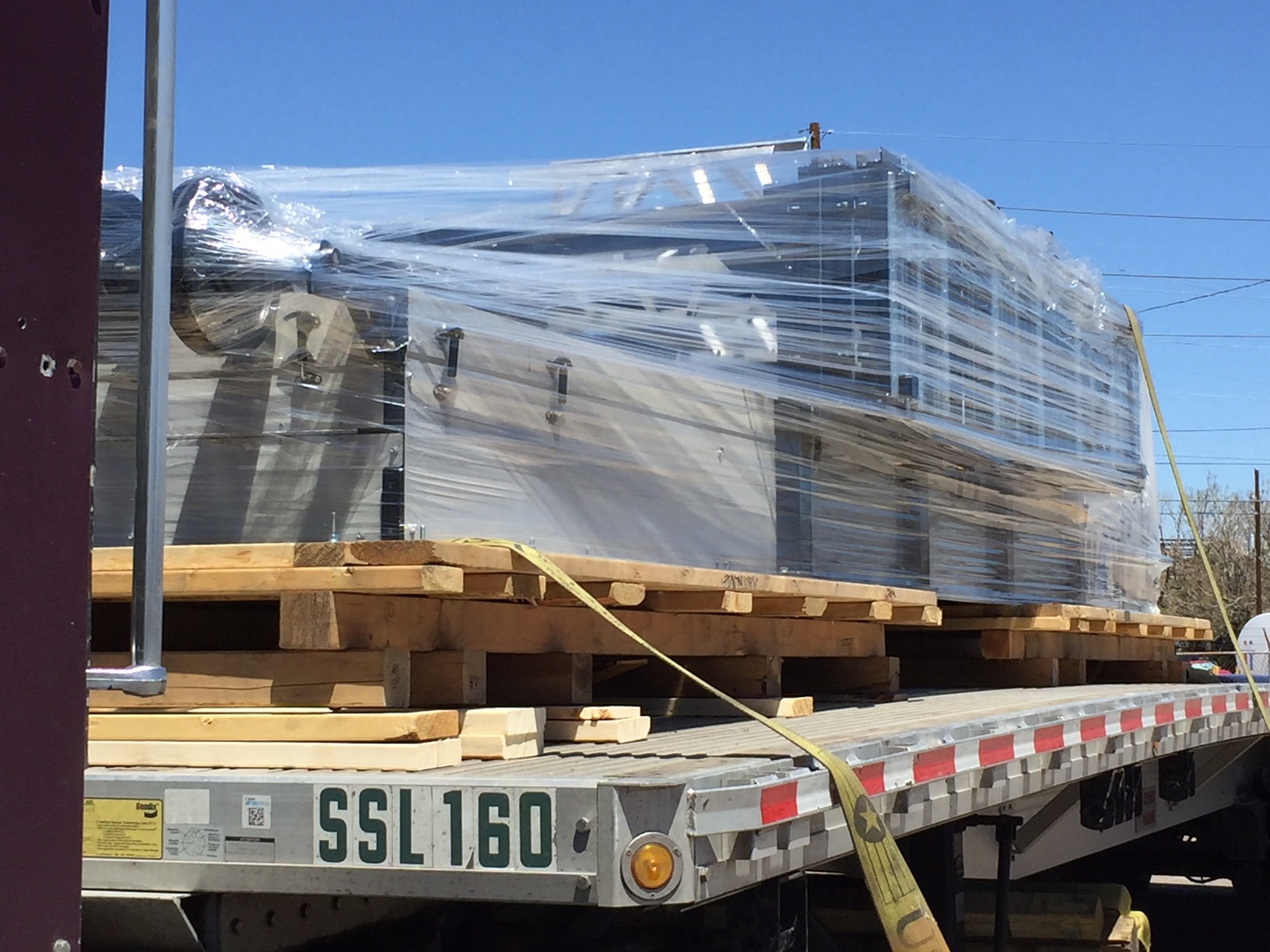 Now that you know how we get your portable rollforming machine ready for shipping, what is required as a customer to make sure you get your machine without any problems?
At NTM, to start production on our roof panel and specialty machines, the deposit (25% of the total cost) must be collected from the buyer. After it's received, our team begins to assemble the rollformer and prepare it for pick-up. The final payment, including any freight cost, is due before shipping or at the time of pick-up at the factory.
To receive your portable rollforming equipment, you'll want to make sure you have the following:
Bring the Correct Paperwork – When you pick up your shipment at the freight terminal, you'll want to make sure you have the proof of shipment paperwork that distinguishes you as the machine owner or purchaser. Other paperwork that will come in handy includes documentation of purchase, tracking labels, and other documents with tracking information.
For international shipments, we usually ship the machines, crated or on skids, inside containers.
Anything we ship inside a container will have a sealed lock system on it. The sealed lock will say "UL-" with seven numbers after it. Included in the paperwork are pictures of the seal and the numbers, so make sure you have those documents with you upon receipt of the machine. This way, there is proof that the numbers match, and the seal remained intact during shipment.
Make Offloading Arrangements – Once the machine arrives at the specified destination, you'll need to make sure that someone is there in person to unload the machinery and transport it to the place where it will usually be used.
Having someone present to help unload the machine also helps to inspect the rollforming equipment for any possible damage that might have happened. All of our customers can also request a pre-delivery call, so you can make arrangements ahead of time to pick up and unload your machine.
You'll also want to make sure you have a loading dock wherever it's going to be shipped. If there is no dock accessible or available, you may arrange to use a flatbed tow truck.
Bring Proper Equipment – For overseas shipments, if it's shipped inside a crate or a container, you'll need to make sure you have the proper equipment to get it out of the container or crate. Equipment you may need includes proper hand tools, unloading equipment like a forklift, and transportation to take the machine to its final destination.
9. What Equipment Do I Need to Unload My Machine?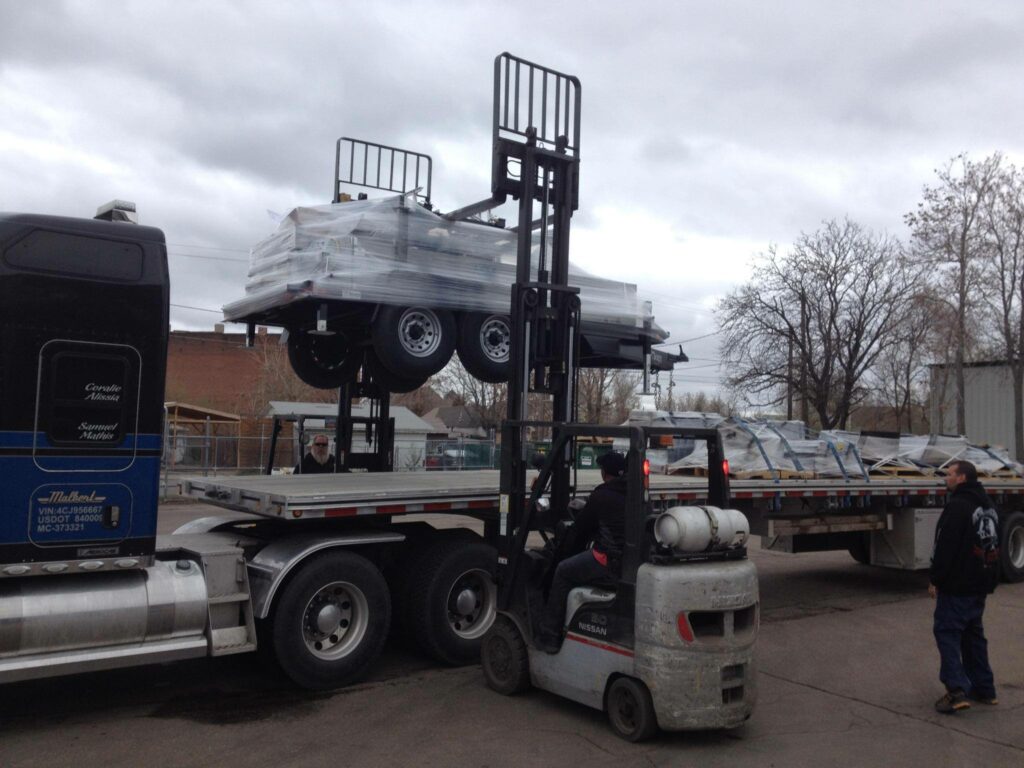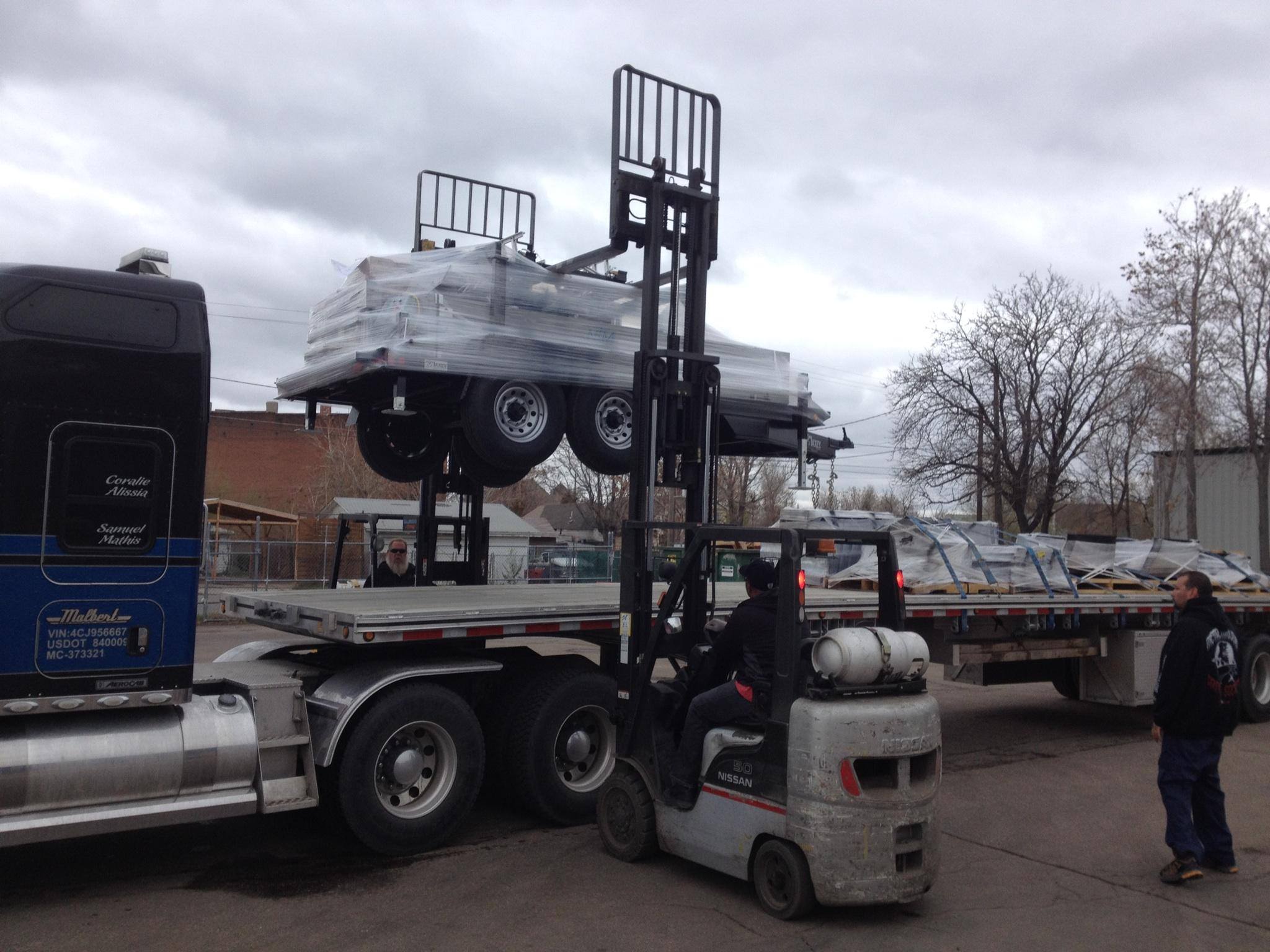 Now that your machine is on its way, there are a few things you should do before you unload your machine to make sure it's a smooth process.
For our portable rollforming machines, we require that customers have access to a loading dock and big enough forklift to help lift the pallet the machine is sitting on. However, we can ship to the nearest freight terminal if you don't have forklift access.
If you don't have a loading dock to get your machine delivered to, some of our machines (like the Mach II 5", 6" and 5"/6" combo machines) can be unloaded with just a forklift. Alternatively, you could arrange for the use of a flatbed tow truck. (Any additional fees this would incur would be the customer's responsibility.) In this instance, the tow truck can back up to the trailer, pull the machine out using a winch, and deliver it to your shop.
If your machine is trailer-mounted, you'll want to make sure you have a truck hitch, the correct hitch ball size (2 5/16"), as well as wiring for the brake system. In this case, you may also need hand tools like a 9/16" wrench, a hammer with a claw, prybar, or snips to remove any nails or bolts holding the machine in place inside the enclosed container, or to open the crate.
10. What if My Rollforming Equipment Gets Damaged During Shipping?
Before the freight carrier leaves and before you sign any paperwork, you'll want to make sure you carefully check over your machine. Items can become damaged during shipments, or when loading items in and out of the container, so it's critical you inspect the packing and machine for visible and hidden damage.
Any noticeable damage should be noted on the shipping document before signing for the delivery. It's good practice to give it a look over yourself before you pull out the machine. If you don't notice any damage to the machine, you can go ahead and sign for the delivery.
If you notice small to moderate damage, you'll want to take care of it right away. Otherwise, it will be harder to file a claim:
Take photos of the problem areas while the machine is still inside the trailer or container, and also when it's unloaded from the transport. Make note of any damage on the bill of lading.
After you and the driver sign the bill of lading, contact New Tech Machinery immediately, so we have documentation of the damage, and we can assist in filing a freight claim to replace the pieces or parts of the machine. Our logistics department can help guide you through the claim/form process for minor damage.
If there appears to be significant damage to the machine during shipping, notify us at New Tech Machinery, and decline the delivery if needed. The equipment will be returned to the shipper for repair or replacement, and re-shipment.
11. What Are Best Practices for Unpacking My Machine?
Once you receive your machine and make sure there's no damage to it, there are some recommended steps to take as you unpack your machine:
Remove the packing slip and keep it nearby for reference.
Unwrap the machine and take off any remaining packaging.
Verify that everything listed on the packing slip has been received/included, such as:

The manual
Package of additional documents

Remove the items and accessories from the top of the machine.
Take the top covers off, and check the inside of the machine for any foreign material, loose parts, or anything else that doesn't look like it belongs. Also, check for any unseen damage to the machine.
If everything is in order, and looks good, reinstall the covers.
12. What Comes After Inspecting and Unpacking My Machine?
Now that you received, inspected, and unpacked your machine, you can go ahead and test the machine, sign up for machine training with our knowledgeable rollforming specialists if desired, and register your machine warranty.
Testing
Testing the machine helps ensure that all of the mechanical components of the machine work properly, and allows you to check gutters/panels for straightness, marks, scratches, or other imperfections that may imply damage to any rollers or needed machine adjustments. After you finish testing, you'll remove the machine from the skid, place it where it will usually be used (trailer, platform, etc.) and secure it using the specified instructions in your manual.
Training
Depending on your experience with portable rollforming machinery, size of your business, and ability to hire new employees, you may want to get some training on your new portable rollformer. We offer an initial machine training session free of charge at our facility in Denver, or we can do field training upon request. Contact New Tech Machinery for more information or to schedule a training session.
Registering Your Warranty
Lastly, you don't want to forget to register your machine warranty, either by filling out the paper you receive in the document packet with your machine or on our website. Our machines are backed by the industry's best three years limited parts (including electrical) warranty.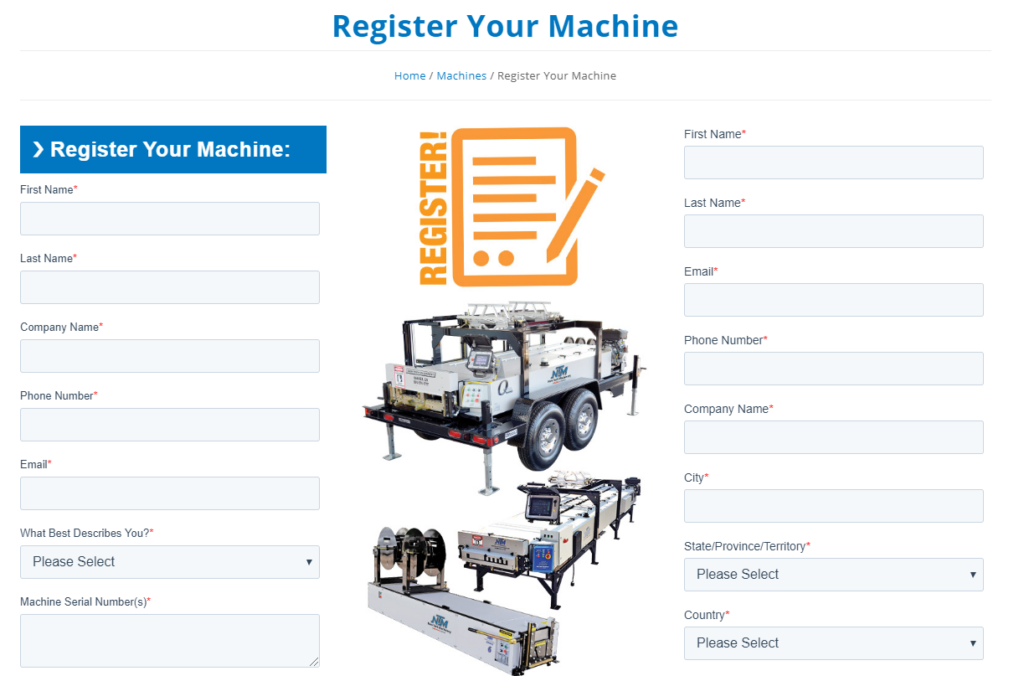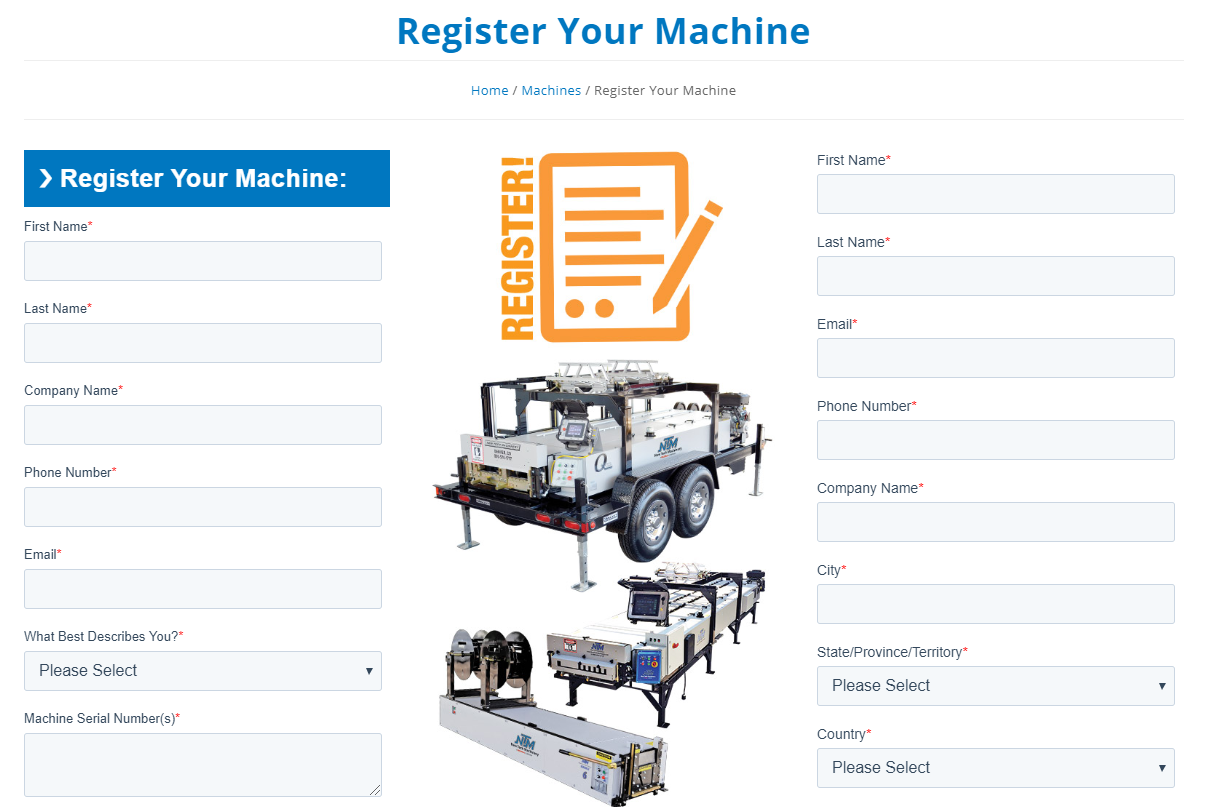 Final Thoughts
Understanding our shipping process can help alleviate any problems you may have, and help you understand how best to prepare for getting your new rollformer.
Remember:
We can ship our machines all over the world, but shipping times and prices vary depending on the specific location, machine size, and customer preferences.
Make sure you have the proper paperwork to show proof of purchase of the machine and the right unloading equipment and tools.
Check for any damage that may have occurred during shipping before you sign any paperwork.
Test your machine after you unpack it, register your warranty, and sign up for machine training to get the full benefits of using your rollforming equipment.
New Tech Machinery has helped thousands of portable rollforming machine owners throughout the buying and shipping processes. Contact our rollforming specialists with any questions about our portable rollforming equipment, or our shipping process.
---