There are many different options to consider if you're researching which portable rollforming machines and manufacturers to choose for your metal roofing company. If you're not familiar with these machines, this can seem confusing and even daunting. What features does the SSQ II Roof and Wall Panel Machine have that make it unique? What are the benefits of using this machine?
At New Tech Machinery (NTM), providing our customers with reliable, efficient, and safe machinery is our number one priority. That's why it's essential our customers understand the unique features and benefits of our portable rollforming machines and how these features can help increase your efficiency, improve your projects, and deliver quality products to your customers.
The SSQ II™ MultiPro Roof Panel Machine has been a popular option for roofing contractors for a few years now, but we wanted to cover this machine's features and benefits to help you understand which portable roof panel machine may be right for your business. We are also proud to announce some new and improved features to this machine that make it safer and easier to use for you and your employees.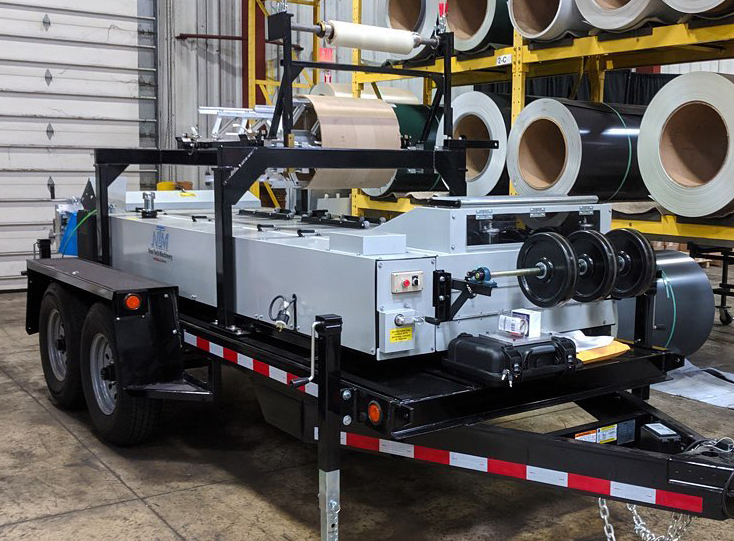 What Is the SSQ II MultiPro Roof and Wall Panel Machine?
In 2018 we debuted our SSQ II Roof Panel Machine at METALCON and demonstrated it in person for the first time at the 2019 International Roofing Expo®. We released the original SSQ in 2008 and has been the foundation for all our subsequent roof panel machines and standard "of the industry"; mainly because it's great for residential and commercial metal roofing projects.
The SSQ II was designed with improved features from the original SSQ machine, which we'll explain below. The SSQ II is a popular portable roof panel machine in North America today because it provides the ability to increase efficiency and optimize work performance in just one machine. A great option for commercial and residential projects, the SSQ II can produce over 16 different wall and roofing profiles in various materials.
Specifications of the SSQ II MultiPro Roof and Wall Panel Machine
As far as productivity, versatility, and efficiency, the SSQ II Roof and Wall Panel Machine is superior to all of our other portable roof panel machines. The best way to understand how it is so unique is to go through this machine's specifications and features.
Machine Dimensions
Length: 14' 4" (4.4m) without Angled Slitter, 15' 4" (4.7m) with Angled Slitter
Width: 5' 2″ (1.57m)
Height with Over Head Rack: 4' 5" (1.3m)
Height without Over Head Rack: 2' (0.6m)
Weight: 4,300 lbs. (1950kg)
Machine Dimensions on Trailer
Length: 18' 11" (5.8m)
Width: 7' 2 1/2"(2.2m)
Height with Reel: 6' 7" (2.0m)
Weight: 6,500 lbs. (2,950kg)
Machine Speed
Up to 75 ft./minute (23m/min) approximately with gas power
Materials Formed
Coil width: 15" to 30" (381mm to 762mm)
Finished panel width: 12" to 24" (305mm to 610mm) – Depending on panel profile
Steel: 28 ga. to 22 ga. (0.4mm to 0.8mm) (painted, Galvalume, coated galvanized)

50 ksi maximum for 24 to 22 ga.
50 ksi recommended, 80 ksi acceptable with adjustments for 28 ga. to 26 ga.

Painted Aluminum: .027" to .040" (0.7mm to 1.0mm)
Copper: 16 oz. to 20 oz. 3/4 Hard (0.5mm to 0.7mm)
Terne Coat Stainless: 26 ga. (0.5mm)
Features and Optional Accessories of SSQ II Roof and Wall Panel Machine
The New UNIQ® Control System
Ultimately, a computer controller allows for easier and more accurate use of a portable rollformer, enabling you to do your job faster and more efficiently, and take on multiple projects without sacrificing quality.
Computer controllers allow for flexibility in a project, giving you the chance to change panel lengths on the fly and reduce the amount of wasted, unused metal material. You also won't have to spend extra money on extra coil when there's a chance you may not even use it. You can buy what you need when you need it.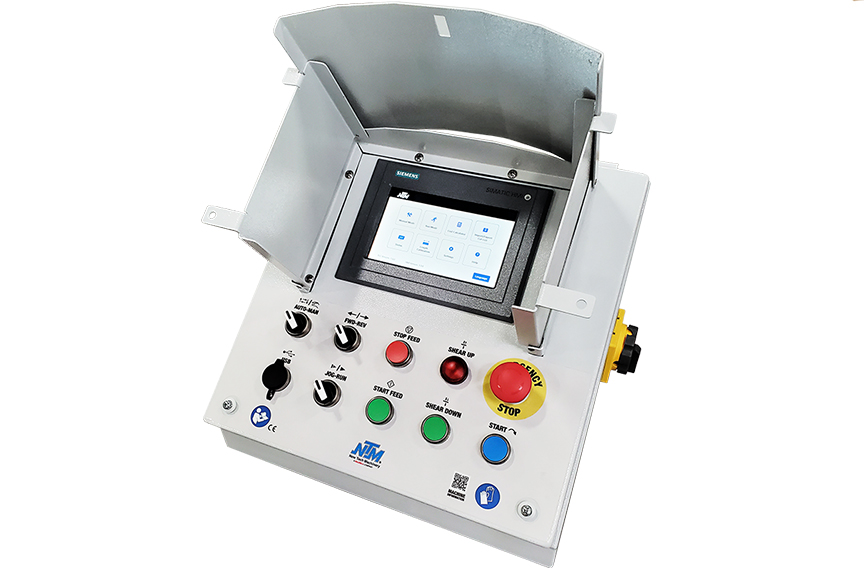 The UNIQ Control System is our latest, most advanced, and safest controller for your NTM machine. The UNIQ Control System is our latest enhancement to the SSQ II machine. In terms of safety, user-friendliness, and global compliance, the UNIQ Control System is unlike any controller that NTM has put on the market to date.
The UNIQ Control System is only currently available on the SSQ II Machine, however, it will still roll out to all NTM roof and wall panel machines and eventually include a design specifically for our seamless gutter machines.
To understand more about this revolutionary portable rollforming machine controller, let's take a more in-depth look at some features and benefits of the UNIQ Control System.
Improved troubleshooting capabilities
We know that your time is valuable, especially when it comes to keeping your projects on track. That's why we've improved some of the troubleshooting capabilities for the UNIQ Controls:
Help pages and troubleshooting videos help reduce downtime and reliance on service for assistance.
Messages pop up on the touchscreen to help operators quickly understand what's missing in the machine sequence to perform the function asked.
New and improved touchscreen
We've also upgraded elements of the touchscreen, including:
Use of more durable glass for increased strength against any environmental factors (hail, rain, snow, dust, etc.)
The screen can operate at a greater temperature range and has a higher resistance to vibrations
Brighter screen for easier readability in sunlight and automatic adjustments to brightness depending on the lighting
Metal lockable covers to prevent any unauthorized use of controller/machine, vandalism, and protects the integrity of the touchscreen from damage (only on automatic control version)
One standardized controller for all machines
Portable rollforming machines can vary from one another based on their features, add-on options available, and profiles. It may be confusing to someone new to these machines, so we wanted to simplify at least one aspect of our portable rollforming equipment offerings.
Moving forward, the UNIQ Control System will be the only controller available for all of our portable rollforming machines, starting with the SSQII Roof Panel Machine. Having a standard controller ensures that all upgrades, service, and safety are the same across the board, no matter what machine you have.
Safer machine operation
Safe operation of any portable rollforming machine should be the main priority, which is why we've improved the safety features with this new control system:
No more running the machine automatically without the covers in place
The machine won't run automatically if the guards are missing
A safety relay has been added that cuts power to the hydraulic valves in the event of an emergency and provides a failsafe if the emergency stop doesn't engage.
Maintenance mode disables automatic functionality of the machine while servicing the portable rollformer or doing a die change
A disconnect switch on the side of the controller also provides an external power off button to the entire system and locks out the machine for maintenance.
Increased user-friendliness
No matter if you've used a portable rollforming machine before or if you're completely new to this equipment, you'll be able to use the UNIQ Control System. We've made this controller easier to use by including:
Simplified screen interface
Purpose-built software added for machine operators
Simplified version for those who don't want to use the advanced technology but still maintain the same level of safety as the upgraded UNIQ Control System

This version would be just manual controller/push-button operation
The controller is attached to the machine
Your portable rollforming machine and its parts are a significant investment, not only in terms of how much they cost but also because of the benefits they provide to your metal roofing or gutter business. In the past, our controllers have been able to be detached from the machine itself.
The UNIQ Control System is built into the machine itself; it won't be an attachment that can be left on or taken off like past controllers.
Machine owners won't have to worry about:
Transportation issues
Possible damage to it when taking it to a job site
Having it stolen from the machine
Vandalism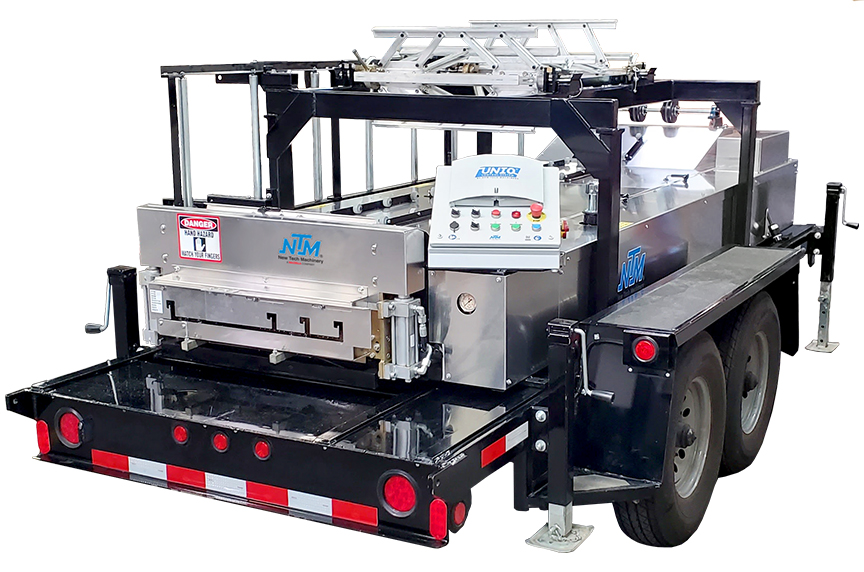 Quick-Change™ Power Pack
This device can quickly convert the machine from using a gas engine to an electric motor and back again as needed in the field. It can also convert from an electric motor to a gas engine if required. Known as modular power, it can be very beneficial to portable rollforming machinery for several reasons, including:
You don't have to take additional equipment, like generators or extra gas cans, to keep your portable rollformer running.
Modular power options, because they're not that common, help increase your machine's resale value if you ever decide to sell it, and they make your machine more valuable.
You can continue working even if one power supply needs service or stops working. For instance, if you run out of gas, you could switch to electric power without delaying work.
It adds flexibility and versatility to your portable rollforming machine allowing you to quickly switch from gas to electric in the field, or vice versa, in almost any environment.
Proximity Sensor
The proximity sensor detects nearby objects on the shear end of the machine. On the SSQ II Roof Panel Machine, when a metallic object is within approximately 2" of the proximity sensor, the lamp will light up. The machine controller can sense that the metal material is jogging forward and will look for the signal from the proximity sensor, indicating that the material is past the shear.
The benefit of having a proximity sensor is that the machine will sense when a panel has been run out of the machine but not removed yet, thereby avoiding another panel coming out and damaging the one that had just been formed. The machine will idle itself until the previous panel has been removed, then automatically start up again as long as there are still panels to be run in the programmed sequence.
Angle Slitter
The angle slitter works with the notchers and cuts panels up to 24" wide, from 90° to 35° angles. This option only works with notched panels and allows the machine operator to make fast and precise cuts right after the panel is formed for even more efficiency. Using the angle slitter can help save you time by not having to use or bring any other tools, and it's easily attachable to the rollformer's exit end in the field.
Hot Melt Sealant Interface
The hot melt sealant interface is a great accessory to add to your portable rollformer if you for a way to save time and maximize the efficiency you can get out of your rollforming machine.
As finished panels come out of the portable rollformer, the controller works in conjunction with the hot melt sealant pump system (sold separately by Hot Melt Technologies directly), sending a message to put the mastic or sealant into the panel legs. The mastic provides an airtight or watertight seal when the panels get seamed or snap-locked together.
Notching Capabilities for Panels
This roof and wall panel machine accessory punches the notches out before the legs are formed for a clean cut. It can cut rectangular or profile notches and helps save you time on the job site. 
These punches are computer-controlled, saving you money on the supplies and labor costs you'd need to cut them, and lets you focus on getting the panels rollformed and installed. Notches can be made offset for angled cuts or as in-line notching with a strip at each end for hemming.
Benefits of Using the SSQ II Roof and Wall Panel Machine
Now Safer and More User Friendly with UNIQ Control System
With the UNIQ Control System, your SSQ II MultiPro Roof and Wall Panel Machine is safer, more reliable, and user friendly for everyone. The UNIQ Control System will not allow any machine operators to use it without the covers or guards on the rollformer. With the emergency stop button, all external power to the machine will be cut and locks the machine out for any maintenance.
As we've stated before, our UNIQ Control System will be available with a Programmable Logic Controller (PLC) for enhanced technology, or without the PLC and touchscreen and only have the push-button operation and metal covers for more basic use. We've also increased the troubleshooting help capabilities of this controller to include messages displayed on the touchscreen to see what's missing in the machine run sequence for a quicker fix.
Widest Variety of Panel Profiles Available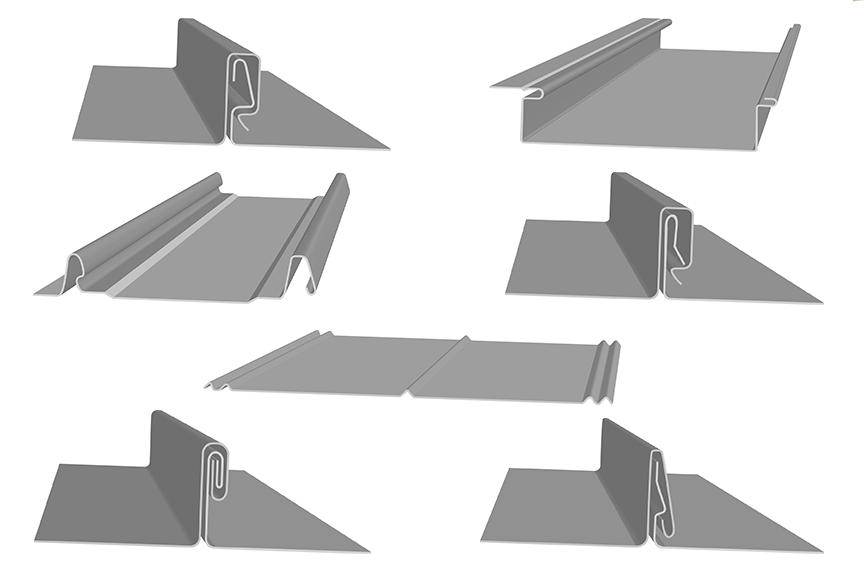 Our SSQ II MultiPro machine has the most profile offerings of any of our portable roof panel machines. With 16 different roof panel profiles available with this machine, the options you can offer your customers are vast.
We also have specialty profiles only available with this machine:
The FWQ100 and FWQ150 are our 1" and 1-1/2" tall flush wall and soffit profiles. They allow for an architectural wall panel, soffit panel with optional perforations for a vented soffit, or an underdecking profile.
BBQ750 Board and Batten profile designed specifically for wall siding.
Our proprietary profile, the SSQ275, is a one-of-a-kind 2" tall panel profile that can be snap-locked AND mechanically seamed depending on your preference. Not only does this profile add the strength of a mechanical seam, but it also allows for easier installation with the snap-lock design. It also includes testing and licensing available for end users.
The TRQ250 is a 2.5" tall trapezoid panel that is a mechanical seam profile with an anti-capillary leg. As a structural profile, it's great for commercial low-slope applications. However, there is no testing available for this profile.
Fastest NTM Roof Panel Machine
As the fastest of our roof panel machines, the SSQ II can run approximately up to 75 ft./minute when using gas power (slightly slower with electric power, approximately 65 ft./minute).
Our other portable roof panel machines can run panels from approximately 30 and 60 feet per minute. The speed offered by the SSQ II roof panel machine allows you to do more roofing jobs easily and efficiently.
Backed By the Industry's Best Warranties
New Tech Machinery is known for standing behind the machines it manufactures with great warranties. Owners of the SSQ II Roof Panel Machine can expect a limited three-year parts (including electrical components) and labor warranty.
Our warranties cover the NTM-manufactured parts and accessories, including the machine, machine accessories, and tooling, as well as the mechanical, electrical, and hydraulic components inside the machine.
Can Be Easily Transported With or Without a Trailer
One of the biggest and most obvious benefits is that the machine can be taken into the field, right to your project site, with ease. You can use the NTM trailer attachment or your own trailer, box van, enclosed trailer, etc., as the machine is designed to be easily transportable. New Tech Machinery roof panel machines' portability allows you to control how the panels are made and bring panel production right to the project site.
On the other hand, if you choose to keep your machine in-plant for manufacturing panels, using a portable rollforming machine is still a wise choice. They don't take up much space inside a factory, are easily moved around inside such an environment, and don't require more than 45 minutes to changeover profiles.
Final Thoughts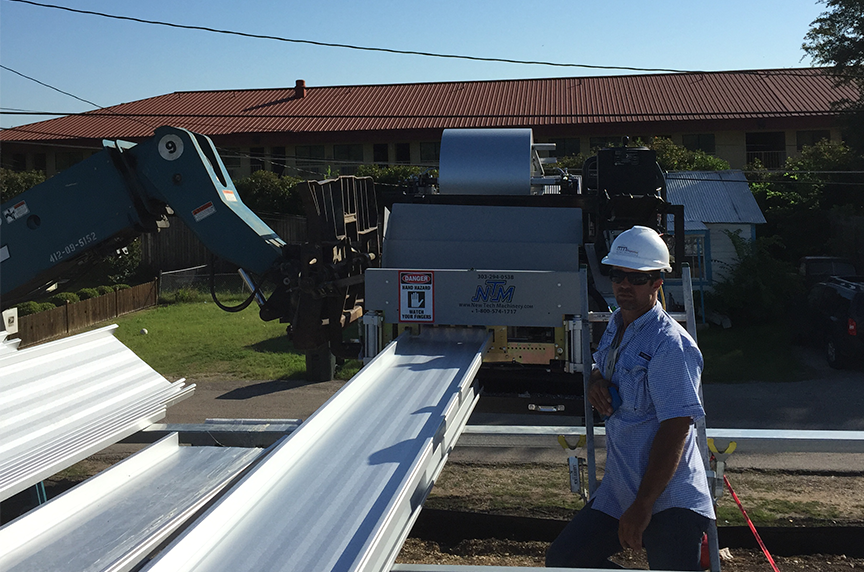 The SSQ II MultiPro Roof and Wall Panel Machine is New Tech Machinery's most versatile machine to consider if you're looking for a machine with the most options available to help your productivity and the most profiles to offer to your customers.
We know that there are many machine options to choose from, even just among our product lines. To help you get a better idea if the SSQ II is the right roofing machine for your business and projects, ask yourself:
How many profiles do you want to offer to your customers?
Which types of projects do you mainly work on: residential or commercial?
What features do you need on your machine? What would be nice to have?
Which add-on options could help improve your business?
The SSQ II machine was designed and built to provide metal roofing contractors with the easiest to use and most efficient machine possible to enhance their business. That's why we're excited to share with you the new features we've added to this popular machine.
At New Tech Machinery, we've been manufacturing portable roof and wall panel and seamless gutter machines for over 30 years. No matter if you're in contracting, manufacturing, or new to the industry, we're dedicated to helping you find the best machine to fit your needs. Contact us to learn more; we're happy to help!