Whether starting your own gutter business or looking to kick a current operation into high gear, this article offers some professional advice on how to succeed in the gutter industry. Based on interviews with New Tech Machinery (NTM) gutter machine owners with years of experience running successful gutter businesses, we will explore the key elements to consider in your own residential or commercial gutter business. We'll cover essential equipment, materials and administrative expenses, taxes, cost of a gutter machine, labor costs, marketing, customer service, and risk assessment.
As a pioneer in the portable rollforming industry, NTM has helped metal roof and wall panel and seamless gutter businesses for over 30 years. We've worked with gutter businesses from purchasing their first machine to expanding their operations to include multiple crews and NTM machines. From listening to them, we know the importance of developing expertise in all aspects of a gutter operation. We'll begin with what you need to get a gutter business started and then get into how to build your business once you have everything in place.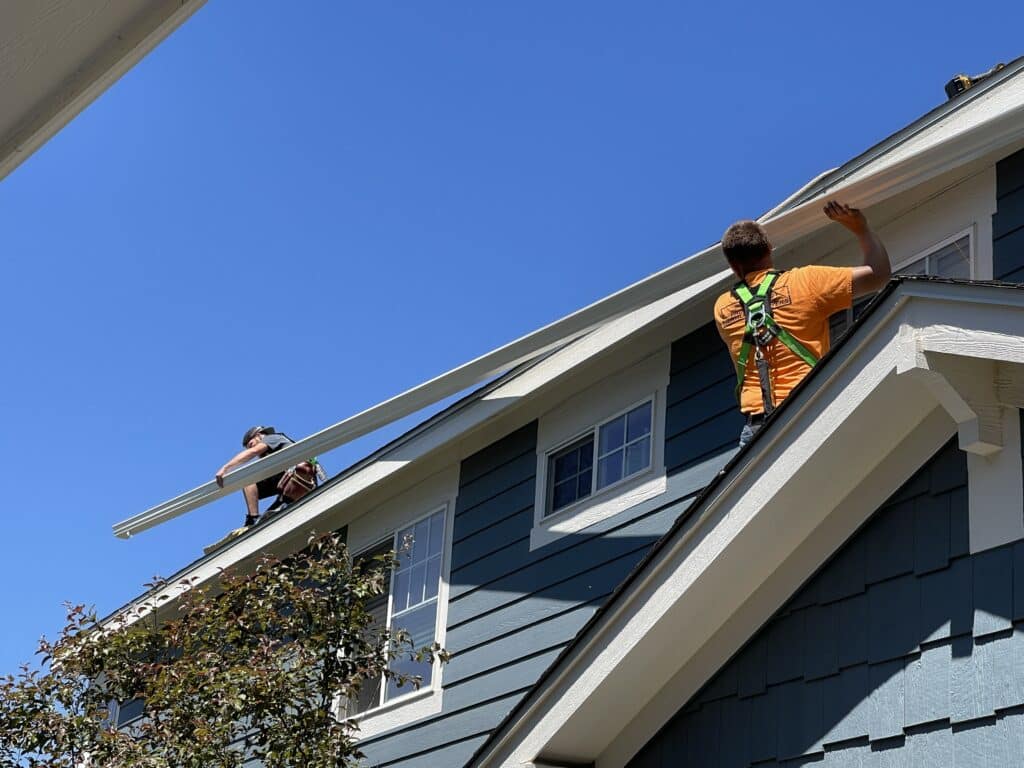 Purchasing Essential Gutter Equipment
To transport your gutter machine and equipment, you'll need a reliable covered truck or cargo van large enough to haul the machine. The cost of a used truck or van can range from around $10,000 to $35,000, depending on condition, mileage, and age, or you can buy a new one if you're ready to commit to a bigger investment. Either way, choosing one that can handle the weight and size of your gutter machine is essential.
In addition to the truck or van, you'll need various tools such as ladders, drills, snips, hammers, levels, and tape measures. The cost of these tools can range from $1,000 to $2,500, depending on the quality and brand.
Gutter Materials and Administrative Expenses
To start your gutter business, you'll need to consider the cost of materials such as aluminum or steel coils, gutter hangers, downspouts, elbows, screws, and sealants. The prices of these materials may vary based on location, quantity, and quality. Another consideration will be inventory. You'll want to keep a stock of all your materials on hand so that a supply shortage doesn't interrupt your workflow. Otherwise, you're going to waste time running to suppliers between jobs. This also means you'll need storage space. Plan on budgeting between $2,000-$3,000.
Administrative costs include state and city licenses and permits as required, filing your business as an LLC, insurance coverage, and basic office infrastructure. Total costs can vary, depending on your state and local requirements.
Managing Taxes
Managing taxes is a major part of running a successful gutter operation. Many gutter companies file quarterly with the help of a tax accountant to take advantage of every business credit available. Business owners maintain strict records and keep every receipt for tax deduction purposes, including for materials, gas, meals on the road, and business donations.
Some owners hire an accountant to manage their books or invest in an online accounting system if they have the time and skills. Others get help from a family member who has administrative experience. The important thing is that the books are done correctly because the last thing you want after you've cleared a profit is to find you've messed up your taxes.
Gutter Machines and Accessories
Investing in a reliable gutter machine is crucial for your business's success and your most important purchase. Portable gutter machines allow you to produce gutters on-site, providing flexibility and reducing transportation costs. New Tech Machinery's Mach II 5", 6", and 5″/6″ Gutter Machines are suitable for residential and commercial applications. You can get our full listing of the best gutter machines for starting a business here.
Another option for starting out in the business is purchasing a used machine. While this can save you some money, make sure you are getting a machine that will suit your customers' needs and is in good condition. You don't want to purchase used equipment that, in the long run, will only cost you more in repair fees and downtime.
Plan to spend $8,000-$12,000 on a new machine, not including accessories. Third-party financing is available for NTM machines. Another big name in the gutter machine industry is KWM® Gutterman, Inc.
Labor Costs in a Gutter Business
In the early stages of your business, you'll need at least one other worker. As your business grows, hiring more workers may become necessary as demand increases, especially if you purchase a second and third machine, moving between multiple jobs. Labor costs will vary based on your location, but it's important to budget for wages, taxes, and benefits. One worker's average monthly salary can range from $3,000 to $4,000. Also, consider hiring someone to help you with accounting and payroll, even as a consultant.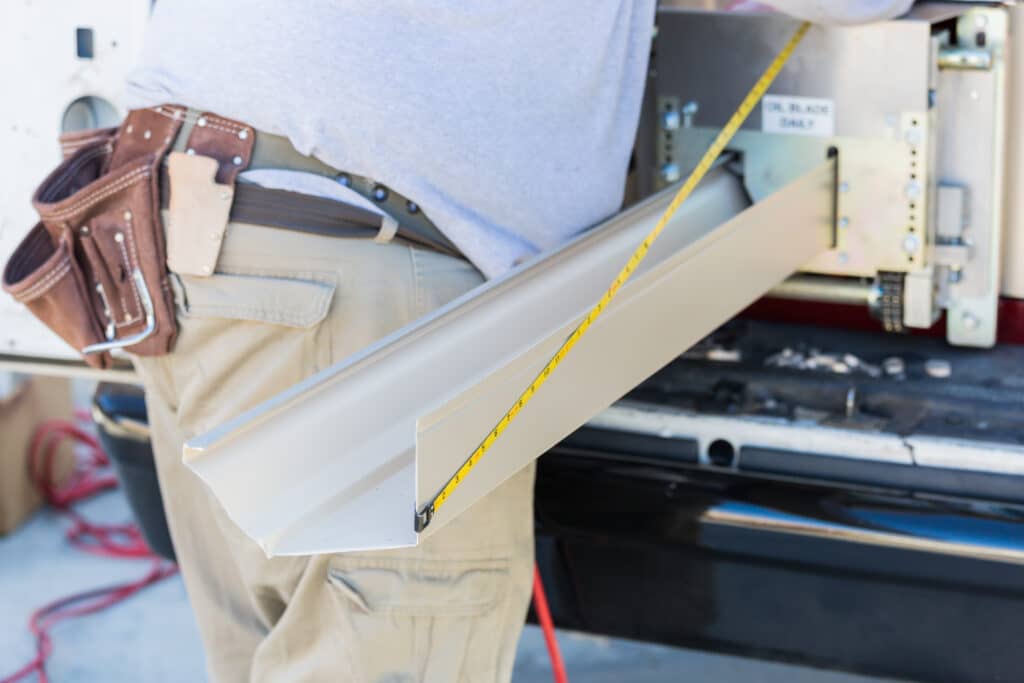 Marketing Your Gutter Business
Effective marketing is crucial for attracting customers to your gutter business, especially in the beginning. Once you've established yourself, word of mouth can be your best advertising. Meanwhile, you can consider investing in online marketing strategies such as hosting websites and social media. Having a website is great, and you can create your own easily these days with the built-in tools many providers offer, but you still must advertise to drive potential customers to the site. This takes some tech skill and may not be the best use of your time.
Additionally, traditional marketing methods like distributing flyers, local newspaper ads, and participating in trade shows can be effective ways to get your name out. Some gutter businesses still use radio and Yellow Pages ads. Also, joining a local roofing association is a great way to make connections and you may be able to advertise on their websites and publications.
However, the best marketing is done by building relationships. Those successful in the gutter business have partnered with others in the industry. For example, working with a roofing company that subcontracts gutter installation can give you a regular stream of business. The more roofing companies you partner with, the more business you can generate. Here, persistence pays off. Keep in mind, you have to build rapport and earn the trust of roofers so that they want to give you their business. Show them that you deliver high-quality work on time and at a fair price.
Also, don't be afraid to look for opportunities. No one hopes for calamity, but hurricanes, tornados, and hailstorms are part of the natural world. As a member of the construction industry, you play a vital role in helping with the recovery effort following severe storms. When roof damage occurs due to the elements, be ready to work. This may mean putting out ads or flyers, knocking on doors, showing up at a town hall meeting, or better yet, already having connections with roofers and contractors.
Gutter Installation and Customer Service
Quality customer service is key to running any successful business, and gutter businesses are no exception. Always respond to customers promptly. Provide timely quotes and guarantee your quality. Your business is only as good as the work you produce.
Also, honesty must be your primary value. If your prices are higher than the competitor's, explain why if there's a good reason for it. If there's not, tell your customer that you're willing to match or better your competitor's quote. Most importantly, don't sell to your customer. Educate them on quality. If you educate them, they will understand why your price may be higher than the competition, who may not be using the same grade of material or providing a high caliber of service.
Another way you can provide customer service is by offering discounts. Of course, you're in business to make money, so don't give away anything you can't afford. But if you can cut 10% off your price and still make a profit, you could draw business away from your competition. Or start a gutter cleaning operation and offer your clients a 10% discount for new gutters. It will earn you extra revenue and could produce new gutter jobs.
Think about your demographic. If you're working in a retirement community where people live on a fixed income, you might shave your profit margin more than you would in an affluent suburb where customers purchase copper gutters at $65 a foot.
Customer service can come in a variety of ways. It proves to the people you serve that you care about their needs and you're willing to go the extra mile. It shows that you'll take the time to educate them and that they're getting the best quality gutters and installation at a fair price.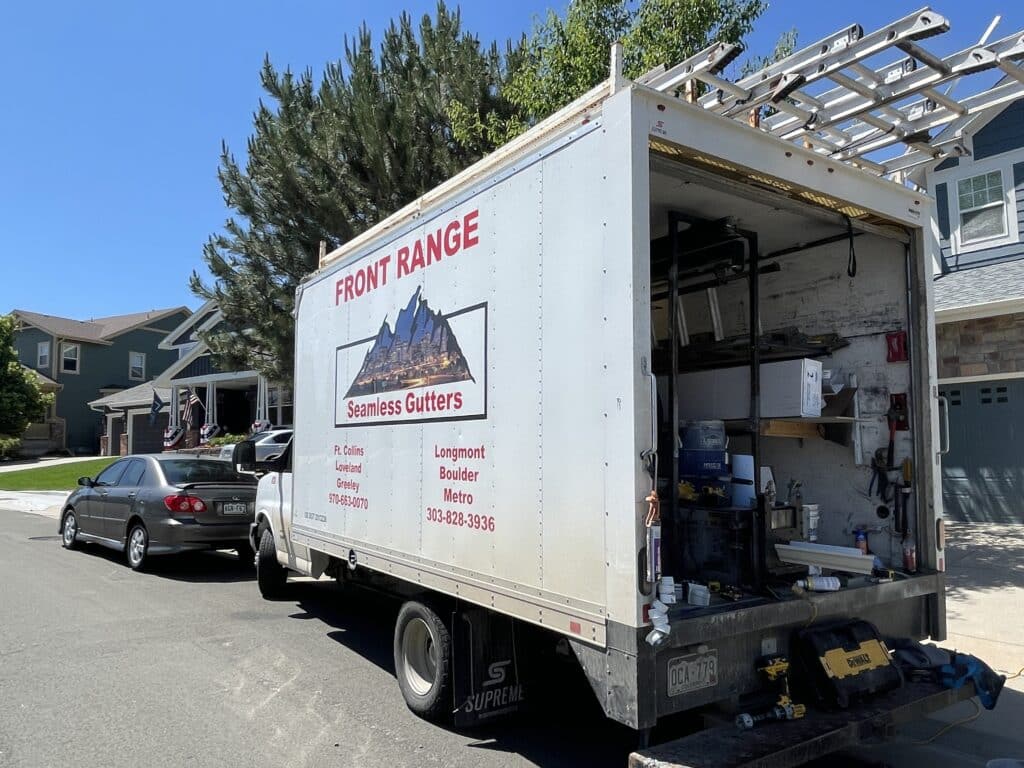 Gutter Business Risk Assessment
Starting any business involves risk, and conducting a thorough risk assessment is important to mitigate potential losses. Some risks to consider in the gutter business include:
Accidents during installation or transportation. This could mean damaging materials, tools, or equipment. Following safety protocol should minimize this risk.
Injury on the job. Precautions should always be taken, and safety guidelines followed. Even so, injuries do occur and can cause lost time and other expenses. Also, you never want to see a crew member get seriously injured. Gutter installers should always be harnessed.
Damage to customers' property. Leave as little footprint as possible. Be aware of the landscape, sprinkler systems, etc.
Unforeseen weather conditions affecting work schedules. Be prepared to adjust your work schedule as the weather allows. Not every day will be a roofing day.
Lack of workers. Hiring the right worker can be challenging. Some may have difficulty with heights or the demands of the job.
Economic factors. Gutter jobs are not recession-proof.
Competition from established gutter businesses. Try to undercut your competitors' prices whenever possible. Provide the best quality service at a fair price.
Ensure you have adequate liability insurance coverage to protect your business from potential risks and consult with legal professionals to understand the legal requirements specific to your area.
Final Thoughts on Starting a Gutter Business
Starting your own residential or commercial gutter business requires careful planning and investment. Each aspect is vital to your business's success, from acquiring a reliable gutter machine and essential equipment to considering materials, administrative costs, marketing strategies, and labor expenses. Conducting a thorough risk assessment and staying informed about industry trends will help you make informed decisions. With the right combination of equipment, materials, marketing efforts, and a focus on customer satisfaction, your gutter business can thrive in this expanding industry.
To learn more about any of our NTM machines, contact one of our rollforming specialists.