Board & batten metal siding has recently gained a lot of attention as a popular trend as it offers both style and durability. Since metal coils are available in many different colors, metal board & batten siding is so full of possibilities that metal manufacturers are coming out with new designs specifically for this up-and-coming profile.
In this article, we'll delve into the world of board & batten metal siding, exploring the various material options, color and pattern choices, major metal companies producing them, width recommendations, and portable rollformers available for producing board & batten panels.
New Tech Machinery (NTM) has helped those in the metal roof and wall panel, and seamless gutter industry for over 30 years with portable rollforming machines and equipment. Our customers know through experience that we're here to help when it comes to supplying rollformers and service. We recently introduced our new board & batten profile in response to customer demand.
Metal Siding Popularity
Let's start with metal siding in general, as it's been gaining in popularity year by year, offering advantages over other types of siding. In 2021, 43.9% of responding contractors were involved in projects that included metal wall panels, and that number is projected to rise to 54.5% in 2023. Moreover, this past year, contractors were more likely to do metal walls than metal roofs. This trend is expected to continue.
While it's hard to quantify board & batten metal siding's gain specifically, it stands to reason that given its growing popularity it's also trending upward.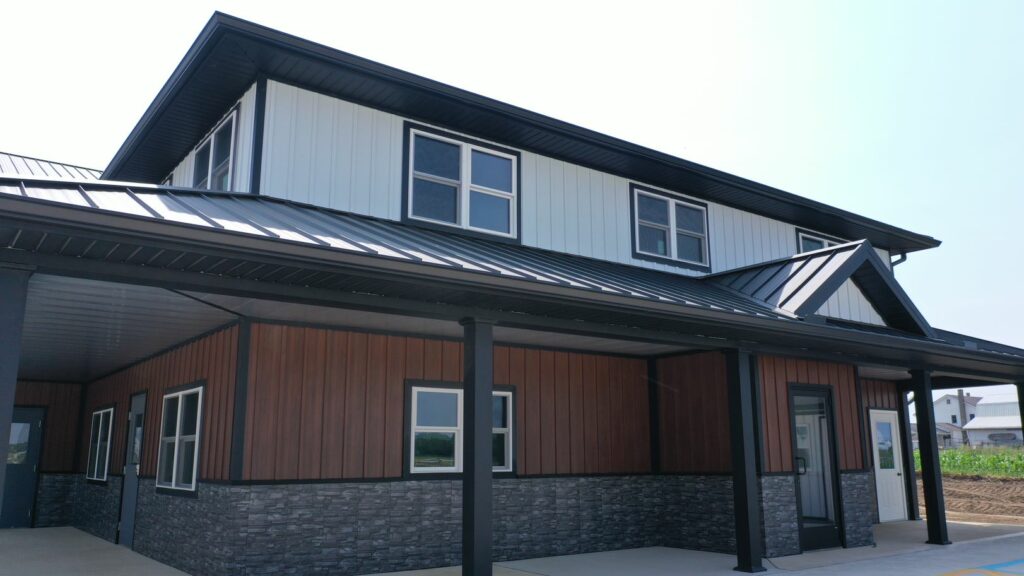 Board & Batten Metal Buildings
Farmhouse Style Board & Batten
Dating back to the mid-1800s, board & batten became popular in the U.S. due to its ability to protect against the weather more effectively than the log cabin style that allowed rain to penetrate. Metal board & batten siding mimics the old wood style with its wide panels and overlapping battens. Stylistically, the farmhouse metal board & batten has become a reminder of old country life.
Barn Style Board & Batten
Metal board & batten can produce a classic barn style and even add a modern flair. Barn doors lend an authentic farm look and topped with a standing-seam metal roof, it's a structure built to last. Board & batten barns are popping up on farms across the Midwest.
Modern Home Board & Batten
The possibilities of metal board & batten for homes are nearly endless. Board & batten siding looks distinguished when combined with stone or brick, or set it next to wood for a natural appearance.
As black-finished homes have increased in popularity ove the last few years, metal board & batten siding matches perfectly with modern designs. Combined with large square or angular windows, black board & batten panels create a dramatic visual effect. Additionally, one of the problems with black houses has been the color fading quickly, requiring frequent repainting. With metal, fading isn't an issue.
Multi-Level Board & Batten Homes
New and gentrifying areas are witnessing multilevel homes with large roof decks, balconies, and oversized windows. Metal board and batten panels fit perfectly with this contemporary design. The siding can stand out or seemingly disappear into the overall sleekness of the structure.
Ranch Style Board & Batten
This is where modern and rustic combine to create a sleek, elegant cabin. Stone wainscoting, wood beams, and metal board & batten have become popular blends. Wood accents, like fascia boards and under decking, can also complement the board & batten. Metal allows abundant color flexibility, whether an off-white, slate blue, evergreen, or any other shade in the spectrum, so your customer will always have plenty of choices.
Commercial Board & Batten
Applications for the board & batten industrial and commercial use range from warehouses, events centers, office buildings, and more. Metal B&B can accommodate large structures at an affordable price, requires little to no maintenance, and outlasts nearly any other material. Metal board & batten produce durable structures with an aesthetic appeal, especially where they double as a warehouse and office.
Board & Batten Metal Options
Board & batten metal siding can be crafted from steel or aluminum.
Steel Siding
Steel siding provides exceptional strength and durability. It is resistant to most impacts, fire, and extreme weather conditions. Steel siding is generally finished with coatings that offer protection against rust and fading. Without coating, however, it is susceptible to rust, especially in damp and rainy regions, like the Pacific Northwest.
We recommend using insulation with steel for two reasons. First, steel is not a good insulator against cold and heat, so you could be looking at some higher electric bills during the summer and winter months. Second, steel siding doesn't do much to protect from outside noise.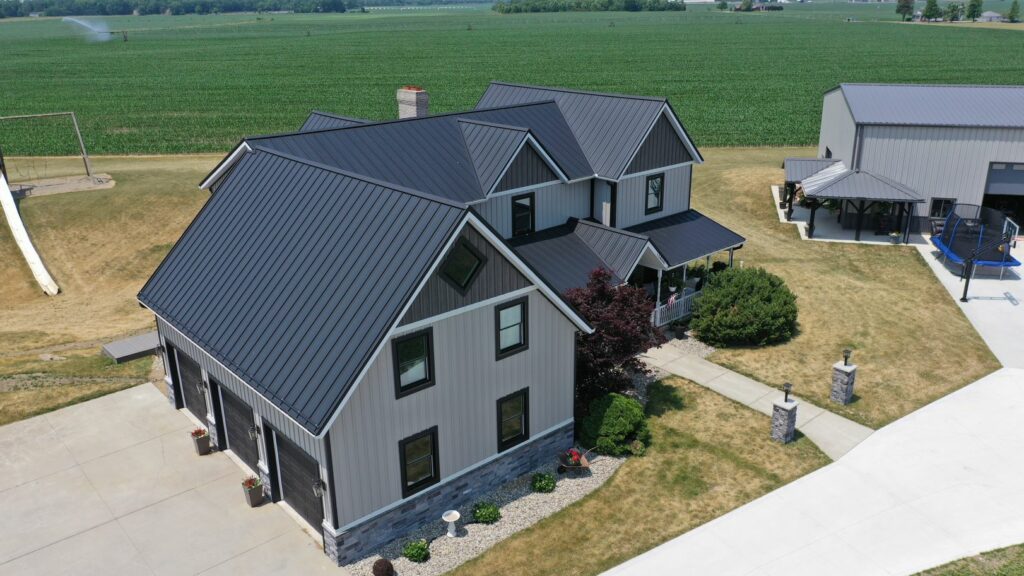 Aluminum Siding
Aluminum is known for its corrosion resistance. It is an excellent choice for coastal areas or regions with high humidity, as it's more resistant to rust. The downside to aluminum siding is that it can scratch and dent more easily, particularly if it is a thinner gauge. However, this generally shouldn't be an issue with thicker gauge material. In fact, most aluminum used today is painted and coated with a protective layer, making it very sturdy. It's affordable and easier to install than steel because of its light weight.
Board & Batten Width
Panel width may depend on personal taste. Wider panels resemble the classic farmhouse, while narrower panels may make the building appear more textured. Adding striations is also possible with board & batten.
New Tech Machinery's board & batten panel profile uses 3-5/8″ of material to produce the finished panel, which includes the 2″ wide batten formed into the panel. So for a flat section, or board, of 10", you'll need a coil width of approximately 16" or in exact measurements: 12" panel coverage (board and batten) + 5/16" lip + 3/4" batten height + ¾" batten height + 2 1/8" nail flange end = 15 5/8" coil width.

Metal Suppliers
Board & batten metal siding can be customized to suit various architectural styles and personal preferences. Major metal companies offer an extensive array of colors and patterns, allowing homeowners and builders to achieve their desired look. Common color options include neutrals like white, gray, and beige and bold hues such as blue, red, and green. Metallic finishes like copper or bronze are also available for a striking appearance.
United Steel
In the fall of 2022, Steel Dynamics (SDI) released a digitally printed steel designed to replicate wood that has just started to be installed on buildings. Because it's digitally rendered, the printed wood grain does not repeat itself, no matter how long the panel. United Steel is the supplier of this new product.
Drexel Metals
Drexel Metals can custom-match almost any color, something they are known for. Their gloss paint system is well-known in the industry.
Peterson Aluminum
Peterson Aluminum offers a great variety of colors and multiple PVDF wood grain and ore finishes.
Sheffield Metals International
Sheffield Metals offers steel and aluminum in 50 colors, including weathered colors for a patina, vintage, or rustic look. Sheffield also offers custom color matching.
Check our Review of the Six Best Metal Roofing Coil Suppliers.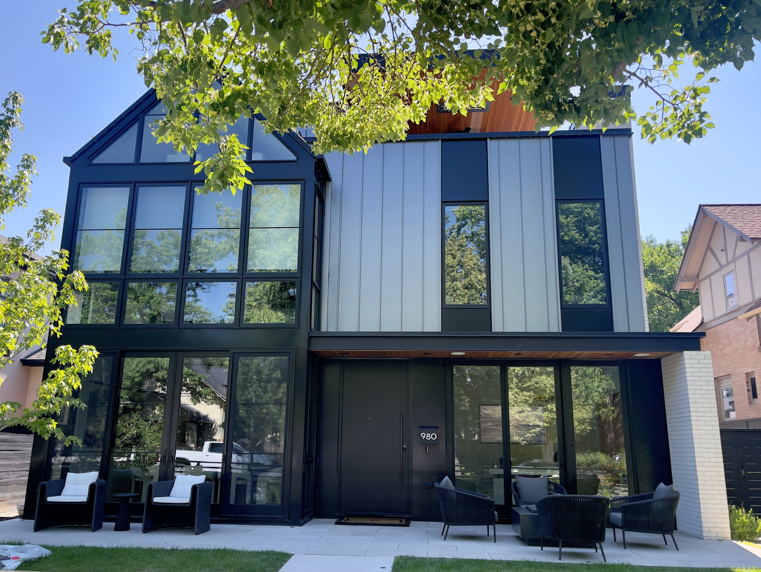 Portable Rollformers for Board & Batten Metal Siding
Portable rollformers have made producing metal board and batten siding easier on-site. These machines allow for seamless and efficient fabrication, eliminating the need for transportation and reducing costs. Two major portable rollforming manufacturers currently offer board and batten profiles:
The Eastside EM 6/8/10 Combo Seamless Siding Machine runs multiple siding profiles
Board and Batten:
Half board and batten 4" and 5"
Inverted Board and Batten 5"
Board and Batten 6", 8", and 10"
Materials:
Steel: 26-29 ga.
Aluminum: 0.024"-0.027"
NTM's SSQII MultiPro Roof and Wall Panel Machine runs multiple roof and wall panel profiles
Board and Batten widths 10"-25 ¼ "
Steel: 26 ga. and 24 ga.
Aluminum: .027"-.032"
Sizes:
The common traditional width for board & batten is a 10" board with a 2"-3" batten, but some homeowners choose 8" or 12" boards with 2"-4" battens. Commercial buildings tend to have wider boards at 14"-30"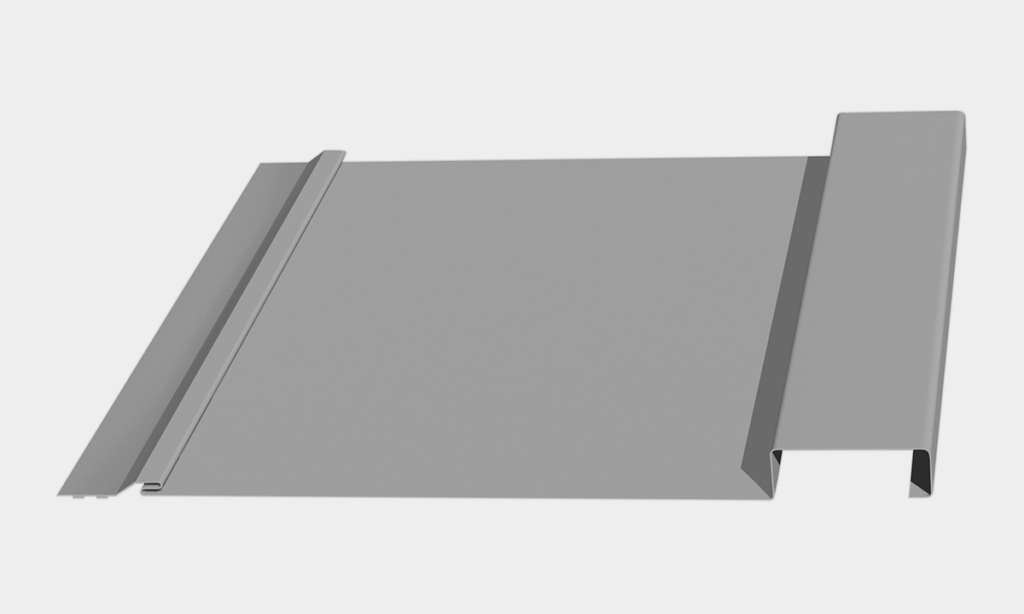 Final Thoughts on Board & Batten Metal Siding
Board & batten metal siding offers a compelling combination of durability, visual appeal, and design flexibility. With a wide range of materials, colors, and patterns available, contractors have many options to offer customers. Plus, with new innovations like Steel Dynamic's Tru>Steel HD, aesthetic possibilities are just being discovered.
Consideration of width recommendations and striation can further enhance the final look. Additionally, portable rollformers have revolutionized the production process, making it more convenient and cost-effective. As board & batten continues to grow in popularity, fabrication and installation opportunities will also increase. To learn more about NTM's board & batten profile or any NTM machine, reach out to one of our machine specialists who will be happy to answer all of your questions.