Considering using a portable rollforming machine in your business? Why would using a portable machine be more beneficial than an in-plant rollformer?
These are the types of questions we've been answering at New Tech Machinery (NTM) for almost 30 years. We understand how crucial a rollforming machine can be when it comes to improving business operations and efficiency. That's why we strive to make sure all of our customers are well educated when researching if a portable rollformer is the perfect fit for their business.
While there are many advantages to using portable rollforming machines, here are the top five reasons roofers, gutter installers and manufacturers should be using these devices in their businesses.
Top 5 Benefits for Using Portable Rollforming Machines in Roofing and Gutter Installation
For anyone rollforming roof panels or seamless gutters and installing them directly at the job site, having a portable rollforming machine might be the best and most cost-effective way to improve your work and business. Here are some of the major benefits for roofers and gutter installers to use portable rollforming equipment:
It's Portable
As the name states, one of the biggest benefits of having and using a portable rollforming machine is that it can be taken to any job site. Portable rollforming machines can be powered either by gas or electricity, depending on the machine, your preferences, and needs.
Increased Productivity
Because you can easily produce the roof panels or seamless gutters at your job site, you're able to increase productivity since you can make the kinds of panels you need, when you need them, and in the exact amount. Also, installers can keep putting panels onto the building without having to stop and wait for the next delivery to be made.
Although portable machines aren't as fast as the larger, in-plant alternatives, they can still produce enough panels on site for efficient and speedy installation.
Greater Machine Accessibility and Versatility
With the proper lifting mechanism, roofers or gutter installers with portable rollformers can lift the machine to the height of a structure's roof, allowing for easier access to the machine and for running the panels directly onto the roof structure. Because these machines are smaller than the ones found in-plant, they can fit inside many different vehicles, not just a trailer, for easy and cost-effective transportation.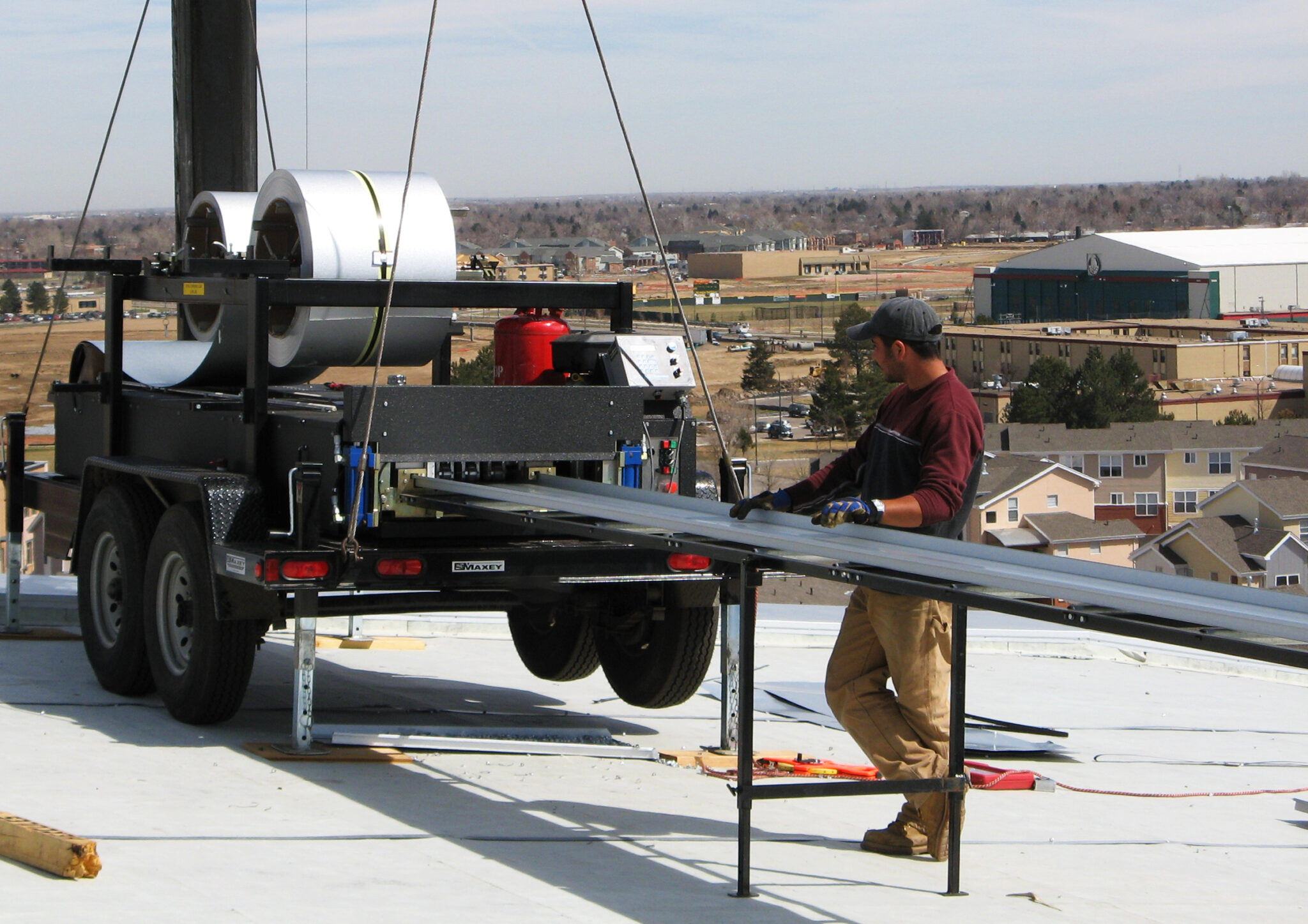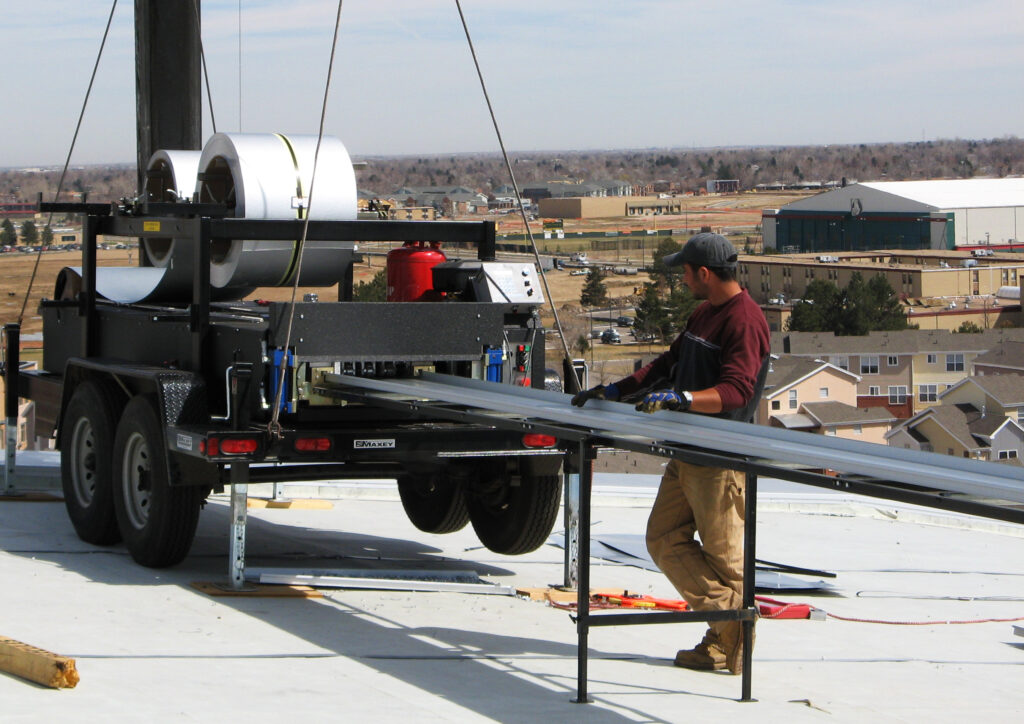 Shorter Lead Time
When you can make and install your metal panels on-site versus manufactured in a factory and delivered to you, you decrease the time you have to wait for panels to be delivered to you. This means no delays that are outside of your control, which also means happier customers. You also get rid of shipping costs and the worry of having your panels damaged during delivery.
Produces Less Waste
By having your own machine and not relying on getting panels from a manufacturer, you decrease the risk of possibly getting the wrong size or colored panels, wrong panel profiles, or panels damaged during shipping. With a portable rollforming machine, you can make sure that the panels are made correctly the first time with little to no wasted metal.
---
---
Top 5 Benefits for Using Portable Rollforming Machines in Manufacturing
Just as there are benefits for roofers to use a portable rollforming machine, there are also advantages for manufacturers to have them. Here are the top five benefits for why any metal manufacturer should consider using a portable rollforming machine:
Business Expansion
When you own a portable rollforming machine as a manufacturer, this gives you a competitive advantage and allows you to expand your business into a "cut and drop" (a.k.a. "chop and drop") operation. This means you can produce the panels right at customers' job sites, and supply several different customers daily in addition to your normal business operations. Not only are you able to diversify your business, but you can also make some extra money at a fraction of the cost of an in-plant machine.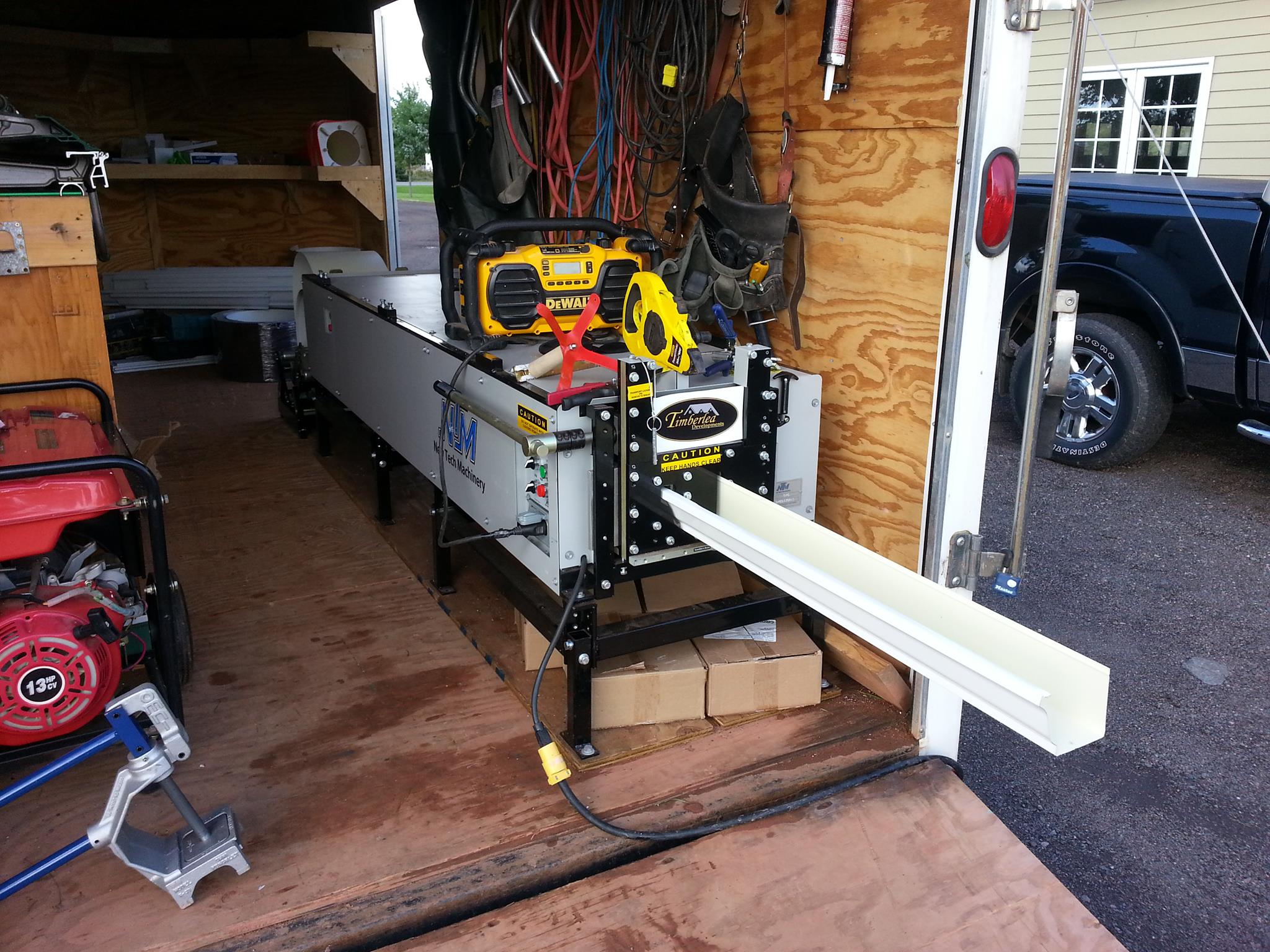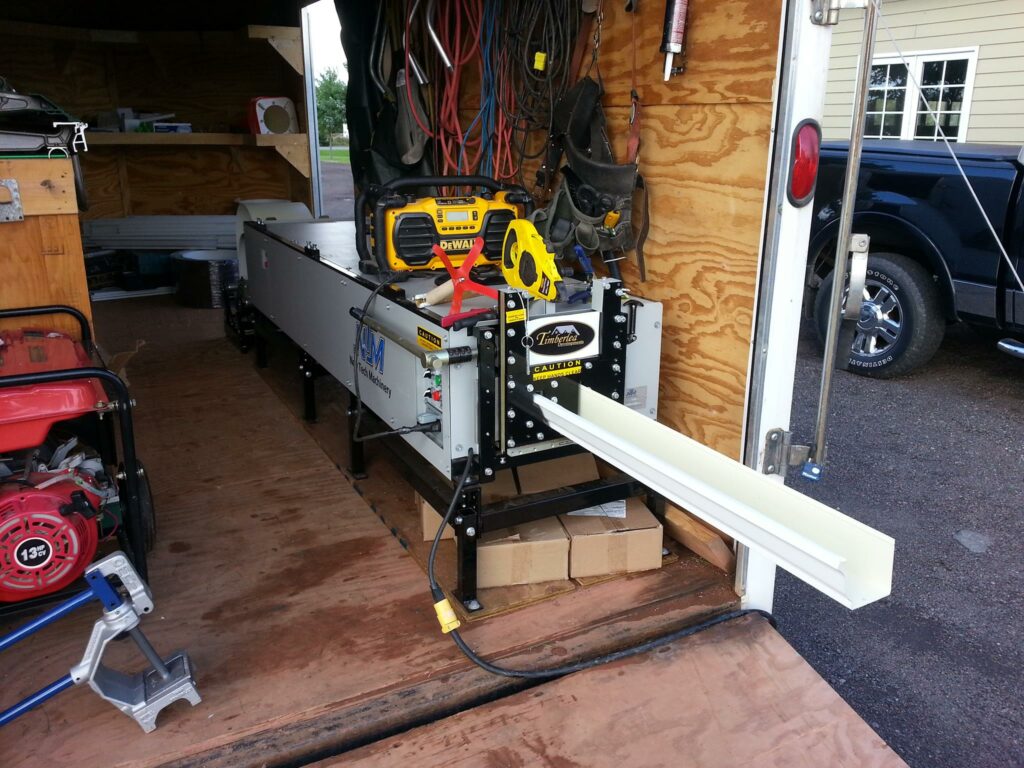 Greater Profile Versatility
Another advantage of using a portable rollforming machine is that there are many more profile options or roller sets available for you to use. With so many options at your disposal, you can provide more versatility to your customers and take more bids on jobs knowing that you can easily add more profiles.
Smaller Machine Size
Portable rollforming machines aren't only a great option to use at a job site, they're also beneficial to use inside a factory. Since the portable rollforming machines are much smaller than in-plant rollformers, you can essentially fit more of them inside your building. For example, New Tech Machinery's SSQ II™ MultiPro Roof Panel Machine machine measures only 14′ 4″ (4.4m) without the optional angled slitter and is 5′ 2″ wide (1.57m). With more machines at your disposal, you can produce more panels at a quicker rate, and supply more customers with product. 
Quick Profile Changeovers
Changeovers, or tooling changes, on portable machines, require very little time; about 45 minutes to one hour. Not only are changeovers fast, but they are also efficient. For example, NTM's SSQ II MultiPro Roof Panel Machine requires only one person to perform the profile changeover and requires only a wrench. On the other hand, in-plant rollformer changeovers can take hours, with some requiring advanced machinery to complete, thus making contractors wait days or weeks to get finished panels.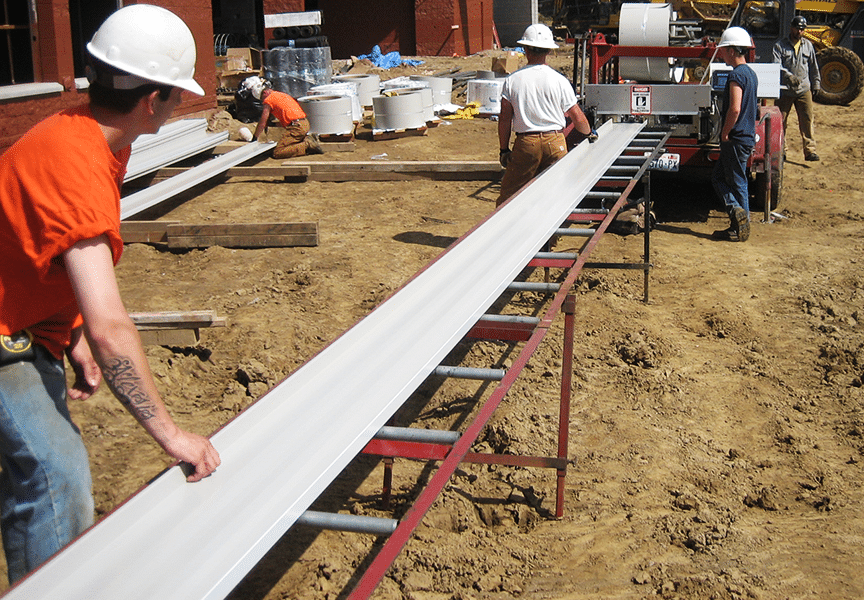 Availability of Multiple Finance Options
If you're unsure about buying a portable rollformer, there are options available for you to finance your machine. Some benefits to financing include:
You're able to manage your cash flow
Equipment Finance Agreements have fixed interest rates
You may be eligible for a tax write-off
You can develop credit for your business
No additional collateral is required
How We Can Help
Choosing the perfect machinery for your business is no easy decision. There are many factors to consider, including price, how it will improve your business, and how it can make your work easier.
That said, using a portable rollforming machine in your business can be beneficial in the long run. Whether you're a roofer, gutter installer, or manufacturer there are many advantages to using this type of equipment. To recap, with these machines you can:
Improve your business's productivity and efficiency
Transport it to any job site with ease
Expand your business operations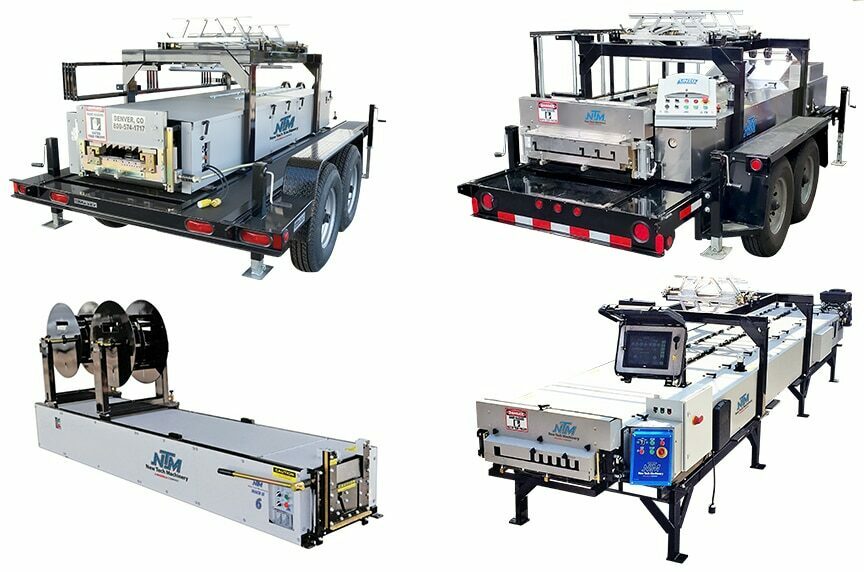 If you're considering using a portable rollformer in your business, let New Tech Machinery help you discuss your options or make your purchase. Our specialists can answer any of your questions about how our machines run, how much they cost, or offer service or training on any of our state-of-the-art machines.
Learn more about our portable roof and wall panel and seamless gutter machines, in our Rollforming Learning Center! Subscribe to our blogs, watch any of our company and product videos, and download our exclusive content to help answer any questions you might have about our company or our machines.
---
---