Investing in any type of equipment is a big step for any business, so understanding the benefits of using portable rollforming machines in metal construction can help you decide if this equipment is the best choice for your company and projects.
Whether you're looking for a portable rollforming machine for metal roofing or gutter installation, or to produce and supply metal roofing panels, this kind of equipment can help your business operations, project efficiency, and allow for future growth.
At New Tech Machinery, we understand that purchasing a portable rollforming machine is no small endeavor. That's why we strive to make sure all of our customers understand some of the advantages using portable rollforming can bring to metal construction projects and businesses.
While there are many advantages to using portable rollforming machines, here are the top five reasons metal roofers, gutter installers, and panel suppliers and manufacturers should consider using this equipment for their projects.
Benefits of Using Portable Rollforming Machines in Metal Roofing and Gutter Installation
For anyone producing roof panel profiles or seamless gutters and installing them directly at the job site, having a portable rollforming machine can be an effective and budget-friendly way to improve your work and business.
Here are some of the major benefits of using portable rollforming equipment for metal roofing or gutter installation:
Portable Rollforming Machines Are Easily Transportable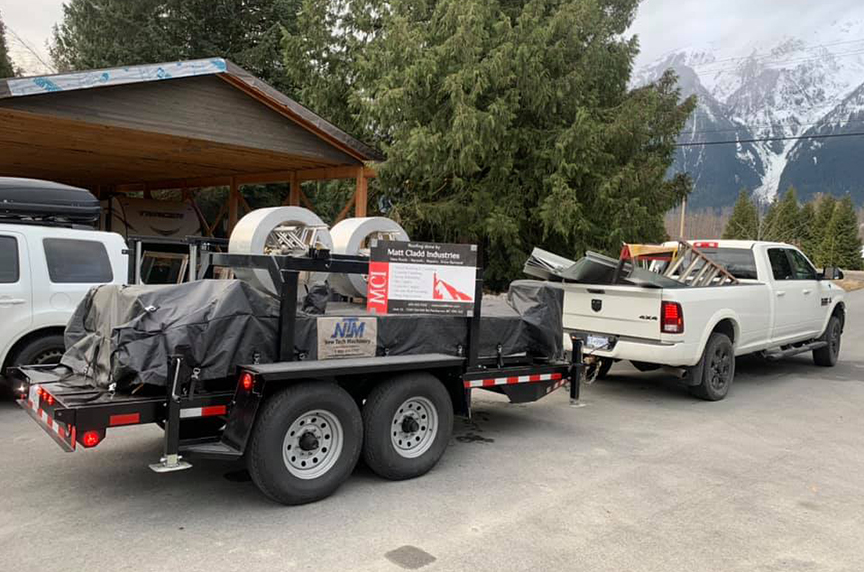 One of the biggest benefits of having and using a portable rollforming machine is that it can be easily transported to job sites, typically with a trailer for roof panel machines or a box truck or trailer for gutter machines. Some portable rollforming machines can be powered either by gas or electricity, or switched from one power source to another, depending on the machine, your preferences, and project requirements.
Increased Productivity and Efficiency of Making Panels or Gutters
Because you can easily produce the roof panels or seamless gutters at your job site, you can increase productivity and decrease wasted material since you can make the kinds of panels you need in the required amounts. Also, installers can keep putting panels onto the building without having to stop and wait for panels to be shipped and delivered.
Although portable machines aren't as fast as the larger, in-plant alternatives, they can still produce enough panels at a project site for efficient and speedy installation.
---
---
Portable Rollformers Allow for Easier Panel or Gutter Installation at Height and Versatility of Profile Offerings
With the proper lifting mechanism, roofers or gutter installers with portable rollformers can lift the machine to sit on top or next to a building's roof, allowing for easier access to the machine and running the panels directly onto the roof. Many portable rollforming machines can also make multiple profiles in various styles, like snap-lock, mechanical seam, or fastener flange, simply by changing the profile tooling inside the machine.
No Lead Times and Less Costs to Get Roofing Panels or Gutters Made
When you can make and install your metal panels on-site versus having them made, shipped, and delivered to you, you ultimately don't have to wait for panels to be ready to install; you're making them yourself. This means no delays outside of your control. You also eliminate shipping costs and the worry of having your panels damaged during delivery.
Produces Less Waste and Lets You Install Panels or Gutters as Quickly as They're Made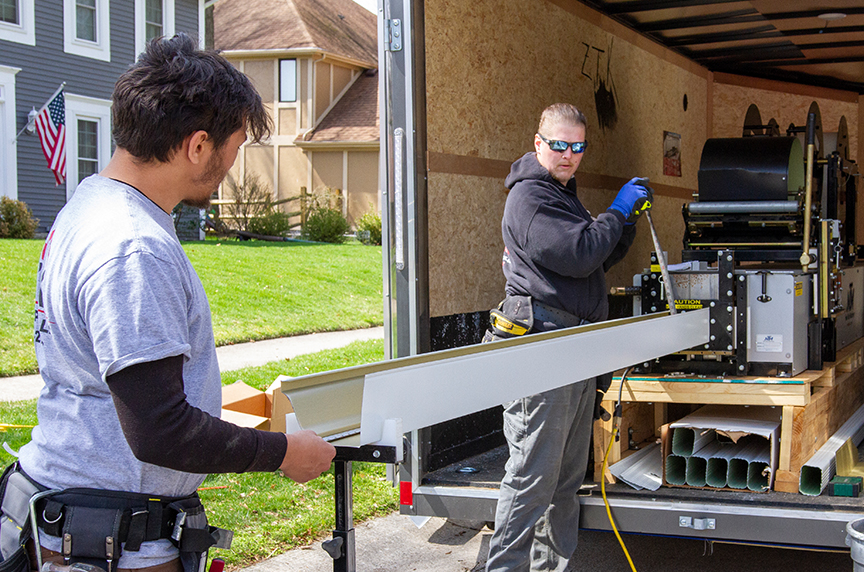 By having a portable rollforming machine and not solely relying on receiving panels from a factory panel supplier, you can potentially decrease the risk of possibly getting the wrong size or colored panels, wrong panel profiles, or damaged panels during shipping. With a portable rollforming machine, you can make sure that the panels are made correctly the first time with little to no wasted metal.
That's not to say that there won't be any downtime with a portable rollformer because it does require ongoing maintenance, potential service or repair, and adjustment of materials and thicknesses. However, it decreases relying on a middleman to get panels made and installed.
Benefits of Using Portable Rollforming Machines in Metal Manufacturing
Just as there are benefits for roofing and gutter installers to use a portable rollforming machine, there are also advantages for manufacturers to have them. Here are the top five benefits for why any metal roofing panel or gutter manufacturer should consider using a portable rollforming machine:
Expand Your Business Into On-Site Panel Manufacturing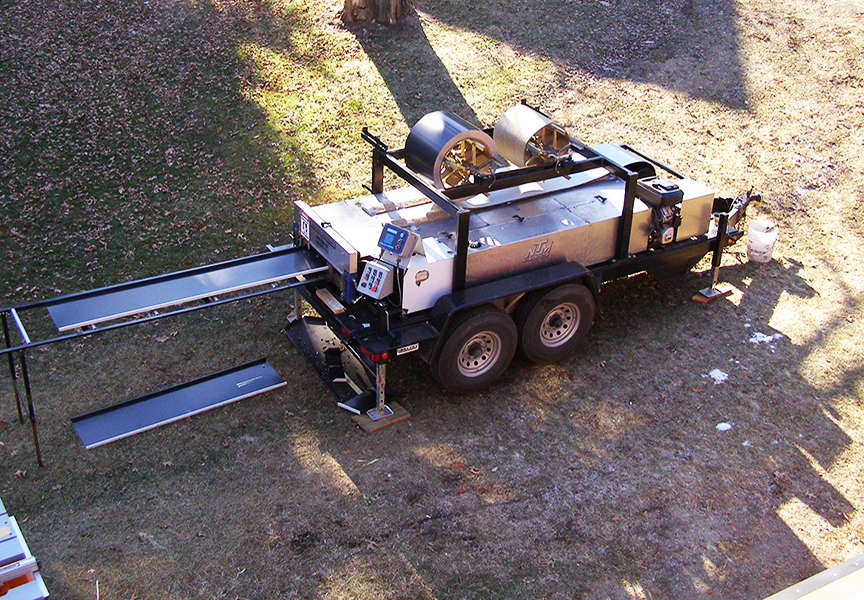 When you own a portable rollforming machine as a manufacturer, this gives you a competitive advantage and allows you to expand your business into an on-site "chop and drop" operation. If you're primarily using an in-plant machine for manufacturing metal roof panels, adding a portable rollforming machine to your business allows you to take it to customers' job sites, produce the panels in longer lengths and exact quantities, reducing waste and costs of shipping. You're also able to supply several different customers daily in addition to your normal business operations.
Portable Rollforming Machines Are Smaller and Optimal for Limited Space
Portable rollforming machines aren't only a great option to use at a job site, they're also beneficial to use inside a factory or environment where space is limited. Since the portable rollforming machines are much smaller than in-plant rollformers, you can fit more of them inside your building. For example, one New Tech Machinery's roof panel machine's footprint, the SSQ II™ MultiPro, is only 14′ 4″ (4.4m) without the optional angled slitter and is 5′ 2″ wide (1.57m).
Changing Profiles on Portable Rollformers Are Quicker and Easier
Changeovers, or tooling changes, on portable rollformers require very little time: about 45 minutes to one hour. Not only are changeovers fast, but they are also less involved than in-plant rollformers. For example, a changeover on NTM's SSQ II MultiPro Roof Panel Machine requires only one person and a wrench. In-plant rollformer setup time and profile changeovers can take hours because of the large size of these machines. Some in-plant rollforming machine profile changeovers may even require advanced machinery to complete, making customers wait to get finished panels or require scheduling their projects around what profiles are being run at that time.
Make a Wider Variety of Roof Panel and Gutter Profiles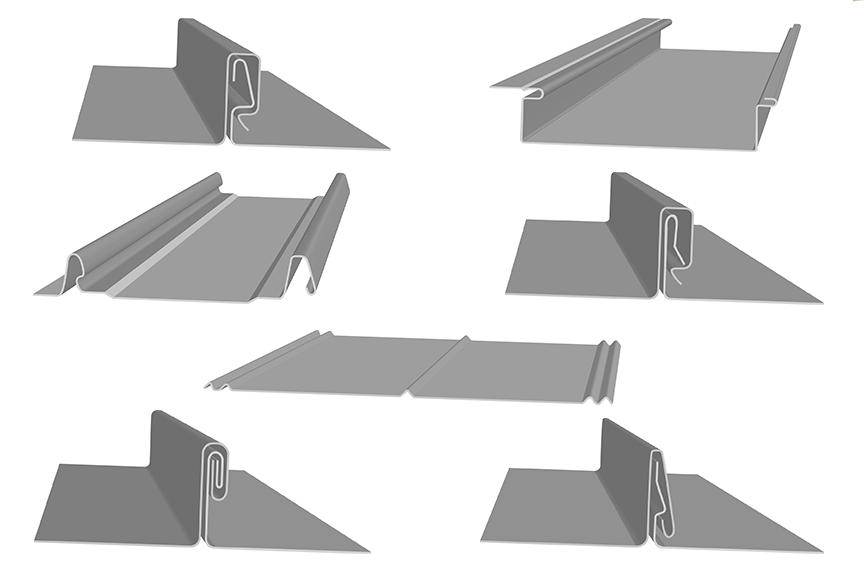 Another advantage of using a portable rollforming machine is that there are more profile options or roller sets available for you to use. With so many options at your disposal, you can provide more versatility to your customers and take more bids on jobs knowing that you can easily add more profiles in the future for commercial projects, wall siding, or different gutter sizes as your business expands.
Take Advantage of Multiple Finance Options
If you're unsure about buying a portable rollformer outright, there are options available for you to finance your machine. Some benefits to financing include: 
You're able to control your cash flow
Equipment Finance Agreements have fixed interest rates
You may be eligible for a tax write-off
You can develop credit for your business
No additional collateral is required
Financing is great for both contractors and panel manufacturers and with Section 179 tax deduction you can write off the purchase of new or used capital equipment as long as it's being used or in service by the business during the tax year.
Final Thoughts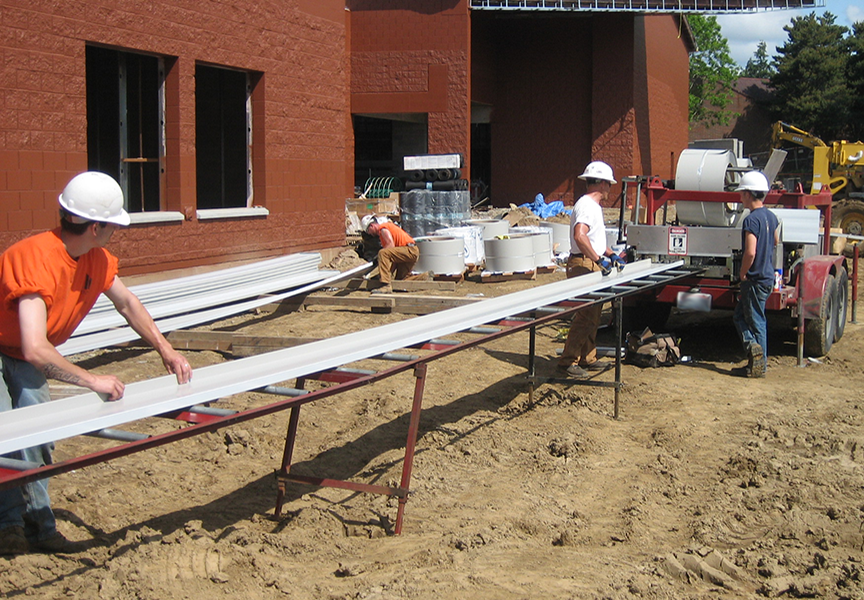 Choosing the right rollforming machinery for your business is no easy decision. There are many factors to consider, including price, how it will improve your business and customers, and how it can make your work more efficient.
Using a portable rollforming machine in your business can be beneficial now and in the future. Whether you're a roofer, gutter installer, or panel manufacturer there are many advantages to using this type of equipment.
To recap, with portable rollforming machines you can:
Improve your business's productivity and efficiency
Transport it to any job site or lift it to a building's roof with ease
Expand your business operations into on-site panel manufacturing
If you're considering using a portable rollformer in your business, let New Tech Machinery help you discuss your options. Just reach out to any of our rollforming specialists! We're here to answer any of your questions about if portable rollforming is the best fit for your business and discuss machine configurations that are optimal for your operations.
---
---