If you're purchasing a New Tech Machinery (NTM) SSR™ MultiPro, Jr. Rollformer, you're likely wondering which accessories, if any, to add. At NTM, we're often asked about the best accessories for an SSR MultiPro, Jr. Rollformer. The answer may depend on a few factors. For example, the number of jobs you regularly work; whether you're working residential, commercial or both; and how often you run different materials or colors.
In this article, we will look at:
The function of an SSR MultiPro, Jr. Rollformer
Recommended SSR options
Other SSR accessories and when they may be useful
What is an SSR MultiPro, Jr. Rollformer?
The SSR MultiPro, Jr. Rollformer is an entry-level roof and wall panel machine made for residential and light commercial work. It can run seven different profiles in variable widths, multiple gauges, and various materials.
Materials Formed:
Painted Steel: 28 to 24 gauge (0.4mm to 0.6mm) (painted, Galvalume, coated galvanized)
50 ksi maximum for 24 gauge
50 ksi recommended, 80 ksi acceptable with adjustments for 28 to 26 gauge
Painted Aluminum: .027" to .040" (0.7mm to 1.0mm)
Copper: 16 oz. to 20 oz. 3/4 Hard (.5mm to .7mm)
Speed:
About 30'/ min (9m/min)
Price:
Starts at $37,000 USD*
*The base price includes the machine with one panel profile, one style of rib rollers (bead ribs, striations, pencil ribs, or V ribs), the dual overhead reel rack with one expandable arbor/ reel, and 20' of run-out table.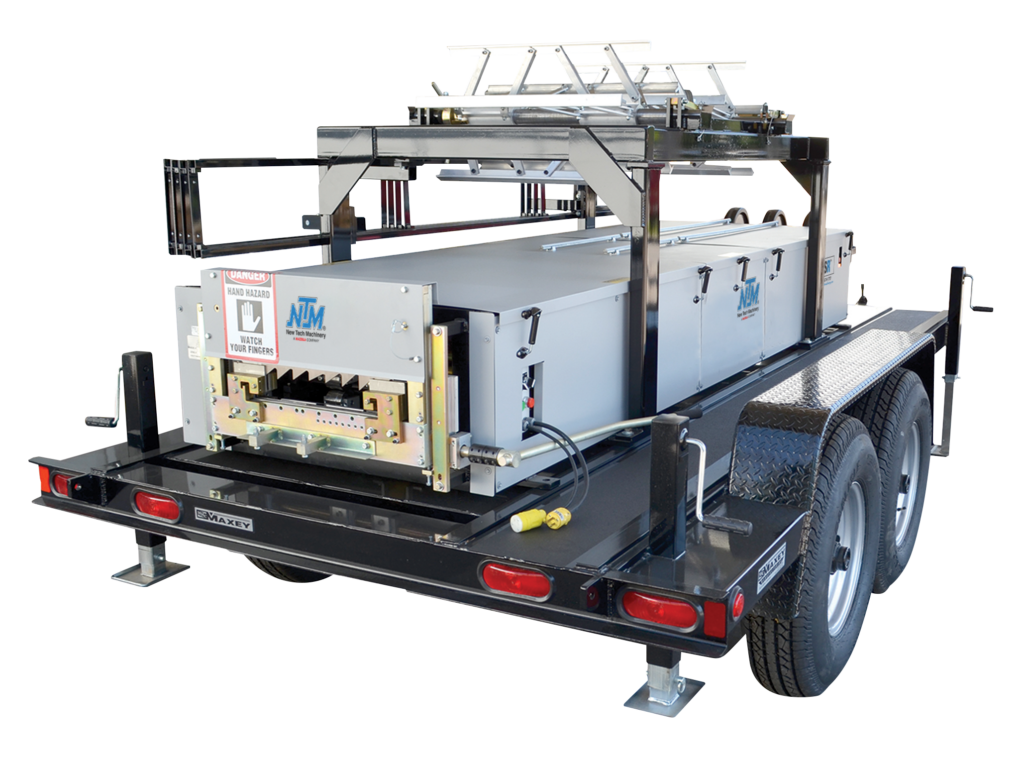 Recommended SSR MultiPro, Jr. Accessories and Options
2nd Expandable Arbor DR01-EX
Description: Used for holding coil. This arbor expands to the inside diameter of the coil for faster, easier loading. Can accommodate coils with 16" to 20" ID. Capacity is 3,000 lbs. when used with Dual Overhead Reel Stand or Single Free Standing De-Coiler.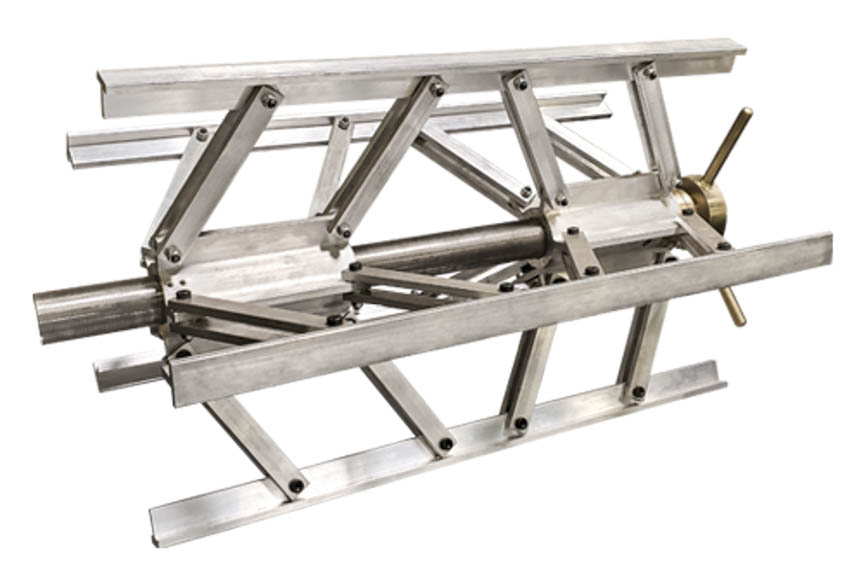 2nd Expandable Arbor Benefits
Adding a second expandable arbor can save you a lot of time, especially between jobs. A second arbor will allow you to hold more material for bigger jobs, or different materials or colors for multiple jobs. Each arbor holds 3,000 pound coil, so the added arbor will double your capacity. Also, if you're using different materials or colors for multiple jobs, it will save you the time of having to change coils.
Additionally, jobs may require different sizes, so the second expandable arbor provides you with more flexibility, saving time if you're moving from one job to the next. If you're in a chop and drop business you may be moving quickly between jobs, in which case the extra arbor would be a must for efficiency.
Price: $2,300
EZ Counter Computerized Length Controller
Description: Program up to 50 lengths, tracks material, offers miter options on all gutter machines, operate in feet and inches, inches only or centimeters. Operates as an Easy-touch screen.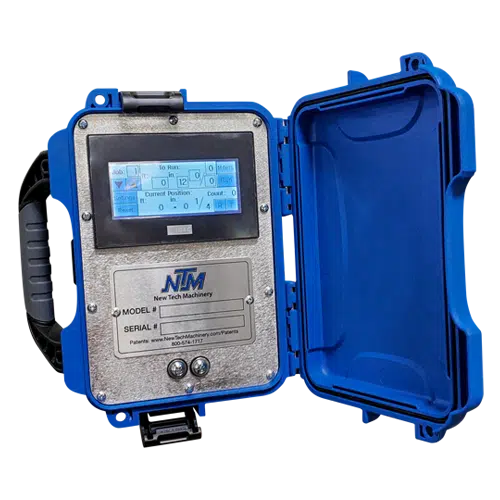 EZ Counter Computerized Length Controller Benefits
The EZ Counter Computerized Length controller will save you time and trouble spent measuring panels with a measuring tape. Also, the EZ counter is more accurate, within 1/32".
Its touch screen makes it easy to use. You only need to input the desired size and the counter will measure the panel length for you. Also, it will track your material and coil usage, and prevent waste from overrun.
We recommend that you remove the EZ Counter when not in use so that it doesn't get stolen or lost. It's easy to detach and reattach.
Price: $2,600
Extra Run-Out Tables ROSR-10
Description: Table attaches to shear and is used to support panel as it exits the machine. Adjustable leg allows variation in height from 25" to 43" and also uneven surfaces. Available in connectable 10 ft. sections.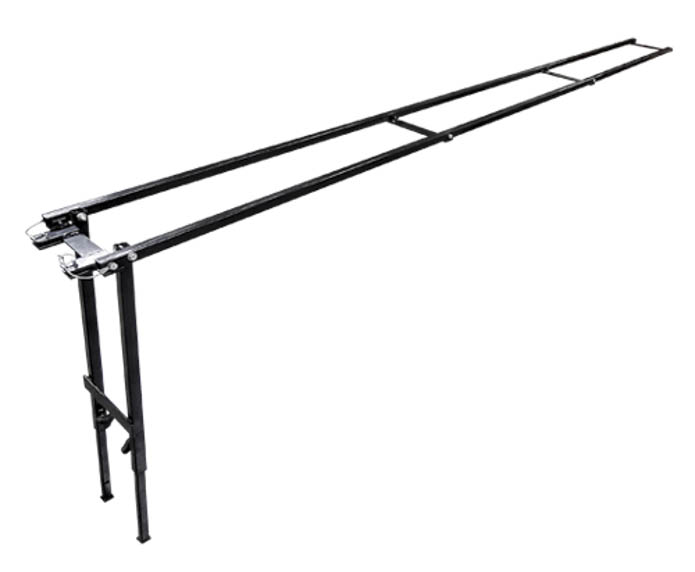 Extra Run-Out Table Benefits
While the standard package with your machine comes with two run-out tables, each 10' long, an extra table will allow you to run out longer panels (30') for bigger jobs. The machine will store up to five panels total to accommodate panel lengths of 50'.
The run-out table stores on the side of the dual overhead reel rack during transport.
Price: $850 per 10' section
Machine Cover CVR-SSR
Description: K-Tex synthetic canvas material, form fitted to body of machine. Black with NTM logo.
Machine Cover Benefits
The NTM machine cover will help protect your SSR from debris, snow, rain, or dust. We recommend that you use it for storage, whether overnight or long-term. Just make sure you're allowing for ventilation to prevent rust.
The cover is made of K-Tex, a weather-resistant synthetic canvas material. Manufactured by a boat cover company, our specially designed K-Tex cover is more durable than traditional canvas and holds up to the elements.
Price: $1,950
Other SSR MultiPro, Jr. Accessories
While the remaining accessories aren't necessary for everyone, some businesses may find them useful or necessary.
Cart With Casters CRT-MPJ-C
Description: Roof panel machine cart with mount feet and casters (not for use with overhead reel rack).
Adding a cart with casters is handy when you're using a machine in the shop or plant, rather than transporting the machine from job to job. If you're not going to use your SSR as a portable rollformer, you can pair the Cart with Casters with the Free-Standing De-Coiler.
Make sure both the Cart with Casters and Free-Standing De-Coiler are securely anchored to the ground to prevent movement as the coil feeds through the machine.
Price: $3,200
Dual Overhead Reel Rack DR2M
Description: Dual overhead bolt-on reel rack – machine mount.
Dual Overhead Reel Rack Benefits
Your SSR machine will come standard with a dual overhead reel rack. If you need to replace a damaged or missing rack, the duel overhead reel rack is available as an accessory. An additional reel rack would also require arbors.
Price: $2,900
Remote 4 Button Start REM-4, REM 6-A, REM 6-C
Description: Remote 4-button with start/stop/forward/reverse functions.
Remote 4 Button Start Benefits
The remote button start is handy if you're working as a single-person operation. It allows the operator to run the panels remotely.
Price: $2,000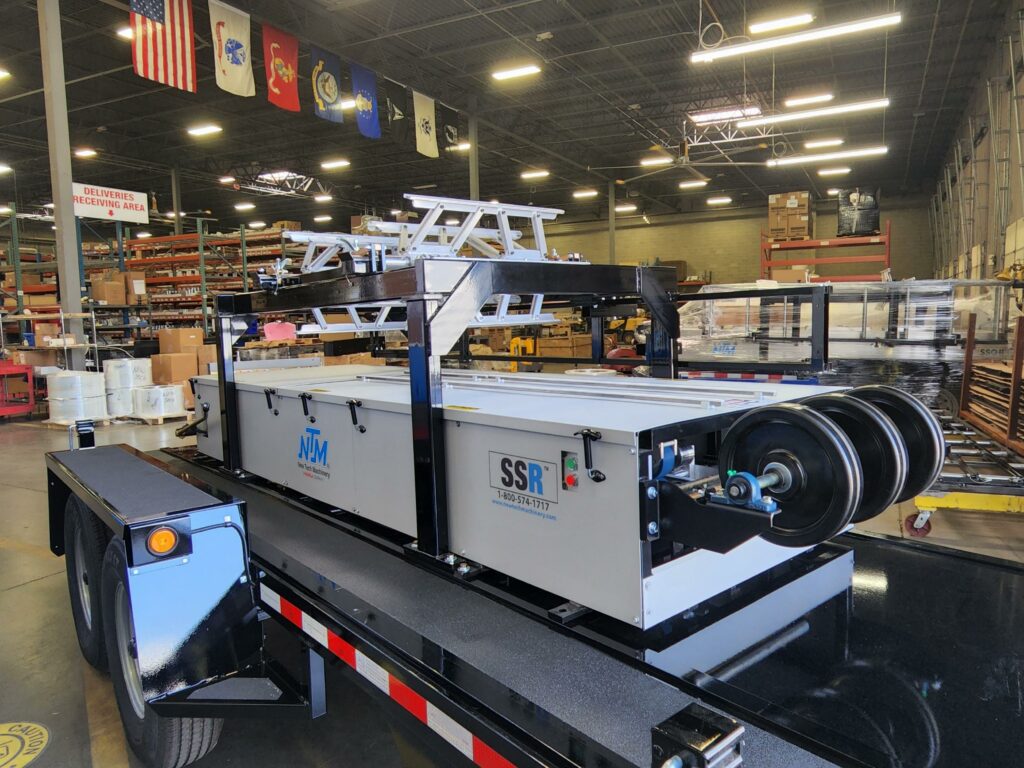 Frame Assembly—RRF-R
Description: Additional frame assembly for mounting rib rollers (recommended with additional rib sets).
Frame Assembly Benefits
We recommend the additional frame assembly when you get additional rib rollers to make it easier to store and change out. Instead of changing the rollers in the one frame assembly you have, you just need to swap it with the second frame assembly that's holding extra rib rollers, saving you time.
Price: $850
Strippable Film Applicator-PVC
Description: Strippable PVC applicator
Strippable Film Applicator Benefits
The strippable film applicator allows you to add strippable film/ tape to the coil just before it runs through the SSR. It will protect the panels from scratching if you're storing premade panels or just want to protect them prior to installation. You remove the film once you begin to install the panels.
Price: $1,500
NTM Rollformer Trailer-TR12-D
Description: NATM Compliant, 12,000 lb. tandem axle trailer used for towing any NTM roofing machine directly to the jobsite. Equipped with crane lifting eyes, 4 drop-foot jack stands and electric brakes w/ breakaway kit. Has a scrape tray to capture tailings from sheared panels, making it easier for jobsite clean up.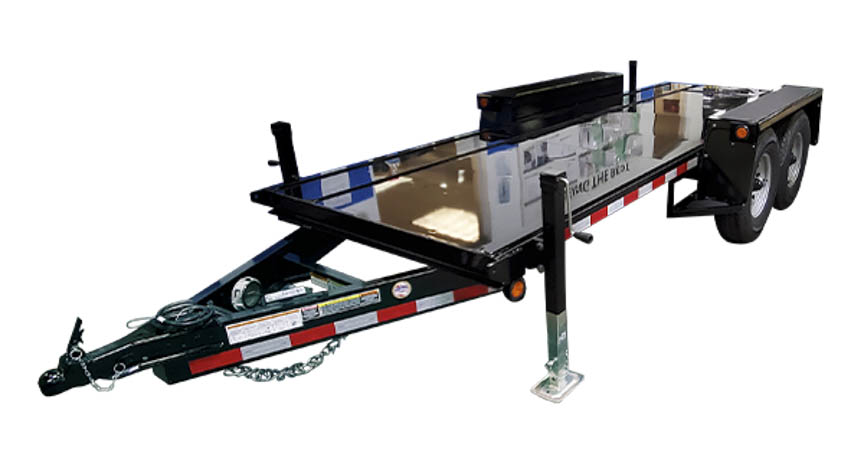 NTM Trailer Benefits
The trailer makes the machine portable, which is essential for any onsite operations.
Price: $16,100
Hand Seamer HS1-1/HS1-2
Description: Single-lock or second-stage (double-lock) hand seamer for SS100 and SS150 mechanically seamed panels.
Hand Seamer Benefits
One single-lock hand seamer comes standard with the mechanical seam profiler. While most roofers will use an electric hand seamer, many start with a manual hand seamer then switch to the electric. A single-lock hand seamer is included with every mechanical seam panel roller system NTM provides
This accessory is handy as a replacement, or if you need extras for your crew.
Price: $525
Pencil, Bead, V and Striation Rollers RR1 thru RR7
Description: A variety of ribs used to aesthetically enhance standing seam panels. Pairs with RRF and RRFR frames.
Benefits:
Pencil, Bead, V, and Striation Rollers add style to standing seam panels. They are typically ordered in sets of 2, other than striation rib rollers which come as a complete set of 3, hence the higher pricing.
Prices:
RR1 Bead Rib Rollers (each): $850
RR2 Pencil Rib Rollers—Large (each): $850
RR3 V-rib Rollers—Large (each): $850
RR4 Pencil Rib Rollers—small (each): $850
RR5 V-rib Rollers—small (each): $850
RR6-3 Striation Rib Rollers (set of 3): $2,550
RR7 Wide Bead Rib Rollers (each): $850
Single Free Standing De-Coiler FSD1
Description: A remote stand used at the entry end of the machine to hold one Expandable Arbor with coil. Total capacity 5,000 lbs. Shown with optional DR01-EX Expandable Arbor.
This is the frame the arbor sits in, which you can put on floor or in a truck's flatbed. If you want additional capacity to run more coil, the stand can be handy and you can use it in addition to overhead de-coilers.
Price: $2,100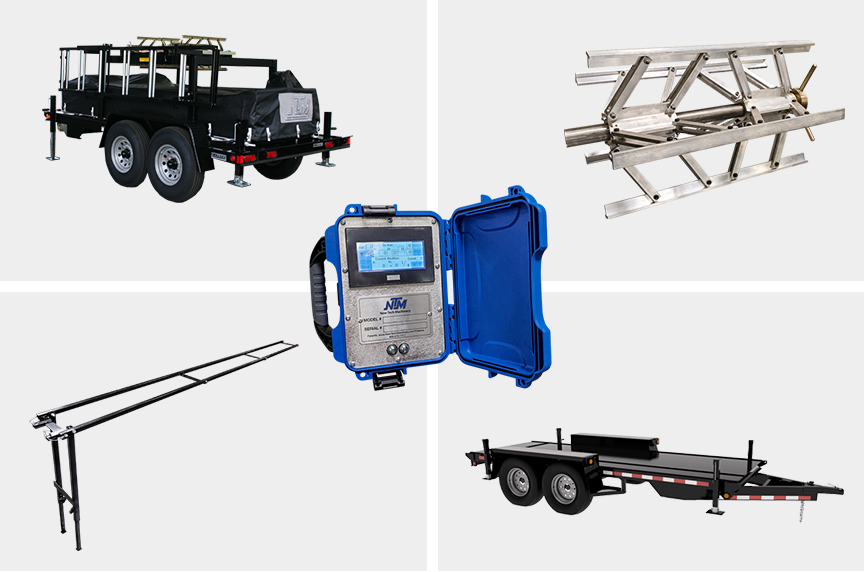 Training
While not an accessory, training is srongly recommended as it's offered free at our plant in Aurora, Colorado, to anyone who has recently purchased a new machine. One benefit is that proper training will help ensure correct use of machine. This would help prevent you from making a mistake that could void your warranty. 
In the training, you will learn:
Different types and grades of materials that the machine is designed to run.
What each machine component does and how it works
Best safety practices when using the machine and how to properly maintain your portable rollformer
For information for what to expect at an NTM machine training, click here.
To book a training, email our service team or call us at 303-294-0538.
Training is also available for used and older machines at $125 per hour.
Final Thoughts
We've recommended accessories based on many of our customers' needs. Of course, operations vary and what is essential for one contractor may not be necessary for another.
At NTM, we've been manufacturing rollformers for over 30 years, helping contractors like you build their metal roof, wall panel, and seamless gutter businesses. Our mission is to provide our customers with quality portable rollforming machinery and support to help them succeed in the industry. We draw from our experience when recommending accessories, but in the end, you'll need to decide what's right for your business. That said, we're always here to answer your questions. Please don't hesitate to contact us.