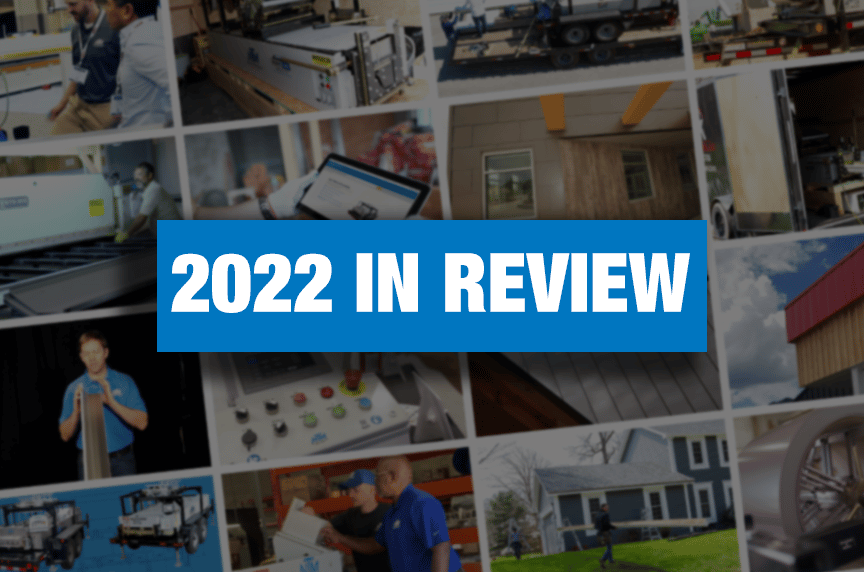 As 2022 nears an end and we look forward to the new year, it's a great opportunity to look back at the trends, innovations, and highlights of the last year. 
For New Tech Machinery, this year was focused on making product improvements, starting work on new future products, and providing the resources you need to use your portable rollforming equipment safely and properly.
Some of the major highlights of 2022 for New Tech Machinery include:
Thank you to everyone who has been a part of New Tech Machinery and used the content to learn more about portable rollforming and its use in metal construction.
Whether you're new to the Rollforming Learning Center or have been a long-time subscriber, we want to share some of our favorite articles from 2022. We hope you enjoy!
The Six Best Portable Rollforming Machine Articles of 2022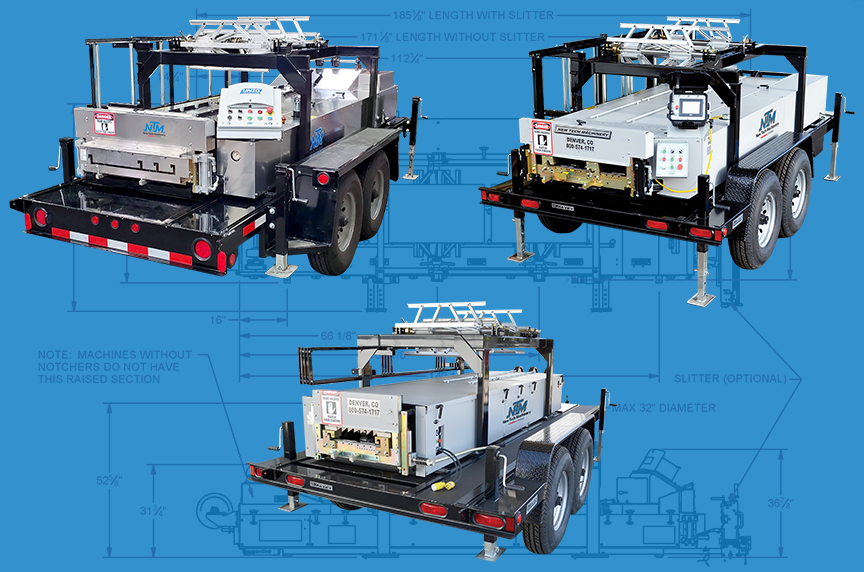 Why is knowing the roof panel machine footprint and specs, details about what profiles it can produce, and materials it can form helpful when making such an important purchasing decision? How can it ensure you're operating your machine safely and properly?
At New Tech Machinery (NTM), we get asked what materials you can use with your portable roof panel machine, how wide a panel certain machines will produce, and how fast particular machines can operate. Knowing this information about your portable roof panel machine can not only help you make the best decision for your business as it stands now, but it also helps ensure that you're selecting the right machine that can allow your business to grow in the future.
This article will explore and compare the specifications and details of each NTM portable roof panel machine: the SSR™ MultiPro Jr., SSH™ MultiPro, and the SSQ II™ MultiPro. We'll also explain how you can use these specifications to choose which of these machines is the best fit for your metal roofing business now and potentially in the future.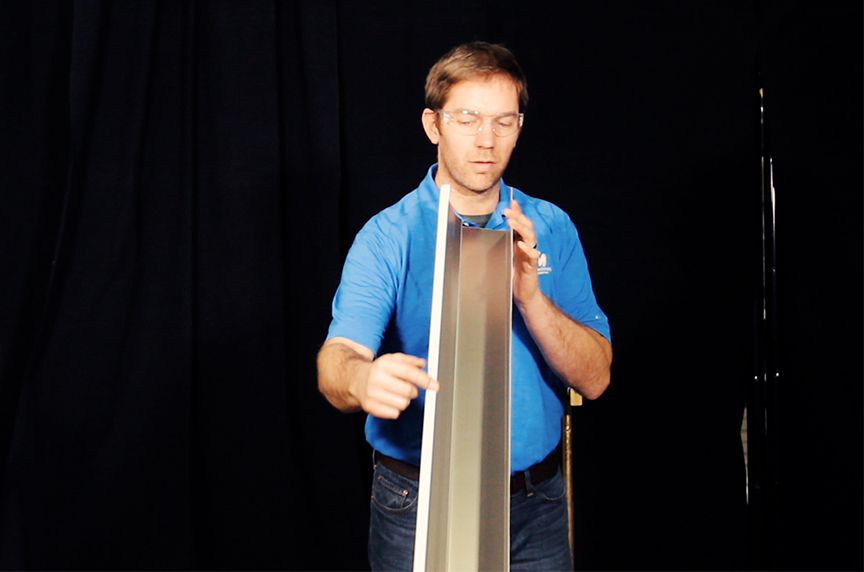 Knowing how to sight a gutter so you can adjust your seamless gutter machine to produce gutters without any defects or curvature is critical for correct installation, customer satisfaction, and keeping the machine in tolerance. It also gives you a deeper look into how your gutter machine is running upon the start of a project, find any adjustments you may need to make, and allows you to effectively work with Service department if you encounter issues.
At New Tech Machinery (NTM), our experienced Service Department helps clients troubleshoot problems with their machines and walks them through making adjustments to their machines. However, it's critical to know when your machine is out of tolerance and what adjustments to make to produce a straight gutter.
In this article, we'll discuss:
Why knowing how to sight a gutter is important for keeping your seamless gutter machine in proper tolerance and for quality installation
What issues to look for when sighting a finished gutter
The right way to sight a piece of seamless gutter
How to properly adjust your NTM seamless gutter machine if a gutter isn't coming out straight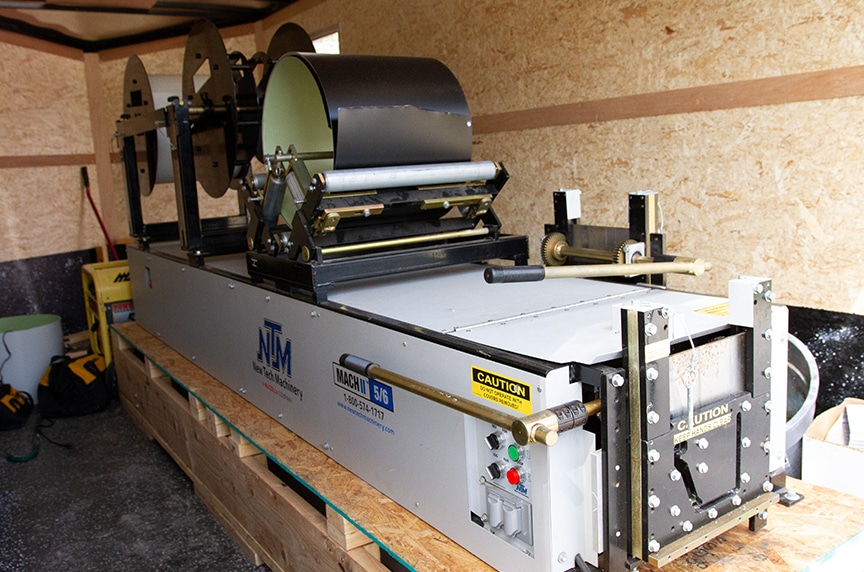 Starting up your first gutter business can be stressful for anyone, but knowing and having the right seamless gutter machines to help grow your company and customer base can make it easier. If you're looking for k-style seamless gutter machines for starting a business in residential gutter installation, knowing what to consider ahead of time about your business, projects, and what you want in a gutter machine helps.
As a manufacturer of portable rollforming machines and equipment, New Tech Machinery has helped educate gutter contractors and suppliers on how these machines can allow for increased independence and control over projects, help them make more money, and be used to start a business easily. We also understand the importance of considering your gutter machine options for where your business is starting and where it could go in the future.
In this article, you'll learn:
What factors to consider about your gutter business and the kinds of seamless gutter machinery available on the market to choose the right product and equipment
Specifications and features of some k-style seamless gutter machines best for starting a business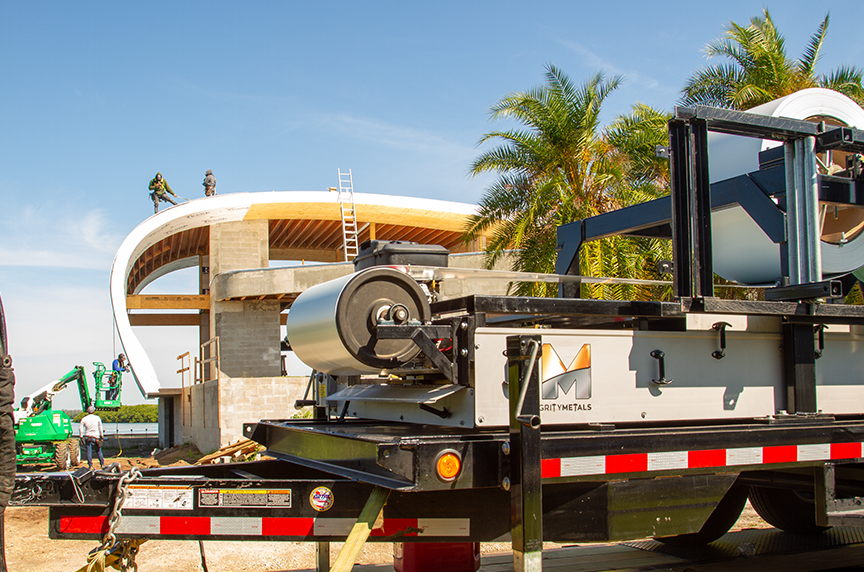 For metal roofing businesses who are just starting up and unsure of what kinds of equipment they may need to help get their operations off the ground, it can be very challenging. There are many things to consider, such as where you will get your material, finding the right crew, and what kind of portable rollforming equipment and manufacturers to consider.
For beginning metal roofing companies, those specializing in residential projects, or first-time buyers of portable rollforming equipment, there are many portable roof panel machines and manufacturers to consider. Finding the right roof panel machine for your business and understanding some of the core things to consider when choosing a machine to start your business is critical to helping your business, your clients, and to secure your future growth.
At New Tech Machinery, we manufacture portable rollforming equipment for the metal roofing and gutter markets. While we are proud that our machinery has helped contractors and panel suppliers worldwide get more control over their metal roofing projects and profits, we know that considering all of the equipment available to you is essential and allows you to find the best fit for your business now and in the future.
In this article, we'll discuss some considerations to help you decide on a portable roof panel machine for starting a metal roofing business and explore some portable rollforming manufacturers' products.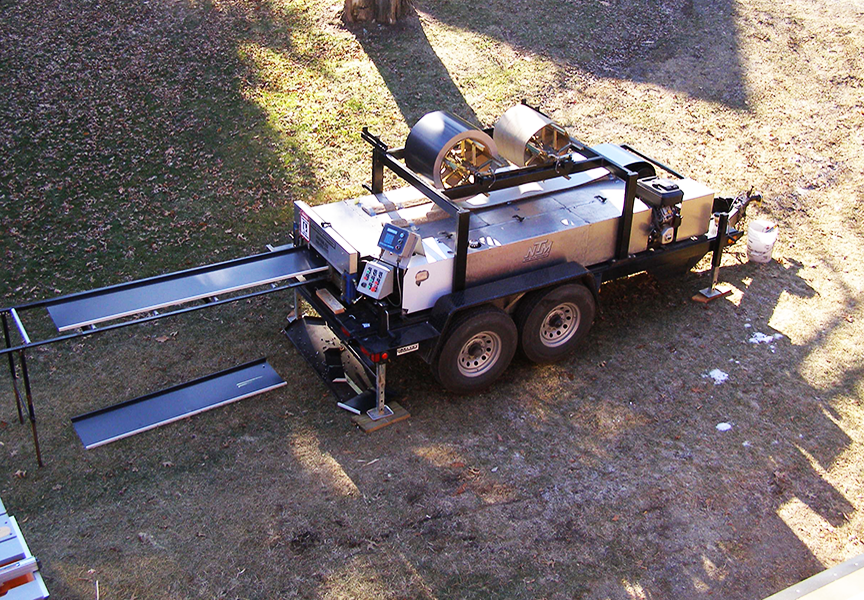 In any industry, there are myths and misconceptions everywhere that people believe to be true. Even about portable rollforming.
At New Tech Machinery, when talking to someone interested in portable rollforming equipment or discussing how in-plant and portable rollformers are different, we come across some common misconceptions in the industry that just aren't the case anymore.
We want to share some of the top five misconceptions about portable rollforming and in-plant rollforming with you, why these perceptions are the exception and not the norm, and explain how current portable rollforming machines have evolved and what to expect from them today.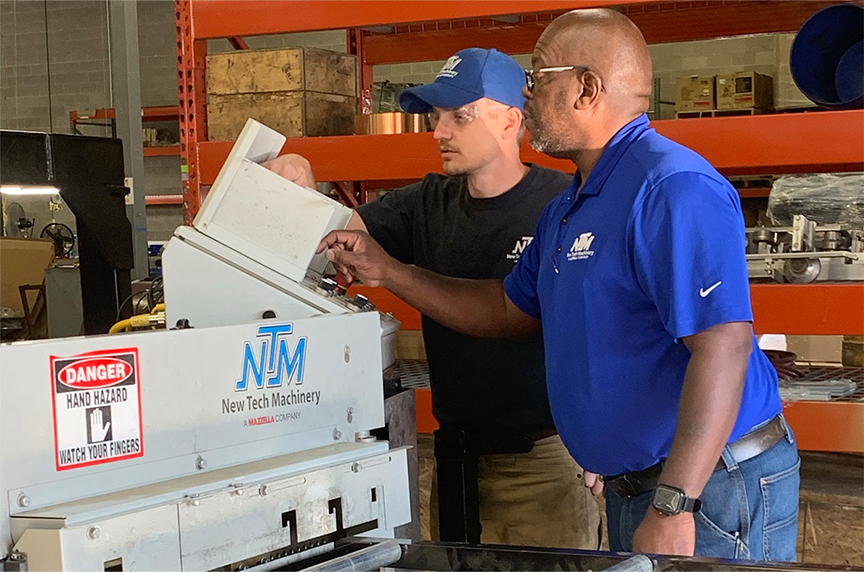 Purchasing a portable rollforming machine, whether you finance or buy outright, is a big investment upfront and over the course of its service life. If you don't have the cash flow or funds to purchase a new portable rollformer, you may consider looking at and buying a used portable rollforming machine. However, what are some of the best places to look for used portable rollforming machines? What are the benefits and drawbacks of buying used equipment?
At New Tech Machinery (NTM), we don't sell used portable rollforming machines, but we do get asked by clients where they can find used NTM equipment. Our Sales team can refer you to some great places to look for used portable rollforming machines and accessories if you're not in the market to buy new equipment.
In this article, we'll discuss:
Where to find used portable rollforming equipment
Pros and cons of buying used portable rollforming machines
What to keep in mind when looking at used portable rollforming machines
Final Thoughts and Looking Ahead to 2023
Thank you to everyone who checked out the website and our library of educational resources. We are excited to keep providing you with more great content in 2023!
In 2023, our business and content goals are still to:
Help contractors make informed decisions when choosing and buying the right portable rollforming machine for projects and businesses.
Educate your employees on portable rollforming machinery and equipment.
Assist machine operators with troubleshooting common issues and understanding best maintenance and safety practices.
Next year, we're planning to release new content about wall siding and wall profiles, machine accessories, tutorials and information for machine ownership and operation, and more!
If you're looking for a portable rollforming machine to help upgrade your metal roofing or gutter business, feel free to contact any of our rollforming specialists. Or, if you have a topic you want to see covered in one of our videos or articles, email us at blog@newtechmachinery.com.
From all of us at New Tech Machinery, we wish everyone a happy holiday and a healthy new year!
---