Portable rollforming machines run into problems when you least expect them, right?
While at a job site in the middle of a project, one of the worst things that can happen is you run into an issue with your machine, whether it's not cutting panels properly or the gutter isn't coming out straight.
What if there was a way you could solve portable rollforming problems immediately and not have to get a Service Technician involved?
At New Tech Machinery (NTM), we understand the challenges and frustrations having to fix your rollforming machine causes: downtime on projects, losing money you could be making while your machine is down, potential costly repairs, or needing to have a Service team member look at your equipment. That's why we created the NTM Service and Support Center.
In this article, we'll explore what the Service & Support Center is, its features, and how you can use it to help reduce downtime on your projects and get your portable rollforming equipment running well.
What Is the NTM Service and Support Center?
The NTM Service and Support Center is a new resource on www.newtechmachinery.com for troubleshooting assistance with various New Tech Machinery machine models.
This resource was designed to be an easy and quick way to find the troubleshooting help you need right at your fingertips. Broken down by common problems the NTM Service department has heard from other machine operators, you'll find helpful and educational articles, tutorial videos, and graphics to guide you through troubleshooting your own machine.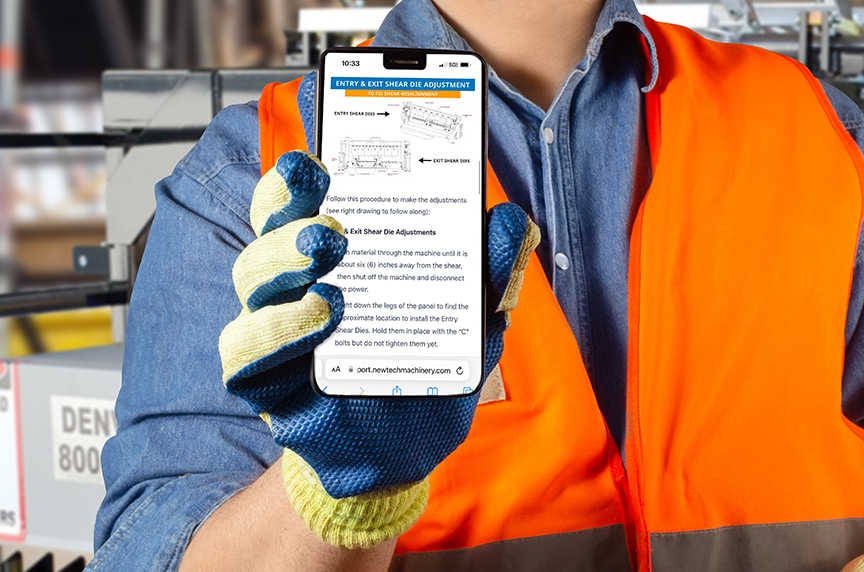 You'll find the resources you need to solve issues including:
Cleaning and aligning your shear
Making the right adjustments to fix "downhill" or "uphill" gutters
Currently, this resource houses support-related content for the following machines:
SSQ II™ MultiPro Roof Panel Machine
SSH™ MultiPro Roof Panel Machine
SSR™ MultiPro Jr. Roof Panel Machine
MACH II™ Gutter Machine
BG7™ Gutter Machine
Plus, you'll find additional resources, like machine operator manuals and the Rollforming Learning Center, to help ensure you're getting the full functionality of your NTM machine and educational material to help keep your machine operating smoothly or increase its versatility. You can also learn about the on-site and in-house training NTM offers and schedule a session.
---
---
Who Should Use the Service and Support Center?
Whether you're new to using portable rollforming and seamless gutter machines or are a seasoned operator, this resource provides valuable information to all experience levels.
If you've got a relatively simple problem and need support immediately, the Service and Support Center is a great tool for guiding you through how to fix that issue initially without calling the Service team. It's also perfect for quickly referencing on-site on your device.
How Do You Use the Service and Support Center?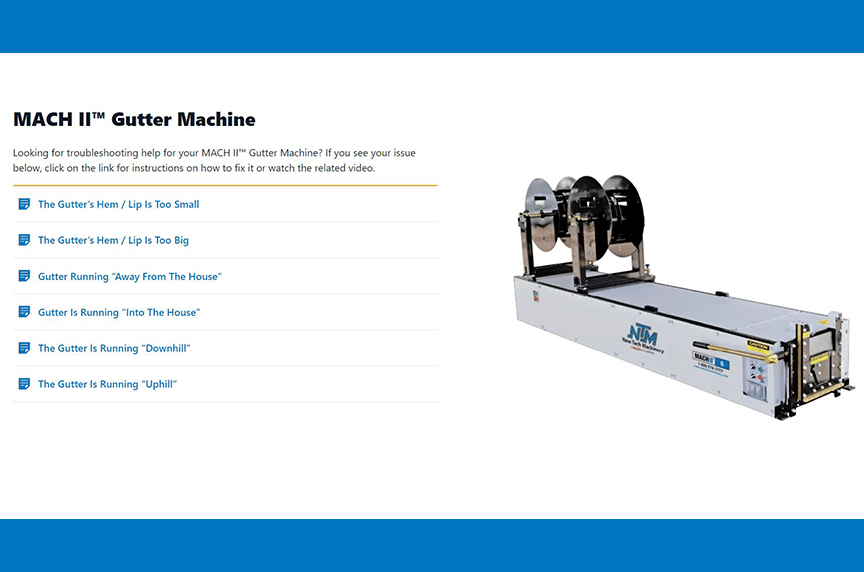 The Service and Support Center is designed to be a starting point to troubleshoot your own machine problems before reaching out to the Service department for assistance. Knowing how to fix issues on your portable rollformer can help you learn more about your machine, ensure you know what to look for if it happened again, and get your machine back up and running quicker.
The NTM Service team has seen and helped machine users with thousands of machine problems over the phone or by email. In the Service and Support Center, the most common problems people have had with their machines are listed with step-by-step instructions on how to fix them yourself.
There are a few ways you can use the Service and Support Center to find the issue you want to troubleshoot:
Use the search bar and type in your problem
Select the rollforming machine you need help with and find related help topics to browse
Choose from the list of common roof panel machine and seamless gutter machine problems to find help
Once you've located the problem you're facing, click on the link and you'll find in-depth directions to help fix the issue or watch the tutorial video provided.
If you don't see the problem you're having or need further assistance troubleshooting the issue, you can contact the Service department for technical support over the phone, schedule an in-person appointment, and even order replacement parts for your machine.
Final Thoughts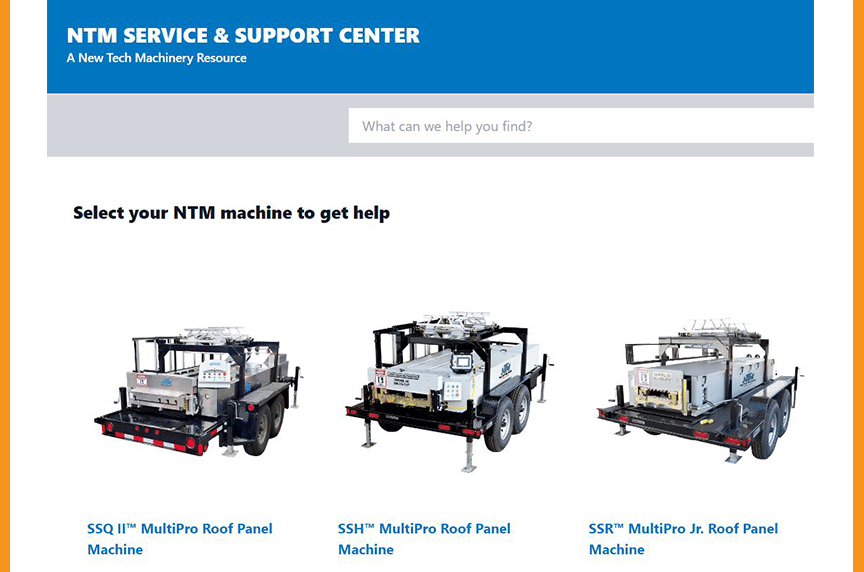 Any issues you run into while using your portable rollforming machine not only create a challenge in producing panels or gutters, but it also impacts your projects. Understanding how to safely and effectively troubleshoot some common problems can help you reduce this downtime.
With the Service and Support Center, the goal is to help you know how to fix minor issues with your machine like making adjustments or correctly setup certain internal components. Having this knowledge will allow you to get your machine running quicker, but if you still need assistance, New Tech Machinery's Service team is always happy to talk you through the process on the phone.
For more educational content on portable rollforming equipment maintenance, service video tutorials, and more, check out and subscribe to the Rollforming Learning Center!
---