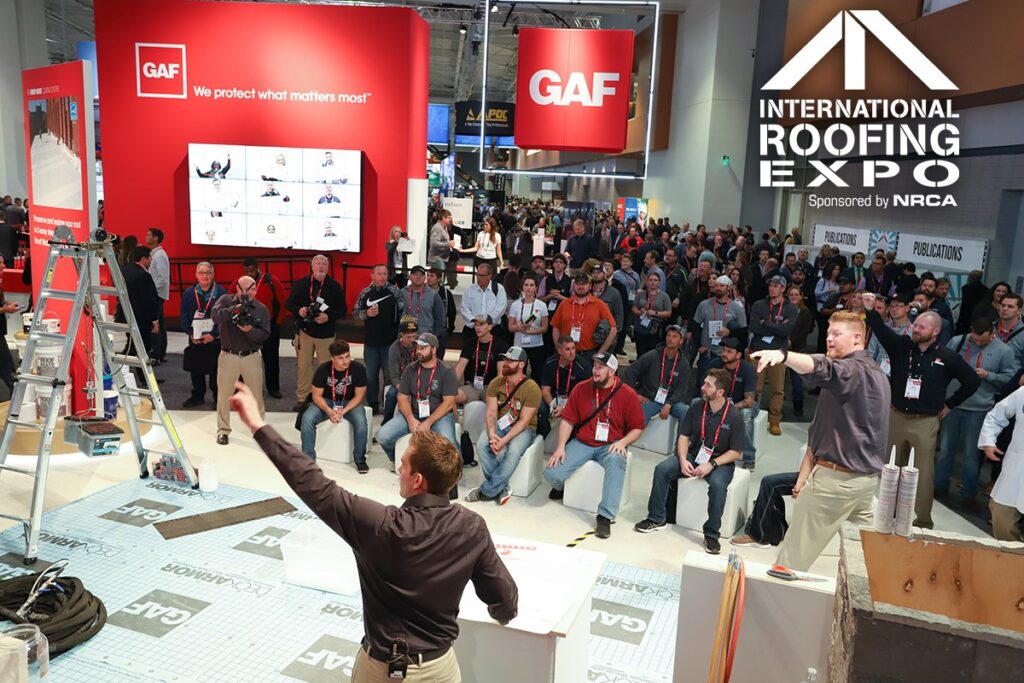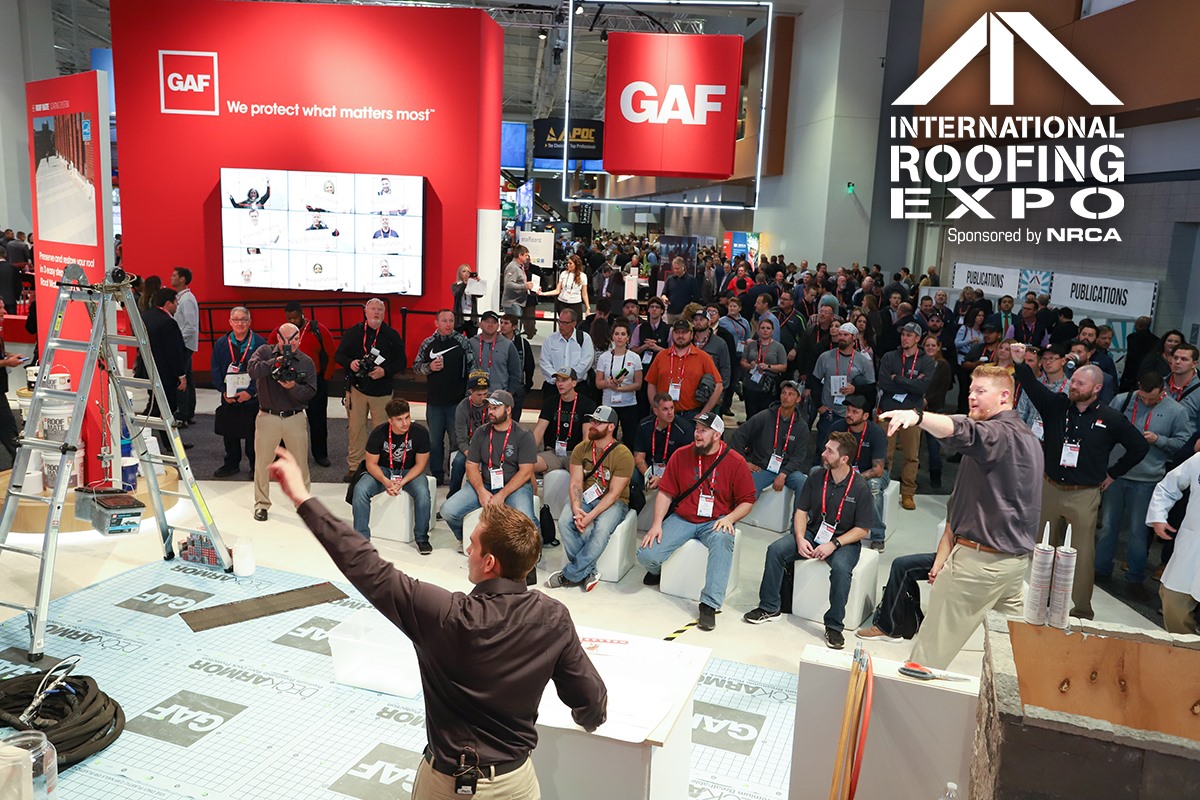 Editor's Note: This post has been updated to include conference information for 2021.
If you're a commercial or residential roofing professional, the International Roofing Expo® (IRE) is one trade show you won't want to miss! IRE is the event to see and hear the latest in roofing market trends, innovative technology, and educational sessions from industry leaders.
This year, there will be both a virtual event (March 2-4) and an in-person trade show (August 10-12) at the Mandalay Bay Convention Center in Las Vegas, Nevada.
New Tech Machinery (NTM) has remained an exhibitor at IRE for the past 20 years. As one of the show's earliest exhibitors, we understand the value and impact this industry-specialized event can have on your business, customers, and bottom line.
If you're new to the roofing industry or haven't attended this trade show before, there are some things to know to help you get the most out of your experience.
In this article we'll cover:
What is IRE?
What speakers, keynotes, sessions will be there?
Who should attend?
Who exhibits at IRE?
NTM's role at IRE
What Is IRE?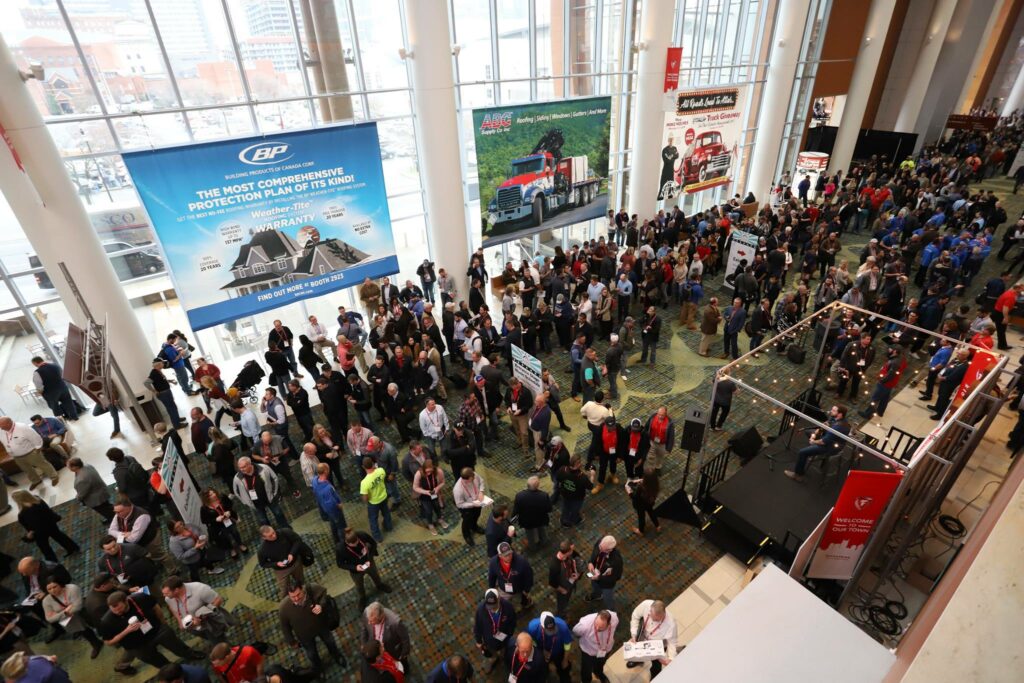 IRE was founded by the National Roofing Contractors Association (NRCA) in 1955 and was originally known as the NRCA Convention and Trade Show. It wasn't until 2004 when the show was rebranded as the International Roofing Expo. Since it began, IRE has remained the largest North American trade show for roofing professionals, both in residential and commercial building applications.
NRCA's yearly conference is held in conjunction with IRE to give attendees the chance to network with professionals in the roofing industry from all over the world, see the newest industry products and services, and learn from others in the roofing industry.
Roofing professionals attending IRE are also presented with a way to give back, partner with, or donate to the local community with Community Service Day, which usually takes place the day before IRE.
---
---
IRE Educational Sessions
In 2021, IRE Live Edition features over 40 educational sessions for attendees to learn about the latest technologies, skills, and best practices in various tracks including:
Workplace safety
Legal/HR
Money matters
Sales/Service
Green building practices
On the show floor, there will also be opportunities for attendees to experience more informative sessions through exhibitor-presented seminars, the GAF Education Center, Siding and Window Education Center, and Exhibitor Product Clinics.
If you're attending the virtual show, this event will feature educational sessions with leading industry professionals, both live and on-demand educational sessions, and NRCA educational sessions.
Who Should Attend IRE?
This popular roofing industry trade show attracts thousands of professionals worldwide and showcases the latest and greatest products from over 400 manufacturers and suppliers exhibiting at the show. So who would benefit from attending IRE? Attendees of IRE represent both residential and commercial: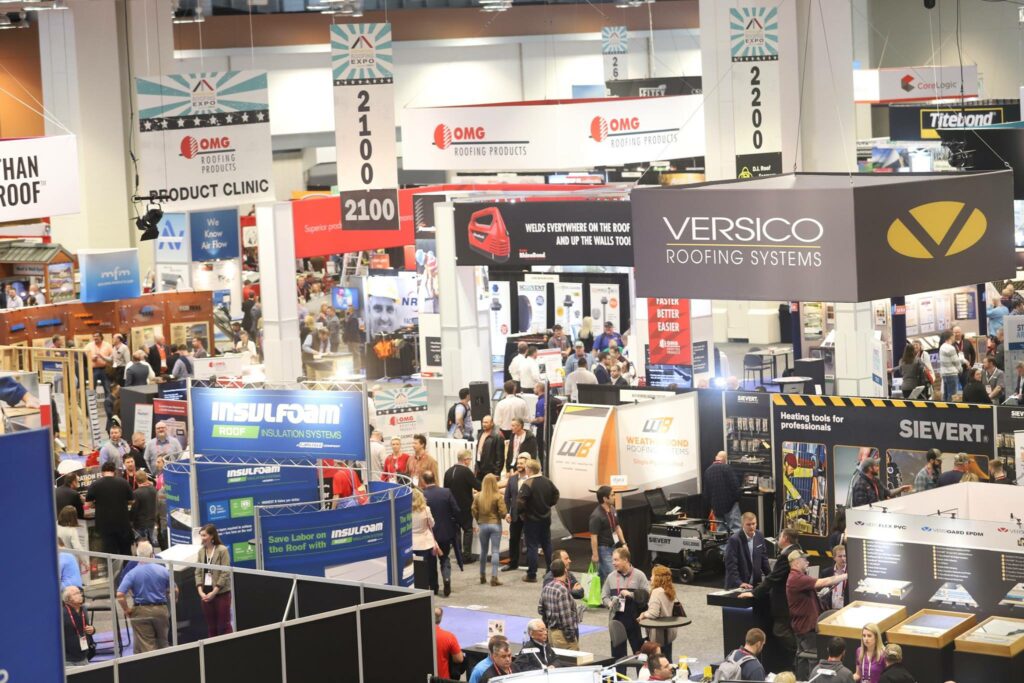 Image courtesy of International Roofing Expo
Contractors
Subcontractors
Remodelers
Distributors
Estimators
Specifiers
Architects
Engineers
Builders
At IRE 2021, there will be special events held for attendees who want to network and connect with other industry professionals. Some of these events include:
National Women in Roofing Education Day
12th Annual Community Service Day
NRCA ROOFPAC/NWIR Extravaganza
The IRE Virtual Edition will also hold educational sessions, allow you to schedule meetings with exhibitors and suppliers, and network with them via online meetings.
Who Exhibits at IRE?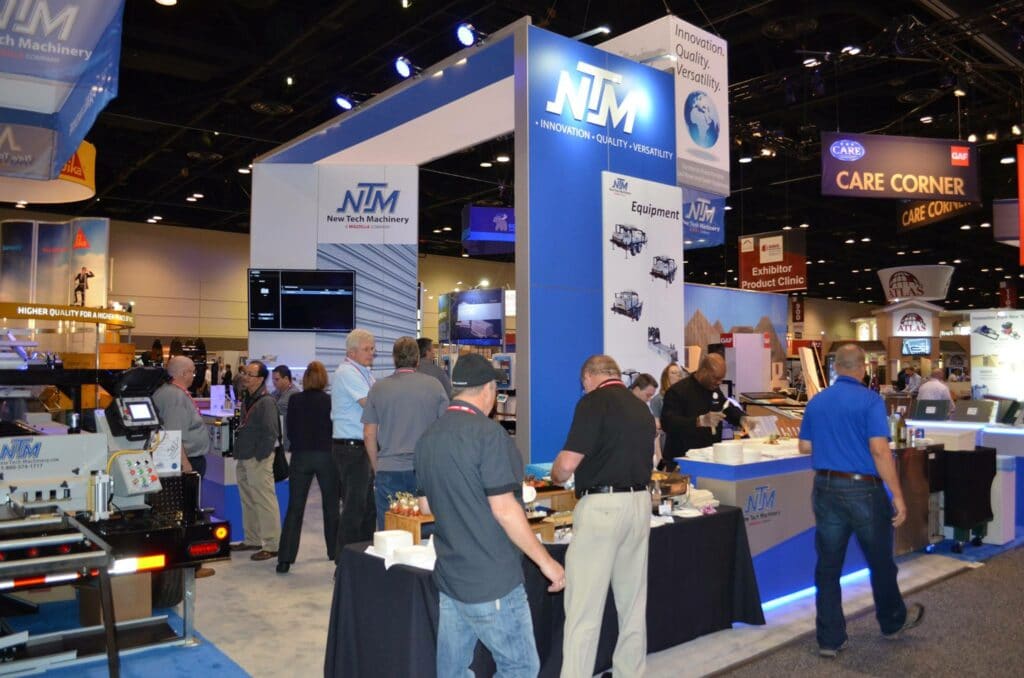 During the IRE Live Edition, over 400 manufacturers and suppliers of various roofing products and services will showcase their latest innovations in the expo hall covering a wide range of categories, including:
Coatings, sealant, and adhesives
Metal panels and shingles
Rollforming and metalforming equipment
Safety and fall protection
Tools and accessories
Attendees will also get a chance to meet virtually with exhibitors during IRE Virtual Edition. Browse their virtual profiles on the IRE website, find products and videos, and schedule meetings with suppliers.
NTM's Role at IRE
New Tech Machinery has been exhibiting at this show for at least 20 years before it was even called IRE. We've had the opportunity to watch this event grow into the largest roofing trade show in North America, and witnessed the always-changing industry trends that have helped shape the roofing market.
Why do we continue to come back and exhibit every year? Tom Laird, Senior Account Manager, remarks that IRE is the biggest show New Tech Machinery participates in. Not only do we have the opportunity to showcase the newest and most advanced things we're working on, but we get to connect with existing and new customers, expand our footprint in the industry, and increase our network connections.
"Because IRE is a show about all types of roofing, people in this business are exposed to all the varieties and options they might not otherwise see," says Tom. "Since we specialize in rollforming metal roof panels, contractors can come to see our products, and we can help show them the opportunities they could have by expanding their business through metal roofing options.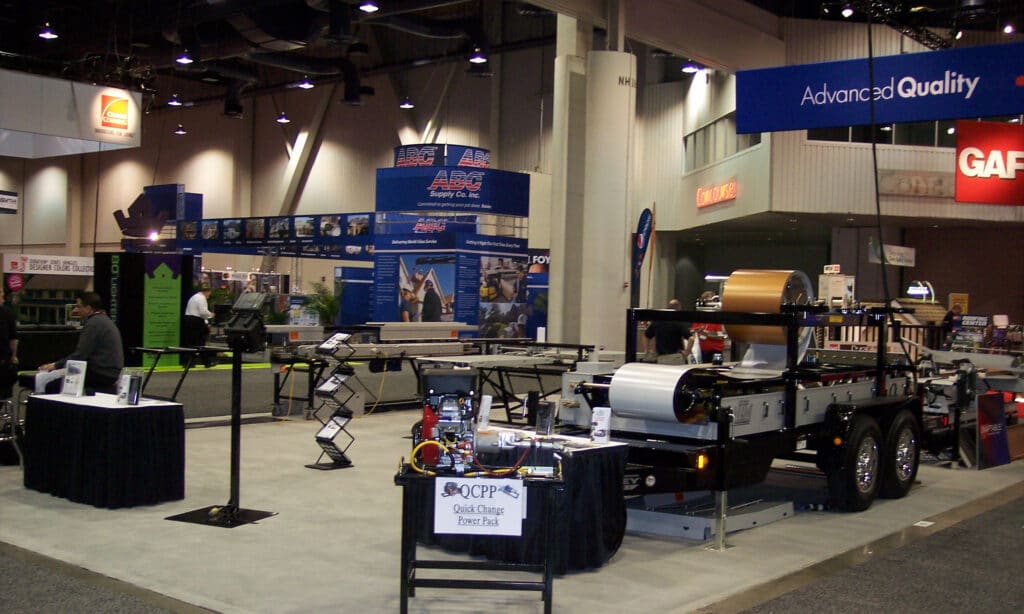 "It's the one time of year where everyone can learn everything they want to know about roofing and more. Whether you're an installer, supplier, or contractor, there's a chance for everyone to see the industry in one place, and witness the trends and changing technologies taking place," Tom explains.
Looking for a portable rollforming machine or more information about how these machines are used in metal roofing industries? Check out booth #1617 to talk with our team!
Final Thoughts
If you're in the roofing construction industry, residential or commercial, there are many opportunities for you to expand your network, education, and business just by attending the International Roofing Expo.
We hope that you consider registering and attending this educational and popular trade show for the roofing industry. Want to learn more about the IRE? Check out their website for more information!
If you're considering adding a portable rollformer to your business, stop by and check out New Tech Machinery's booth during the show to discuss it further with one of our rollforming experts.
---
---