If you're a commercial or residential roofing professional, the International Roofing Expo® (IRE) is one trade show you won't want to miss! IRE is the event to see and hear the latest in roofing market trends, innovative technology, and educational sessions from industry leaders.
This year, the show will be held in person in New Orleans, Louisiana at the Ernest N. Morial Convention Center from February 1-3, 2022.
New Tech Machinery (NTM) has remained an exhibitor at IRE for over 20 years. As one of the show's earliest exhibitors, we understand the value and impact this industry-specialized event can have on your customers and business.
If you're new to the roofing industry or haven't attended IRE before, there are some things to know beforehand that can help you get the most out of your experience.
In this article we'll cover:
What is IRE?
Who should attend IRE 2022?
What are the current IRE COVID-19 protocols?
What are some of the sessions for IRE 2022?
Who is exhibiting at IRE 2022?
NTM's role at IRE
What Is the International Roofing Expo (IRE)?
IRE was founded by the National Roofing Contractors Association (NRCA) in 1955 and was originally known as the NRCA Convention and Trade Show. It wasn't until 2004 when the show was rebranded as the International Roofing Expo and is currently owned by Informa Exhibitions U.S.
Since it began, IRE has remained the largest North American trade show for roofing and exterior construction professionals, both in residential and commercial building applications.
NRCA's annual convention is held in conjunction with IRE to give attendees the chance to network with professionals in the roofing industry from all over the world, see the latest industry products and services, and learn from other professionals in this space.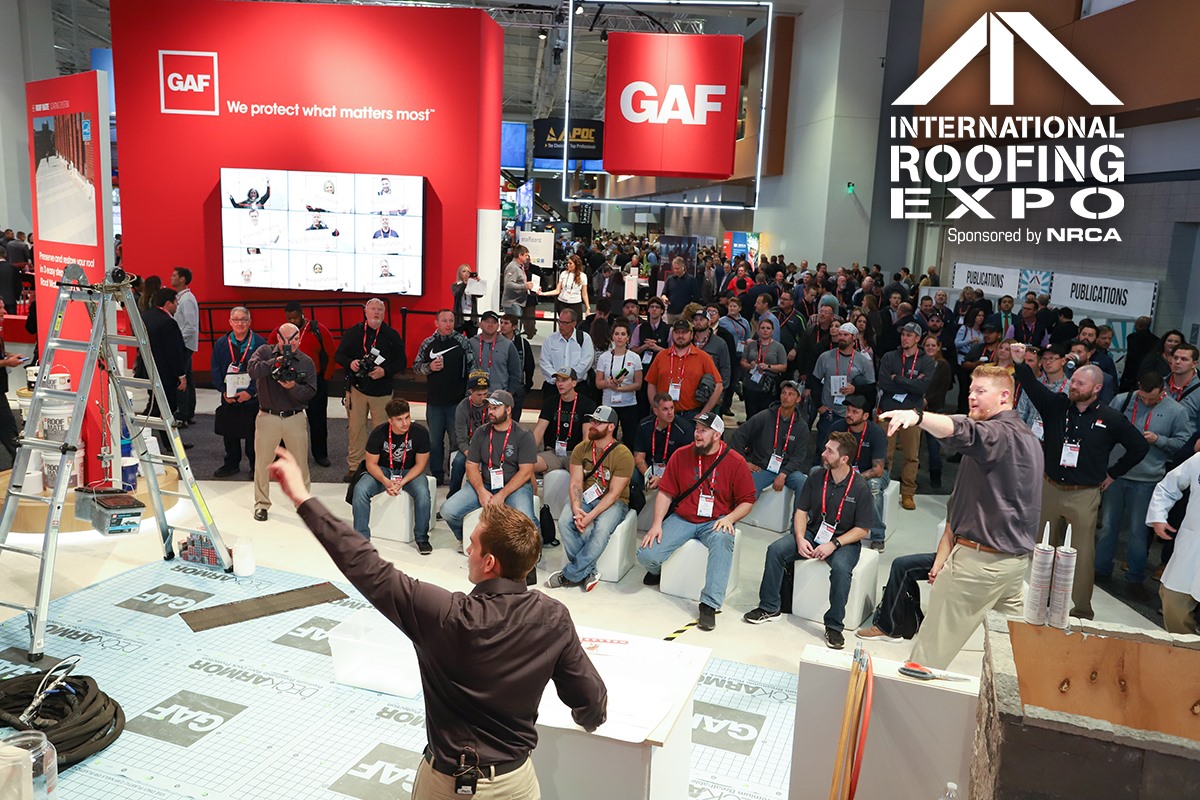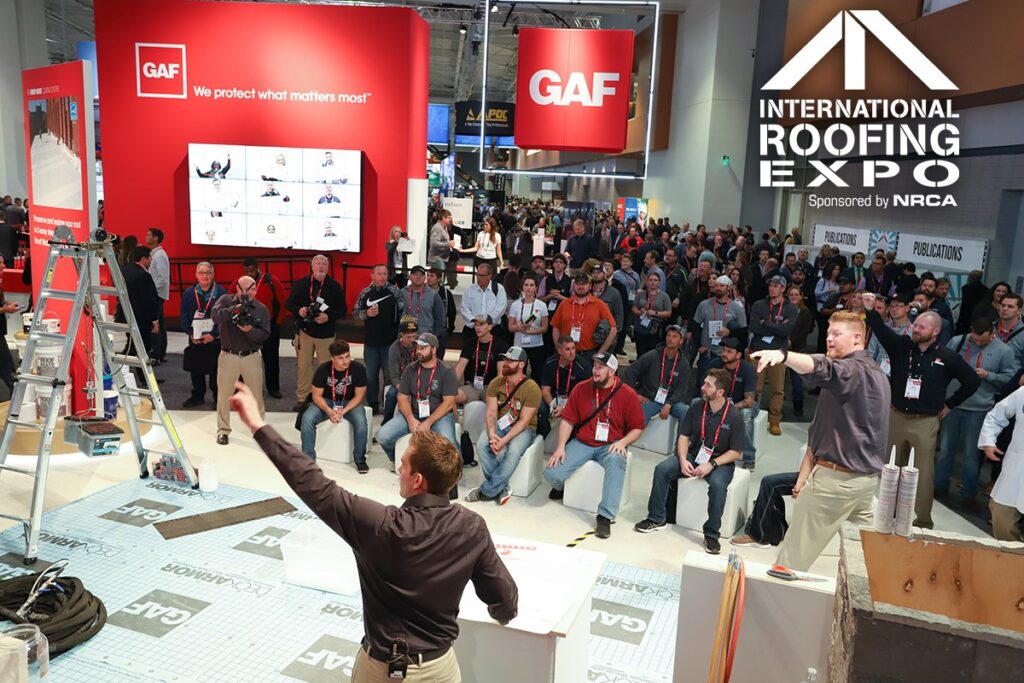 Who Should Attend IRE 2022?
This popular roofing industry trade show attracts thousands of roofing industry professionals worldwide and showcases the latest and greatest products from manufacturers and suppliers exhibiting at the show. Not only do you have the chance to see the latest and greatest in industry technology and innovations, but IRE also gives you the chance to check out current trends and network with other professionals.
So who benefits from attending IRE 2022? Attendees of IRE represent both residential and commercial:
Contractors
Remodelers
Distributors
Architects
Engineers
Builders
Suppliers
Manufacturers
IRE 2022 COVID-19 Protocols
If you're planning on attending IRE this year, there are a few things you should know about the current safety requirements for those entering the show and what measures are being taken to help maintain health and safety for guests.
For show attendees, there is no mask mandate, proof of vaccination, or negative test required to get into the event. However, the city of New Orleans' COVID safety guidelines requires wearing masks inside indoor spaces and proof of full vaccination or a negative COVID-19 test within 72 hours to access indoor dining, fitness, entertainment, and performance venues.
These mandates will apply to those attending the First-Time Attendees Reception, IRE Welcome Party, and such events going on alongside the show. There will be COVID-19 testing on-site available at the show for unvaccinated guests.
Read more about the health and safety precautions on IRE's website.
---
---
IRE 2022 Educational Sessions & Keynote Speaker
In 2022, the International Roofing Expo will feature over 40 educational sessions for attendees to learn about the latest technologies, skills, and best practices in various tracks including:
Sales / Service
Workplace Safety
Leadership
Legal / HR
On the show floor, there will also be opportunities for attendees to learn even more from industry experts through sessions with different exhibitors, as well as specialized sessions for those interested in learning more about windows and siding. Topics covered on the show include marketing, employee training, customer service, improving sales, among others.
This year's keynote speaker is CEO of the National Roofing Contractors Association, Reid Ribble. Attend his session on February 1 at 9:30 AM for an update from NRCA, get a chance to hear his secrets to success from his experience in the roofing industry, and hear from IRE show management directly.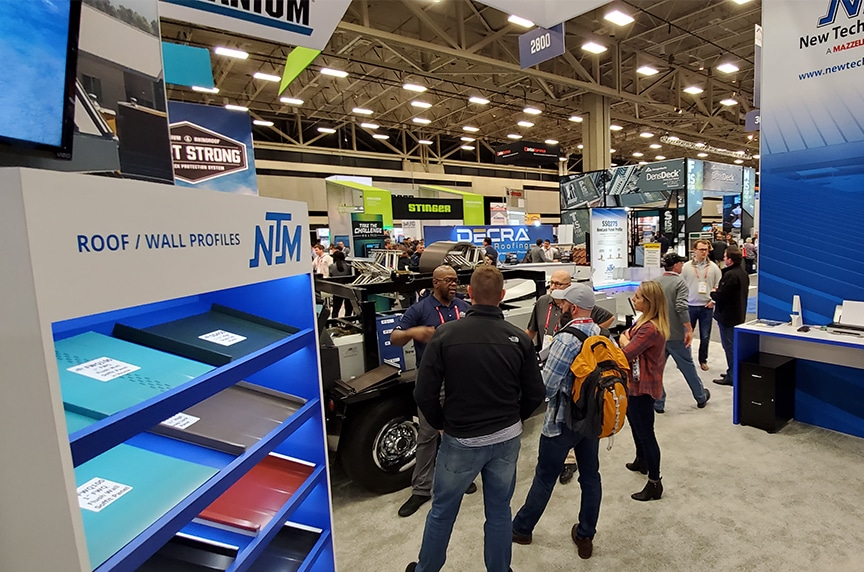 IRE 2022 Exhibitors?
During IRE, hundreds of manufacturers and suppliers of various roofing and exterior construction products and services will showcase their products and latest innovations in the expo hall covering a wide range of categories, including:
Electrical Supplies
Green/Sustainable
Machinery/Manufacturing Equipment
Roofing Accessories and Components
Safety/Fall Protection
Synthetic Roofing
Windows and Siding
New Tech Machinery's Presence at IRE
New Tech Machinery has been an exhibitor at this show for over 20 years. It's been a pleasure to watch this event grow into the largest roofing trade show in North America and witness the always-changing industry trends that have helped shape the roofing market.
"The International Roofing Expo is the largest showcase for all things roofing in North America. New Tech Machinery looks forward to getting the chance to meet with potential and existing clients from around the world to discuss our equipment and demonstrate why we're the preferred choice when it comes to portable rollforming. The IRE show offers something for everyone, whether you're an installer, supplier, or contractor, which makes it a premier event for anyone within the roofing industry," says Tom Laird, Senior Account Manager for New Tech Machinery.
Considering using a portable rollforming machine in your business or looking for more information about how these machines are used in metal roofing and construction? Check out booth #2901 to talk with members of our sales and service teams!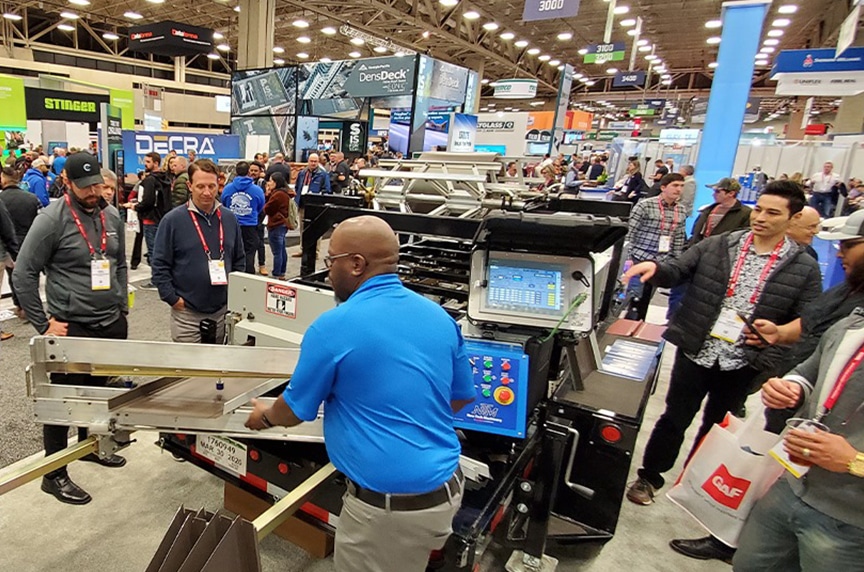 Final Thoughts
If you're in the roofing construction industry, residential or commercial, there are many opportunities for you to expand your network, education, and business just by attending the International Roofing Expo.
It's worth registering and attending this educational trade show for the roofing and exterior construction industries. Want to learn more about the IRE? Check out their website or digital media brand, Roofing & Exteriors, for details about this year's event, exhibitors, travel information, and more!
If you're considering adding a portable rollforming machine to your business, stop by and check out New Tech Machinery's booth #2901 during the show to talk to one of our rollforming experts.
---
---