If you're a roofing contractor or panel manufacturer, the International Roofing Expo® (IRE) is the industry trade show you won't want to miss! IRE is the roofing industry's leading event to see and hear the latest roofing market trends, innovative technology, and educational sessions from leading professionals. What can you expect at the 2023 roofing convention to get the most out of your experience?
New Tech Machinery (NTM) is a dedicated participant and exhibitor at the International Roofing Expo. Attending trade shows can help put you ahead of the competition by discovering new products, staying updated on industry trends, and allowing you to build and grow your business by talking to other experts in your field.
If this is your first time attending IRE, here's what you can expect and tips to help you get the most out of your experience.
In this article, we'll explore the following:
What the International Roofing Expo is
What you can expect at IRE 2023
Tips to help you leverage your experience there
About the International Roofing Expo (IRE)
The International Roofing Expo has remained the largest North American trade show for roofing and exterior construction professionals in residential and commercial building applications.
This year, the show is in Dallas, Texas, at the Kay Bailey Hutchison Convention Center from March 7-9, 2023.
Every year, IRE attracts thousands of roofing professionals worldwide. It showcases the latest and greatest products from industry manufacturers and suppliers. It's a great chance as a roofing professional to witness upcoming trends, learn from experts, and connect with other contractors, architects, builders, and more.
---
---
International Roofing Expo 2023 Educational Sessions & Keynote Speaker
In 2023, the International Roofing Expo will feature over 45 educational sessions for attendees to learn about the latest technologies, skills, and trends like:
State of the roofing industry
Choosing the right products
Metal roofing fundamentals and techniques
Sales and business best practices
On the show floor, attendees can learn even more from various exhibitors and participate in specialized sessions about windows and siding.
New to this year's convention, interactive workshops allow you to get hands-on experience learning techniques for installing a roof or weather barriers. The National Roofing Contractors Association (NRCA) will also host educational events for members and non-members to grow their expertise.
This year's keynote speaker is Chris Czarnik from Malarkey Roofing Products®. On Tuesday, March 7, at 9:30 AM, Chris will discuss some of the hottest topics in the current market: workforce shortage, how to recruit and retain employees, and what it means for your business.
International Roofing Expo 2023 Exhibitors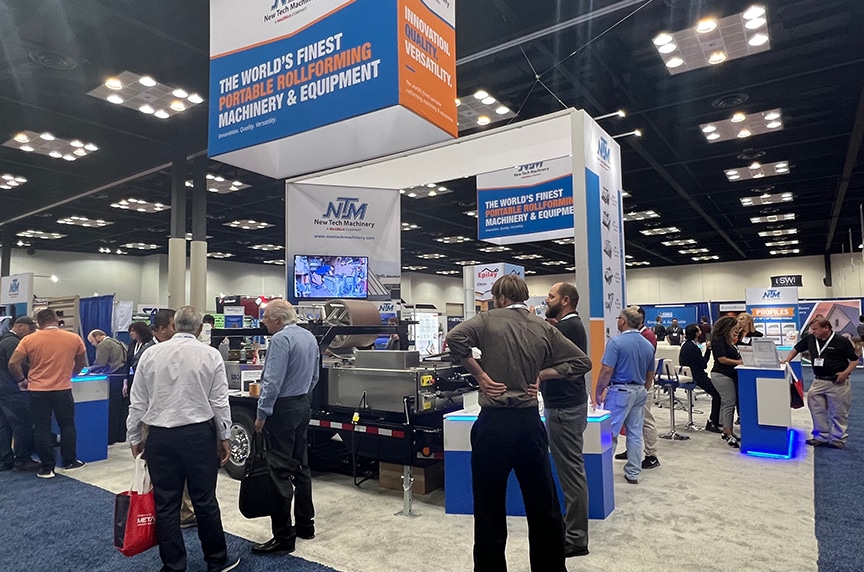 During the International Roofing Expo, hundreds of manufacturers and suppliers of roofing and exterior construction products and services will demo and showcase the latest innovations.
Check out the expo hall and talk to the companies that make:
Flashing
Insulation
Machinery and manufacturing equipment
Roofing accessories and components
Safety and fall protection
Software and technology
Waterproofing products
Windows and siding
Learn About Portable Rollforming With New Tech Machinery in Booth #4107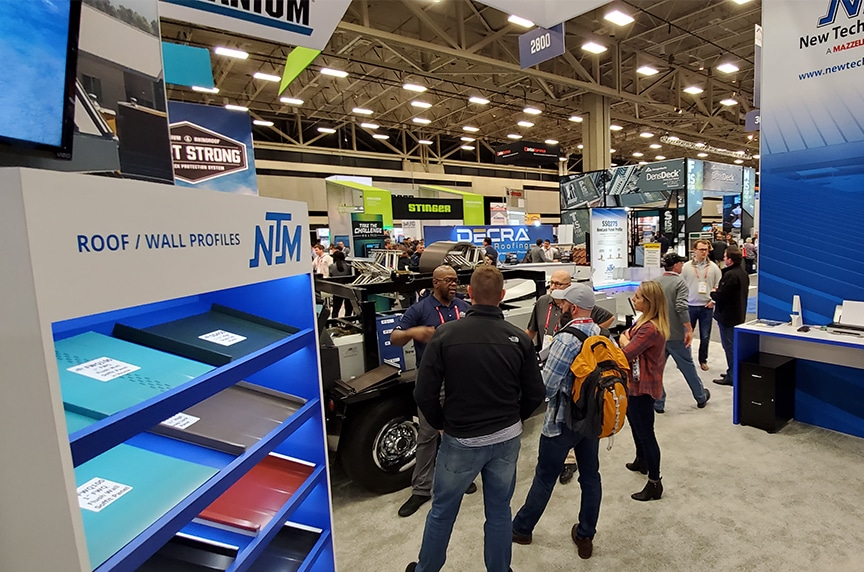 New Tech Machinery has been an exhibitor at this event for over 20 years. It's been a pleasure to watch this event grow into North America's largest roofing trade show and witness the always-changing industry trends that have helped shape the market.
"The International Roofing Expo is North America's largest showcase for all things roofing. New Tech Machinery looks forward to getting the chance to meet with potential and existing clients from around the world to discuss our equipment and demonstrate why we're the preferred choice when it comes to portable rollforming," says Tom Laird, Senior Account Manager for New Tech Machinery.
"The IRE show offers something for everyone, whether you're an installer, supplier, or contractor, which makes it a premier event for anyone within the roofing industry," he continued.
New Tech Machinery is offering an IRE show special, valid from March 1 to March 31!
Purchase a new SSQ II, SSH, SSR, or 5VC-5V Crimp machine during this time and get your choice of one of the following machine accessories for free! (No exceptions or substitutions allowed.)
Three run-out tables
One expandable arbor
One canvas machine cover
Check out booth #4107 to talk with our rollforming specialists, see machine demos, and learn more about New Tech Machinery!
Final Thoughts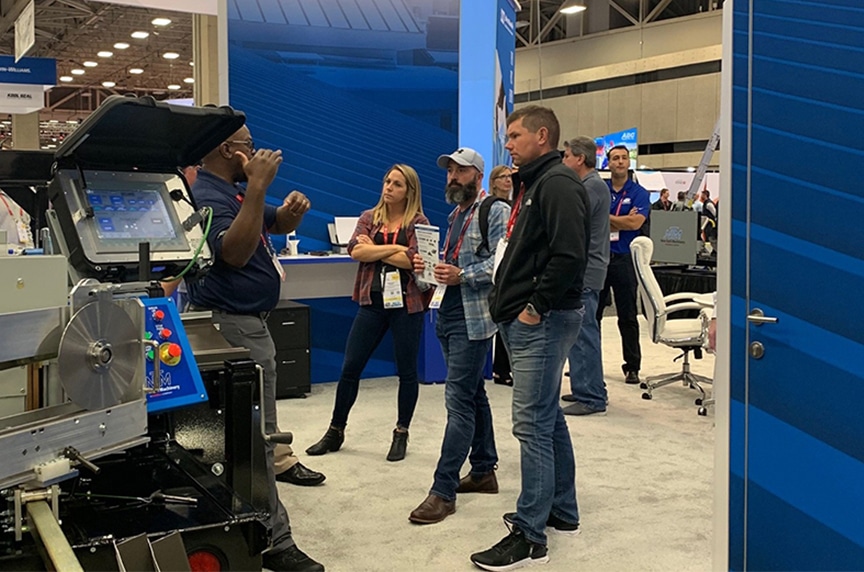 If you're in the roofing industry, there are many opportunities for you to expand your network, education, and business just by attending the International Roofing Expo.
To get the most out of your experience during the show, here are some tips:
Figure out what you'd like to get out of it, whether it's to find a product or supplier or use the speakers to learn more about the industry, and have a plan before you go.
Remember to bring a pen and business cards to pass out to suppliers and attendees. Also, take brochures, catalogs, and other resources from the show floor to research or contact people and products you're interested in later.
Take advantage of the educational sessions and visit exhibitor booths to see products in action and ask questions.
Use the opportunity to network with other industry professionals and suppliers to build relationships with others in your field.
See the products and machinery in person, ask questions about how they work, and how your business could utilize them.
At New Tech Machinery, we strive to help educate and inform our customers on how portable rollforming can help increase efficiency and versatility in their business. One of the best ways to find out if portable rollforming is for you is to check out roofing conventions like IRE, see the products in person, and talk to the manufacturers themselves.
If you're considering adding a portable rollforming machine to your business, stop by New Tech Machinery's booth #4107 during the show to talk to one of our rollforming experts! Or reach out to us on our website, email, or phone!
---
---