While New Tech Machinery's (NTM) flagship machine is the SSQ II MultiPro Roof and Wall Panel Machine, not as many roofers are familiar with our optional panel notching system. Panel notching is a valuable accessory, saving operational time and labor, and increasing revenue. It takes rollforming to a whole new level of automation, whether you're doing a full install job or running a chop-and-drop operation.
At NTM, we're always thinking about how to help our customers. The innovative panel notching system is another way we acted to support the machines our customers rely on every day to run their businesses.
As every roofer knows, efficiency and precision are crucial in the roofing industry, where time and cost savings impact your bottom line. In this context, panel notching emerges as a game-changing tool. Designed to enhance productivity and streamline operations, SSQ II's hydraulically powered panel notching offers several benefits that can greatly impact the success of your rollforming operation.
In this article, we'll explore:
Advantages of the Panel Notching System
Panel notching profiles
Roofers that can benefit from Panel Notching Technology
Cost of an SSQ II MultiPro Roof and Wall Panel Machine with Notching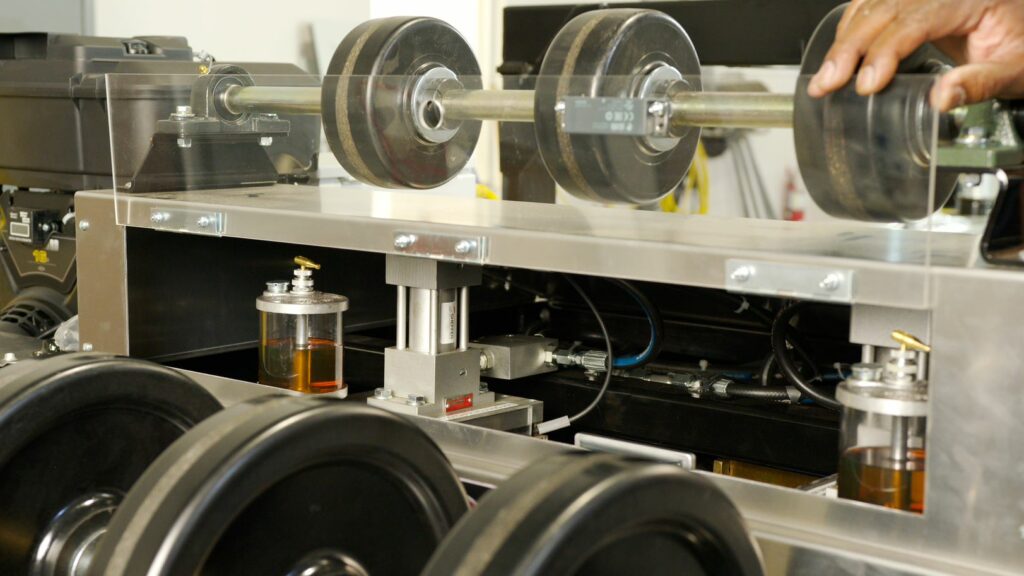 Advantages of the NTM Panel Notching System
By introducing automated notching as part of the machine itself, the SSQ II notcher revolutionizes the notching process, allowing roofers to maintain optimal efficiency and accuracy. The NTM panel notching system performs an automatic cutout on the leg of the panel at the entry point of the SSQ II. Then, the notcher can leave the edge of the panel ready to hem, while the tabs can be closed off.
A fold-over tab is part of the notching cartridge with snap-lock panel profiles. This tab allows roofers to seal off the open ends of the panel without foam closures or separate metal tabs, providing a more professional and finished look.
Automating the notching process eliminates the need for manual labor-intensive tasks like hand-cutting notching with tin snips. With its advanced technology, the SSQ II notching system delivers consistent results, reducing the risk of errors and ensuring a secure fit.
Time and Cost Savings
Roofing projects often face tight deadlines and budget constraints, making the SSQ II notcher a valuable asset. By automating the notching process, this machine significantly reduces the time required to notch roof panels. This time-saving advantage allows you to complete projects faster, take on more jobs and increase overall revenue. Additionally, the SSQ II notcher minimizes material waste by optimizing the use of roofing panels, leading to cost savings in the long run. For chop-and-drop operations, being able to offer pre and post-notched panels to installers adds another revenue stream to the business.
Versatility and Adaptability
The SSQ II notching system is a versatile tool suitable for any standing seam metal roofing system. This adaptability ensures that the SSQ II notcher can cater to the needs of different roofing projects, providing flexibility and versatility to roofers. Its user-friendly interface and programmable settings further enhance its usability and make it accessible to both experienced roofers and those new to the industry. New Tech Machinery highly recommends training on this system to ensure users can take advantage of the full capabilities of the notching system and easily understand its functionality.
NTM Panel Notching Profile Options
Notches are punched at the entry point of the machine where the coil feeds in before the legs are formed. A finished panel has a 1" (25.4mm) wide strip at each end for hemming the panels to affix them to the eave or ridge of the roof. The punches are hydraulically powered and controlled by the UNIQ Automatic Control System, which is required to run the notcher and must be purchased separately or included in one of NTM's popular SSQ II machine packages.
An optional angle slitter can be added as an additional accessory making angle cuts between angled notches easier and cleaner than cutting by hand.
Notching Cartridges and Profiles
The SSQ2-N Standing Seam Panel Machine with notching comes with one pair of notching cartridges. Notching cartridges available are:
NTC-REC Rectangular notcher cartridge (works with all NTM mechanically seamed profiles, such as SSQ100, SSQ150, and SSQ200/210A)
NTC-TAPER Tapered notcher cartridge, left (used on the left leg of any of the profile-specific right side cartridges below)
NTC-FF100 FFQ100 notcher cartridge, right
NTC-FF150 FFQ150 notcher cartridge, right
NTC-SS450 notcher cartridge, right
NTC-SS550 notcher cartridge, right
NTC-SS675 SSQ675 notcher cartridge, right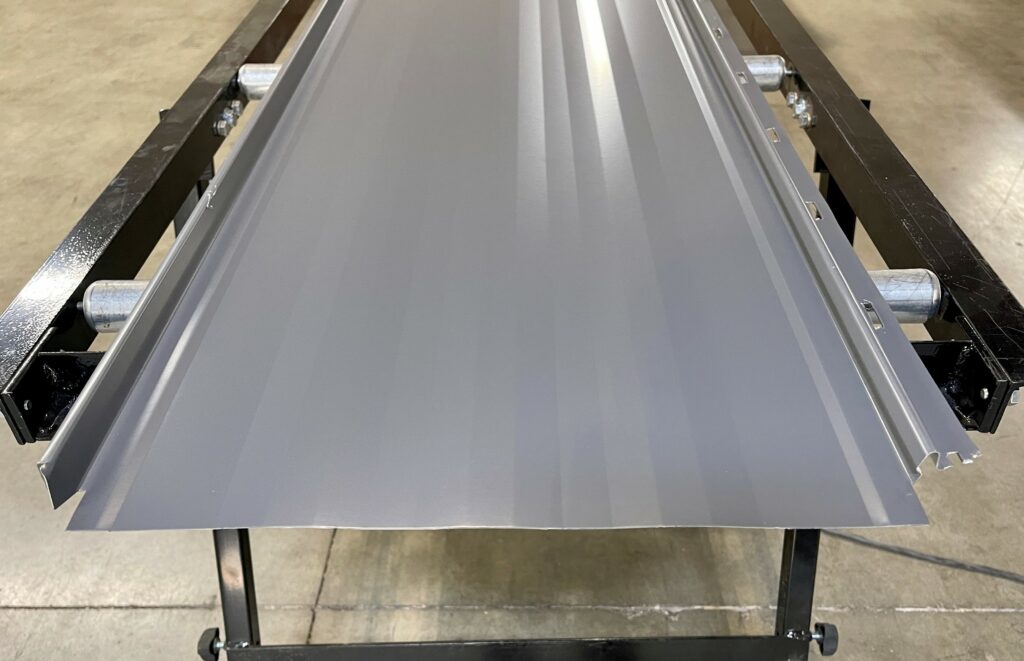 Roofers Who Can Benefit from NTM's Panel Notching Technology
SSQ II's panel notching is a good fit for professional roofing contractors aiming to optimize their operations and achieve a competitive edge. Established roofing companies handling a high volume of projects will benefit greatly from the time and cost savings offered by the SSQ II notcher. Also, those contractors who handle large residential or commercial projects will benefit from the speed and efficiency the notcher provides.
Manual notching slows down roofing operations due to its labor intensity. While installers could be laying panels, they're instead waiting for them to be notched by hand. This wastes time, which means fewer jobs and increased wages. If you run a chop-and-drop business, notching may not be an issue for you. However, it could be an opportunity. You can charge per notch by providing notching in your panels, bringing your revenue up by several dollars per panel. Also, you'll likely draw in more business because you're saving time and labor for the installer. This can put you a step ahead of the competition.
Be aware that the notching mechanism is a sophisticated piece of equipment and should be handled by an operator with adequate machine knowledge. Operators will need to be able to program the UNIQ Controller and manage the notching settings. NTM strongly recommends training for all machine owners and operators at our plant in Aurora, Colorado. New machine owners receive training free of charge. We also offer on-site training for a fee or as a no-charge option when purchasing an SSQ II package 5 or 6. Find out how NTM machine training can boost your rollforming business.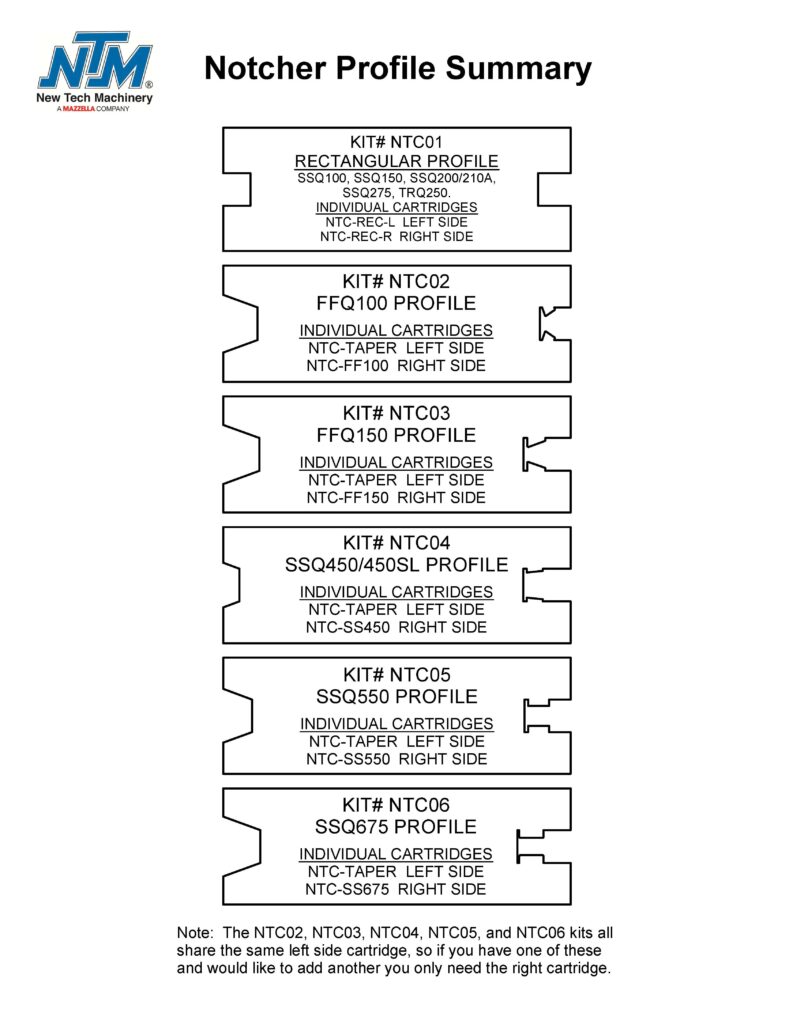 Cost of NTM's SSQ II MultiPro Roof and Wall Panel Machine with Notching
Notching requires a significant increase in investment in your machine. While you need to purchase the hydraulic notching unit that's built into the SSQ II, you will also need to purchase the UNIQ Automatic Control System at an additional cost.
The SSQ with notching (includes choice of forming rollers, one pair of notching cartridges, hydraulic drive and shear, and choice of Bead, V, Pencil, or Striation rib rollers with frame) lists for $121,000.
The UNIQ Automatic Control System lists for $14,500
Contact us for a detailed quote.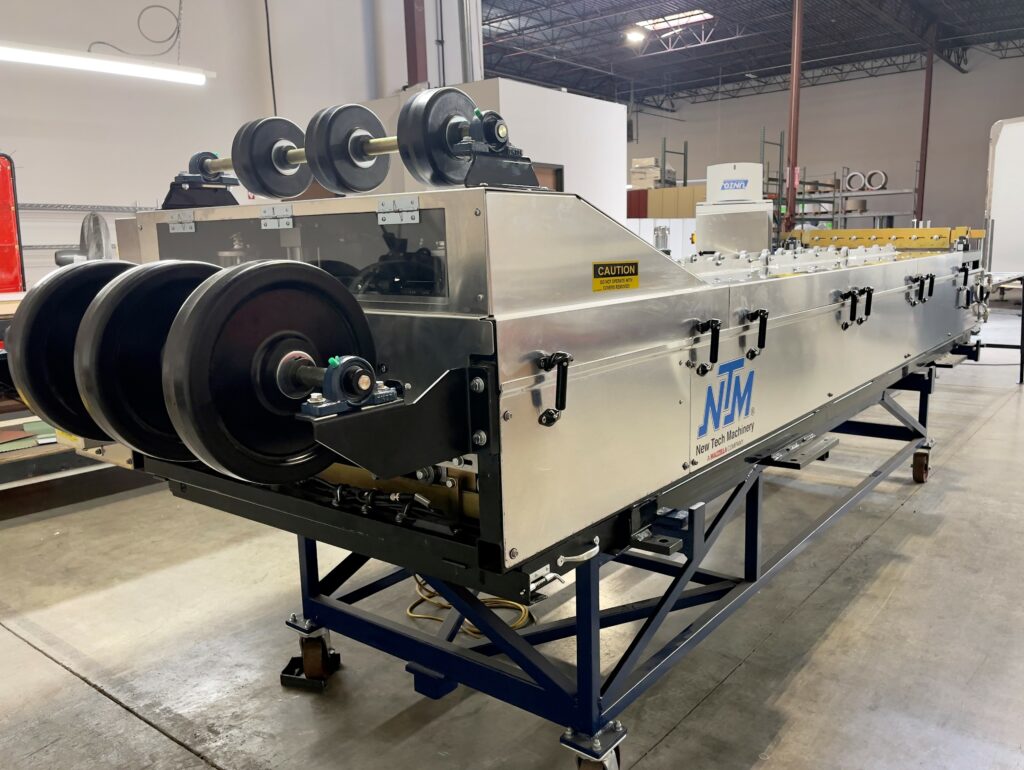 UNIQ® Automatic Control System
The UNIQ Automatic Control System can be programmed to notch an angled panel for an offset notch. For example, if you have a 16" panel and need to cut a 45-degree angle, you could program the offset notch in that panel so that the machine will stop, punch the notch, continue, then punch the next notch at the offset point.
The UNIQ Automatic Control System allows you to import up to 600 length and notching combinations, providing versatility and streamlining workflows.
Final Thoughts on Panel Notching
The New Tech Machinery SSQ II roof panel machine notcher represents a significant advancement in the roofing industry. Its automated notching process enhances efficiency and accuracy, saving substantial time and money. Roofers who invest in this technology can experience increased productivity, reduced material waste, and improved overall project outcomes. Professional roofing contractors, in particular, can leverage the SSQ II notcher to streamline their operations, satisfy clients, and gain a competitive advantage in the market. Roofers can maintain a more competitive edge in the industry by embracing innovative solutions like the SSQ II notching system.
At NTM, we've helped roofing and gutter contractors build their rollforming operations for more than a generation. Contact us for more information on the SSQ II MultiPro Roof and Wall Panel Machine with notching or any NTM machines and accessories.