If you're in the market to purchase a seamless gutter machine, you're in luck.
Not only are there a variety of machines, add-ons, brands, and manufacturers to choose from, but you can purchase the machine that works best for you and your business.
One such seamless gutter machine is the Nasser MultiPro™ Seamless Gutter Machine, which is now available through New Tech Machinery (NTM) to all customers in North America.
At NTM, we're excited to add the Nasser MultiPro machine to our full line up of portable seamless gutter and roof panel equipment. We believe in this machine and its ability to positively impact our customers by increasing efficiency and offering new gutter profile options, which can help with winning jobs and growing businesses.
Since the Nasser MultiPro is a new and innovative gutter machine configuration for most of the world, we think it's important to discuss the key features, specifications, benefits, and differentiators.
History of the Nasser MultiPro Gutter Machine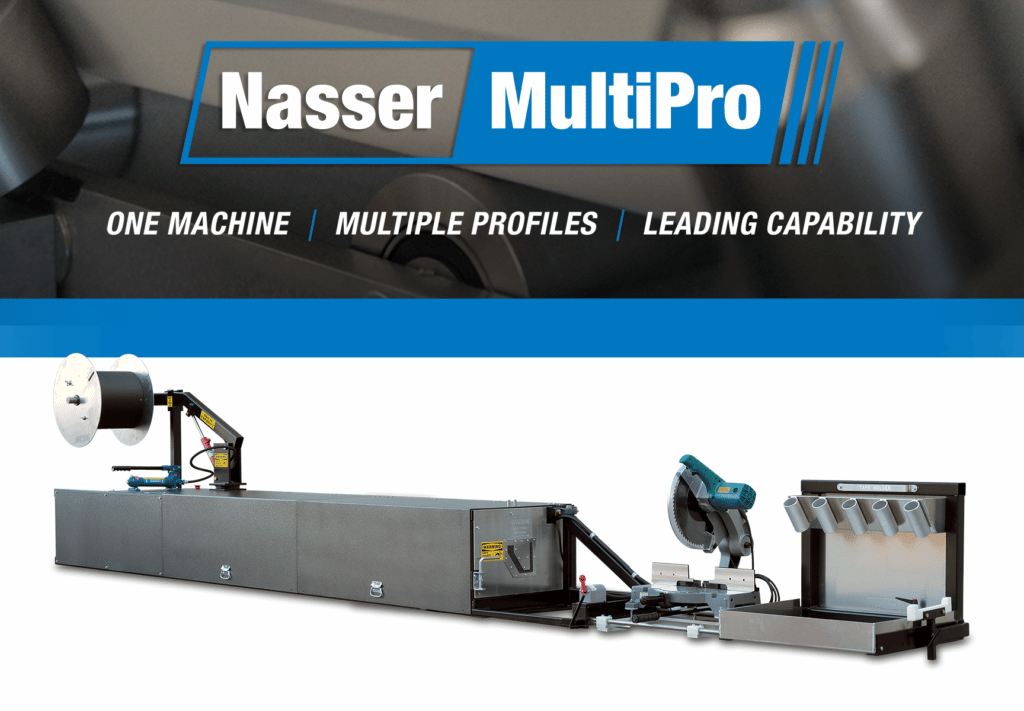 Nasser Machines, based in the Western Canada province of British Columbia, was founded in 1992 by Nabeil Nasser when he decided to build a machine for his own gutter installation company. Nabeil ended up producing a machine that offered more profiles, allowed for more creativity to the manufacturing of gutters, and outperformed conventional gutter rollforming equipment.
After a few short years, Nabeil's gutter company, Nasser Machines, grew from one truck to 12 trucks. After expanding, Nasser Machines worked to set its customers apart from the rest of the gutter industry with a wide variety of 5" and 6" profiles the machine could form. From Victorian to contemporary style homes, this one gutter machine produces a product that works well for all.
After Nabeil's passing, his employees wanted to ensure his legacy lives on in the gutter industry. And that's why, in 2019, Mazzella Companies (the parent company of New Tech Machinery) acquired Nasser Machines and promised to continue making the same machine. Now, the same machine is called the Nasser MultiPro Seamless Gutter Machine.
Features and Specifications of the Nasser MultiPro Gutter Machine
In terms of efficiency, convenience, ease of use, and productivity, the Nasser MultiPro Gutter Machine is unlike any other gutter machine available today. To understand how this machine is truly different than others in the industry, let's discuss all of the features and specifications.
Standard Features & Optional Components
Standard Hydraulic Coil Loading
Loading a coil into a portable seamless gutter machine has never been easier with the Nasser MultiPro machine. The machine comes standard with a hydraulic coil loading system, which is a safer and more reliable method for loading material and making quick coil color changes. Best of all, coil landing can be done with just one person.
Eight (8) Gutter Profile Options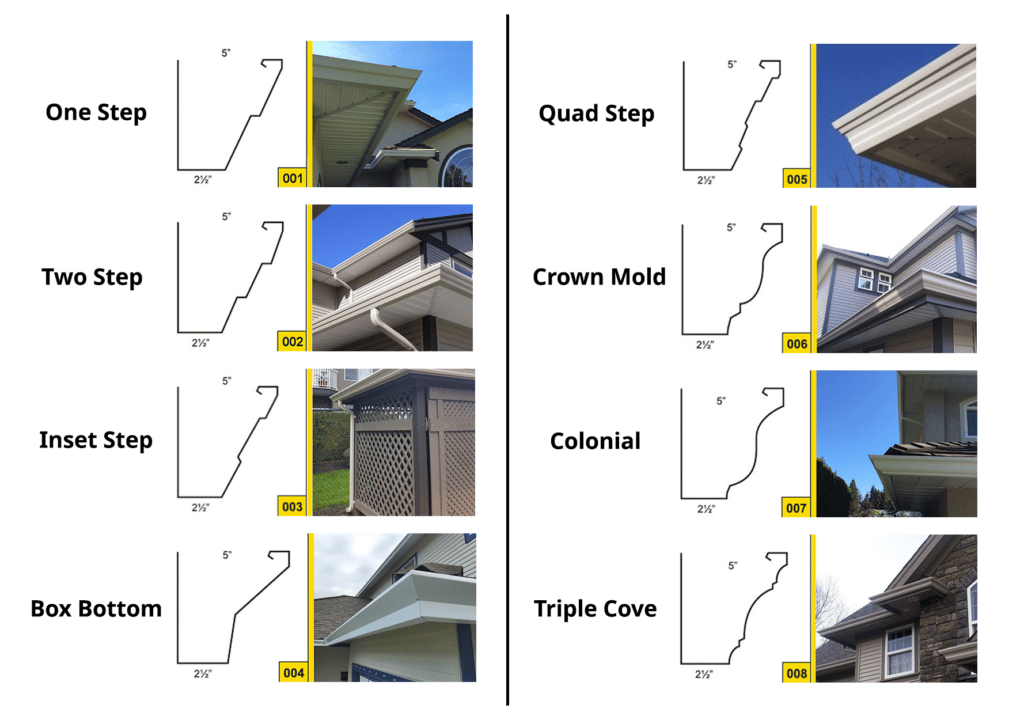 As mentioned, the Nasser MultiPro can rollform up to eight different 5" or 6" profiles, which can set your business apart and give you a competitive advantage with your prospective customers.
Profiles include:
001 – One Step
002 – Two Step
003 – Inset Step
004 – Box Bottom
005 – Quad Step
006 – Crown Mold
007 – Colonial
008 – Triple Cove
Additionally, all are quick-change profiles than can be switched out in under five minutes. In this tutorial, we'll walk you through how to easily change the profiles.
The base price of a Nasser MultiPro Gutter Machine includes one gutter profile of your choice; however, additional roller sets are available for purchase from New Tech Machinery.
Polyurethane Drive Rollers & Stainless Steel Forming Rollers
Much like all of NTM's MACH II Gutter Machines and roof panel machines, the Nasser MultiPro uses polyurethane drive rollers to guide the coil through the machine. The stainless steel forming rollers make up the forming stations that create the desired profile.
Adjustable Sliding Saw (Optional)
We all know that there is a lot of cutting and shearing associated with forming and installing gutters. A lot of the time, it's challenging to get an accurate cut on the first try, or you're continually inching back and forth to find the perfect cut. With the option to include the Adjustable Sliding Saw (miter saw), you can have quick, precise cuts that reduce wasted time and cut down on leftover scraps.
The saw swings 45 degrees in both directions, making it easier to prepare gutter assemblies. Plus, using proper techniques, you can get corners cut in a fraction of time, compared to the manual template-snips-cutting method.

Integrated Work Station (Optional)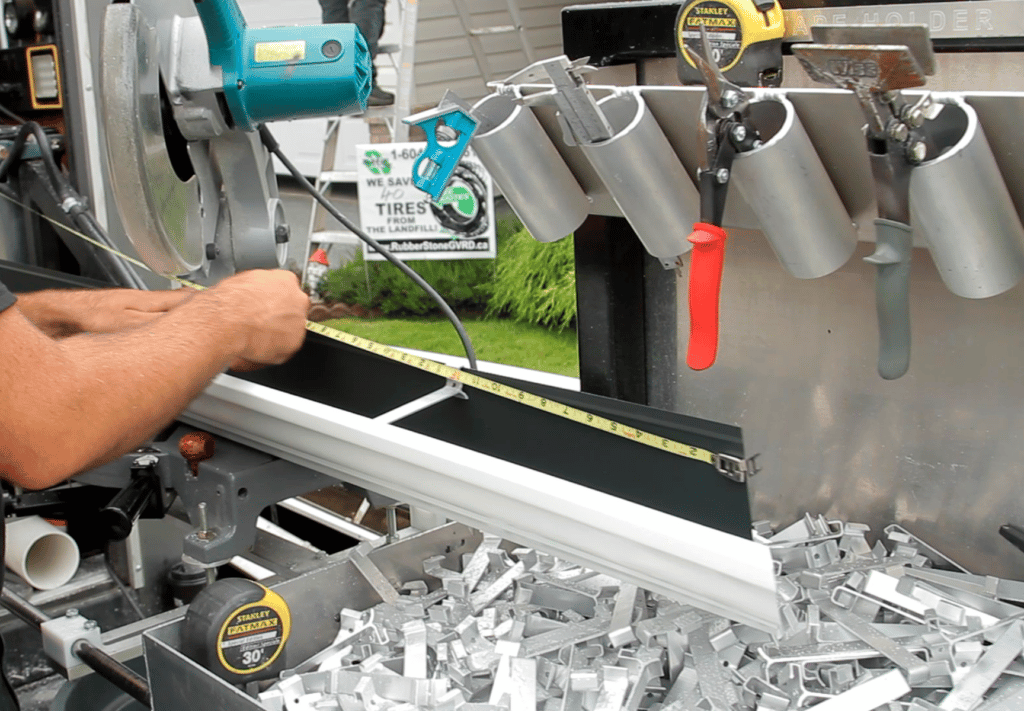 The Integrated Work Station for this machine is a game-changer for gutter installers and fabricators. Not only does this work area give you the space needed to measure and prepare gutters directly out of the rollformer, but it makes it easier for the person running the gutters to work as efficiently as possible. All of the necessary tools are within an arm's reach when you need them.
The Integrated Work Station includes:
Bracket bin
Tool holder area
Built-in run-out stand/rail
Tape holder
---
---
Machine Specifications
Power
3/4 HP 110VAC, 60 Hz, 1 Phase, 11 amps
Machine Dimensions
Length: 147" (374 cm)
Height: 18" (46 cm)
Lift: 48" (122 cm)
Width: 24" (61 cm)
Machine Weight
Approximately 1100lbs. (499 kg)
Integrated Work Station: 150lbs. (68 kg)
Machine Speed
Approximately 55 feet (16.5 m) per minute
Recommended Materials
Material width: 11-7/8" (30.16 cm) – 15" (38.1 cm) wide
Painted Steel: 26 Gauge
Galvanized Steel: 26 Gauge
Aluminized Steel: 26 Gauge
Ternecoat Steel: 26 Gauge
Aluminum: .032" (inches)
Copper: 16 oz. (453.59 g) 3/4 hard
Benefits of Using a Nasser MultiPro Gutter Machine
Number of Profile Offerings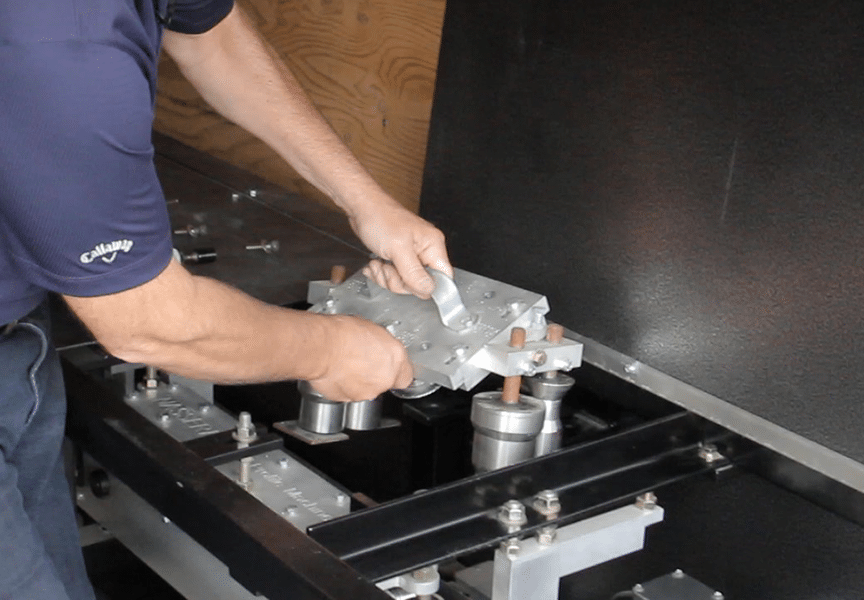 The profiles available for the Nasser MultiPro Seamless Gutter Machine are unlike any of the profiles offered with our MACH II Gutter Machines. The eight 5" and 6" quick-change profiles provide a more decorative and timeless look to the exterior of a home or commercial building, specifically the Crown Mold, Colonial, and Triple Cover profiles.
This wide variety of product offerings might end up being the deciding factor for a property owner when choosing between installers.
Use on Structures With or Without Fascia Board
One technique used in the construction industry is to forego installing a fascia board on the exterior roof edge and, instead, use a gutter to replace the fascia. Not only does the fascia board have its own material costs, but it also needs to be maintained for as long as it's attached to the property, which may include repainting or even replacing damaged portions.
One such way to decrease these costs is to use the gutters as the fascia. Luckily, the Nasser MultiPro Gutter Machine can rollform gutters that work well in both fascia and non-fascia applications, which opens the door to more projects and job opportunities for gutter installers.
For true fascia gutters, the following coil widths must be met:
For a 5″ fascia gutter: 13-1/2″ coil
For a 6″ fascia gutter: 15″ coil
Customized Integrated Work Station Options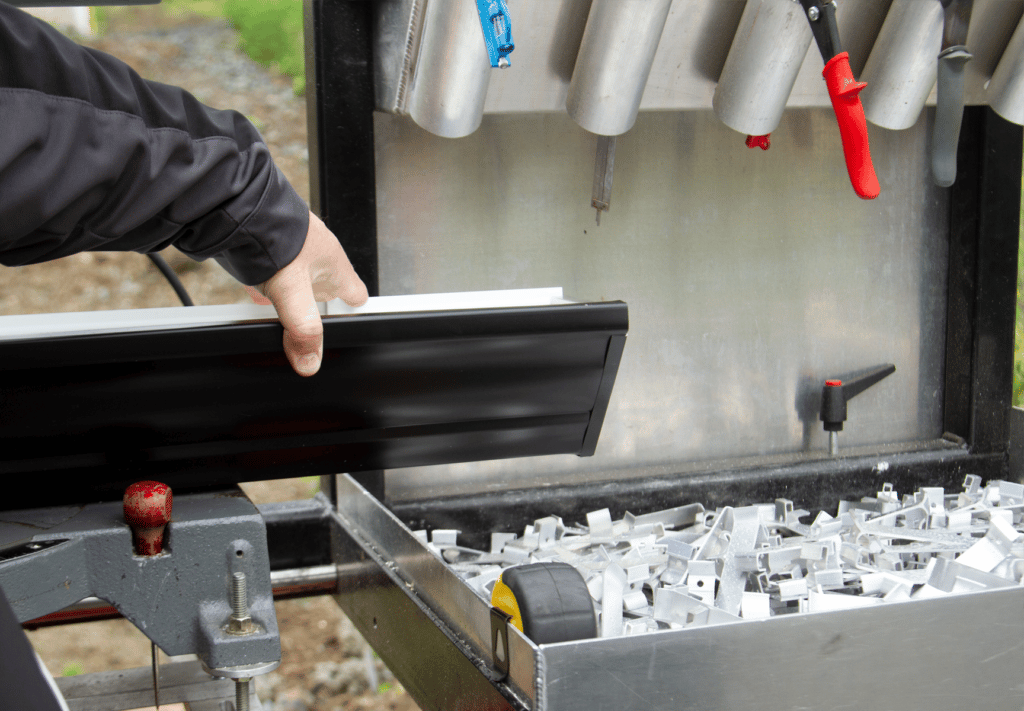 One of the most noteworthy features of the Nasser MultiPro Gutter Machine is the various ways the Work Station can be customized based on the buyer's preferences. As we discussed before, the Integrated Work Station has:
Bracket (hanger) bin

While this area can be used for any materials or components, it's often used to hold the hangers, which can be attached in place as the gutter comes out of the rollformer.

Tool holder area

This is the part that is truly customizable for your own method of gutter preparation. The tools commonly held in these holders include tape measures, crimpers, notchers, seamers, folders, sealant (caulking) guns, scratches/awls, etc.
This ability to customize your working area will improve your efficiency and reduce the time spent preparing the gutters for installation, which means you can complete more jobs and grow your business.
Comes with Warranties
New Tech Machinery is known for standing behind the machines it manufactures with great warranties; the Nasser MultiPro Gutter Machine is no different. Owners of the Nasser MultiPro can expect the following warranties:
U.S. & Canada Warranty

Three years parts (including electrical) / Three years labor
Limited lifetime against separation on drive rollers

International Warranty

Three years parts (including electrical) / Excluding freight
Limited lifetime against separation on drive rollers
Portable & Fits in Standard Work Trailer
Finally, the Nasser MultiPro Gutter Machine is a portable machine and can fit into most standard work trailers. If you have a machine with the Adjustable Sliding Saw and Integrated Work Station, it tends to be longer than most work trailers. However, the saw and work station tailgate can be swung 90 degrees to fit in a trailer, which maximizes your space and brings production right to the job site.
For more video demonstrations on how to use the Nasser MultiPro Gutter Machine, check out our series walking you through how to use the features of this innovative machine, change profiles, load coil, and more!
Final Thoughts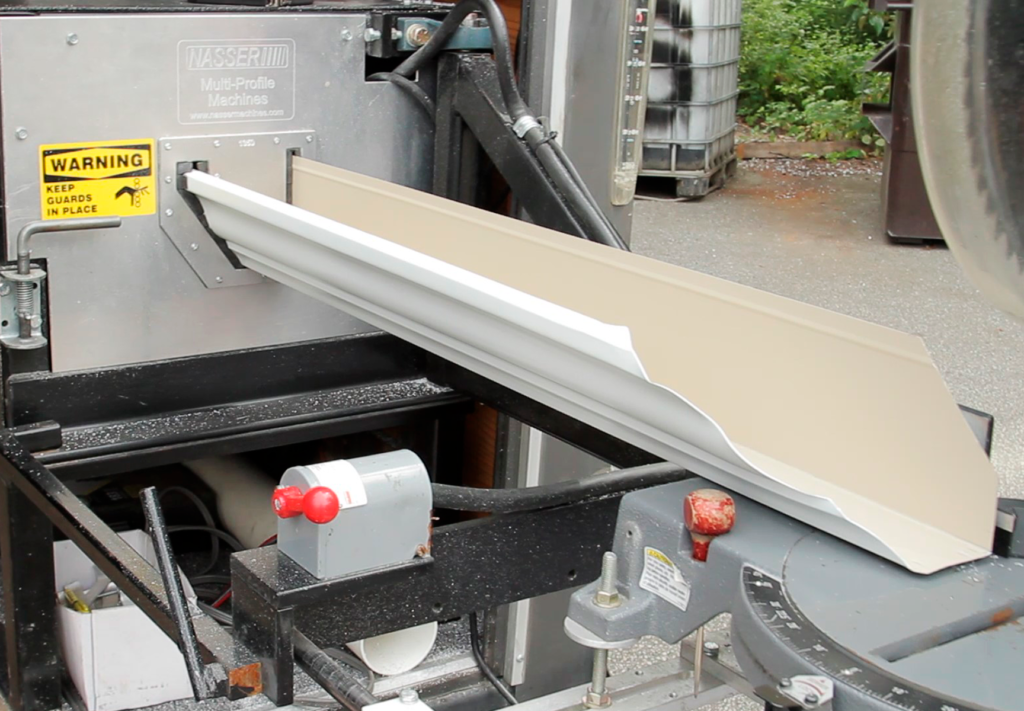 The Nasser MultiPro Seamless Gutter Machine is a great option to consider if you're looking to purchase new gutter rollforming equipment.
However, we know there are many machines to choose from. To help you get a better idea if a Nasser Machine is right for your business, think about the following topics:
The profiles that are popular with your customers – Decorative? Box? Fascia?
The amount of rainfall your region receives, and therefore the size of gutters – 5"? 6"? 7" or 8"?
The level of customizability you want for your working area – Is it a necessity for you?
Your current efficiency vs. your desired efficiency – Can you improve efficiency? How many jobs per week would you like to do?
Your business growth – Do you have the capacity to take on more jobs? Is growth possible for my business right now?
The Nasser MultiPro Seamless Gutter Machine was specifically built with the contractor in mind. That's why we're excited to bring this machine into New Tech Machinery's line-up of trusted rollforming equipment.
Nasser MultiPro machines are available to order now! If you have any questions or would like to place an order for a Nasser MultiPro, contact one of our knowledgeable rollforming specialists today!
---