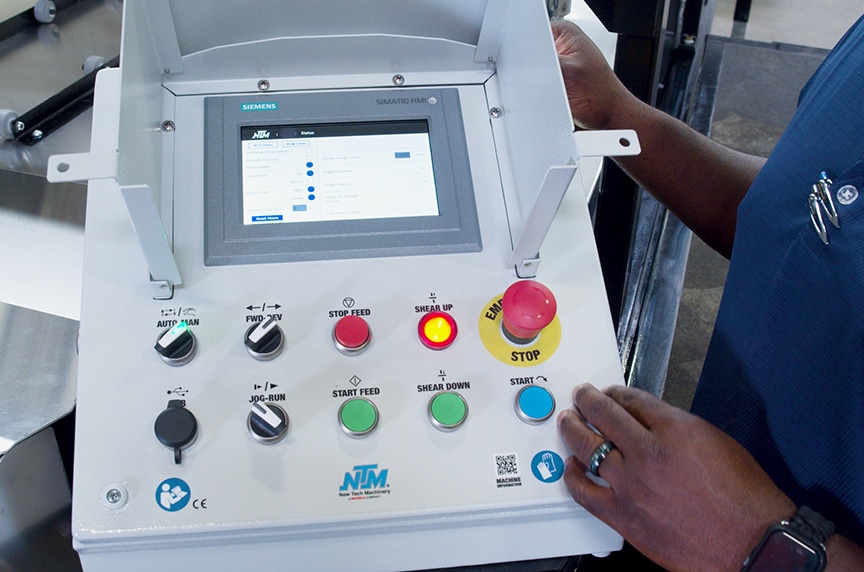 AURORA, CO – New Tech Machinery (NTM), a member of Mazzella Companies and a worldwide leading manufacturer of portable rollforming machinery, recently launched a brand-new programmable control system for its award-winning SSQ II™ MultiPro Roof Panel Machine: the UNIQ® Automatic Control System. While the new control system will be first available on the SSQ II MultiPro Roof Panel Machine, New Tech Machinery will eventually make it the standard controller on all portable rollforming machinery in the near future.
This new control system is an overall more user-friendly solution for all customers who utilize roof panel, wall panel, and gutter portable rollforming equipment. The new control system has advanced safety features, built-in troubleshooting capabilities, and improved functionality letting machine operators gain more control of their projects.
Features of the new control system include:
Simplified computer screens and purpose-built software for increased user-friendliness and efficiency with your portable rollforming machine
7-inch touchscreen built into the control panel for better weather rating and made of ruggedized glass
Ability to use the controller in automatic or manual operation
USB port for import and export of cutlists before and after project completion
Interactive troubleshooting capabilities to easily diagnose and fix potential problems when using your portable rollforming machine
"New Tech is excited about the introduction of the UNIQ control system as an integral feature of SSQ II. The Automatic UNIQ controller is state of the art in safety, reliability, and functionality," says Adam Mazzella, Executive Vice President of New Tech Machinery.
"The UNIQ Automatic control system is a global solution that is CE compliant and provides SSQ II users confidence that they are using a system designed with safety as the top priority. We listened to our customers as we worked to build a long-term controller solution superior to the previous NTM 100 and 200 controller versions," says Mazzella.
If you'd like to learn more about the UNIQ Automatic Control System or any of our other portable rollforming equipment, please contact New Tech Machinery at www.newtechmachinery.com/contact or 303-294-0538.
###
About New Tech Machinery
New Tech Machinery (NTM) is a worldwide leading manufacturer of portable rollforming machines and equipment. Since 1991, New Tech Machinery's seamless gutter machines and metal roof panel machines have revolutionized the metal construction industry by bringing versatile, easy-to-use rollforming products right to clients' job sites.
Contact
New Tech Machinery
16265 E. 33rd Dr. Suite 40
Aurora, CO 80011
Phone: 303-294-0538
Website: www.newtechmachinery.com
Business Inquiries: Adam Mazzella (amazzella@sheffieldmetals.com)
Marketing Contact: Katie Bowles (kbowles@mazzellacompanies.com)