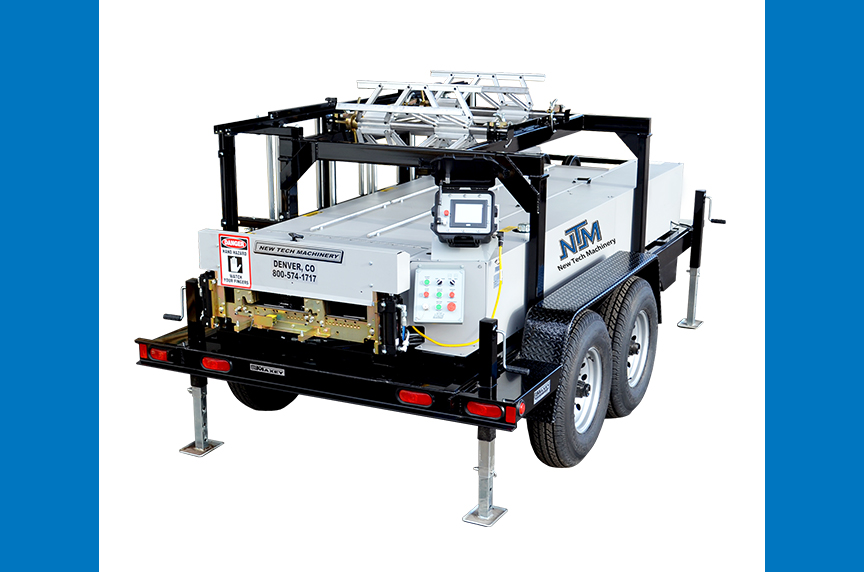 AURORA, CO – New Tech Machinery (NTM), a member of the Mazzella Companies' family and a leading manufacturer of portable rollforming machines and equipment, is proud to announce that the SSH™ MultiPro Roof Panel Machine is back on the market.
Removed from the market 2021 due to various supply chain and labor issues, the SSH machine is being brought back to production because of increasing demand from loyal customers and distributors.
"NTM is very excited to bring back the SSH to our roof panel machine lineup. We're especially proud we have such wonderful distributors and customers who took the time to let us know how much they wanted this machine back. We heard you all and are happy to bring this machine back to the market" said Terry McGuire, Vice President of New Tech Machinery.
The SSH machine is NTM's mid-level offering of portable roof panel machinery. It's a great fit for contractors who want a more automated machine to handle residential and light commercial standing seam metal roofing projects. It offers many of the same advantages as the flagship SSQ machine, but at a more affordable price.
"We made a conscious decision that supporting all three panel machines was not realistic in early 2021. While supply chains remain volatile and labor challenges remain, today we feel more comfortable about being able to support a mid-level machine in our lineup," said Adam Mazzella, Executive Vice President of Sheffield Metals International | New Tech Machinery.
The SSH machine's notable features include:
Seven panel profiles available with Quick-Change™ Roller System

1.5" snap-lock (in two designs)
1" and 1.5" mechanical seam
1" and 1.5" snap-lock with slotted flange

Hydraulic drive and shear
PLC batch and length computerized controller (included with machine)
Length control limit switch
Gas or electric Quick-Change™ Power Pack for easy field-converting of your machine's power source
Choice of any style of rib roller including v-ribs, bead, pencil, or striation
The SSH fits into New Tech Machinery's lineup of other portable roof panel machines, which also include the SSR™ MultiPro Jr., SSQ II™ MultiPro, and the 5VC-5V CRIMP™, allowing clients a variety of machine choices based on their metal roofing needs, budget, and level of automation they desire from their portable rollforming equipment.
New Tech Machinery is constantly striving to improve usability, features, and quality in all of our products and the SSH is no exception. As always, you can stay updated on the latest innovations as they become available to the market through our website, www.newtechmachinery.com.
For more information about the SSH machine or any of New Tech Machinery's products, please contact New Tech Machinery using the website: https://newtechmachinery.com/contact/.
###
About New Tech Machinery
New Tech Machinery (NTM) is a worldwide leading manufacturer of portable rollforming machines and equipment. New Tech Machinery's seamless gutter machines and metal roof panel machines have revolutionized the metal construction industry by bringing versatile, easy-to-use rollforming products right to clients' job sites.
Contact
New Tech Machinery
16265 E. 33rd Dr. Suite 40
Aurora, CO 80011
Phone: 303-294-0538
Website: www.newtechmachinery.com
Business Inquiries: Adam Mazzella (amazzella@sheffieldmetals.com)
Marketing Contact: Katie Bowles (kbowles@mazzellacompanies.com)