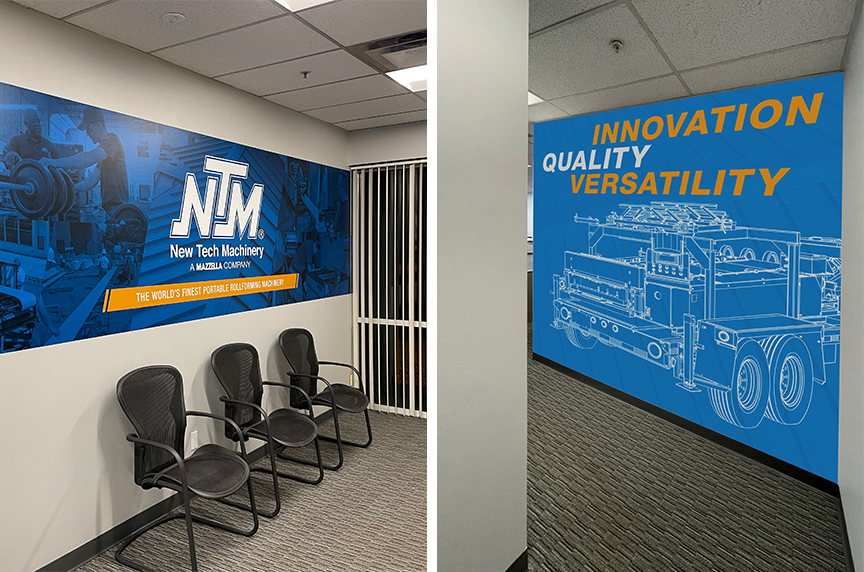 AURORA, CO – New Tech Machinery (NTM), a member of the Mazzella Companies' family and a leading manufacturer of portable rollforming machines and equipment, expanded its footprint by recently leasing an additional building to house the Service and Engineering departments separately.
Since 2020, New Tech Machinery has continued to see higher demand for products. As a result, production capabilities at the main facility were limited as it served as both a production and service center. This called for a dedicated environment for the Service and the Engineering departments.
"We wanted a professional, world-class facility to bring clients in for training, service, and provide an experience our competitors don't offer. This facility gives us so many options to take great care of our customers, whether through R&D and engineering of new ideas and products, or through a top-tier training or service experience. We are excited to invite people inside to see what NTM has to offer," said Terry McGuire, Vice President of New Tech Machinery.
Having a separate area for the Service team means that they have the space to work safely and efficiently and a parts inventory for quicker access to replacement parts, allowing them to get machines in for repair and back to clients faster. The extra square footage also provides a dedicated area for customer training, a training classroom, and allows employees more optimization and increased efficiency and storage for new portable rollforming machines.
"This expansion, coupled with increasing the team size, will allow the Service department to provide an improved training experience, more flexibility for service and training at the same time, and the proper space to work on all NTM's equipment. Ultimately, this new location improves our abilities to service our customers' needs in the short term and our current and future products through direct collaboration with the Engineering Department," said Ben Bradley, Service Manager.
For the Engineering department, this building allows them more research and development space, and ultimately bring new ideas and products to the market quicker. It also gives them direct access to the Service team for effective collaboration, a way to see how New Tech Machinery's portable rollforming equipment is working in the field, and continue implementing improvements based on user feedback and service calls.
"Expanding into this new space will tremendously benefit the Engineering department. We've increased our available floor space to develop new machines and have room to bring on new people. This will allow us to ramp up our efforts to improve our existing product line and introduce new products to the marketplace," said Adam Binderup, Engineering Manager.
When NTM leased this space, the goal was to serve as a successful model for what a regional service center could look like. With a Service and Engineering Center, NTM leadership would accurately see what a regional service center could look like, how it would be staffed, and better understand what projects could be worked on in this space.
This location was picked for its proximity to the main New Tech Machinery facility and easy access to the production plant and its resources. Both facilities will provide a better work environment and allow the company to expand in working space, production capabilities, and add more people to the teams.
The NTM Service and Engineering Center address is 16303 E. 32nd Ave. Suite 15 Aurora, CO 80011. For questions or more information about service or training, visit https://newtechmachinery.com/service-training/.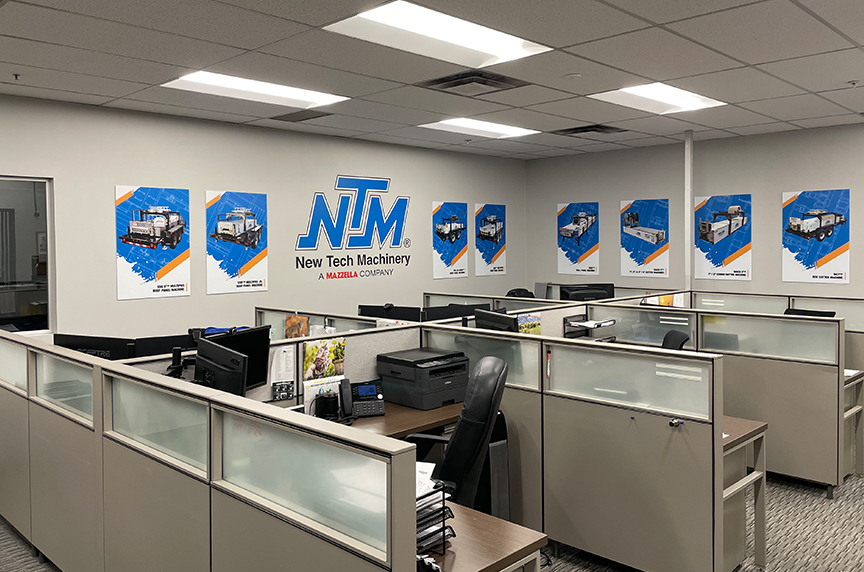 ###
About New Tech Machinery
New Tech Machinery (NTM) is a worldwide leading manufacturer of portable rollforming machines and equipment. Since 1991, New Tech Machinery's seamless gutter machines and metal roof panel machines have revolutionized the metal construction industry by bringing versatile, easy-to-use rollforming products to clients' job sites.
Contact
New Tech Machinery
16265 E. 33rd Dr. Suite 40
Aurora, CO 80011
Phone: 303-294-0538
Website: www.newtechmachinery.com
Business Inquiries: Adam Mazzella (amazzella@sheffieldmetals.com)
Marketing Contact: Katie Bowles (kbowles@mazzellacompanies.com)