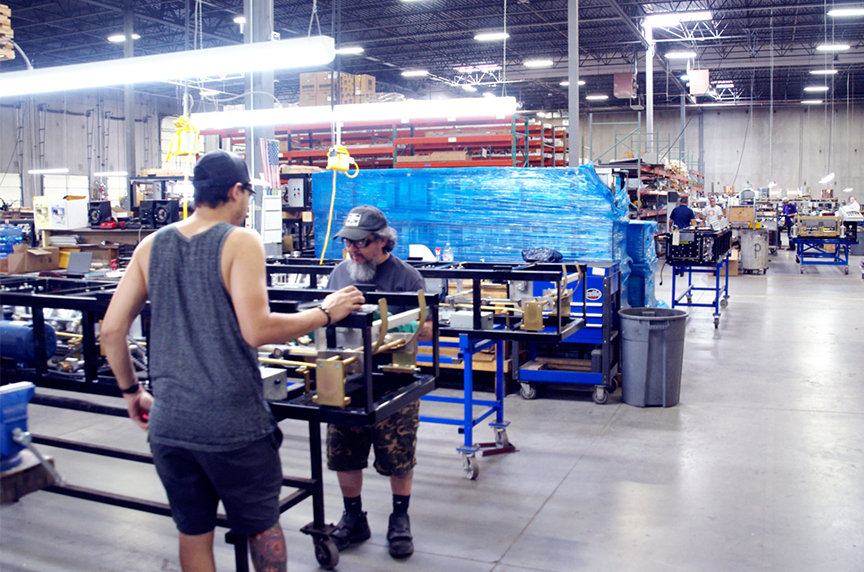 AURORA, CO – New Tech Machinery (NTM), a member of the Mazzella Companies' family and a leading manufacturer of portable rollforming machines and equipment, is pleased to announce its hosting in-person manufacturing facility tours during the first-ever gutter conference, GUTTER-CON 2022.
Participants will see how portable rollforming equipment and seamless gutter machines are manufactured, shipped, and tested as part of the limited guided tour. Members of New Tech Machinery's service and operations departments will guide attendees through the shop, provide running demonstrations of gutter machines, and answer questions throughout the 20-30 minute tour.
"We are so thrilled that GUTTER-CON will be held in Colorado. It's a unique opportunity to open our doors to current and future customers and show them what we do and how proud we are of NTM and our products," says Terry McGuire, Vice President of New Tech Machinery.
In June 2020, New Tech Machinery relocated its office and manufacturing facility to Aurora to support the business' growth and allow for an increase in production capacities. Since then, a second facility has been leased as a service / training and engineering center to provide additional support and space for business operations and employee productivity.
"We're excited that New Tech Machinery is participating in this inaugural event. Few contractors have had the opportunity to see our facility and the machinery up close as they will on the tour. We look forward to meeting everyone," says Hayley Bohmer, an Account Manager at New Tech Machinery.
GUTTER-CON is the first-ever conference dedicated to gutter company owners in North America. From April 29 to May 1, 2022, those in the gutter installation and cleaning business will come together to learn from each other, share best practices, and speak to various industry professionals about what it takes to grow their business.
GUTTER-CON 2022 will feature guest speakers from various industry backgrounds, including:
Tommy Mello, owner and operator of A1 Garage Door Service
Meghan Likes of Likes Accounting and co-owner of Jeff Likes Clean Windows & Gutters
Daniel Fitzgerald, Principal / CEO of Lifetime Gutter & Roof Contractor Network – Speaker, Lead Generation Pioneer, Author of "the Business Pipeline"
Justin Woodford, owner of consulting business, Ready Business Systems
Colin DeHaan, owner of Superior Exteriors and creator of the Gutter Installers Facebook page
Jon Majak, CEO of Mr. Pipeline and speaker, business coach, and consultant for home service providers
Bren VanderZwaag, owner / operator of MetroGutter & Home Services, Gutter Experts of North America LLC, and founder and sponsor of GUTTER-CON, has been in the gutter business since 1998. As a small business owner, he found that he struggled with certain aspects of his business and lacked the networking space to get help from others in the industry. That's when GUTTER-CON came to life.
"I've always kept my eye open for a conference dedicated to the gutter industry but could never find one. GUTTER-CON 2022 is the first event of its kind dedicated to the gutter industry in North America. It's all about helping gutter company owners with their businesses, meeting like-minded individuals with the same business concerns, as well as creating new friendships & business contacts," said VanderZwaag.
"I'm so excited to meet the people attending, speaking, and sponsoring the event. Thank you so much for believing in GUTTER-CON and making this happen."
Sign-up is still available for GUTTER-CON 2022! For more information about the event and to register for a spot at the NTM factory tour, click here.
###
About New Tech Machinery
New Tech Machinery (NTM) is a worldwide leading manufacturer of portable rollforming machines and equipment. Since 1991, New Tech Machinery's seamless gutter machines and metal roof panel machines have revolutionized the metal construction industry by bringing versatile, easy-to-use rollforming products right to clients' job sites.
Contact
New Tech Machinery
16265 E. 33rd Dr. Suite 40
Aurora, CO 80011
Phone: 303-294-0538
Website: www.newtechmachinery.com
Business Inquiries: Adam Mazzella (amazzella@sheffieldmetals.com)
Marketing Contact: Katie Bowles (kbowles@mazzellacompanies.com)