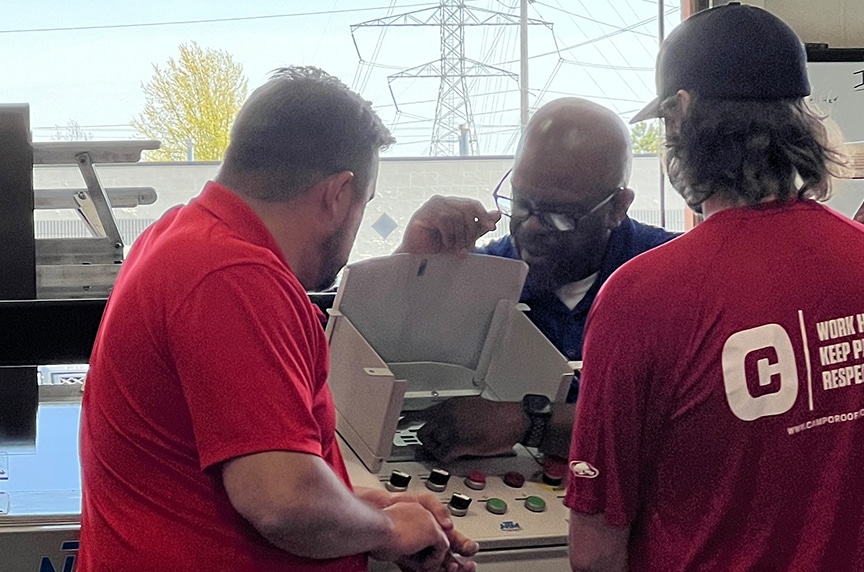 AURORA, CO — New Tech Machinery (NTM) is pleased to announce it's launching a programming software update for the UNIQ® Control System. Several limitations and bugs in the previous controller's programming have made it difficult for users to operate their machine consistently while using the controller with their SSQ II™ MultiPro Roof Panel Machine. The latest software update is a comprehensive change and update from the previous interface and will address all of these issues.
The software update is based on customer feedback and Service Technician use in the field. As of August 2022, version 2.1.3, will provide machine operators with a simplified interface and more reliable use of their machines while keeping the safety functionality top of mind.
Improvements made in this software update include:
Improved touchscreen usability
Simplified screen layout and design
Enhanced operation feedback and warnings
Improved functionality and control when running or editing or changing programmed lengths of panels
"One of the challenges I saw early at NTM was that we had missed the mark on ease of use with our flagship controller. It was clear to me that we needed to go back to the drawing board. We are now ready to introduce a program that we expect will meet all our customer's expectations," Terry McGuire, Vice President of New Tech Machinery, explained.
Visit www.newtechmachinery.com for more information and detailed instructions on how to update the latest software for your computer controller. You will need the proper SD card and thumb drive to download and install the latest software update for your UNIQ Control System.
Contact the New Tech Machinery Service department and request Maria Ortiz for assistance coordinating the proper SD card and flash drive if you do not have them. She can also coordinate with a Service Technician if you need training, assistance, or have any questions about downloading software update version 2.1.3 for your UNIQ controller.
###
About New Tech Machinery
New Tech Machinery (NTM) is a worldwide leading manufacturer of portable rollforming machines and equipment. Since 1991, New Tech Machinery's seamless gutter machines and metal roof panel machines have revolutionized the metal construction industry by bringing versatile, easy-to-use rollforming products to clients' job sites.
Contact
New Tech Machinery
16265 E. 33rd Dr. Suite 40
Aurora, CO 80011
Phone: 303-294-0538
Website: www.newtechmachinery.com
Business Inquiries: Adam Mazzella (amazzella@sheffieldmetals.com)
Marketing Contact: Katie Bowles (kbowles@mazzellacompanies.com)