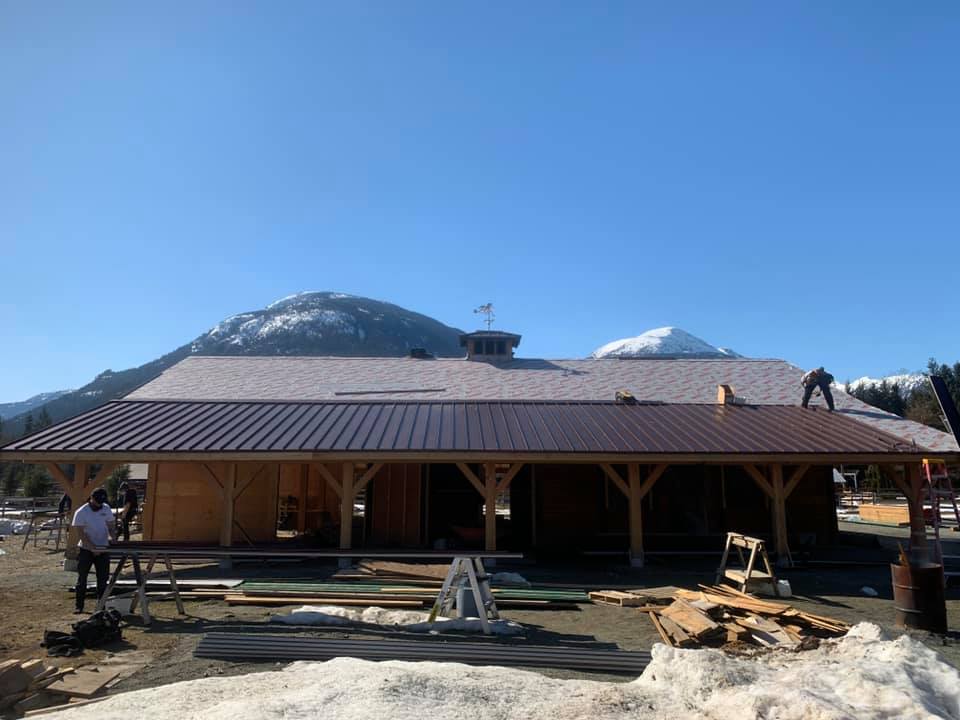 Are you considering using a factory metal roof panel manufacturer for your business needs? Do you know what to expect when getting metal roof panels from a factory manufacturer or supplier, what costs are associated with it, and additional equipment you may need?
For contractors who are just starting their business or limited by their budget, factory metal roof panel manufacturers are a great way to get what you need without a huge upfront investment. However, you must understand what exactly is involved in getting your metal roof panels to you, and what you should consider before saying yes right away to this metal roofing material solution.
As one of the world's leading manufacturers of portable rollforming machinery and equipment, New Tech Machinery has worked with contractors in helping them find the right solution for their metal roofing needs. Whether that's educating them on the rollforming your panels on site, or helping them understand the differences with factory panel suppliers vs. portable rollforming panels, we're here to help you in any way we can.
In this article, we'll take a look at how to help you decide if utilizing a factory metal roof panel manufacturer is the right fit for your business, what you can expect when getting your metal roof panels from a factory, and questions to ask yourself to help you choose the best option for your business needs.
Choosing a Factory Metal Roof Panel Manufacturer or Supplier
When considering working with a factory roof panel manufacturer, price shouldn't be the only factor. You also need to choose a business that is reliable, experienced, and reputable.
Find out their shipping and freight costs. Are you on the hook for paying for panels to be delivered to the job site? If so, how much can you expect it to cost?
Get an idea of how quickly they can get your panels ready and delivered to you. What does their turnaround time look like? Are they able to process orders in a timeframe that you can work with? You don't want to be waiting weeks for your metal roof panels and ultimately eat up time and money you could have been installing.
Check their location and availability. Where are the facilities located? Are there many spread out across the country, or are they only located in some areas? Is there a facility near the job site? Or are the panels shipped from a long distance away?
Ask about what customer service and support is offered with their products. What if you have a question, need help with a potential issue, or require other customer support or service? Is there a dedicated team that can handle your concerns or questions? Do they offer warranties that you can provide to your customer?
There are many factory metal roof panel manufacturers to choose from for your metal roof or wall panel projects, so do your research ahead of time, check out their facility, and ask the right questions about their products, services, and what you can expect partnering with them for your metal roofing needs.
Things to Consider When Using a Factory Metal Roof Panel Manufacturer or Supplier
As important as it is to select the right factory metal roof panel manufacturer or supplier, it's equally critical that you understand some of the expectations that may come with getting your metal roof or wall panels from a manufacturing facility. It's not to say that these are disadvantages to using a factory metal roof panel supplier, but they are important factors to keep in mind.
Shipping restrictions and constraints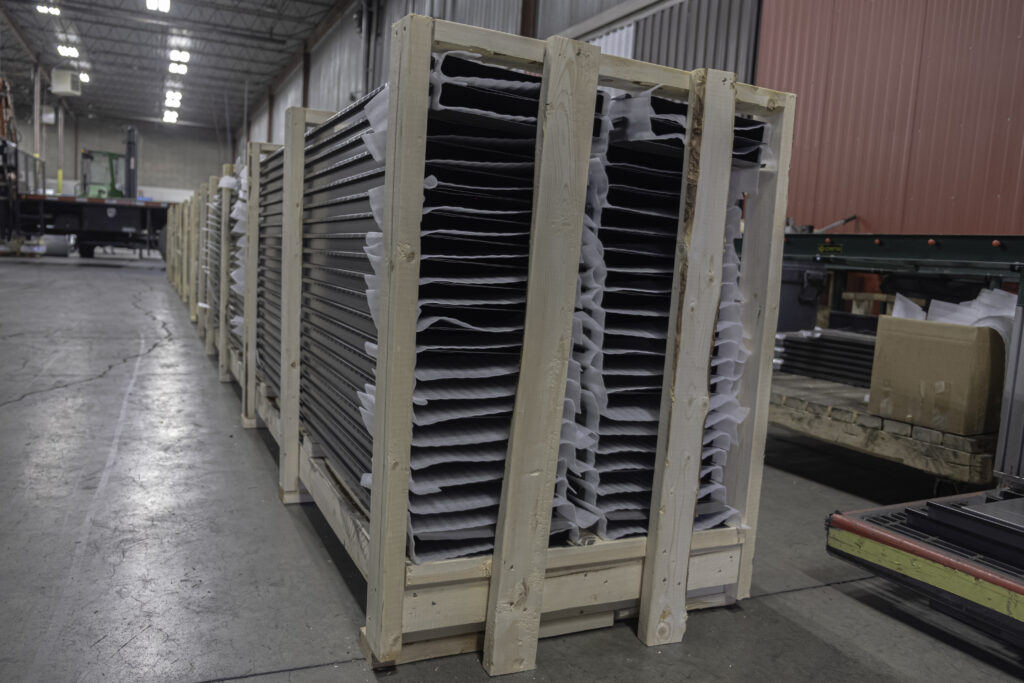 Factory roof panel manufacturers can only ship a limited quantity of panels via a truck, typically anywhere between 80-120 squares (one square is equal to 100 square feet) of finished 24 gauge panels. This can be a concern especially with commercial projects where the roof size can be quite large. For instance, if a commercial roof was 20,000 square feet, you would need 200 squares of panels, or two truckloads, to get the entire project complete.
Another thing to consider with manufactured panels is the restrictions on how long a panel can be when shipped. Most flatbed trailers can ship a maximum panel length of up to 53 feet (including overhang). If your job requires the use of longer panels, you'd need to pay extra for the truck used to haul the panels to the job site.
Availability of factory metal roof panel manufacturers
Having to get panels shipped to your job site also depends on how far away the panel supplier is and how many local factory panel manufacturers are available around the job site. The farther away a supplier is from the job site, the more it could end up costing you in shipping costs.
Be sure to do your research ahead of time and check the availability of factory metal roof or wall panel manufacturers in the area you'll be working, as well as their reputation and experience in the type of metal roof for your project.
Labor and costs involved
There may be labor costs involved with the supplier packaging the panels and getting them ready for shipment ahead of time, as well as the employees needed to manage or handle the panels at the job site.
Possible damage to panels during shipping
When getting panels shipped, you also run the risk of damages happening during shipping, whether it's during transportation or because they were packaged incorrectly ahead of time. Even if the panels don't get damaged, what happens if you end up getting the wrong color, size, or profile shape? In general, reshipping panels could take 2-6 weeks. That means more time wasted waiting for replacements, and delays in getting the project finished on your deadline.
Equipment may be needed to unload metal roof panels upon delivery
While individual panels aren't very heavy, bundles of metal roof panels are. Depending on the factory panel supplier, you may need a forklift or crane to unload the panels, take them to the final construction site, and lift them to the roof's height. If your panels are bundled, be sure to also check with the manufacturer on how to handle them as some metal roof panels may be more fragile and need different methods of handling them.
Job site space and storage required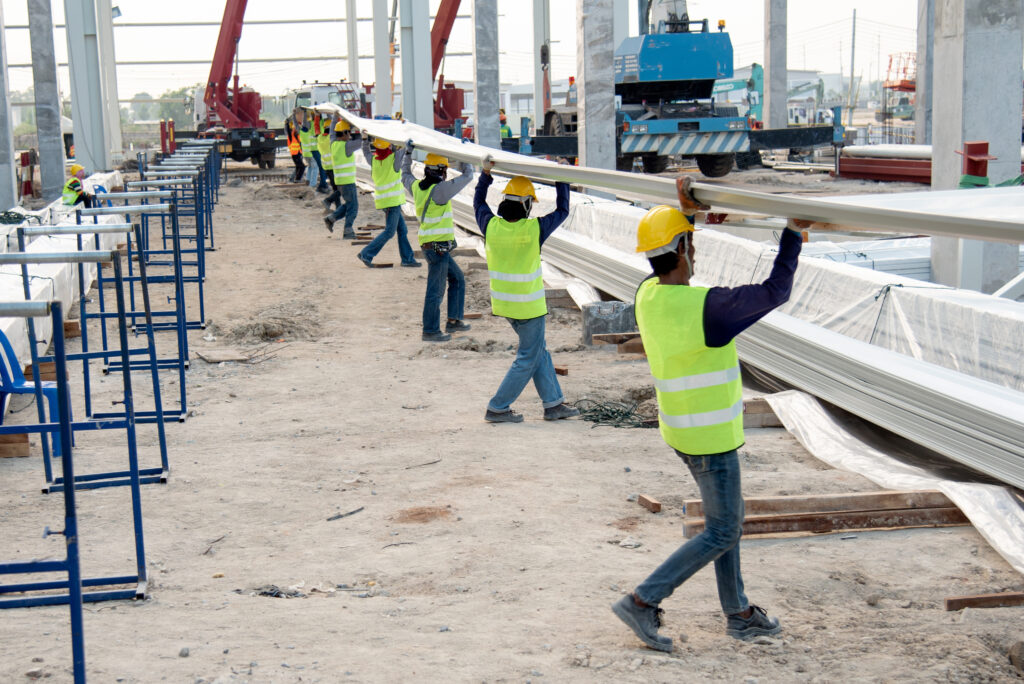 When you buy panels that have already been made in the profile you need, you get all of the panels at once. Where are you going to put all of those preformed panels so they don't get ruined by moisture, chemicals, scratches in the paint, or damages caused by improper handling?
In Chapter 11 of the Metal Construction Association's (MCA) Metal Roof Installation Manual, delivery, receipt, storage, and handling of metal roofing materials are discussed.
MCA outlines three types of space to evaluate at your job site:
Transportation space refers to having enough space to safely deliver and move material to a suitable location for unloading, storing, and installation.
Storage space doesn't just mean where the panels are going once they've been taken off of the truck. This space is also for prepping or staging before installation and when it's ready to be moved to the final location on the roof during install. Storage locations may be inside, outside, ground level, or even rooftop.
Working space affects all the workers involved in the roof installation and the space needed for the metal roofing equipment and tools.
Also, proper storage of metal roof panels includes:
Cover with water-resistant material, however, avoid using plastic when possible. If plastic must be used, make sure enough ventilation is available to prevent condensation.
If you're stacking the panels, do so in a way that they can be sloped to provide adequate drainage. Additionally, stacked panels should be blocked so they can lie a foot above the ground.
Inserting spacer blocks between the panels can help with airflow and drainage to keep the metal panels dry, avoiding corrosion and staining.
If you're not using the roof panels right away, the metal panels and materials should be covered so dust and dirt don't settle on top, or any spilling or splashing that may occur around the job site.
You're limited to a factory roof panel manufacturer's timeframe
Relying solely on a factory panel manufacturer can limit your project schedule. It's critical that you find out ahead of time the lead time on metal roof panels, how long it will take you to get them delivered to your job site, and how long it may take if you experience any problems with the panels after they've been shipped. Adhering to a manufacturer's schedule also dictates how you schedule installation projects with your customers.
Researching the factory metal roof panel manufacturer you plan on using ahead of time can help alleviate any concerns if you're worried about their responsiveness to problems you could experience during the delivery process.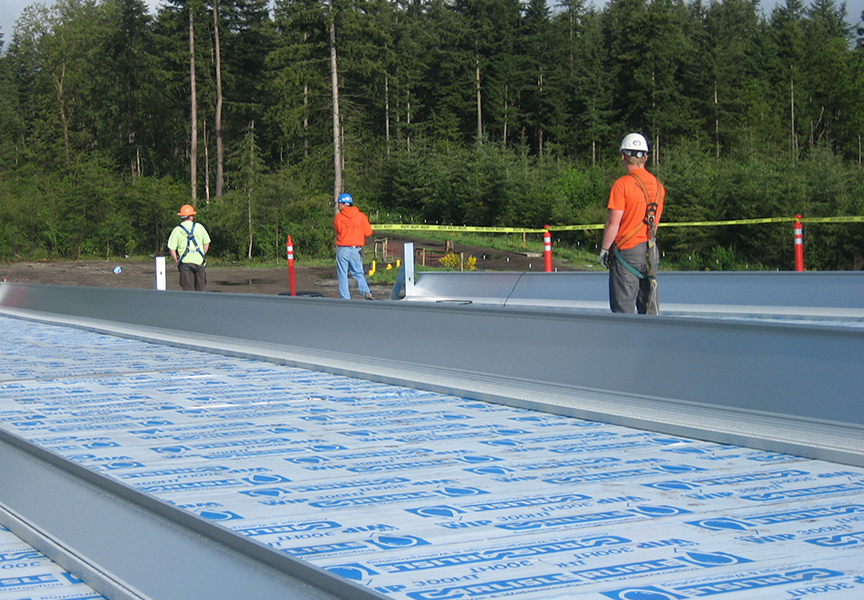 Questions to Ask Yourself About Factory Roof Panel Manufacturers or Suppliers
How many factory roof panel manufacturers are available in your location? How far away are they from your job site?
How do other people rate or review the metal roof panel manufacturer you're considering?
What does your budget look like? Could you look into alternative ways to get your metal roof or wall panels?
What is their turnaround time? How long will it take to get your finished metal roof panels?
What happens if roof panels get damaged during shipping? Is there a dedicated customer service team you can get assistance from?
How long can you expect to get your metal roof panels delivered back to you if the shipment is damaged or wrong?
Do you have enough space on site to store your metal roof panels properly?
What other costs might you have to pay for? Are you responsible for paying for panel delivery?
What kind of testing do they perform on their roof panels (i.e. uplift resistance, water penetration, impact resistance etc.)? Is it offered to end users?
Final Thoughts
Factory metal roof panel manufacturers are a great way for new metal roofing contractors and businesses to make money, land more projects, and grow their customer base while continually working. However, they aren't necessarily the best fit for everyone.
Those contractors who are looking to diversify their business offerings, expand their services, and gain more control over their projects and profits may want to consider a portable roof panel rollformer as a viable option. At New Tech Machinery, we understand the importance of finding the perfect balance contractors can face when choosing a solution that is both cost-effective and allows for more control of your services.
If you're considering that it might not be the most beneficial option for your business to utilize factory panel manufacturers anymore, our portable roof panel machines and equipment can help you take back control of your projects, put more money in your pocket, and provide you with world-class support when you need it.
If you want to find out if portable rollforming could be a good fit for your business, or are even looking to learn more about the benefits and disadvantages that portable rollformers have, check out our Rollforming Learning Center or contact us today.