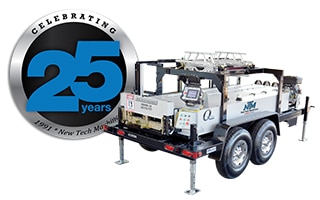 AURORA, CO – Next year, during 2016, New Tech Machinery will be celebrating 25 years in the business of making the world's best portable rollforming equipment. Started in 1991, New Tech Machinery began with the MACH II gutter machine and then the SSP roof panel machine (no longer produced). Since then, New Tech Machinery now offers the versatile, best-selling SSQ roof panel machine and three other roof panel machines including the SSH and SSR. The MACH II gutter machine is the most copied in the industry.
Still located in Denver, Colorado; New Tech Machinery is proud to be growing and creating jobs. The recent acquisition of New Tech Machinery by Mazzella Companies has just made the New Tech Machinery family larger and the future looks bright for the company.
To celebrate, New Tech Machinery will be planning specials, trade shows, and events throughout the year. Be sure to follow New Tech Machinery on Facebook or at www.newtechmachinery.com to keep up with all the 25th-anniversary fun!
###
About New Tech Machinery
New Tech Machinery (NTM) is a worldwide leading manufacturer of portable rollforming machines and equipment. Since 1991, New Tech Machinery's seamless gutter machines and metal roof panel machines have revolutionized the metal construction industry by bringing versatile, easy-to-use rollforming products right to client's job sites.
Contact
New Tech Machinery
16265 E. 33rd Dr. Suite 40
Aurora, CO 80011
Phone: 303-294-0538
Website: www.newtechmachinery.com
Business Inquiries:  Adam Mazzella (amazzella@sheffieldmetals.com)
Marketing Contact: Katie Bowles (kbowles@mazzellacompanies.com)