Todd Andrews
Classic Metals Inc. — Chester, South Carolina
---
Brock Dowden
Alpha Roofing LLC – Shreveport, LA
"Thank you NTM for the fast, efficient process involving our new gutter machine! With everything going on right now, it is nice to have a company have your back!"

---
Dave Tait
Dri Doc Coatings (Dante Technologies) — Johannesburg, South Africa
"The three gutter machines we have from you have been doing sterling work here in South Africa for many years. African conditions are not the best for machinery to work in."

---
Johnny Wimberly
Storm King Services — Morrill, Nebraska
"I just had my machine down to you yesterday to be fixed. It runs like its new! I want to thank you for the prompt service and great hospitality shown to me while I was there. Finding a business that exceeds a customers needs is rare in this day, so please tell everyone that we noticed and appreciate you. When it's time for another machine, I will be in touch!"
---
Ken Kelly
Kelly Roofing — Bonita Springs, Florida
"Just ordered our second machine from you nice folks. The first one ran great for over 14 years, and is still going!"
---
Colin DeHaan
Superior Seamless Gutter, LLC — Ludington, Michigan
"I'm using my new NTM 5″/6″ Combo machine today for the first time, and I love it! Y'all really hit the nail on the head with this design!"
---
Marvin Hess
Edge Seamless Gutters — New Hampshire
"Thanks a lot for everything! I can say that my dealings with NTM all have been wonderful. If ever I am asked where to get good customer service with a quality gutter machine, I will send them your way!"
---
David Mulcahy
Retro Custom Metals — Salt Lake City, Utah
"Retro Custom Metals owns several NTM rollformers and has been rollforming and radiusing panels for the past 20 years. We have owned and used other rollforming machines and NTM is by far the BEST, the engineering and technical support is outstanding…"
---
Steven Chant
Wyalusing, Pennsylvania
"After much searching and many phone calls, I contacted Mid-Lake Metals to travel down to run our panels. It was well worth all of the leg work. Thanks for the contact info that allowed it to all happen!"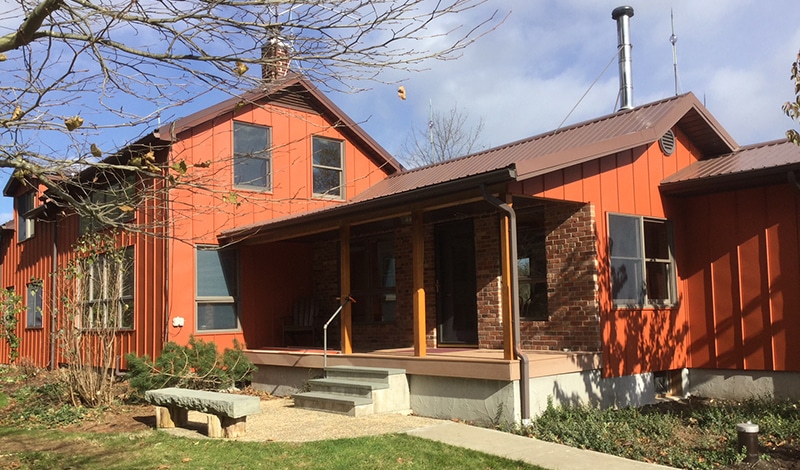 ---
Dane Lingo
Element Seamless Gutters — Loveland, Colorado
"Greetings, I have a 5″ Mach II and I am very happy with it. I bought it from a friend who got it brand new in 2012 from you guys, and I have had it since 2014. I am a very happy New Tech owner and will never own any other brand of machine. Your equipment sets the standard in quality and innovation in the seamless gutter industry and I am a believer in your products. Thank you very much!"
---
Russell Sanders
Sanders Seamless Systems — Arlington, Texas
"I bought a Mach II 5″ gutter machine 25 years ago. And it still continues to form gutter and support my business everyday. I have never had to make one single repair to my machine. And I just ordered four new switches from your company today. My business is growing and I'm interested in adding a second machine. Wouldn't consider buying any other machine but a Mach II."
---
Frank Algier
Vanguard Roofing
"What a nice surprise! The Mach II arrived unscathed ( that was some packing job) in a covered trailer and is settling into its new home back East. The quality and craftsmanship of the Mach II is better than I remembered it to be, it's a beautiful piece of machinery with all of the components and bolts where they should be (no missing parts), that after our inspection am sure all who have worked on it are proud of their finished product. Made here in the USA makes it even more special. Good job.
I can't get over how lucky we were to have gotten such a fine piece of craftsmanship. Not having a lifetime of experience with gutter machines, we might have stumbled onto a lesser quality machine and experienced all of the disappointments that go along with inferior made gutter machines.Glad you were at the show.
Your generosity and support to our industry will be remembered for a very long time, Thank you! We will promote the quality of the Mach II and your company whenever we get the opportunity, and we would also like to wish you all the very best in your future.
Mac(it's new name) is gearing up for helping us to diversify our business and contribute to our ever growing insurance premiums, so I gotta go now, and "feed the beast".
Many thanks again for honoring your generous offer, we will take good care of Mac, of that you can be sure."
---
David Hernandez
C.D General Contractors — Las Cruces, New Mexico
---
Dale Smart
Smart Roofing — New Berlin, Wisconsin
"Your team provided us with exceptional customer service and displayed true work ethic and care for the customer. We bought a machine from Scott (New Tech sales rep) at the 2016 METALCON convention held in Tampa, Florida in October 2015. We made the trip from Wisconsin to Colorado to pick up the piece of equipment we purchased and Steve (the New Tech shop manager) did an awesome job explaining all aspects involved in using and maintaining the machine we purchased. Then the New Tech workers went the extra mile to assist us in loading that large, heavy machine onto our trailer. We were back on the road towards home so quickly that the trip felt just like an easy 'pit stop.' Their knowledgeable customer service team and efficiency made it possible for us to be back on the road headed home just in time to miss a huge blizzard. The storm remained on our coat tails the entire trip home but we just missed it because of the New Tech staff. We at Smart Roofing always remember that if we" talked the talk, then we better walk the walk," and also "what makes a company GREAT is the great people within." Our hats go off to Steve, Scott and the others who did just that! Thank you!"
---
Brent McLean
McLean Masonry and Construction — Eugene, Oregon
"I bought one of your (SSQ Roof panel with the SSQ675 profile) machines about 20 years ago. When I finally retired from construction in February, I posted the machine on the internet to sell. I sold it to the first guy who called but I have been getting calls for it ever since and I have told everyone that has called what a great machine it was! I have told them how your customer support is second to none as well as how durable the machine is built. Maybe I should keep the advertisement up and do outside sales for you guys???"
---
Linus Snyder
Rivers Edge Metal Roofing, LLC — Withee, Wisconsin
"We had as many problems with a competitors machine as we DIDN'T have with our SSQ. If the SSQ could cook, clean and rub my back, I'd marry it!"
---
Tim Anderson
TP Steel Inc. — Edmonton, Alberta Canada
"We have run 42,000 feet of 24 gauge panel so far without a hitch! This (SSQ) machine has pretty much paid for itself; I am quite impressed."
---
Wade Lippincott
Atlas Roofing — Thermopolis, Wyoming
"I just wanted to say thank you for getting us taken care of. Even though we bought it used having you guys in Denver was a big part of the decision. We bought a gutter machine years back from you and will make sure you are first call on our next rollformer purchase."
---
Daniel Green
Gibson Roofing Inc. — Wasilla, Alaska
"I got the confirmation of shipment this morning. Thank you for organizing everything and helping us set get up to offer gutter systems to our customers. It was very easy and pleasant doing business with you and your company. I appreciate you not taking advantage our regional location like some other companies do. We haven't even received our machine and we have jobs waiting for us so we will hit the ground running when the machine arrives!"
---
Doug Kowalski
Valley Gutter Supply — California
"I LOVE the (SSQ) machine!! It is by far the nicest panel machine I have ever used in my 27 years of doing this. I thank you for your support, insight, and going the extra mile. I know its your job, but I felt there was a little more effort on your part aside from the business transaction and for that I thank you. I saw online another panel I want. It's the flush wall and soffit panel, I want that in my arsenal!"
---
Brian Dyke
Advantage Gutters, Inc. — B.C., Canada
"All my machines are NTM my next will be as well. New Tech Machinery has the best machines on the market and I hope to order another 5/6″ machine soon!"
---
Steve Simmons
Apex Metals — Dalton, Georgia
"I just want to compliment you on your manual. I've seen many of them, but you truly have put a lot of effort and energy into this one. As an owner of your (SSQ) roll former, it gives me great confidence that my men can run it right without doing negligent damage. Micheal Raulich is training us this Saturday and we are prepared for the commissioning of this machine to our company because of your manual. May the rest in our industry rise to your standard. Thank you for building a quality product and representing it well in the industry."
---
Dennis Jones
Airtight Constructions, Inc. / Elegant Gutters, Inc — Concord, California
"I wanted to write to you to say thanks for making such great products! I've been in the Sheet Metal / Construction Industry for over 35 years. One of my employees heard about GutterArt and recommended that I give you guys a call. Long story short, I bought a combo gutter machine and the 5″ and 6″ Ashley GutterArt pattern and it has "jumpstarted" my gutter business! We've been going crazy with GutterArt ever since and we've already set up agreements to regularly supply the embossed gutter to local hardware stores and roofing supply companies. The fellas over at NTM were great to work with and they gave me free training on the machine when I picked it up at their factory. Needless to say gutter has become a major part of our business and we see interest in GutterArt growing every day! I'd recommend New Tech Machinery and their products to anyone other than my competitors in Nor Cal!"
---
Mike Kruger
Palisade MetalCraft — Costa Mesa, California
"We recently purchased an SSQ Panel Machine and are very pleased and impressed with its design. Our first tool change out was initially challenging but it quickly became apparent the ease of change out and thoughtful nature of its design. Tom, Ron and Steve have all been very helpful, patient and giving of their time with our parts needs and adjustment questions. We highly recommend this panel former to anyone (other than Southern California metal roofing installers!) requiring a strong and stable roof panel platform. I look forward to utilizing other New Tech Machinery tooling and equipment for our upcoming projects."
---
Ryan Parraghi
Parraghi Roofing & Sheet Metal LLC — Croswell, Michigan
"I own an SSR machine and it has been rolling (thousands of feet of) material for over 3 years. I have never had a problem, just wanted to say thanks, best investment I ever made!"
---
Mike Nelson
ProBuild — Duluth, Minnesota
"Our machine is working perfectly so far. As a matter of fact, the boys have nick-named it "Pro-Build's new ATM." You insert trim coil and it kicks out money. We would have no trouble recommending this machine to anybody."
---
Luis Fernando Gomez
Cubiertas & Espacios LTDA — Columbia
"We have been working with your [SSQ] machine for more than a year now and we've had a great experience with your machine. Some of the big companies here are getting very interested in our machine…"
---
Marvin Ramer
Ramco Supply — Rochester, Indiana
"We got our [SSH] machine yesterday… We could not be happier! I was amazed at the quality of everything from the packaging, to the run-out tables, the panel looks great. I cannot believe this experience compared to the first day we had [competitors] machine here… Keep up the good work."
---
Jim Macholz
Brighthouse Builders — Alaska
"I purchased one of your [Mach II] machines… It is one slick machine. I really like it and look forward to many years of operation and profit! Thank you for providing a top quality piece of equipment!"
---
Josh Burdick
Koolau Raingutter — Hawaii
"The [MACH II] machine works great! Thanks so much!"
---
Richard C. Roberts
Seamless Gutter Hangers
"We were in a traffic accident… The truck was hit broadside by a heavy-duty full size pick-up truck. The impact rolled our vehicle over 1-1/2 times coming to rest on the passenger side door. The New Tech [MACH II] 5-6 combo machine broke loose from the floor… When we got it home and cleaned it up, blew it off with an air hose the only damage was a bent roll guide and the buttons had been sheared off the control panel. It still runs perfect gutter. The New Tech [MACH II] 5-6 combo gutter machine is the best I have worked with or heard about from other installers. I would recommend this machine to anyone, except people in my area. Thank you for your time, effort, and fore-thought."
---
Brad Lasater
Acelco Services — Dallas, Texas
"I purchased my New Tech [MACH II] 5" machine… in 1997. I have used my machine almost every work day since then with no mechanical malfunctions. All I have done is maintenance recommended by the manufacturer and adjusted it only twice. It runs as straight today as the day I got it!! This machine is my lively hood without it I'm in trouble… The teams at New Tech have gone above and beyond what I expected!"
---
John Szittai
Jamestown Steel — Sunbury, Ohio
"NTM [SSQ] Machine works PERFECT… Thanks for the help… Hope I don't have to call ya anytime soon, other than ordering another machine!!!"
---
Jeff Cain
Arkel International — Baton Rouge, Louisiana
"We really appreciate the service New Tech has provided to Arkel… Outstanding service. Thank you very much."
---
Vince Wohletz
Town & Country Sheetmetal Inc. — Shawnee, Kansas
"Thank you for manufacturing such a high quality piece of equipment. We have run several thousand feet of soffit panel, both vented and non vented, with virtually zero problems. Thanks to you we no longer have wasted labor time in uncrating panels and sorting to find the right panels. Also, our waste has reduced drastically. My employees actually enjoy using this machine. It is easy to operate and it produces a panel that fits together nicely. We have installed soffit/wall panels from other machines and I was not impressed. The New Tech Flush Wall Panel Machine has no competition. I would highly recommend it."