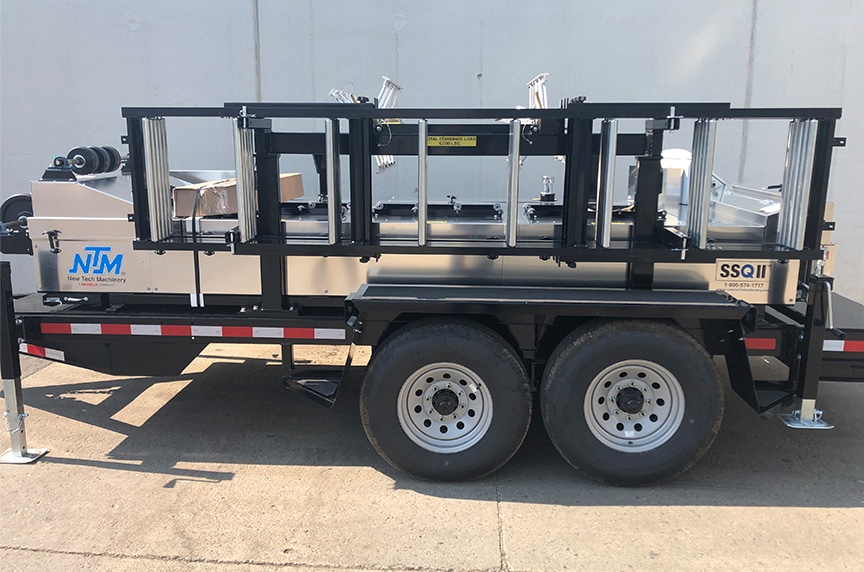 AURORA, CO – New Tech Machinery (NTM), a member of Mazzella Companies and a worldwide leading manufacturer of portable rollforming machinery and equipment, is pleased to announce the return of aluminum covers starting with the SSQ II™ MultiPro Roof Panel Machine and will eventually roll out to all product lines.
New Tech Machinery made the switch back to aluminum covers after using powder-coated steel covers for the last several years for a number of reasons including the elimination of powder-coating steel covers in the production process, taking up time and reducing supply chain sourcing. Additional reasons include:
The aluminum covers won't rust
They are lighter in weight, making them easier to remove for service or maintenance
Through using the aluminum, machine users won't experience potential paint scratching from the powder-coated steel covers previously utilized
"NTM is pleased to announce that once again we are providing aluminum covers on the SSQ II Multi Pro Roof Panel Machine. Many of our customers have asked for aluminum covers to realize the reduced cover weight when changing over tooling and maintaining the machine, as well as the benefit of not having rust with aluminum. Aluminum covers are being provided on all SSQ II machines with the new UNIQ Control System," says Clark Neft, Vice President of New Tech Machinery.
New Tech Machinery will continue to keep an inventory of steel covers for any customers with existing machines that currently utilize the steel covers, but will not provide the new aluminum covers to be retrofit on older machine models.
###
About New Tech Machinery
New Tech Machinery (NTM) is a worldwide leading manufacturer of portable rollforming machines and equipment. Since 1991, New Tech Machinery's seamless gutter machines and metal roof panel machines have revolutionized the metal construction industry by bringing versatile, easy-to-use rollforming products right to client's job sites.
Contact
New Tech Machinery
16265 E. 33rd Dr. Suite 40
Aurora, CO 80011
Phone: 303-294-0538
Website: www.newtechmachinery.com
Business Inquiries: Adam Mazzella (amazzella@sheffieldmetals.com)
Marketing Contact: Katie Bowles (kbowles@mazzellacompanies.com)