Editor's Note: This post has been updated with current conference information for 2023.
METALCON is the leading metal construction industry trade show and conference dedicated to educating experts, showcasing metal innovations and exploring how metal is used in design, industrial, residential, and light commercial applications. The conference is October 18-20 2023 at the Las Vegas Convention Center in Las Vegas, Nevada.
New Tech Machinery (NTM) continues to be a dedicated exhibitor at METALCON since it began in 1991, as it has served as the exclusive industry event for new innovations in the metal industry. Metalcon trends towards the future as companies from around the country showcase their latest products and technologies, and best practices are shared in learning forums.
If you've never attended METALCON before or want to learn about what is coming to METALCON 2023, here's what you should know about this international metal construction trade show and tips to help you get the most out of your experience here or at any industry event.
In this article you'll learn:
What is METALCON
What speakers, sessions, and keynote addresses are at METALCON 2023
How you can get the most out of attending this trade show
New Tech Machinery's involvement at METALCON
What Is METALCON?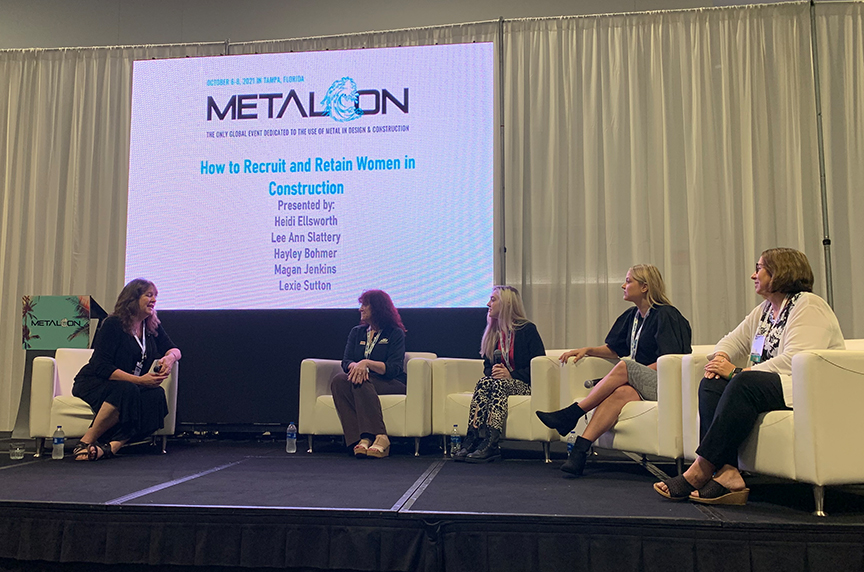 METALCON began in 1991 and is the only global yearly tradeshow and conference solely about metal and its use in construction and design. At METALCON, not only will attendees get to experience an educational and informative conference, but they will also have the chance to speak with industry-leading vendors and exhibitors as well as participate in interactive learning opportunities.
Whether you're in the metal roofing or gutter contracting business and considering adding equipment, or just looking to get started in metal construction and want to learn about the industry, this is a great opportunity to speak and network with thousands of manufacturers, suppliers, distributors, and more during the three-day event.
What to Expect at METALCON 2023
METALCON 2023 Educational Sessions and Keynote Speakers
METALCON 2023 will offer pre-show workshops, free educational sessions throughout the exhibit hall, and keynotes from industry-leading experts. Each attendee receives a certificate of completion for each course.
Sessions and workshops this year include:
Keynote speakers this year include Ken Simonson, Rico Leon, Christopher Sotiropulos, and architect and author Stefan Al.
Learning Center Sessions
Best Practices
Technical Know-How
Sustainability
In-Depth Paid Workshops
For certifications and more comprehensive trainings
---
---
Who Should Attend METALCON 2023?
Those who attend Metalcon benefit from networking, learning new skills, discovering emerging technologies, and connecting to divergent fields in the metals industry.
Metalcon participants range from CEOs to contract roofers to architects, engineers, designers, and more, including:
Project managers
Contractors in metal building, roofing, and siding
Environmental Engineers
Builders
Distributors
Manufacturers
Suppliers
METALCON 2023 Exhibitors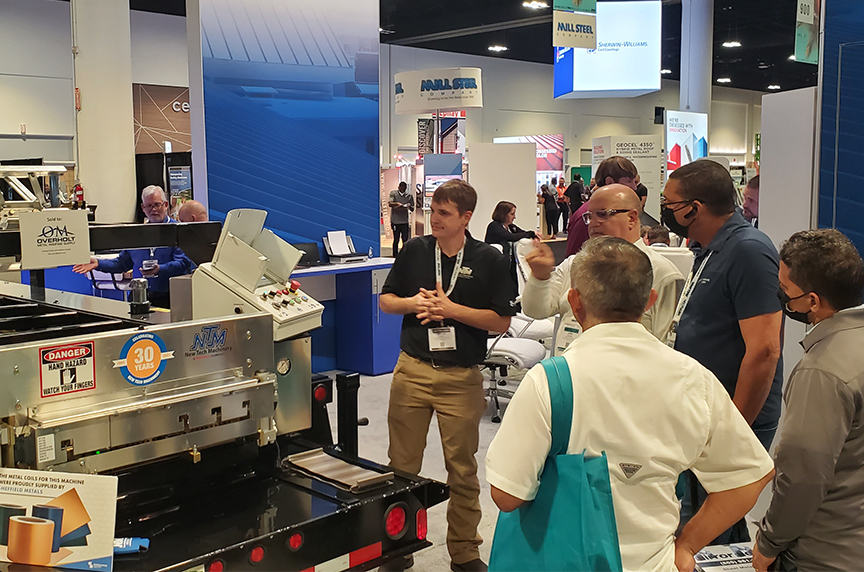 This year, over 200 exhibitors from the metal construction manufacturing industry and those who sell metal building goods and services, will showcase their latest and greatest products.
Some of the types of products and services exhibited at METALCON include:
Coatings, finishes, and metal coils & sheets
Contractor tools like software, power tools, shears, and safety equipment
Insulation and insulation systems
Manufacturing equipment like rollforming machines, folders, shears, and software
Roofing and metal roofing accessories and systems
Metal wall systems and fabrication
How Can You Get the Most Out of Attending METALCON 2022?
While attending METALCON 2023, it can be a lot to take in all at once. If you're looking to maximize your experience at the show, here are a few tips to help:
Research the event and plan before you go. This means not only finding out what educational opportunities you want to participate in, but also what exhibitors you want to see and talk to. Take plenty of business cards to exchange contact information with those who sell the products and services you're interested in.
Learn from and talk to others in your space. Take the opportunity to network and learn from others in your industry and role about what equipment or products they use, what they like about them, and what they may not like about them.
Talk to manufacturers about their products and see how they work first-hand. Nobody knows their products better than the exhibitors at the show. If you're looking to add fabrication or manufacturing equipment to your business, trade shows are one of the best times to purchase rollforming equipment. Shows and events provide a great opportunity to check out different brands and products, talk to people in person, witness live demos, and take home product literature.
Take advantage of the free workshops, demos, and learning experiences available to you at the show. Find out what industry trends are becoming popular, learn what innovations are upcoming, and talk to industry experts about their own experiences.
New Tech Machinery's Role at METALCON
New Tech Machinery has been exhibiting at METALCON since 1991 and has witnessed how this show has grown along with the company.
Why does NTM exhibit at this show every year? Tom Laird, Senior Account Manager, comments that because METALCON is the only show that prominently highlights metal in the construction industry, it is the perfect marriage with what New Tech machinery does: manufacture portable metal rollforming machines.
"The New Tech Machinery booth is always busy at this show, and we get so many people here that come see us because they love our company and our products," says Tom. "We even have customers come up to our booth referring our products to other people. They really help us do the selling at these shows. It's a great opportunity for us to show existing and new customers the latest and greatest products we're working on."
For NTM Account Manager Hayley Bohmer, it's an opportunity to meet customers, prospects, distributors, and vendors face-to-face. "It adds a positive dynamic to those relationships," she says. "Also, demonstrating a machine in person is always a showstopper!"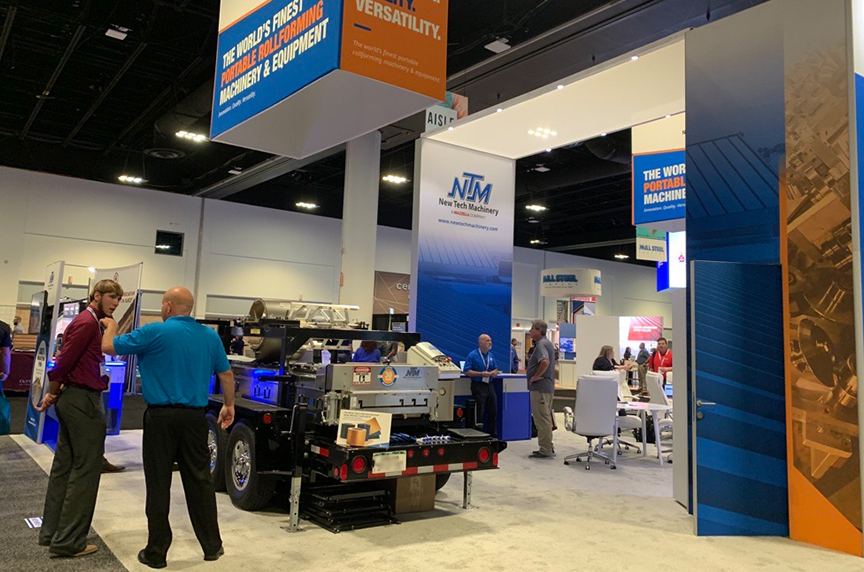 Tom explains the real driving need for an event like METALCON: "It really brings the entire industry together. "At these kinds of events, the entire industry comes together and we really get to see our synergies and show how important metal's role is in the construction industry."
Looking for a portable rollformer or want to learn more about metal roof or wall panel profiles? Check out New Tech Machinery's Rollforming Learning Center or visit booth #4023 to witness live demos of a portable rollforming machine and talk to service and sales specialists.
Final Thoughts
If you work in the metal construction industry, there are many opportunities for you to expand your network, learn more about current and future trends, and help grow your business just by attending METALCON 2023.
If you haven't signed up for METALCON yet, it's not too late to register. Find out more about METALCON, its exhibitors, and attendee resources on their website.
If you want more information on New Tech Machinery's portable rollforming machines, have any questions, or want to schedule a consultation, feel free to speak to one of our knowledgeable and helpful rollforming specialists!
---
---